Sticky Ginger Garlic Asian Ribs – Easy Recipe
Prep Time
10 Minutes
Difficulty
Easy
Cook Time
50 Minutes
Serves
4
Average Rating: 4.5 | Rated By: 6 users
Learn how to make sticky ginger and garlic ribs like a pro. The tender ribs are deliciously flavoured with Asian-inspired flavours and cooked to perfection. These finger-licking ribs can be barbecued or roasted in the oven, making this an all year round recipe. Serve with our delicious low carb Singapore cauliflower rice 
Ingredients
2 lbs. pork back ribs, cut into serving size portions
4 garlic cloves minced
2 Tbsp. (2-inch) freshly minced ginger
½ cup pure maple syrup
¼ cup GF tamari sauce
2 tsp. sesame oil
1/2 cup sliced green onions (spring) white and green part
Sesame seeds
*As an Amazon Associate and member of other affiliate programs, I earn from qualifying purchases. Please check out my sponsorship and disclosure policy page for more details
Instructions
Place ribs into a large pot with well-salted water. Bring to boil, reduce heat to simmer, cover and cook for 40 minutes, then drain. This will tenderize the ribs and remove most of the fat.
Using a small glass bowl, whisk garlic, ginger, maple syrup, tamari sauce and sesame oil. Brush ribs with the sauce and refrigerate for one hour or overnight
Heat up a barbecue and cook ribs 5 minutes per side or until the sauce becomes slightly charred. Brushing with leftover sauce as needed. To serve, top with green onions and sesame seeds
FOR OVEN METHOD: Preheat oven to 450 F. Place ribs on a baking pan lined with parchment paper and brush with sauce. Cook for 10 minutes or until the ribs start browning. Brush with leftover sauce as needed.
Similar Recipes
Best Gourmet Pork Rib Roast Recipe
The pork rib roast is truly one of the most magnificent entrees. It is juicy, tender and succulent. However, there is more to roasting a Pork Rib Roast than just placing it in the oven and hoping it will be perfect. There are a few steps to follow for this pork rib roast to achieve […] Read More
Prep Time
10 Minutes
Difficulty
Easy
Cook Time
80 Minutes
Serves
6
Orange Spiced Pork Tenderloin Recipe
Enjoy this decadent pork tenderloin dish that proves extravagance can be easy.  The tenderloin is marinated in an orange spiced sauce, making this dish unforgettable. Serve with rice or potatoes and your favourite vegetable side Read More
Prep Time
5 Minutes
Difficulty
Easy
Cook Time
60 Minutes
Serves
4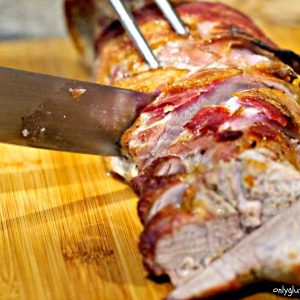 Pork Tenderloin with Bacon
Tender pork tenderloin flavoured with maple syrup and wrapped in crispy bacon. Simply amazing recipe! The  spiced rice with raisins will make a wonderful side to this succulent pork tenderloin Read More
Prep Time
15 Minutes
Difficulty
Easy
Cook Time
60 Minutes
Serves
4