Easy Tequila Lime Chicken Recipe
Published on Nov 03, 2017
by
Kristina Stosek
Prep Time:

5 minutes
Cook Time:

35 minutes
Serves:

8 pc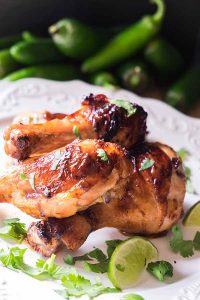 ​This post may contain affiliate links, please see our
privacy policy
for details
This recipe for tequila lime chicken is perfect for entertaining or easy weeknight meals. The chicken is marinated in a zesty tequila and lime sauce, then baked until crispy and delicious. The result is juicy, flavorful chicken that will make your guests return for more.
What is tequila lime chicken?
Tequila lime chicken is an extra flavorful low-carb Mexican-inspired dish. The chicken is marinated in a tequila lime mixture and then baked to perfection. This dish is full of flavor and is sure to be a hit at your next dinner party or weeknight meal.
Is tequila gluten-free
There are a lot of different opinions out there about whether or not tequila is gluten-free. Some say that it is because the agave plant from which tequila is made does not contain gluten.
Others say that it isn't because some brands of tequila add wheat during the distilling process.
So, what's the verdict? Unfortunately, we can't give you a definitive answer. It depends on which brand of tequila you're drinking.
We recommend doing your research to find out if the specific brand you're interested in is gluten-free.
In general, we would say yes. Pure, distilled tequila, usually made with the blue agave plant, is considered gluten-free.
Does distilling remove gluten?
Liquors distilled from gluten-containing grains, such as rye or barley, are also generally considered safe.
The distillation process removes proteins, including gluten, from the liquor. However, always check with the manufacturer to make sure.
easy keto-friendly chicken recipe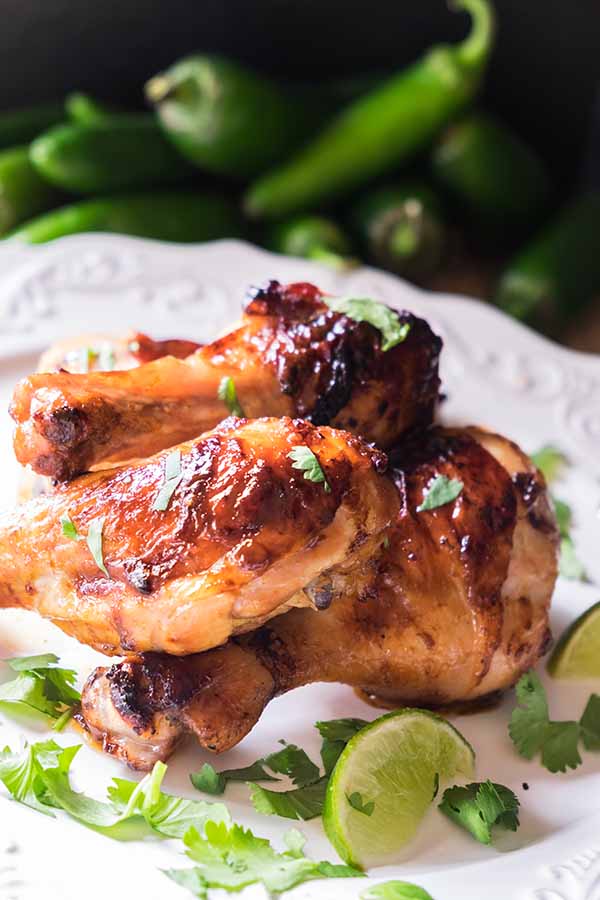 This tequila lime chicken recipe is so easy and so delicious! It only takes a few minutes to prepare the marinade.
The chicken is then coated with the tequila lime mixture and is marinated overnight.
This means that the next day, all you need to do is place the marinated chicken in the oven to bake—no mess to clean up on the day of your dinner.
Preparing the chicken the night before will give you more time to enjoy your party instead of being stuck in the kitchen preparing food!
Serve as chicken appetizer.
This tequila lime chicken recipe is the perfect appetizer for your next party! Instead of using chicken drumsticks, use chicken wings for that perfect appetizer. Be sure to adjust the roasting time accordingly. Then, you can serve it with your favorite dipping sauce, and enjoy!
sides to tequila lime chicken
If you're looking for delicious sides to accompany your tequila lime chicken, we've got some great ideas to complete this chicken dinner.
Try serving your chicken with some White Beans with Tomatoes and Garlic or Spanish Rice for a hearty meal. This combination is not only tasty but also filling, making it a perfect option for a weeknight dinner.
If you're in the mood for something lighter, a salad goes great with tequila lime chicken. Try pairing it with a simple green salad or a more adventurous option like a grain salad like the Mediterranean Brown Rice Salad. Both options are sure to complement the flavors of your chicken dish.
No matter what you choose to serve with your tequila lime chicken, we guarantee it'll be a hit!
What is tequila made of?
Tequila is a Mexican spirit made from the blue agave plant. The agave is native to Mexico and has been used in the production of tequila for centuries.
The agave is harvested, cooked, and then fermented to produce the final product. Tequila can be clear or golden in color and ranges in strength from 20% to 40% alcohol by volume.
Why are chicken recipes popular?
There are a few reasons why chicken recipes are so popular. For one, chicken is versatile meat you can use in various dishes.
Chicken can be cooked in several different ways, so there's always something new to try. Additionally, it is relatively inexpensive, making it a great option for budget-minded cooks.
Lastly, chicken is a lighter meat option when the skin is removed than most other meats and is excellent for those looking to watch their weight or cholesterol levels.
If you are looking to get inspired for your next chicken meal, check out our list of gluten-free chicken recipes.
That's it! You've now created a delicious and easy tequila lime chicken dish that may become your favorite Mexican-inspired dish. Enjoy!
Let's Connect!
Be sure to FOLLOW US on FACEBOOK and PINTEREST.
Many thanks!
Kristina xx
Easy Tequila Lime Chicken Recipe
Published on Nov 03, 2017
by
Kristina Stosek
Instructions
1.

In a large bowl mix together first 8 ingredients

2.

Add chicken and coat well with the marinade. Refrigerate for a minimum of 2 hours or overnight

3.

Preheat oven to 400 F and line a baking pan with parchment paper

4.

Arrange chicken in the pan making sure they are not touching

5.

Spoon some marinade over the chicken and roast for 30 - 35 minutes, turning halfway. The roasting time will vary depending on how large the drumsticks are. Brush with marinade as needed

6.

The internal temperature should be 165 F or 75 C. Serve with fresh cilantro and lime wedges