Mediterranean Brown Rice Salad Recipe
Published on Aug 12, 2014
by
Kristina Stosek
Prep Time:

15 minutes
Cook Time:

15 minutes
Serves:

4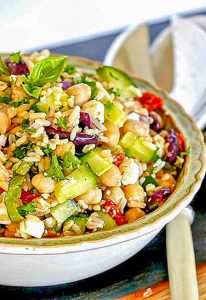 ​This post may contain affiliate links, please see our
privacy policy
for details
You will love this Mediterranean Brown Rice Salad. The hearty rice salad has it all! Cucumbers, sun dried tomatoes, creamy feta cheese, olives, chickpeas and brown rice. The brown rice is richly flavoured with garlic, fresh basil, red onions, lemon juice, good olive oil and plenty of fresh parsley.
This brown rice salad has the typical Mediterranean flavours that you would find in Greek cuisine. The cucumber adds freshness, and the sun-dried tomatoes add just the perfect amount of sweetness.
The salty feta and olives bring a delicious balance of flavours in this healthy salad. I wanted to add chickpeas because it made the salad hearty enough to serve as an entree, especially for someone following a plant-based diet.
To make this most flavourful brown rice salad is super simple. Once the rice is cooked and cooled, just mix everything and rest for an hour. The rice will absorb the flavours from juices in the salad, making the salad super tasty!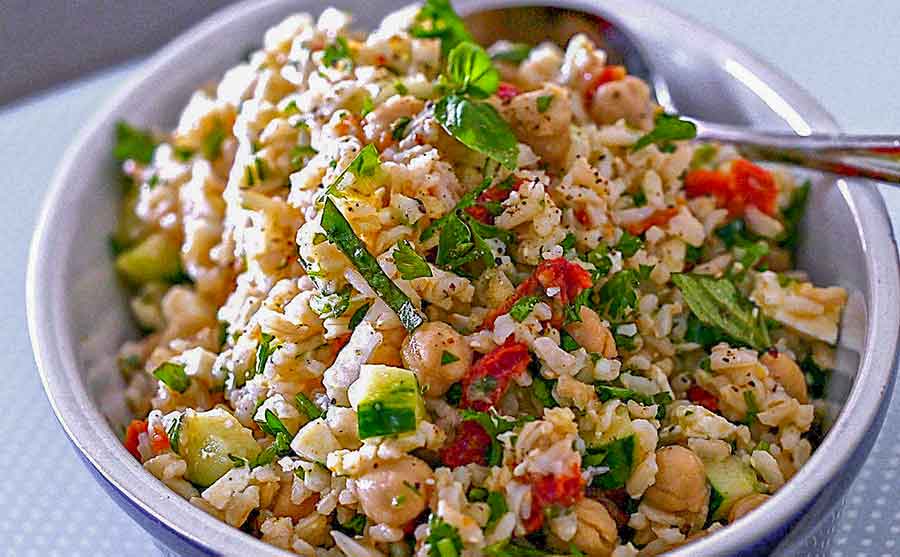 I love making this gluten-free Mediterannean salad because it is more than just brown rice. This rice salad has veggies, olives, feta cheese, and fresh parsley.
So much deliciousness in one rice salad, making this Mediterranean salad a great addition to barbecues and summer picnics. And the best part, you can make it a day in advance.
How To Cook Long Grain Brown Rice?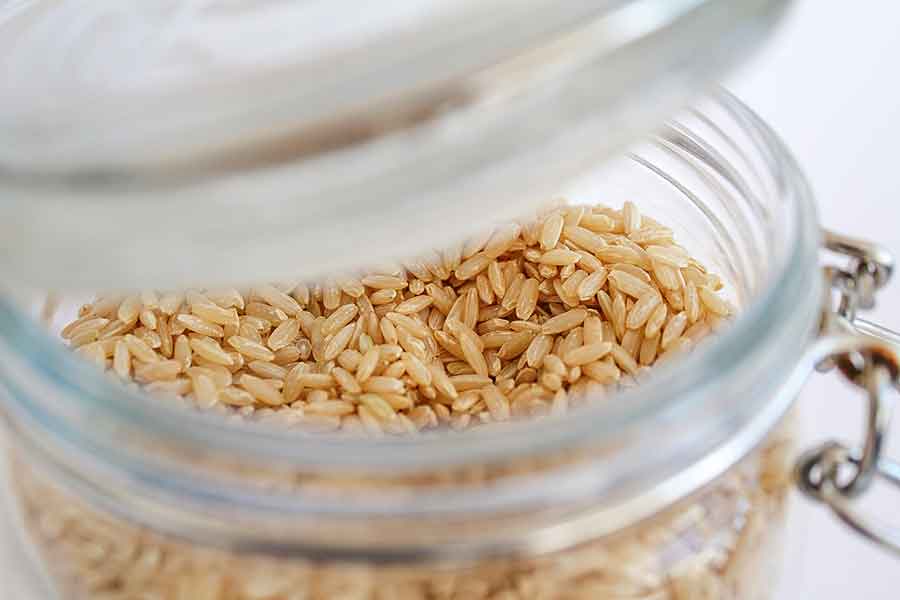 First, although most rice packages have directions on how to cook brown rice. For best results, I recommend using 1 cup of brown rice to 1 3/4 cups of water and 1/2 teaspoon of sea salt.
I recommend rinsing brown rice before cooking. It will remove any dust or dirt. Put the rice in a wire mesh sieve or strainer and rinse it under cold water for about 10 seconds. Swish it around to get the excess water off.
Using a medium saucepan, combine rice, water and salt. Bring the water to a boil, reduce the heat to low simmer and cover—Cook for 35 minutes without opening the lid.
After 35 minutes, check the rice for doneness. There shouldn't be any liquid left. If there is liquid, continue cooking the rice until it absorbs all the liquid.
Turn off the heat and let the rice steam for 10 minutes. Then, fluff with a fork and enjoy.
How much does 1 cup of rice make cooked rice?
1 cup of brown rice will make about 3 cups of cooked rice.
Can you substitute brown rice for another gluten-free grain?
Yes, absolutely! You can use white rice or quinoa. Both of these will work nicely in this Mediterranean salad.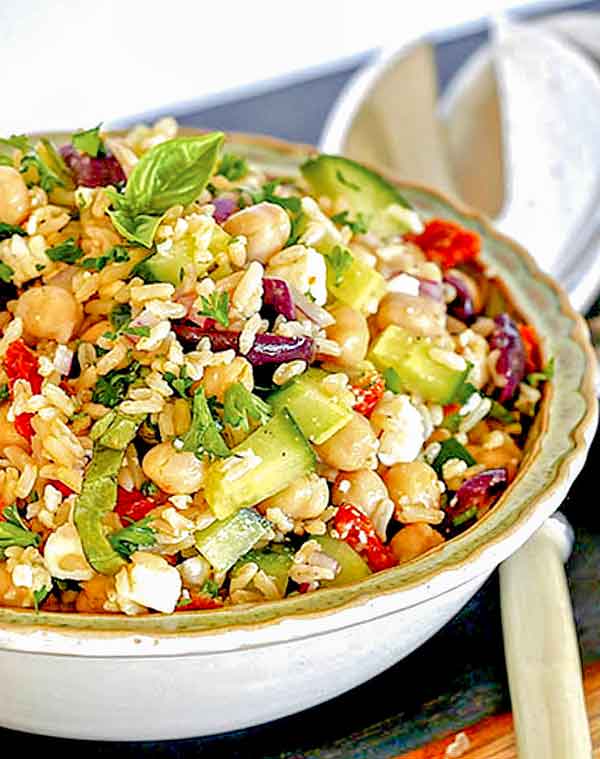 What I love about this brown rice salad is, the salad is hearty enough for an entrée. However, it goes exceptionally well with lamb, pork or chicken dishes. Always serve this Mediterranean brown rice salad at room temperature.
Mediterranean Brown Rice Salad Recipe
Published on Aug 12, 2014
by
Kristina Stosek
Instructions
1.

In a medium bowl combine, rice, cucumber, tomatoes, feta, onion, olives and chickpeas.

2.

In a separate bowl whisk together basil, garlic, parsley, olive oil and lemon juice. Add to the rice and stir well. Season with salt and pepper to taste. Rest the salad for 1 hour at room temeperature before serving. This allows the rice absorb all the delicious flavours.

3.

This salad will keep up to 3 days when refrigerated. Bring the salad to room temperature before serving
Leave a Comment
I make a lot of summer salads with beans, veggies, rice, quinoa, etc., and this is one of the best! So little dressing, but a ton of flavour. I didn't have sundried tomatoes so I substituted cherry tomatoes from my garden.