Gluten Free Curried Rice Salad Recipe
Published on Jul 31, 2016
by
Kristina Stosek
Prep Time:

15 minutes
Cook Time:

20 minutes
Serves:

6 - 8
​This post may contain affiliate links, please see our
privacy policy
for details
One of our favourite side dishes for an outdoor cookout or a large dinner party is this gluten-free curried rice salad. The rice salad is packed with fresh veggies, grapes, fresh cilantro and seasoned with a delicious exotic spiced dressing.
Summer salads, whether they are rice salads or pasta salads, are always a huge hit. You can prepare the salads a day in advance for barbecues or large dinner parties or make-ahead lunches for the upcoming week.
What I love about rice salads they are super easy to make. You will need fresh veggies, and maybe fruit, cooked rice, a good salad dressing, and the salad is pretty much done.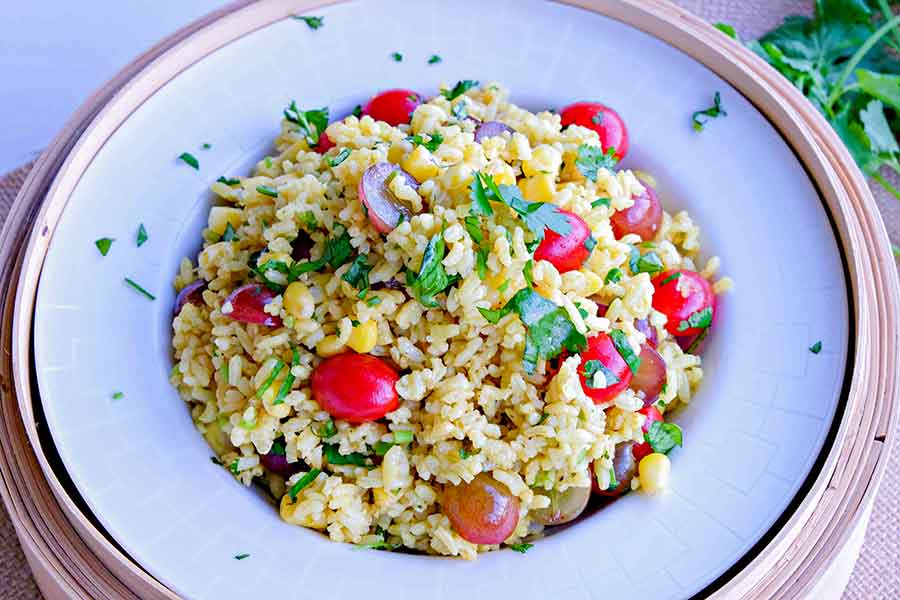 not all rice salads are the same!
This is so true! Salad is only as good as the dressing and the fresh ingredients. In this rice salad recipe, I wanted to have an exotic flavour.
An what better way to spice up a salad dressing than with garlic, ginger, curry powder, cumin, turmeric and fresh lime juice. If you like some spiciness, add a pinch of cayenne pepper.
The fresh veggies such as corn and grape tomatoes go well with the curry flavour. But I also wanted some sweetness, so I added grapes. The grapes are the key to this exotic, perfectly spiced rice salad recipe.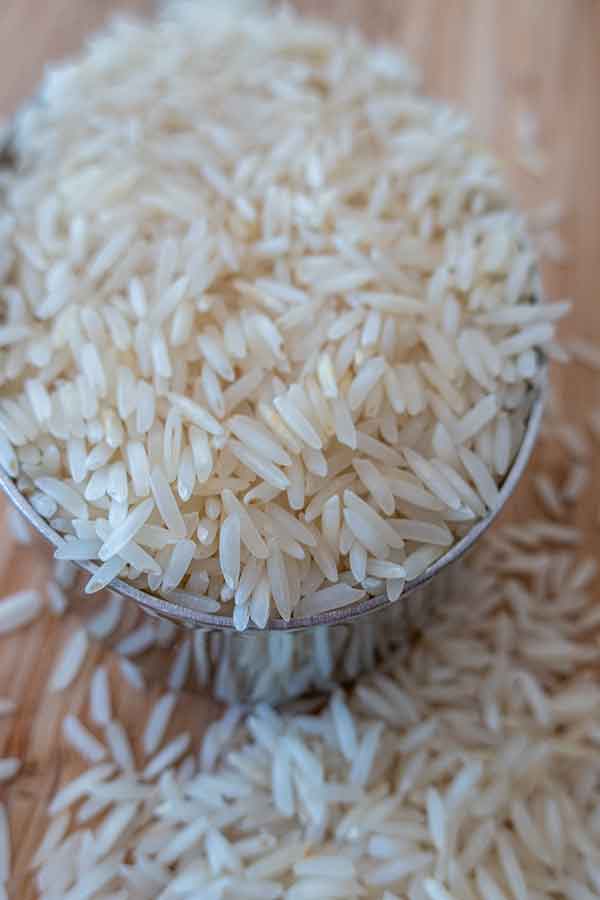 is rice gluten-free?
Yes, all rice types are naturally gluten-free. However, Sometimes, rice can be cross-contaminated with gluten, meaning that it's been grown, harvested, or processed near or in the same facilities as wheat, barley, or rye. You can google the packaging company, and it will tell you if the rice is gluten-free. I highly recommend doing this.
the best rice for rice salads…
I like to use basmati rice. The rice does not stick together, which is what you need in salads. And it is aromatic, adding more flavour to this already stunning curried rice salad. And, always use cold rice.
is this curried rice salad a summer salad?
To be perfectly honest, no! Because this naturally gluten-free rice salad is a great addition to any meal. Winter or summer, this salad always adds deliciousness to the main course.
I often double the recipe when I make it on the weekend and enjoy it as a light lunch or a snack the following week.
This curried rice salad is plant-based and is a healthy way to include veggies in your diet. Enjoy!
Gluten Free Curried Rice Salad Recipe
Published on Jul 31, 2016
by
Kristina Stosek
Instructions
1.

In a large bowl combine rice, corn, tomatoes, grapes and cilantro

2.

In a separate bowl, whisk together curry dressing ingredients

3.

Add dressing to rice mixture and toss to combine. Cover and chill for 4 hours or overnight. Bring to room temperature before serving