Why Should We Use Herbs And Spices In Cooking?
Herbs and Spices enhance the flavour of our food and may decrease the amount of salt, fat and sugar without sacrificing the taste.
Every cook needs a well-stocked spice cabinet, no matter your level of culinary expertise. Never buy a spice rack with spices in it! Chances are they are not fresh, and there might be ones you won't use.
Choose the spices you desire and look for expiration dates. I use only organic, certified gluten-free spices in my recipes because they are gluten free and make a big difference in flavour and have greater health benefits.
Spices come from the seeds, berries, bark, or roots of plants and herbs. It is important to know which combination of spices will best enhance the flavour in your food to create delicious recipes. To store your spices seal tightly in glass containers, and store in the dark.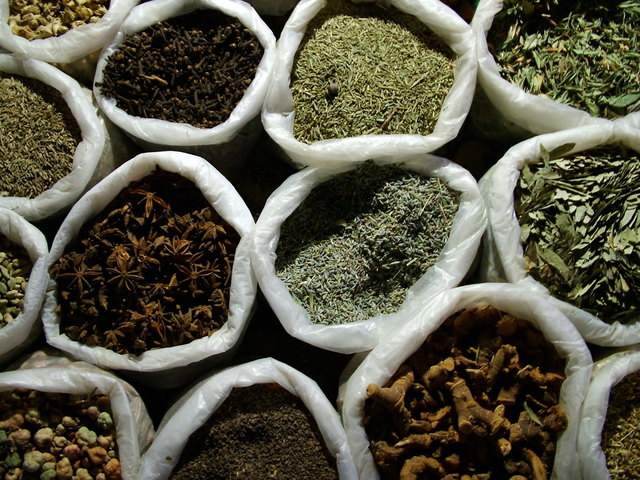 Here is a list of herbs and spices that every kitchen should have
Cinnamon ~ Antioxidants in cinnamon have been linked to lower inflammation, as well as reductions in blood glucose concentrations in people with diabetes.
Turmeric ~ Turmeric which contains curcumin, a powerful anti-inflammatory that's 50 times more potent than vitamin C or E
Cardamom ~ Cardamom is used in alternative medicine to remove toxins. Oregano ~ Oregano is rich in vitamin K, has anti-bacterial properties and is high in antioxidants.
Garlic ~ Garlic is high in antioxidants, has anti-inflammatory properties
Cayenne ~ Capsicum, the active ingredient in cayenne pepper, has been shown to increase circulation and contribute to weight loss.
Black Pepper ~ Here is a spice that everyone uses. The health benefits are greater than you may think. Black pepper aids in weight loss, skin health, indigestion, anemia and has antibacterial properties
Cumin ~ Traditionally, cumin was added to foods to aid in digestion and the absorption of nutrients. Recently, cumin has been shown to have antibacterial qualities, especially associated with the digestive tract.
Thyme ~ Thyme herb contains thymol, one of the important essential oils, which scientifically has been found to have antiseptic, anti-fungal characteristics.
Rosemary ~ The most important part of rosemary is caffeic acid and its derivatives such as rosmarinic acid. Rosmarinic acid has some interesting biological activities, for example, it has antiviral, antibacterial, anti-inflammatory and antioxidant properties.
Ginger ~ Ginger helps with nausea and upset stomach, especially associated with pregnancy. It has also shown anti-inflammatory properties.
Cilantro ~ Cilantro is most often cited as being effective for toxic metal cleansing, the chemical compounds in cilantro bind to toxic metals and loosen them from the tissue.
Parsley ~ Parsley is a nutritional powerhouse with vitamins A, B, C and K and the minerals iron and potassium.
Basil ~ Basil reduces swelling and inflammation and is rich in antioxidants.
These are the basic must have herbs and spices. Also using good quality salts such as sea salt, Himalayan pink salt or Celtic sea salt is a must.
The best way to store spices and dried herbs are in glass jars. I have been using infinity jars. The jars are light-proof and have an airtight seal, therefore preserving freshness
You'll enjoy cooking a lot more once you've mastered the herb and spice basics. The food will taste better, smell better, and will add many health benefits.
Using a little spice can make the most basic recipes taste new and exciting. It is important to add fresh herbs near the end of cooking for more distinct flavour.
Cooking with spices is an art form. Used well, they will improve the humblest of ingredients to something divine. Use them poorly, and they'll turn the most flavorful meal into an inedible mess.