White Beans with Tomatoes and Garlic
Published on Apr 07, 2020
by
Kristina Stosek
Prep Time:

5 minutes
Cook Time:

10 minutes
Serves:

4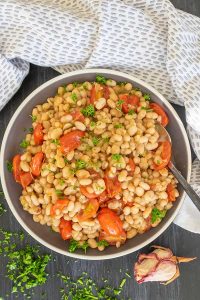 ​This post may contain affiliate links, please see our
privacy policy
for details
Let me show you the fastest way to transform canned beans into this delicious White Beans with Tomatoes and Garlic dish. Yes, this vegetarian bean dish is tasty and made with only a few ingredients you most likely already have in your pantry.
These past few days, I have been doing a lot of baking, I find baking is therapeutic, but today I was craving something warm, savoury and comforting. This white bean recipe is one of those dishes that's good hot or at room temperature.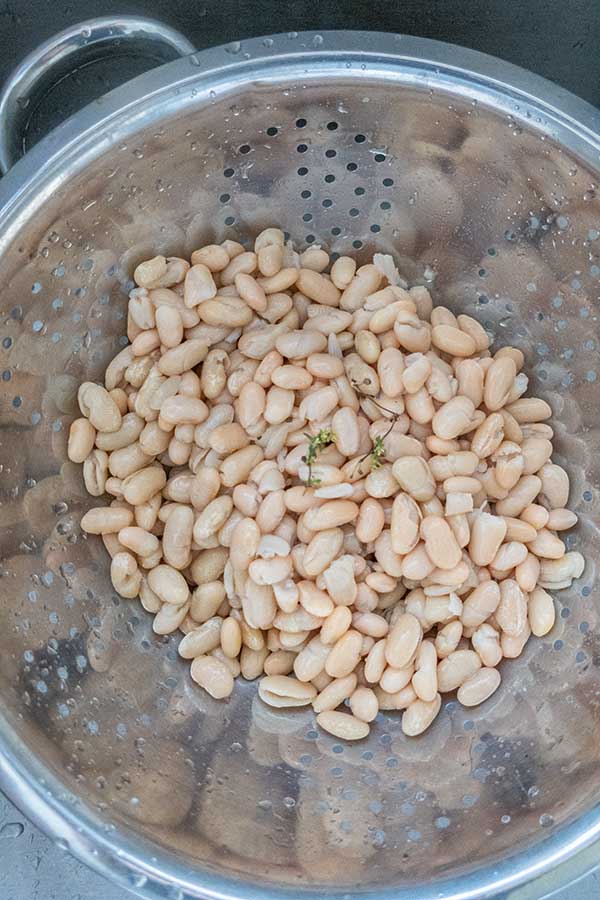 White beans and tomatoes are a tasty combo!
This bean recipe is inspired by a vegetarian dish I had in Greece, with a twist of balsamic vinegar. When I was in Greece, almost every restaurant served various bean dishes. Some were made with fresh green beans or fava beans, and others with legumes like Cannellini Beans.
Can of beans is something we all probably have in our pantry. They are a good source of protein and are versatile in recipes. I especially love them in soups such as this vegan white bean soup with kale or salads.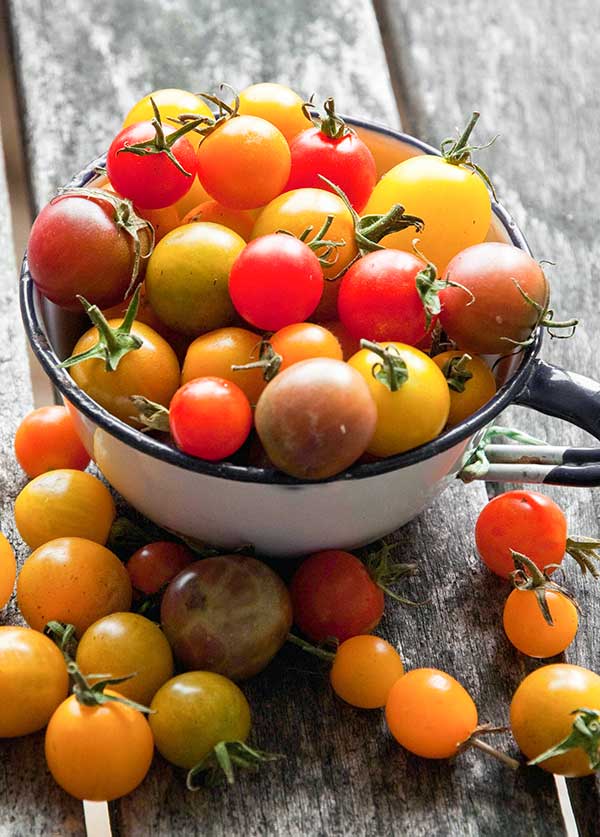 The simplest way to make white beans is with tomatoes and garlic.
There is very little you will need to make this vegetarian recipe, and as I said before, you most likely have it in your pantry. But, you will need olive oil, garlic, rosemary, or you can use thyme or basil if that is what you have. And, you will need fresh tomatoes. I find cherry tomatoes work best in this recipe, but if you don't have cherry tomatoes use any tomato you have on hand. Just be sure to cut it into smaller pieces.
The intriguing ingredient is balsamic vinegar. This flavourful vinegar adds richness and flavour. But don't be dismayed if you don't have balsamic vinegar. Instead, use apple cider vinegar or white vinegar, and add a little maple syrup, honey or brown sugar—about a teaspoon, and then season with salt and pepper to taste. I have also added a pinch of cayenne pepper because I love spicy food, but this is optional.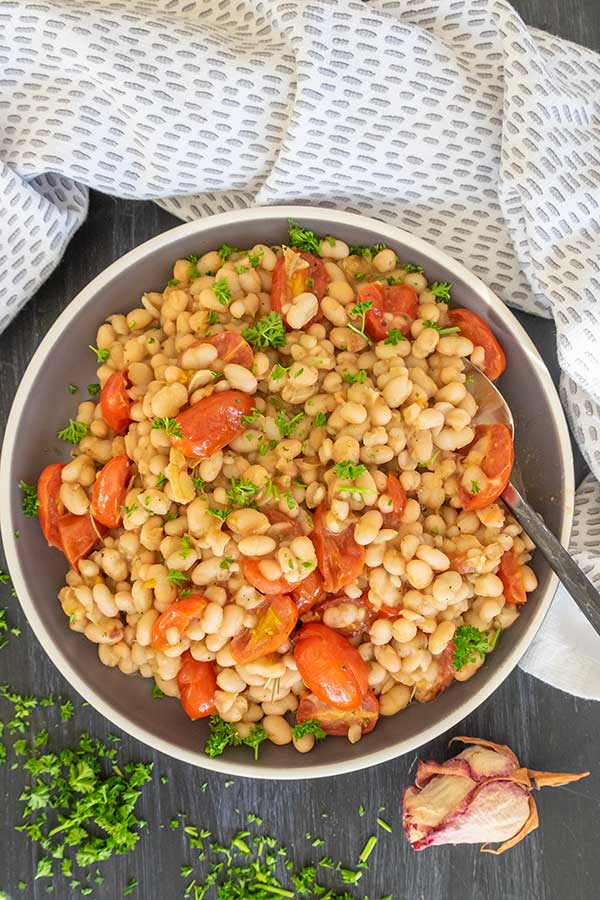 the recipe details,
Now for the recipe… super easy. First, you cook the garlic in olive over medium-low heat with rosemary for about 2 minutes. The heat should be very low, and this will create a tasty garlic oil flavoured with rosemary.
Once the garlic oil is ready, toss in tomatoes with balsamic vinegar and cayenne pepper. Cook over medium-high heat just until the tomatoes start to blister, about 2 minutes. Then add the beans with parsley and coat them with the sauce. Cook the beans until heated through -> done!
What to serve with Cannellini beans?
One of the best ways to serve this vegetarian dish is with meat. Such as pork or chicken, but if you follow a plant-based diet, serve the cannellini beans dish over rice.
If you are from England, you will probably want to serve the flavourful beans over toast. Enjoy!
Are you searching for vegetarian sides or mains? Check out our extensive list of gluten-free, vegetarian recipes.
White Beans with Tomatoes and Garlic
Published on Apr 07, 2020
by
Kristina Stosek
Instructions
1.


Using a large saucepan heat olive oil over medium-low heat. Add garlic and rosemary and cook the garlic for 2 minutes. Careful not to burn the garlic

2.


Toss in tomatoes with cayenne pepper and balsamic vinegar. Season with salt and pepper. Increase the heat to medium-high, and cook for about 2 minutes, long enough for the tomatoes to blister. Stirring as needed

3.


Add beans and parsley and gently stir to coat with the sauce. Taste and adjust seasoning if needed
Leave a Comment
so flavourful, my family loved it!