Vegan White Bean Soup with Kale
Published on Jan 11, 2015
by
Kristina Stosek
Prep Time:

15 minutes
Cook Time:

100 minutes
Serves:

6 family style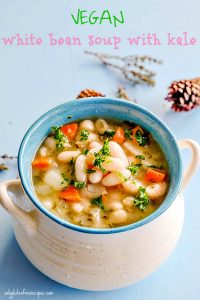 ​This post may contain affiliate links, please see our
privacy policy
for details
This vegan white bean soup with kale is the perfect winter meal. It's hearty and filling but also light and healthy. And it's packed with nutrients from kale, beans and other vegetables.
This vegan bean soup is super easy to make, and it's also very versatile. You can add other vegetables, or even some pasta or rice, to make it a complete meal.
vegan white bean soup recipe
This vegan bean soup is made with kale, white beans, leeks, potatoes, tomatoes and carrots and has a rich and flavorful creamy broth. This hearty bean soup is sure to warm you up and leave you feeling satisfied every time.
Why add kale to bean soup?
If you want extra nutrition to your vegan white bean soup, consider adding kale. Kale is a leafy green vegetable packed with vitamins, minerals, and antioxidants and is regarded as a superfood.
Kale is also a good source of fiber, which helps with digestion. In addition, these deep green leafy vegetable has a mild, slightly sweet flavor that goes well with the beans and other ingredients in this soup.
So if you're looking for a healthy and delicious way to spruce up your vegan white bean soup, give kale a try!
What are cannellini beans?
If you're like most people, you probably haven't given much thought to cannellini beans. But if you're looking for a new legume for a healthy vegan soup recipe, you'll want to give them a try!
Cannellini beans are a type of white bean that is native to Italy. They are often used in Italian cuisine and have a creamy texture and nutty flavor that makes them a perfect addition to soups and stews.
So what are cannellini beans? They're a delicious and healthy way to add creaminess, protein, fiber and flavor to your vegan soups!
Why should you soak beans before cooking?
If you're new to cooking beans, you might not know that it's important to soak them before cooking. Soaking beans helps to remove some of the indigestible sugars that can cause gas and bloating. It also helps to soften the beans, so they cook quicker and more evenly.
If you're short on time, you can quick-soak beans by bringing them to a boil for 2 minutes, then removing them from the heat and letting them sit for 1 hour.
Or, you can simply soak them overnight in water. Once your beans are soaked, drain them and rinse them before adding them to your soup pot.
Are white beans healthy?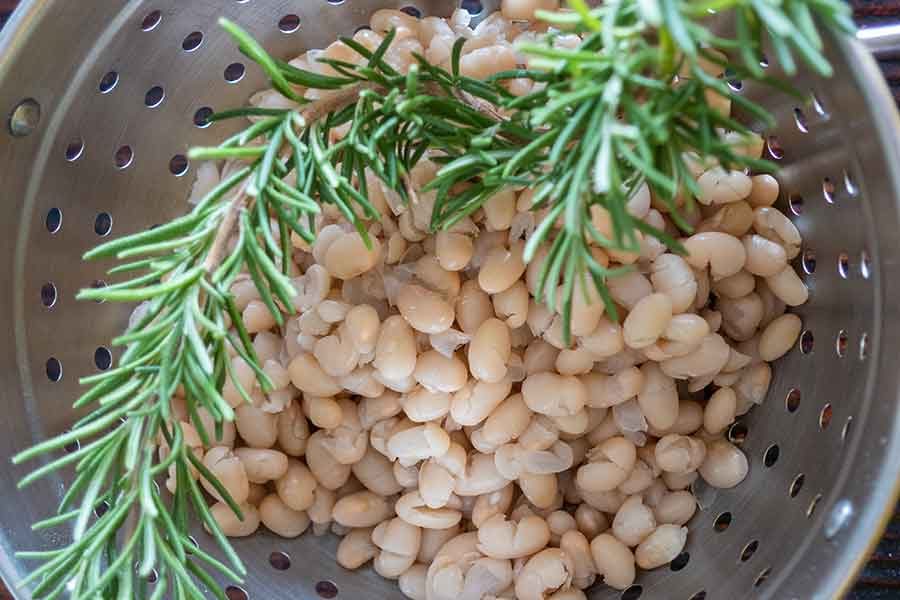 There is no one-size-fits-all answer to this question, as the healthfulness of white beans depends on various factors.
However, white beans are a nutritious food that can offer many health benefits.
White beans are a good source of protein and fiber, essential for maintaining a healthy weight and preventing chronic diseases like heart disease and diabetes.
Additionally, white beans contain antioxidants and phytochemicals that can promote good health.
health benefits of kale
There are many health benefits to eating kale. First, it is a nutrient-dense food, meaning it is packed with vitamins and minerals. Kale is also high in antioxidants and phytonutrients, which can help to protect the body against disease.
Why are dry beans better in soups than canned?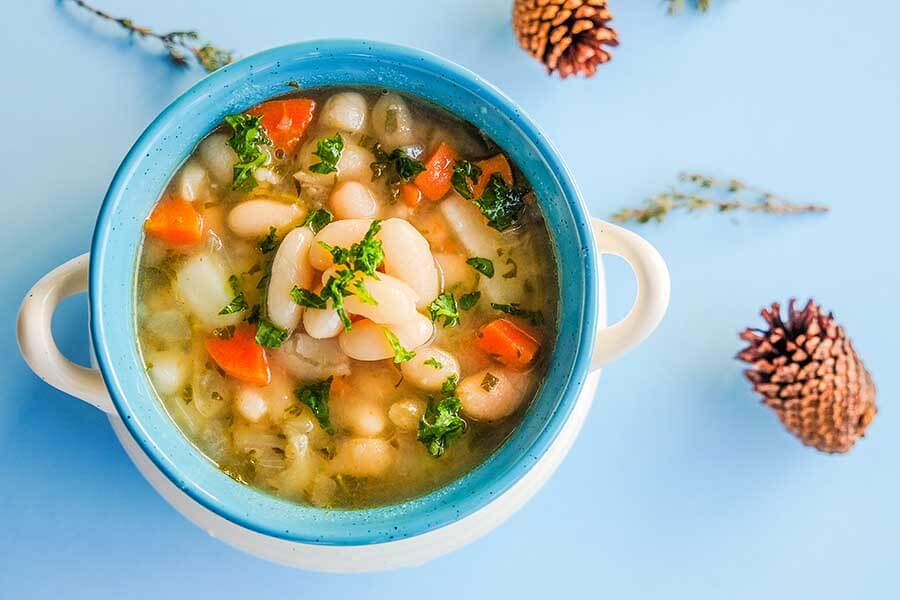 There are a few reasons dry beans are better in soups than canned.
First, they're more economical. A can of beans costs about the same as a pound of dry beans, but you only use a fraction of a can.
Second, they taste better because freshly cooked dry beans have a richer, more complex flavor than canned. They also have a better texture than canned beans. Canned also tend to be mushier.
Finally, they're more versatile. You can add different spices and herbs to dry beans to create a unique soup each time. And, you control the salt. Most canned beans are ladened with table salt.
How long do you need to cook dried beans?
If you're cooking dried beans from scratch, they'll need to simmer for a while before they're ready to eat. Depending on the type of bean, cooking time can range from 45 minutes to 2 hours.
So, if you're planning to make a vegan white bean soup with kale, ensure enough time for the beans to cook properly.
How to store white bean soup?
This white bean soup with kale is always better the next day and the following days as the flavors develop. The soup will keep up to five days when refrigerated.
Can you freeze vegan white bean soup?
Bean soups freeze very well and are great protein-packed meals to have on hand when you need them.
The soup is hearty and filling but also light and healthy. The kale, potatoes, carrots, leeks and tomatoes add a nice dose of vitamins and minerals, while the white beans provide protein and fiber.
You will find that this soup is easy to make and can be enjoyed any time of year, making it a perfect meal for a plant-based diet or if you are trying to cut back on meat.
To finish this meal, I serve this vegan white bean soup with pull-apart soft rolls with rosemary, or grain-free vegan low-carb bread.
Let's Connect!
Be sure to FOLLOW US on FACEBOOK and PINTEREST.
Many thanks!
Kristina xx
Vegan White Bean Soup with Kale
Published on Jan 11, 2015
by
Kristina Stosek
Instructions
1.

In a large pot over medium heat cook leeks in olive oil until soft. About 5 minutes.

2.

Stir in thyme, garlic and bay leaf and cook for one more minute. Add tomatoes, drained beans, 1 teaspoon of salt and water which should be about 2 inches above the beans. Cover and cook over low heat until the beans are tender. About 1 hour and 15 minutes

3.

Add potatoes, carrots and kale and cook for 30 more minutes. Add apple cider vinegar and taste for seasoning. Season with salt and pepper as needed

4.

Note; partially pureeing the soup is optional but doing so provides a wonderful creamy texture. If using canned beans reduce the cooking time of beans to 30 minutes
Leave a Comment
Kristina
thats wonderful, this hearty soup is super satisfying
My husband loved this soup. Great for a cold wintery day .