Rustic Roasted Fennel Recipe
Prep Time
5 Minutes
Difficulty
Beginner
Cook Time
45 Minutes
Serves
4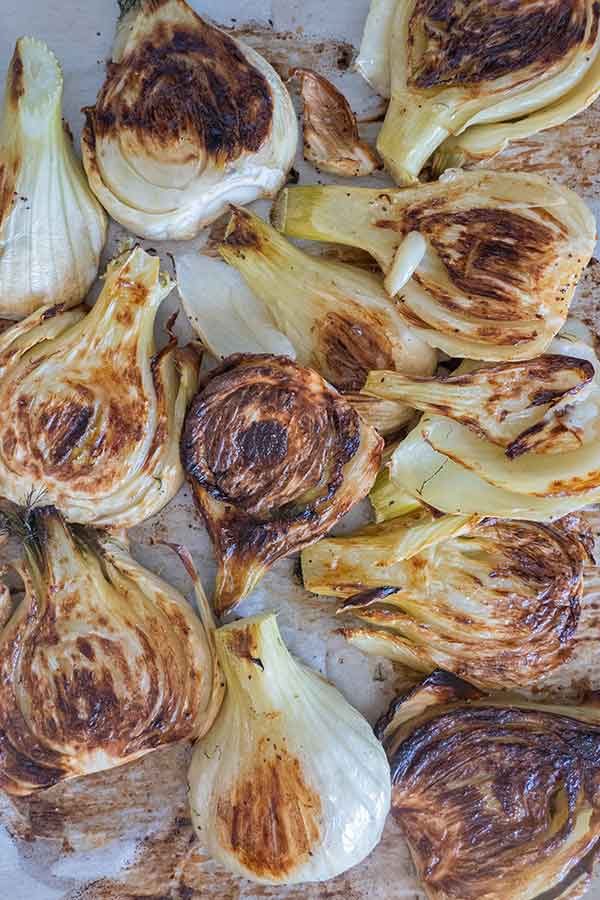 Average Rating: 4.5 | Rated By: 7 users
Roasted fennel has so much flavour with a delightful buttery texture. This versatile vegetable can replace a snack, enjoy it as a healthy appetizer, or you can add it to salads, pasta or as a side to your favourite protein.
This healthy vegetable is slightly caramelized and buttery when it is slowly roasted. You won't believe how delicious it is until you try it! To make the tasty caramelized fennel you will need extra virgin olive oil, sea salt and black pepper—a very simple recipe. The flavours develop as the fennel slowly roasts in the oven.
Fennel is low in calories and rich in potassium, fiber, electrolytes, and vitamin C. It also helps with digestion.
some of my favourite fennel recipes…
sheet pan ginger salmon with citrus fennel
One-Skillet Chicken Penne with Fennel
Cauliflower Fennel and Sweet Potato Chicken Tagine
Ingredients
4 large fennel bulbs
2 tbsp. extra virgin olive oil
Sea salt and GF black pepper to taste
*As an Amazon Associate and member of other affiliate programs, I earn from qualifying purchases. Please check out my sponsorship and disclosure policy page for more details
Instructions
Preheat oven to 400 F
To clean fennel, cut the bottom and top off leaving just the bulb and then slice to 3/4-inch thick pieces
Place fennel on a baking sheet lined with parchment paper, drizzle with olive oil and season with salt and pepper
Bake for 45 minutes turning halfway
Enjoy warm or cold
Similar Recipes
Simply Roasted Fennel With Carrots
In this Roasted Fennel with Carrots vegan dish, the vegetables are lightly caramelized bringing out their delicate flavour. Easy to whip up and so darn delicious! This low fat, low cal side dish goes well with any main, especially with maple-glazed baked salmon steaks.     what his fennel… Fennel bulb looks like the base of celery crossed with […] Read More
Prep Time
5 Minutes
Difficulty
Easy
Cook Time
20 Minutes
Serves
4
Classic Thai Celery and Fennel Salad
A healthy Classic Thai Celery and Fennel Salad. This salad is made simply with fresh ingredients such as celery, fennel, green onions, nuts, cilantro, fresh chilli peppers and a light Thai dressing. The Thai dressing is made with sesame oil, fresh lime juice, and a splash of fish sauce. The dressing gives this celery and […] Read More
Prep Time
10 Minutes
Difficulty
Easy
Serves
4