Immune Boosting Turmeric Celery Soup
Published on May 20, 2017
by
Kristina Stosek
Prep Time:

15 minutes
Cook Time:

30 minutes
Serves:

6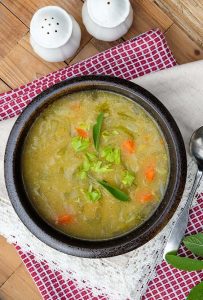 ​This post may contain affiliate links, please see our
privacy policy
for details
This Flavourful Immune Boosting Turmeric Celery Soup is made with only ten ingredients. The key ingredients are celery, carrots and turmeric with a hint of sage—such simple ingredients with so much healthiness.
Surprisingly celery is a vegetable not to be ignored. This green stalk is an excellent source of antioxidants, vitamins and minerals and has only 10 calories per stalk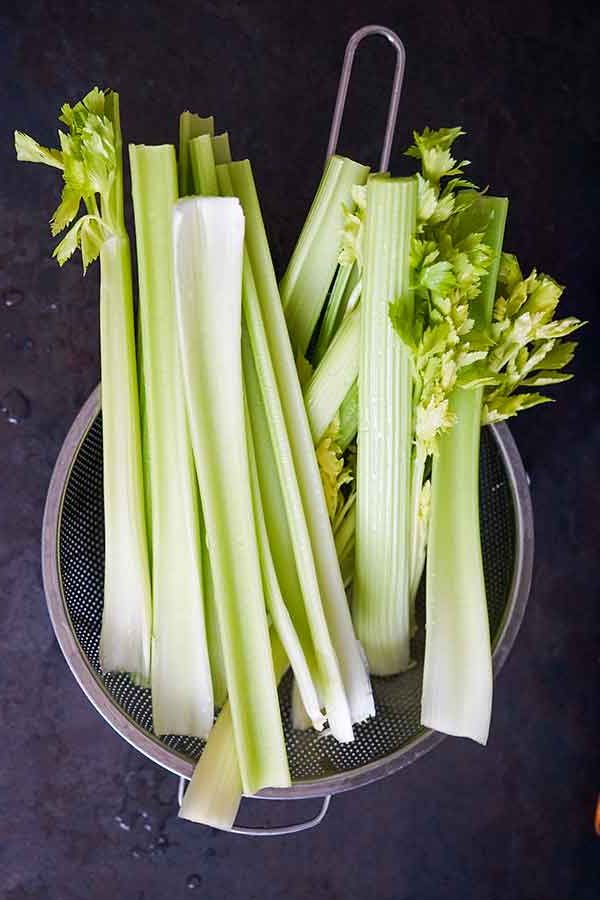 Celery provides an impressive amount of dietary fiber, which boosts digestion and weight loss.
But, there are more → significant benefits of celery, including its ability to cleanse the liver and improve skin and eye health.
In addition, since celery is a mild diuretic, it aids in the removal of bodily toxins and lowering blood pressure.
If the health benefits didn't entice you, the delicious vegan chunky celery soup should. I hope you enjoy this easy to make naturally gluten-free turmeric celery soup.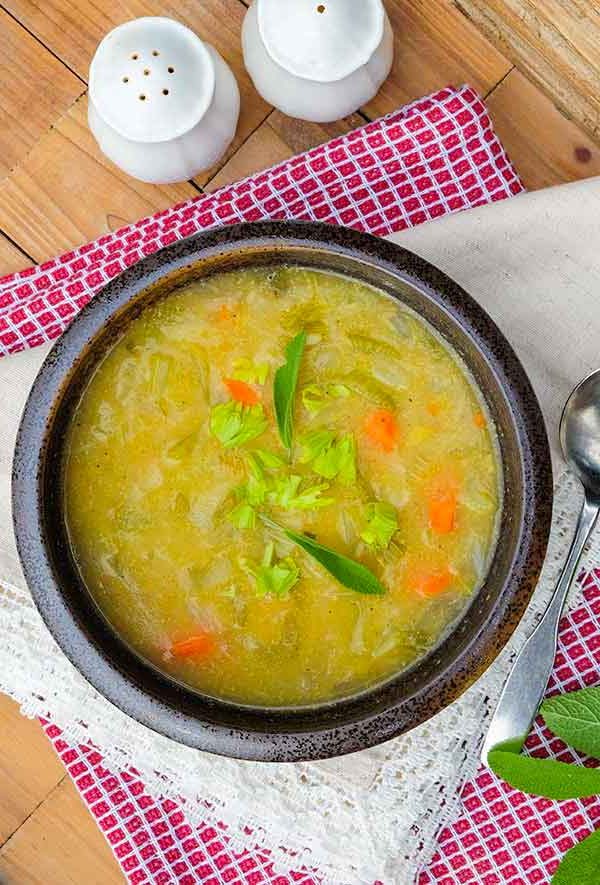 Turmeric has antioxidant properties, and one study shows that it may protect your body from free radicals by neutralizing them.
3 steps to make turmeric celery soup
This immune-boosting soup recipe is made with simple healthy nutrients in under 30 minutes
Saute celery with onions until softened. Stir in garlic and seasoning
Add broth and carrots, and simmer for 15 minutes
Transfer 1/3 of the soup into a blender or food processor and process until smooth. Then, return to the soup and season with salt and pepper if needed. Done!
Do vegetables and fruits build our immune system?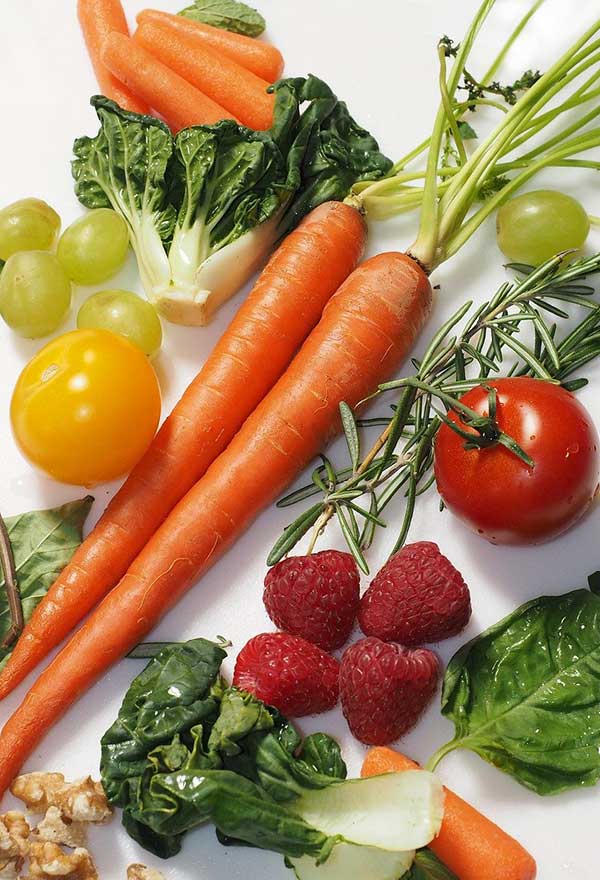 Yes, vegetables and fruits are rich in antioxidants, help reduce oxidative stress and may help give the immune system a boost.
For example, beta carotene is a powerful antioxidant that will boost body immune function by increasing disease-fighting cells. Carrots are a rich source of beta carotene.
Good nutrition is essential to building our immune system. However, sleep is one of the best ways to re-charge our bodies.
I hope you will enjoy sipping on this tasty, low-carb and low-calorie immune-boosting turmeric celery soup. Healthiness is just a bowl away. Enjoy!
Do you need recipes that have immune boosting properties? Check out our 4 favourites!
Let's Connect!
Be sure to FOLLOW US on FACEBOOK and PINTEREST.
Many thanks!
Kristina xx
Immune Boosting Turmeric Celery Soup
Published on May 20, 2017
by
Kristina Stosek
Instructions
1.

In a large soup pot heat olive oil over medium heat. Add onions and celery and cook for 5 minutes, until softened. Stirring as needed

2.

Add garlic, turmeric, sage, salt and peper. Cook for 2 more minutes

3.

Add broth and carrots, bring to a boil and cover. Reduce heat to low and cook for 15 minutes. Remove from the heat and cool for 10 minutes

4.

Add 1/3 of the soup into a blender or food processor. Blend until smooth. Return the blended soup back to the pot, and reheat as needed. Taste, and season with salt and pepper
Leave a Comment
Kristina
sounds delicious, thank you for sharing Janet
I add a diced small celery root for extra flavor and texture.
Kristina
thank you Angela, this is my go to broth when I feel under the weather
I love the turmeric flavor. I want to make your mushroom broth. I only had veggie broth that I make myself. I had a lot of celery that needed to go and found your recipe. I'm glad I did. I definitely will make again.
Kristina
I am so happy you enjoyed it! thank you for sharing
Delicious, simple, satisfying and light!
Kristina
yes the soup freezes well,
This soup sounds amazing will it freeze well?
Kristina
that is a great idea, sounds delicious
Love the flavour of this soup. I replaced the mushroom stock with dried mushrooms and added extra herbs. The soup turned out so good!