Immune Boosting Chickpea and Parsley Soup
Prep Time
10 Minutes
Difficulty
Easy
Cook Time
90 Minutes
Serves
8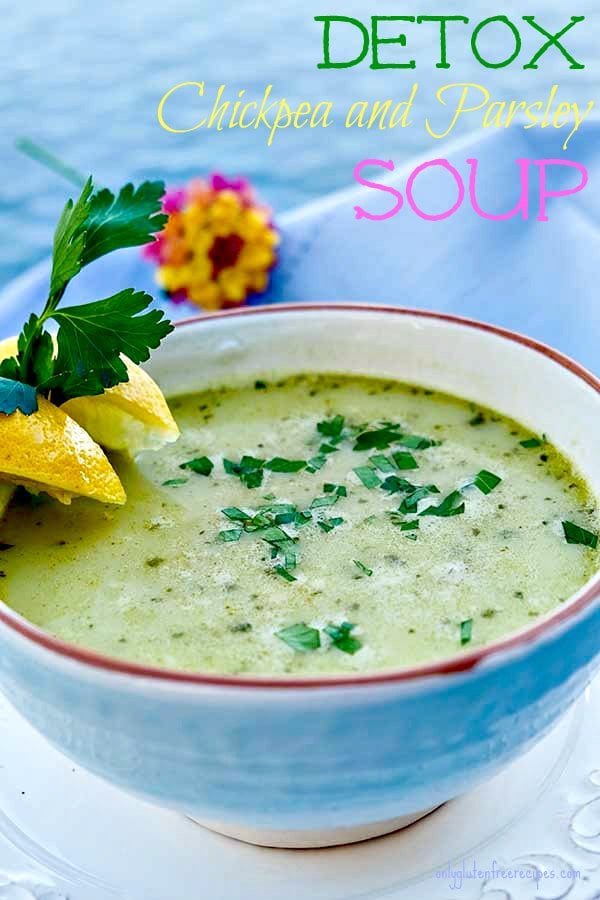 Average Rating: 5 | Rated By: 18 users
This Chickpea and Parsley Soup is not only healthy but super tasty and satisfying. The simple ingredients in this chickpea soup, such as parsley, a herb that will boost the productivity of one of our liver's enzymes, chickpeas and fresh lemon juice, are the base of this immune-boosting soup. 
Parsley is known to help detoxify our bodies and has also been shown to act as a natural diuretic, increasing urination and preventing kidney stone formation. Also, this well known herb has powerful anti-inflammatory properties that help fight against allergies and inflammatory disorders. 
On the other hand, Chickpeas are an excellent vegetarian source of iron, protein and fiber, all of which are important for a healthy body. These hearty beans can naturally suppress appetite and also help maintain a healthy body weight. Enjoy!
Ingredients
1 ½ cup dry chickpeas (4 ½ cups cooked)
2 Tbsp. extra virgin olive oil
1 medium organic onion, finely chopped
1 bunch organic fresh flat leaf parsley, finely chopped
½ tsp. GF ground cardamom, if you don't have cardamom, you can use turmeric
4 cups organic gluten free chicken or vegetable stock + 1 cup water
1 Tbsp. fresh lemon juice
Sea salt and coarsely ground black pepper to taste
*As an Amazon Associate and member of other affiliate programs, I earn from qualifying purchases. Please check out my sponsorship and disclosure policy page for more details
Instructions
Soak chickpeas overnight in cold water. Drain and rinse
In a large soup pot, sauté onions and parsley in olive oil over medium-low heat for 3 minutes. Stir in cardamom and chickpeas, then chicken stock and water. Cook covered over low heat for about 1-½ hours, until just tender
Cool soup slightly, then using a blender or food processor puree the soup roughly leaving some texture. Add the lemon juice and season with salt and pepper. If the soup is too thick add some water
Note: If using canned organic chickpeas. Use 3 (15 oz. cans) Drain and rinse chickpeas under cold water and follow the same steps, except cook the chickpeas for only 20 minutes
Similar Recipes
Immune Boosting Lentil Salad
Most delicious Immune Boosting Lentil Salad made with nutrient-packed ingredients. Lentils, ancient food, is the powerhouse of nutrients. Lentils are known for being high in protein, dietary fiber, iron and are low in fat. One cup of lentils contains 36 grams of protein and 16 grams of fiber. In addition, lentils are packed with potassium, […] Read More
Prep Time
10 Minutes
Difficulty
Easy
Cook Time
25 Minutes
Serves
6
Immune Boosting Soup with Nori Recipe
This healthy and flavourful soup is made with nori, vegetables, spices, ginger and fresh lime juice. The veggies are briefly cooked in a tasty broth and finished with nutrient-packed nori. This immune-boosting soup is packed with fiber and is low in calories. Lacking energy can be a way of your body telling you that it […] Read More
Prep Time
10 Minutes
Difficulty
Easy
Cook Time
10 Minutes
Serves
4