Turmeric Ginger Immune-Boosting Tonic
Published on Jan 24, 2019
by
Kristina Stosek
Prep Time:

5 minutes
Cook Time:

0 minutes
Serves:

2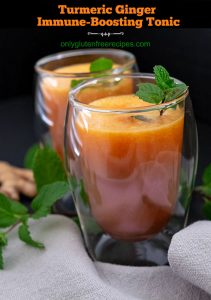 ​This post may contain affiliate links, please see our
privacy policy
for details
When we feel under the weather, a Turmeric Ginger Immune-Boosting Tonic is very comforting. A delicious tonic packed with immune-boosting properties may help us feel better, especially during the cold winter months. I could tell you drink the tonic it is healthy, but I think it essential for you to know why.
♥

Let us examine why this turmeric ginger tonic is so good for us.

Turmeric containing a compound called curcumin has potent anti-inflammatory effects and is a powerful antioxidant. Add a little black pepper, and you will increase the absorption of curcumin. 

Ginger has strong anti-inflammatory and antioxidant effects, and may also have anti-diabetic properties, thus lowering blood sugars. 

Carrots contain a high dose of beta-carotene and are an excellent source of antioxidants. Beta-carotene has been linked to improved eye health and lowering cholesterol. 

Oranges are high in vital vitamin C, which is essential for the function of a healthy immune system, and may minimize the effects of a common cold. One of the benefits of orange peels (orange zest) is, it prevents histamine from being released, so it may help you cut back on sneezing and runny nose. 

And we all know a tasty spice called cinnamon. Cinnamon is known to lower blood sugar levels, is packed with antioxidants and has anti-inflammatory properties. 

However, hydration is probably most important to our health. Coconut water is an easy and delicious way to keep hydrated, especially if you are not a water drinker. But water is always the best way to get hydrated.

Three of our most popular immune-boosting recipes are the

30-minute immune boosting chicken soup

Immune boosting chickpea and parsley soup

Immune boosting papaya chia breakfast pudding

Disclaimer: This article is not intended to provide medical advice, diagnosis or treatment. Views expressed here do not necessarily reflect those of onlyglutenfreerecipes or its staff.
Turmeric Ginger Immune-Boosting Tonic
Published on Jan 24, 2019
by
Kristina Stosek
Instructions
1.

Place everything in a blender and blend until smooth. Serve chilled