30-Minute Immune Boosting Chicken Soup
Published on Oct 25, 2018
by
Kristina Stosek
Prep Time:

5 minutes
Cook Time:

25 minutes
Serves:

4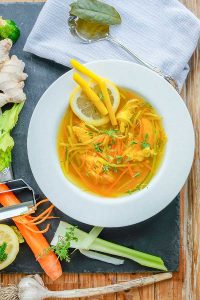 ​This post may contain affiliate links, please see our
privacy policy
for details
Sharing my favourite immune boosting chicken soup. We are entering a busy time of the year. With Halloween, Thanksgiving and Christmas just around the corner, our lives become stressful and very busy. This is also the beginning of flu season.
So, in my home, it is time to rev up the immune system with simple, healthy food such as this chicken soup.
Traditionally chicken soup is a slow simmer soup which gives you the delicious broth that we all love. This chicken soup recipe is all about boosting our immune system to help us stay healthy and energized.
To make this soup I used organic ingredients that contain powerful medicinal properties to support our immune system. These are ginger, garlic, turmeric, lemongrass, lemon juice and honey.
Did you know that lemongrass helps to heal colds and flu and is full of antioxidants as per medical news today? And honey is a natural energy drink and a cough suppressant as per medical daily.
And let us not forget about hydration, very important to keep our bodies healthy. An easy way to stay hydrated is with a delicious, comforting hot chicken soup.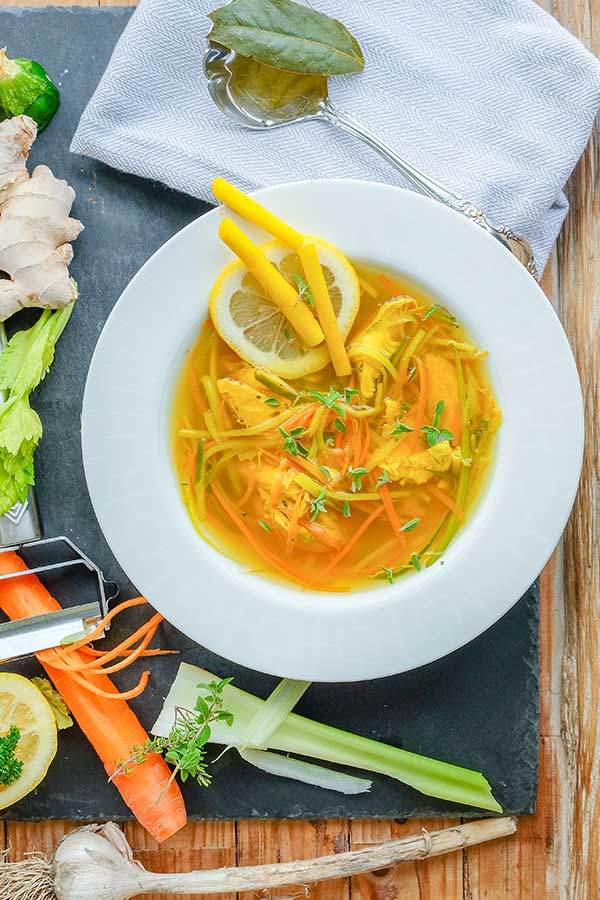 immune boosting chicken soup, the recipe
Now for the recipe, first I simmer the chicken with ginger, lemongrass, turmeric, bay leaf and clove. Once the chicken is tender, I add the julienned veggies with garlic, parsley, and finish off with fresh lemon juice and honey. The veggies are cooked briefly keeping them tender but still firm.
This delicious soup is very easy and simple, but most importantly it will help boost your immune system. Another incredibly delicious soup you should check out is the Peruvian chicken soup. This soup is so flavourful and packed with so much goodness!
30-Minute Immune Boosting Chicken Soup
Published on Oct 25, 2018
by
Kristina Stosek
Instructions
1.

Place first 9 ingredients into a soup pot. Bring to boil, reduce heat to medium-low. Cover and cook for 20 minutes, until the chicken is tender. Remove bay leaf and lemongrass

2.

In the pot, shred the chicken off the bones by using a fork. Remove the bones

3.

Add carrots, zucchini, celery, garlic and parsley. Bring to boil, reduce heat to low and cook for 3 minutes

4.

Remove soup from the stove and stir in lemon juice and honey

5.