Instant Pot Immune Boosting Chicken & Spinach Soup
Published on Mar 23, 2019
by
Kristina Stosek
Prep Time:

10 minutes
Cook Time:

20 minutes
Serves:

6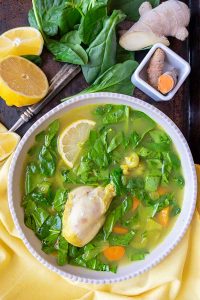 ​This post may contain affiliate links, please see our
privacy policy
for details
Instant Pot Immune Boosting Chicken & Spinach Soup – a chicken soup that provides nutrients, beautiful colour and taste. This recipe is a natural reviver… Soothing, comforting and gentle. It is a reminder of how very subtle and delicate soups can be and why they make us feel so good!
When the flu season is in full force, the body needs to build immunity to stay healthy. This is why in this soup, I wanted to include ingredients packed with antioxidants and are well known as superfoods: fresh lemon, spinach, garlic, ginger, and turmeric.
Not only do they add healthy nutrients, but these simple ingredients add so much flavour to simple chicken soup.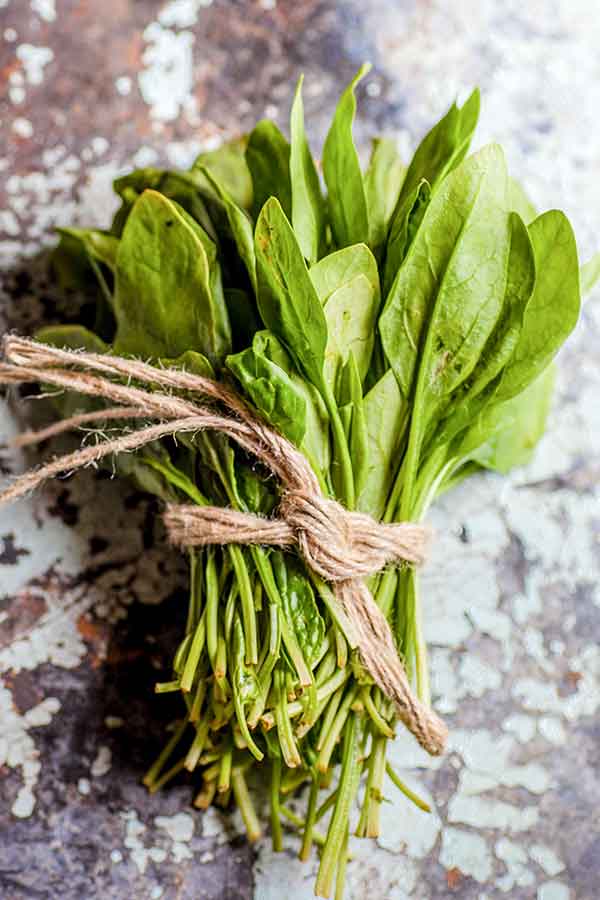 What do we know about antioxidants?
It is well documented that antioxidants may help lower your risk of infection. So when the flu season is in full force, it is recommended to increase your antioxidant intake.
What I love about this soothing Instant pot immune-boosting chicken soup recipe is, it's speedy. If you have an Instant Pot, you can have a bowl of wholesome, healthy chicken soup in under thirty minutes. How amazing is that?
Looking back, I remember my grandmother having a pot of chicken soup on the stove simmering for hours…how times have changed.
Does using Instant Pot retain more nutrients?
Using an Instant Pot, you will retain more nutrients than by simmering the soup on the stove. The soup also cooks a fraction of the time. And most importantly, the soups taste so good!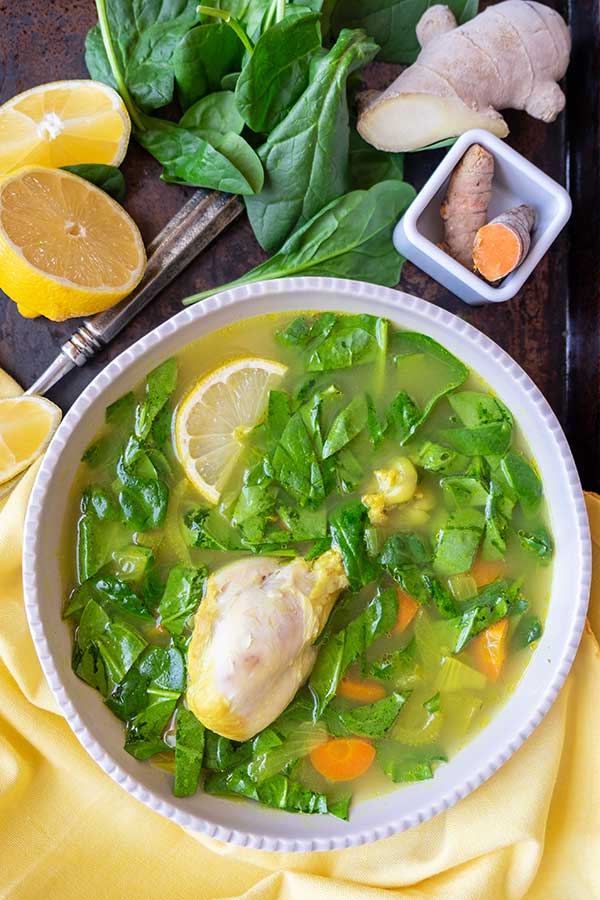 Scientific studies found that chicken soup has anti-inflammatory properties making this soup suitable for soothing cold and flu symptoms.
If you need more immune-boosting recipes, check out our list of healthy recipes, including soups, tonics, and salads.
Instant Pot Immune Boosting Chicken & Spinach Soup
Published on Mar 23, 2019
by
Kristina Stosek
Instructions
1.

Set Instant Pot to sauté. Add olive oil, once heated add onions and celery, cook for 3 minutes, stirring often. Turn the instant pot off

2.

Stir in ginger, turmeric, bay leaf, black pepper and cloves until combined.

3.

Add carrots, chicken, lemon, water and salt. Lock the lid with the valve in closed position. Set to manual, and set the timer to 17 minutes. When the time is up, quick-release the steam.

4.

Once the steam is released, carefully remove the lid. Discard bay leaf and lemon. Add garlic and spinach into the hot soup and stir. Serve!
Leave a Comment
Kristina
thank you Janie for sharing!
I never rate recipes but just had to comment and say that this is DELICIOUS! I added mushrooms and a little sweet potato and used red pepper instead of cloves. You can do a lot with this and feel great. It is also sufficiently filling, something a lot of soups are not. Thank you for this!!