Instant Pot Immune Boosting Lemon Chicken & Spinach Soup
Prep Time
10 Minutes
Difficulty
Easy
Cook Time
22 Minutes
Serves
6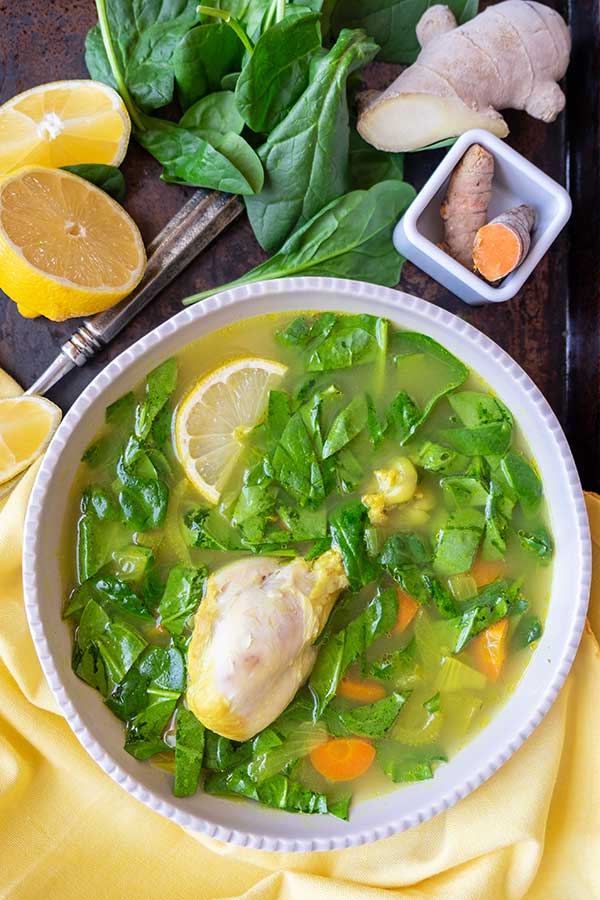 Be the first to rate this recipe.
It's springtime and the flu season is still in full force, this is why it is important for the body to build up immunity to stay healthy. In this delicious comforting soup, I used superfoods such as lemon, spinach, garlic, ginger, and turmeric all of which are packed with antioxidants. Antioxidants may help to lower your risk of infection this is why it is important to increase your antioxidant intake during the flu season. What I love about this soothing Instant pot immune boosting lemon chicken and spinach soup recipe is, it's speedy and super easy. Some scientific studies found that chicken soup has anti-inflammatory properties making this soup good for soothing cold and flu symptoms. Check out my favourite Instant pot and kitchen gadgets in our online store
Please check out my sponsorship and disclosure policy page for more details
Ingredients
2 Tbsp. Extra virgin olive oil
1 medium yellow onion, chopped
2 organic celery stalks, diced
1 Tbsp. Grated fresh ginger
1 Tbsp. Grated fresh turmeric or 1 tsp. GF ground turmeric
1 GF bay leaf
1/4 tsp. GF ground black pepper
1/8 tsp. GF ground cloves
4 medium organic carrots, diced
6 organic free-range, skinless, chicken thighs or drumsticks
1/2 small lemon
8 cups of water
1 tsp. Himalayan salt
3 garlic cloves, minced
8 oz. organic baby spinach, roughly chopped
Instructions
Set Instant Pot to sauté. Add olive oil, once heated add onions and celery, cook for 5 minutes, stirring often. Turn the instant pot off
Stir in ginger, turmeric, bay leaf, black pepper and cloves until combined.
Add carrots, chicken, lemon, water and salt. Lock the lid with the valve in closed position. Set to manual, and set the timer to 17 minutes. When the time is up, quick-release the steam.
Once the steam is released, remove the lid. Remove bay leaf and lemon. Add garlic and spinach into the hot soup and stir. Enjoy!
Similar Recipes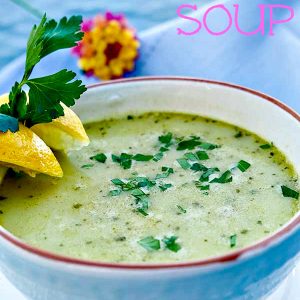 Immune Boosting Chickpea and Parsley Soup
This is a hearty gluten-free soup recipe to boost your immune system. The combination of chickpeas, parsley and fresh lemon juice create a rich and satisfying soup. These simple ingredients deliver powerful health benefits to your body. Parsley boosts the productivity of one of our liver's enzymes that detoxes our bodies. This delicate herb has powerful anti-inflammatory […] Read More
Prep Time
10 Minutes
Difficulty
Easy
Cook Time
90 Minutes
Serves
8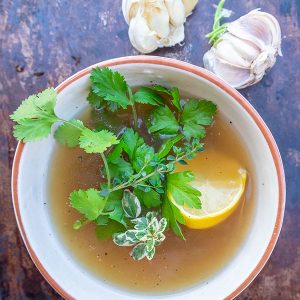 Garlic Lemon Broth
Whenever I feel a little under the weather I always make garlic lemon broth. And today I definitely feel under the weather. Everywhere I go people are coughing, sneezing and looking ill. Some of it is partly because of the flu season, but indulging in rich food, cocktails and lacking rest also puts havoc on […] Read More
Prep Time
10 Minutes
Difficulty
Easy
Cook Time
60 Minutes
Serves
6 cups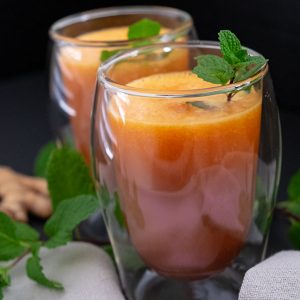 Turmeric Ginger Immune Boosting Tonic
During the winter months, some of us are feeling under the weather. This is why a delicious tonic packed with immune boosting properties may help us feel better during the cold winter months. I could tell you drink the tonic it is healthy, but I think it essential for you to know why. Let us […] Read More
Prep Time
5 Minutes
Difficulty
Easy
Serves
2