Firecracker Rice Bowl with Sesame Meatballs
Published on Aug 04, 2021
by
Kristina Stosek
Prep Time:

20 + minutes
Cook Time:

20 minutes
Serves:

4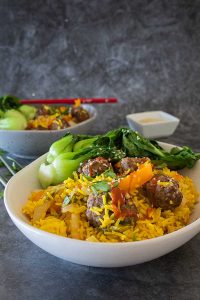 ​This post may contain affiliate links, please see our
privacy policy
for details
Firecracker Rice Bowl is an all-in-one bowl with tasty tender sesame meatballs and healthy rainbow veggies flavoured with a spicy-sweet sauce. This rice bowl is more than just rice topped with protein and veggies. This gluten-free rice recipe is a game-changer, thanks to the flavourful firecracker sauce. The textures and flavours in this rice bowl are the key!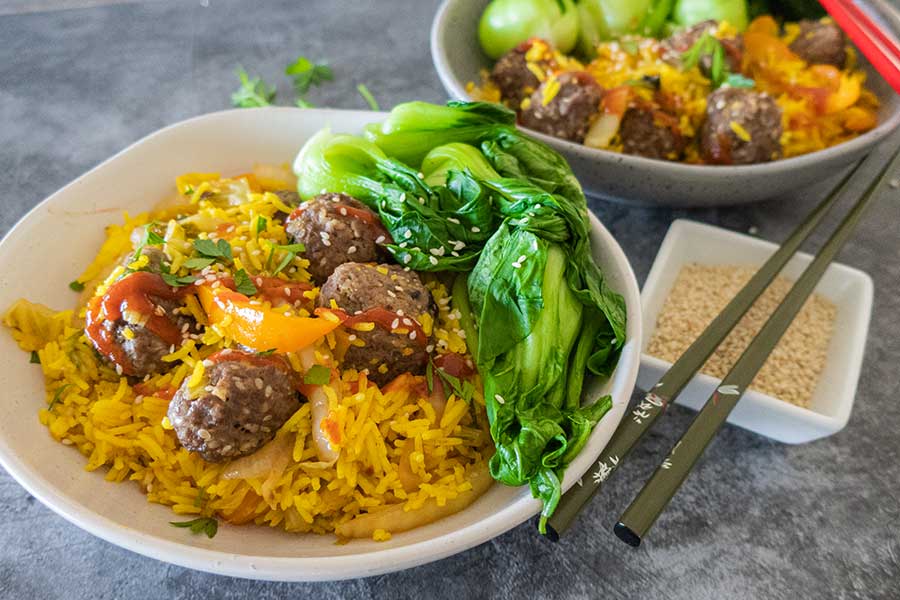 WHAT IS FIRECRACKER SAUCE?
In this rice bowl recipe, the gluten free firecracker sauce is made of orange juice, maple syrup, hot sauce, rice vinegar, fresh ginger and toasted sesame oil. Yes, it's spicy, savoury and sweet all in one. The flavour will explode in your mouth. Another dish you may enjoy is the Korean beef and broccoli rice bowl.
SESAME MEATBALLS TO WAKE UP YOUR TASTE BUDS
These sesame meatballs are grain-free and egg-free. The flavours come from green onions, toasted sesame oil, rice vinegar, maple syrup and plenty of sesame seeds. The tiny seeds add flavour and an addicting texture.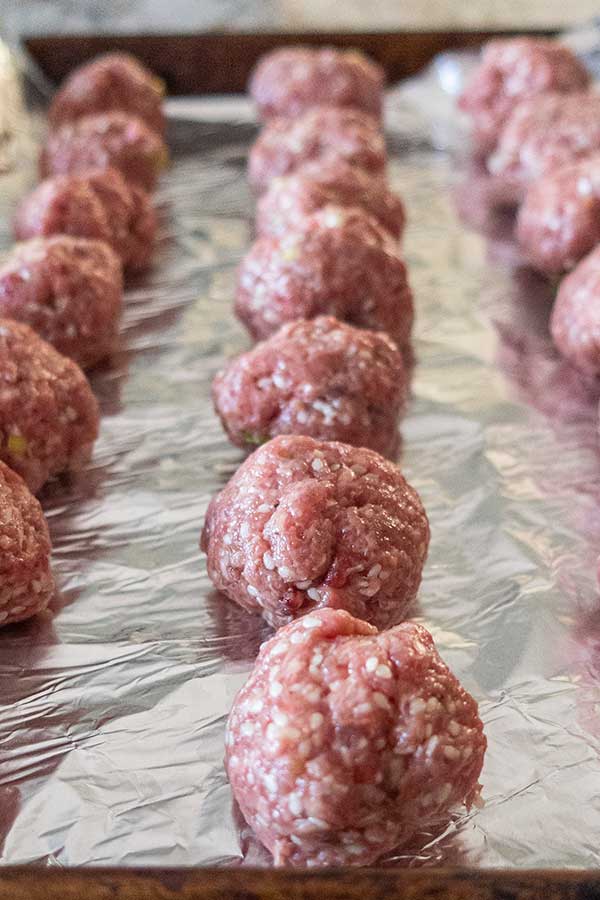 THE RICE
I used basmati rice in this gluten-free rice bowl recipe. The long-grain Indian rice is aromatic and has an excellent texture for mixing up with sauces because the rice keeps its shape. The rice is cooked with healthy turmeric and bay leaf, adding more flavour and beautiful golden colour.
THE VEGETABLES
I wanted to create a rice bowl that is healthy…not only delicious and beautiful. To do this, I added onions, garlic, bell peppers and Nappa cabbage. The nutrient-packed veggies are rich in dietary fiber, a component that is very important in our diet to help keep our bodies at a healthy weight.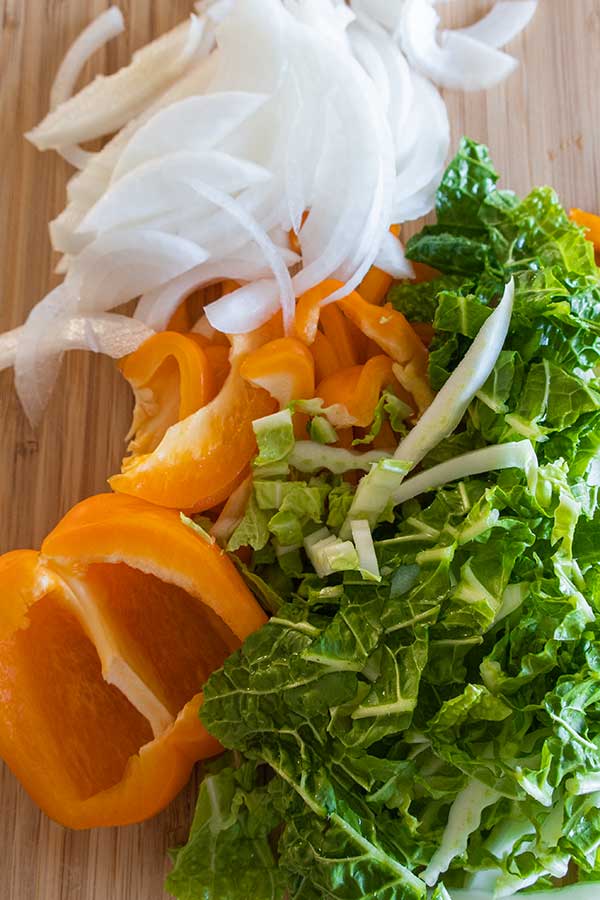 The fresh veggies are lightly cooked, keeping them tender with a light crunch, adding flavour and tantalizing textures to this healthy rice bowl.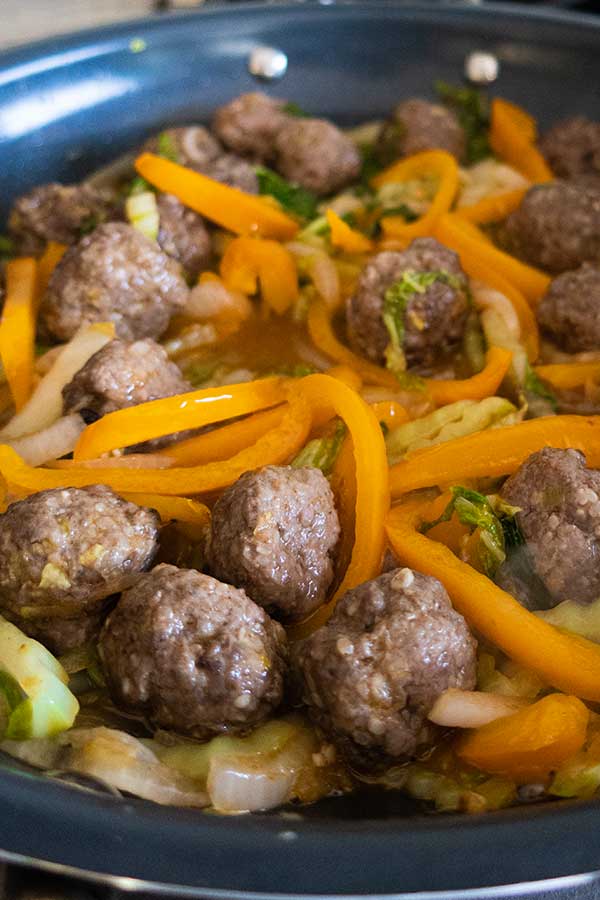 VEGETARIAN OPTION
If you want to skip the meat, no problem. You can add firm tofu cubes and extra veggies such as zucchini, kombucha squash, or broccoli for a vegetarian option. And for those that like eggs, add scrambled eggs at the same time as you add the rice.
HOW TO SAVE TIME MAKING FIRECRACKER RICE BOWL
Cook the rice in advance and refrigerate until ready to use. As the rice cools, it becomes dryer making it even better to mix with the firecracker sauce. Chilled cooked rice is always better in stir-fry dishes because it will hold its shape and not become sticky.
You can also prepare the gluten-free sesame meatballs in advance. Mix up the meat mixture and shape it into meatballs. Then, refrigerate until you are ready to cook them. The meatballs take only 12 minutes to cook when they are at room temperature, so add 3 extra minutes of cooking time if they have been refrigerated.
The sauce can also be made in advance. Mix the ingredients and refrigerate. The sauce will keep up to 7 days when refrigerated.
So the only thing that is left is the veggies. But, again, you can prep them until you are ready to cook them.
Now that all your ingredients are ready, the cooking time, including the meatballs, should take no longer than about 20 minutes.
So if you are planning a busy afternoon for the following day, do all the prepping the night before. And when it's time for dinner, just heat and mix. Done!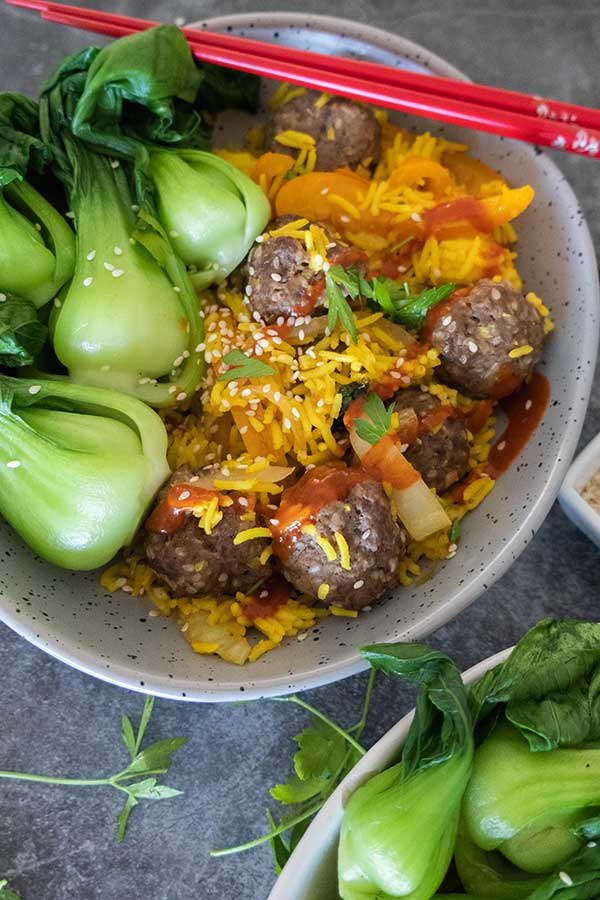 FIRECRACKER SAUCE IS A GREAT WING SAUCE
When I make hot wings, this is my go-to sauce. To make hot wings, season the chicken with salt and pepper, then marinate in cooled melted butter and firecracker sauce overnight. After that, you can bake or barbecue the wings. They are so so good!
Rice bowls make excellent lunches or casual weeknight dinners. I like veggies, and this firecracker rice bowl with sesame meatballs is no exception. This is why I often add blanched extra veggies to the bowl. My favourites are bok choy or broccoli.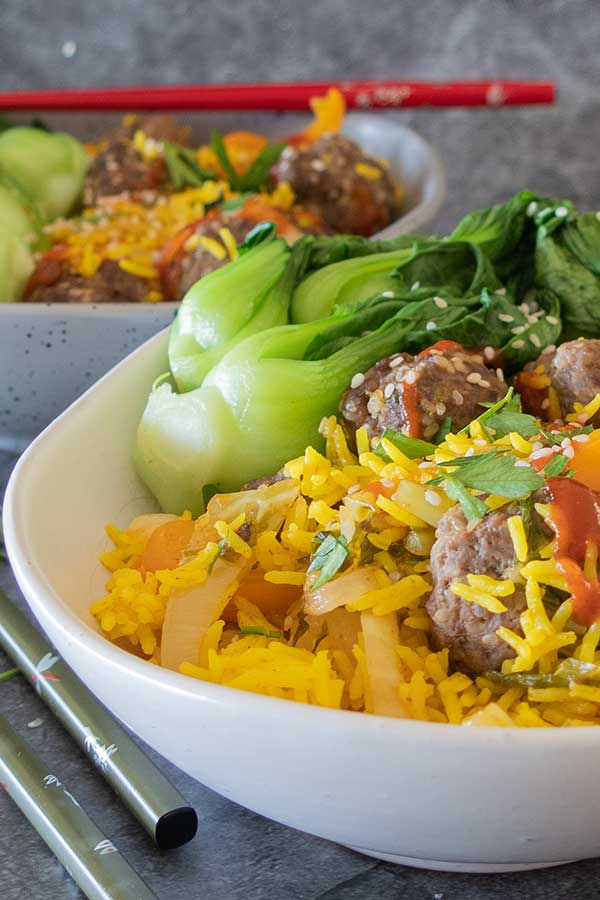 When you add extra veggies, you know the meal is more nutritious and satisfying. However, the rice bowl is just as delicious without adding more veggies.When I make rice bowls I often add toppings such as: extra hot sauce, chopped herbs such as cilantro or parsley, and sesame seeds. Enjoy.
Let's Connect!
Meet Kristina. Passionate about creating delicious, innovative gluten free recipes, and author of two gluten free cookbooks, "Entertaining The Gluten Free Way" and "Small Bites The Gluten Free Way".
Be sure to FOLLOW US on FACEBOOK or, check us out on PINTEREST. And don't forget to sign up for our newsletter. We always have something new and exciting for you!
Many thanks!
Kristina x
Firecracker Rice Bowl with Sesame Meatballs
Published on Aug 04, 2021
by
Kristina Stosek
Instructions
1.

Cook the rice per package directions with turmeric and bay leaf. Set aside to cool. You can cook the rice a day in advance.

2.

3.

4.

Mix the meatball ingredients and shape them into small balls. Place on a rimmed baking sheet lined with foil paper and bake for 12 minutes. Do not overbake, or the meatballs will become hard

5.

6.

In a small bowl, whisk the sauce ingredients 

7.

Heat oil in a wok or a large no-stick frying pan. Add onions, bell peppers, Nappa cabbage and garlic. Cook the veggies over medium-high heat until they start to soften, about 3 minutes. Add the firecracker sauce and cooked meatballs and continue cooking for 2 - 3 more minutes. Stirring as needed. The sauce should be bubbling, and everything should be heated through

8.

Stir in the rice and cook until the rice is hot