Hearty Cabbage with Collard Greens Recipe
Published on Mar 23, 2020
by
Kristina Stosek
Prep Time:

10 minutes
Cook Time:

15 minutes
Serves:

4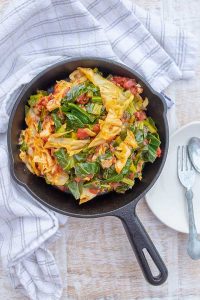 ​This post may contain affiliate links, please see our
privacy policy
for details
This Hearty Cabbage with Collard Greens dish will brighten up any meal. I can't think of anything in this recipe that isn't healthy! This vegan dish is made simply with cabbage, young leaves of collard greens, tomatoes, garlic, heart healthy olive oil, and added flavour of caraway seeds.
The veggies in this vegan recipe are cooked briefly, keeping the cabbage and collard greens tender with some firmness. There are no mushy veggies in this flavourful cabbage and collard greens dish. This vegan dish is a farm to table recipe.
The easiest and quickest way to cook cabbage and collard greens.
The cabbage is first briefly sautéed in garlic and olive oil and then braised with caraway seeds and tomatoes for a few minutes.
Cabbage takes longer to cook than collard greens → this is why we start with the cabbage and cook it until it starts to soften. This takes only about ten minutes of cooking time.
Next, add the collard greens and cook everything together for a few more minutes. Super simple yet so delicious, packed with fiber and antioxidants.
The total cooking time is about fifteen minutes. The cabbage and collards become full of flavour and have the perfect texture.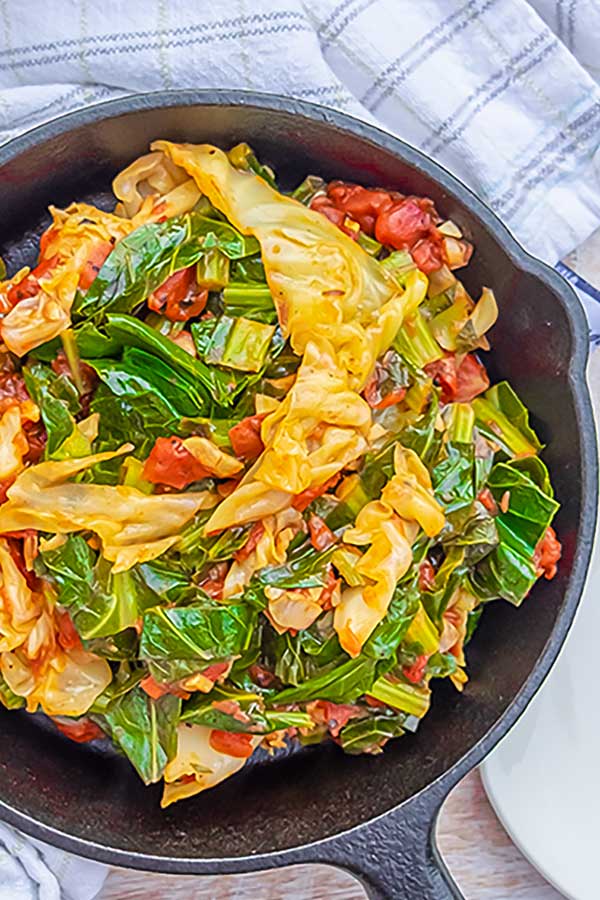 This vegetarian dish goes with everything, chicken, beef, pork or fish. Another cabbage recipe you may enjoy is Stewed Red Cabbage with Apples.
What are antioxidants and why are they so important?
As per Mayo Clinic, antioxidants are substances that may protect your cells against free radicals, which may play a role in cancer, heart disease and other diseases.
Free radicals are molecules produced when your body breaks down food or when you're exposed to tobacco smoke or radiation.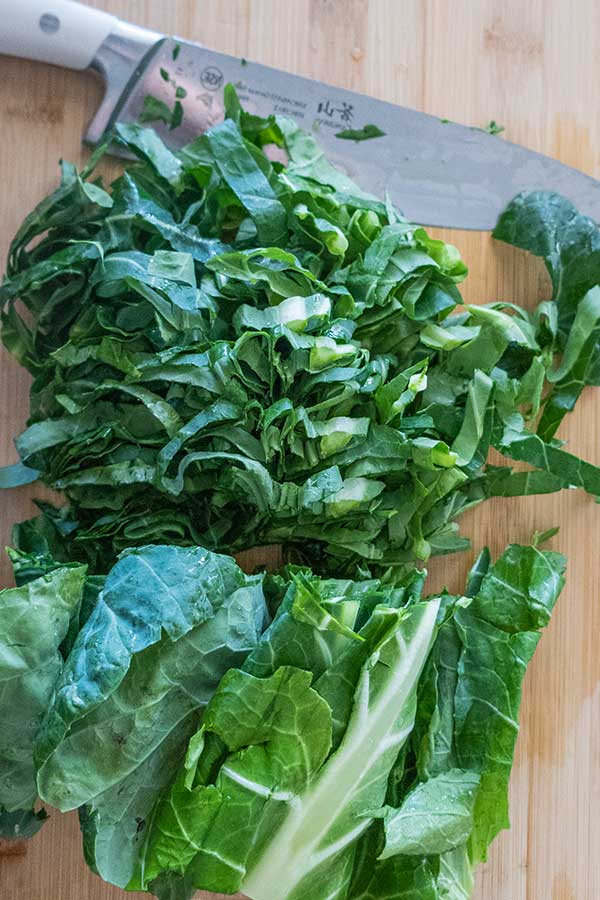 Plant-based foods such as vegetables, fruits, nuts and seeds are the best sources of antioxidants. Surprisingly, even pure cocoa powder is rich in antioxidants.
In this cabbage and collard greens recipe, the cabbage, collard greens, tomatoes, garlic and olive oil are nutrient-dense veggies and packed with antioxidants.
Hearty Cabbage with Collard Greens Recipe
Published on Mar 23, 2020
by
Kristina Stosek
Instructions
1.

Using a large saucepan heat olive oil over medium heat. Add garlic and cook until fragrant, about 1 minute. Careful not to burn the garlic. Add caraway seeds and stir to combine

2.

Add cabbage and coat with the garlic oil. Stir in tomatoes and water and season with salt. Cover and cook over medium heat for 10 minutes

3.

Stir in collard greens, cover and cook for 5 more minutes. Taste and season with salt and pepper as needed.