Easy Walnut Pesto Recipe
Published on Jan 05, 2015
by
Kristina Stosek
Prep Time:

5 minutes
Cook Time:

minutes
Serves:

4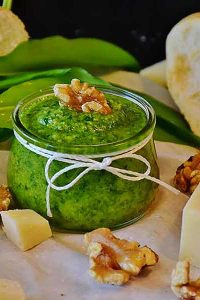 ​This post may contain affiliate links, please see our
privacy policy
for details
You will love this super easy to make delicious walnut pesto. It is gently flavoured with garlic, making it a perfect addition to gluten-free pasta or grilled meats. Healthy and tasty!
what is walnut pesto?
Walnut pesto is super simple to make using only five ingredients plus salt and pepper. You will need fresh basil leaves, garlic, walnuts, olive oil, Parmesan cheese and salt and pepper.
To make the walnut pesto, add everything to a blender or food processor and blend until creamy. Easiest pesto recipe ever!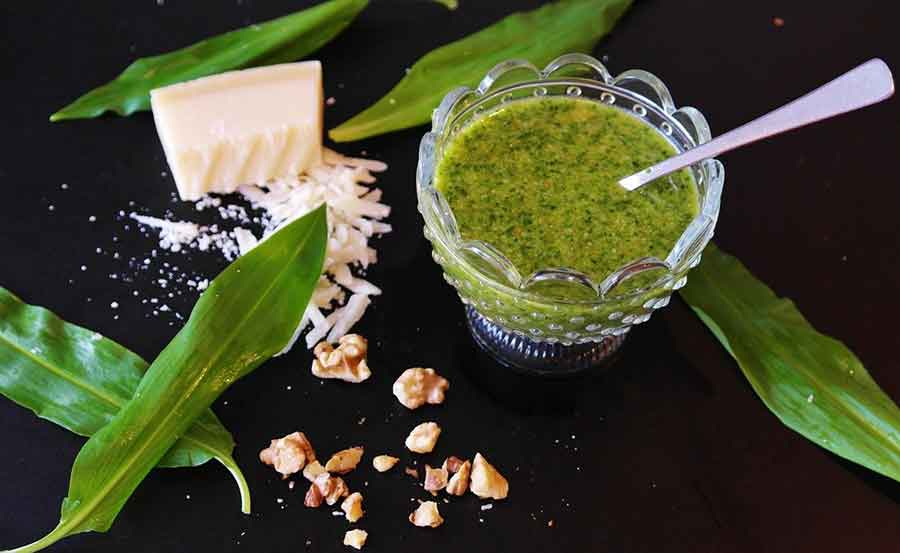 what does pesto go with?
The best thing about pesto is, you can add it to just about anything. One of my favourite ways to use pesto is over a pizza. That's right, ditch the tomato sauce and use walnut pesto instead.
But there are many uses for pesto. For example, you can mix it with gluten-free pasta, add it to soups, stews, rice, salad dressing, toss with steamed veggies or top your favourite bruschetta. The list is endless.
When I make pasta, I keep the noodles warm, not hot. This way, the pesto stays bright green in colour, and you can taste the fresh basil. You will not need anything else to make the fresh pasta taste insanely delicious.
Making fresh pesto from scratch will beat any store-bought one. The freshness of fresh basil leaves, garlic and freshly grated Parmesan cheese is the key to the best pesto recipe.
In this pesto recipe, I substituted walnuts for pine nuts. I find the earthy walnuts make the pesto more delicious, and walnuts are heart-healthy nuts.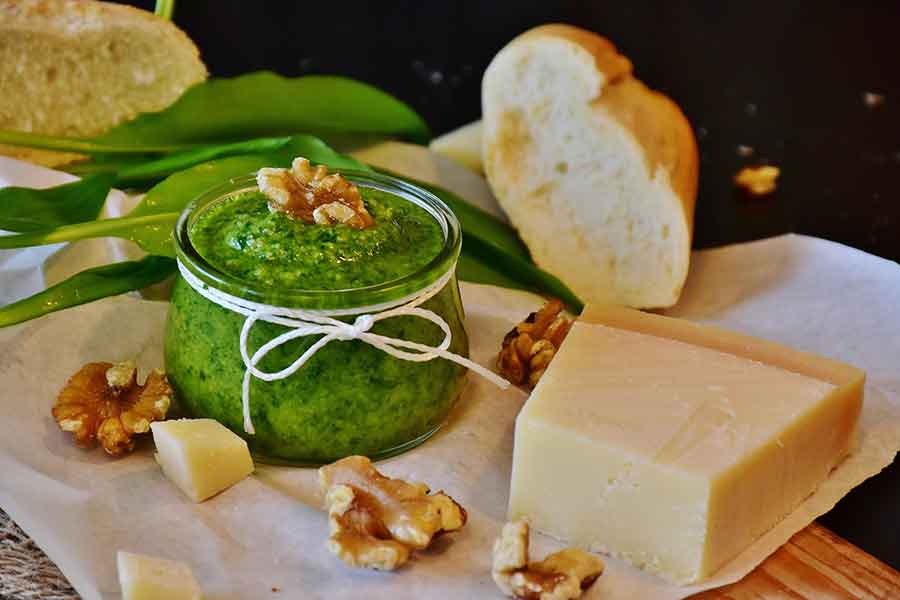 Difference between red and green pesto…
Green pesto is made with fresh basil and pine nuts or, in this recipe, walnuts. Red pesto is made with a base of roasted red peppers and sundried tomatoes. Also, a delicious pesto if you ask me.
You should check out the Creamy Cauliflower Pesto Soup or the Potato and Sausage Pesto Soup…YUM! The pesto added so much flavour to this freshly made soup.
Easy Walnut Pesto Recipe
Published on Jan 05, 2015
by
Kristina Stosek
Instructions
1.

Add basil leaves, garlic, walnuts and parmesan cheese into a food processor, and then pulse several times

2.

Scrape the sides and slowly add in olive oil while the food processor is running

3.

Occasionally scrape the sides down until all ingredients emulsify

4.

Season with salt and pepper to taste.