Easy Walnut Pesto
Prep Time
5 Minutes
Difficulty
Easy
Serves
4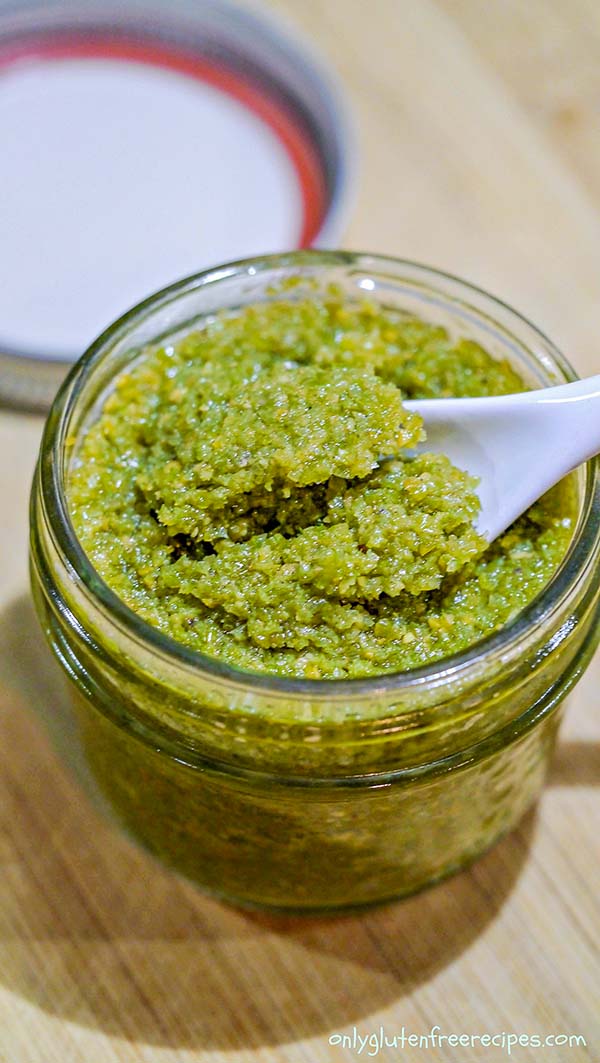 Average Rating: 4.5 | Rated By: 3 users
You will love this super easy to make delicious walnut pesto. It is gently flavoured with garlic, making it a perfect addition to gluten-free pasta or grilled meats. Healthy and tasty!
Ingredients
1 cup fresh organic basil leaves, chopped
2 garlic cloves, crushed
½ cup raw walnuts
1/3 cup freshly grated Parmesan cheese
1/3 cup extra virgin olive oil
Sea salt and freshly ground GF black pepper to taste
*As an Amazon Associate and member of other affiliate programs, I earn from qualifying purchases. Please check out my sponsorship and disclosure policy page for more details
Instructions
Add basil leaves, garlic, walnuts and parmesan cheese into a food processor, and then pulse several times
Scrape the sides and slowly add in olive oil while the food processor is running
Occasionally scrape the sides down until all ingredients emulsify
Season with salt and pepper to taste.
Similar Recipes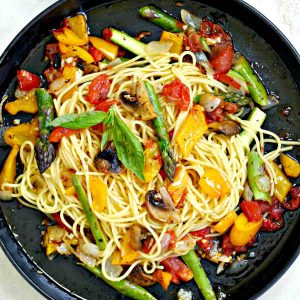 Gluten Free Roasted Veggie Pasta
In this tasty gluten-free vegetarian pasta recipe, the vegetables are roasted al dente in their flavourful juices and then tossed with your favourite pasta. This simple pasta recipe takes just minutes to prepare, making this a favourite anytime vegetarian meal Read More
Prep Time
5 Minutes
Difficulty
Beginner
Cook Time
20 Minutes
Serves
4
Rustic Spaghetti Squash Medley
A wonderful vegan dish that is low in carbs and calories is always popular. In this recipe, the spaghetti-like squash is cooked briefly with olive oil, garlic, tomatoes, mushrooms, and fresh parsley making this a delicious, healthy meal. If you are following a low-carb diet this naturally gluten-free dish is for you! Enjoy as a vegan […] Read More
Prep Time
15 Minutes
Difficulty
Intermediate
Cook Time
60 Minutes
Serves
4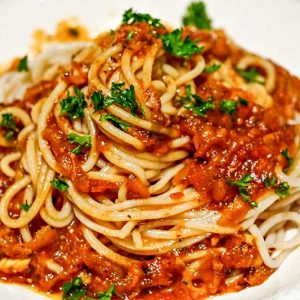 Skinny Zucchini Spaghetti Sauce – Gluten Free
This gluten-free vegan spaghetti sauce is a healthy, meatless version of classic Italian spaghetti sauce.  Whether you are following a vegan diet or looking for a meatless dinner, this skinny spaghetti sauce will satisfy your craving for Italian food every time. Serve over gluten free pasta or spaghetti squash Read More
Prep Time
15 Minutes
Difficulty
Easy
Cook Time
20 Minutes
Serves
4