Sweet Potato, Cabbage And Chicken In A Light Curry Sauce
Prep Time
15 Minutes
Difficulty
Easy
Cook Time
40 Minutes
Serves
4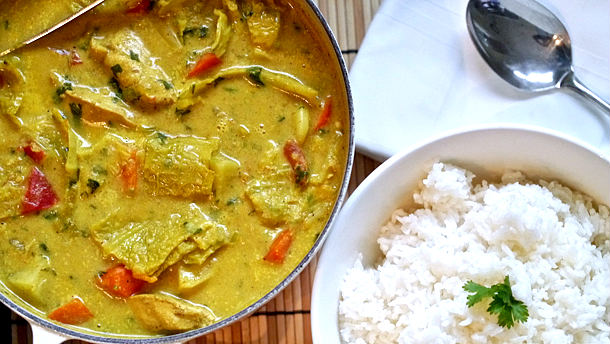 Average Rating: 5 | Rated By: 3 users
The beauty of this light chicken curry dish is its subtle taste and creamy texture. In this recipe, the chicken is cooked with sweet potato and savoy cabbage in a light curry sauce. If you like a more pronounced spicy flavour just add a pinch of cayenne pepper. Serve with Indian lemon rice with corn or simple basmati rice
Ingredients
1 Tbsp. coconut oil
1 medium size yellow onion, finely chopped
4 garlic cloves, crushed + 2 Tbsp. GF curry powder
1 large tomato, roughly chopped
2 cups coconut milk
2 cups peeled sweet potatoes cut into bite size pieces
2 cups savoy cabbage cut into bite size pieces
2 medium size carrots, diced
8 boneless skinless chicken thighs, cut into bite size pieces
1 tsp. sea salt or to taste
1 cup chopped fresh cilantro
2 Tbsp. fresh lime juice
2 Tbsp. tapioca flour and ½ cup water, whisked together for thickening
*As an Amazon Associate and member of other affiliate programs, I earn from qualifying purchases. Please check out my sponsorship and disclosure policy page for more details
Instructions
Heat coconut oil over medium heat in a large saucepan. Add onions and cook for 5 minutes
Stir in garlic, curry powder and tomato until well combined. Add coconut milk, sweet potatoes, savoy cabbage, carrots, chicken and salt.
Bring to boil, reduce heat to low and cover. Cook for 30 minutes
Add cilantro, lime juice and thickening mixture and cook until the sauce thickens about 5 minutes, stirring occasionally. If the sauce gets too thick add coconut milk or water as needed
Serve with lime wedges and fresh cilantro over basmati rice.
Similar Recipes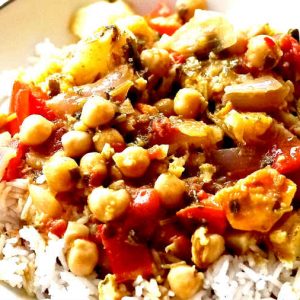 Cauliflower and Chickpeas In Light Curry Sauce
This tasty gluten-free vegetarian curry dish takes only minutes to prepare. The cauliflower and chickpeas with added yams and red peppers are cooked in a light coconut curry sauce. This tasty vegetarian curry dish is a budget-friendly, low-fat and low-cal recipe. Enjoy with one of our many gluten-free rice side dishes Read More
Prep Time
20 Minutes
Difficulty
Easy
Cook Time
20 Minutes
Serves
4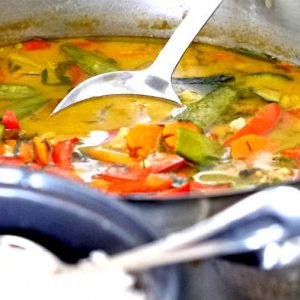 Simple Thai Green Curry Chicken Recipe
Thai food is known for using fresh rather than dried herbs and spices, plenty of red hot chili peppers and instead of salt they use fish sauce. Thai food main ingredient is a good variety of vegetables with small amount of meat and very little fat. In this recipe I used ready made gluten-free green […] Read More
Prep Time
20 Minutes
Difficulty
Beginner
Cook Time
25 Minutes
Serves
4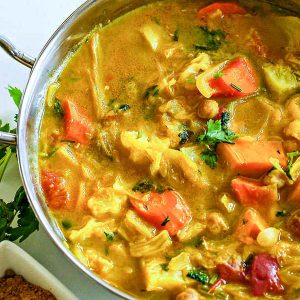 Gluten Free Vegetarian Light Curry Soup
This is a naturally gluten-free veggie-forward recipe with a light curry flavour. Herbs, spices and fresh vegetables simmered in a delicate coconut broth give this vegetarian soup a delicious mild curry flavour Read More
Prep Time
15 Minutes
Difficulty
Beginner
Cook Time
30 Minutes
Serves
6