Instant Pot Coconut Chicken Curry
Published on Feb 15, 2019
by
Kristina Stosek
Prep Time:

10 minutes
Cook Time:

20 minutes
Serves:

4 - 6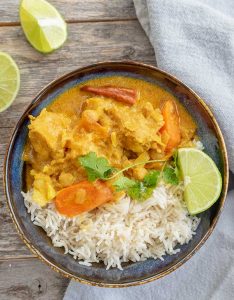 ​This post may contain affiliate links, please see our
privacy policy
for details
Starting this weekend with the simplest Instant Pot Coconut Chicken Curry…The tender chicken is cooked with vegetables in a creamy coconut curry sauce. In this chicken curry recipe, the ingredients are readily available in most supermarkets. The curry is mildly spiced and has a fragrant and delicate flavour.
This Indian dish is traditionally served with basmati rice but can also be enjoyed with rotis.
Is chicken curry better when cooked in an Instant Pot?
The short answer is yes! Here is why. First, the entire recipe takes only 20 minutes to cook. Second, but even more importantly, the chicken is juicier because it is cooked under pressure. Third, the curry sauce is more flavourful because none of the juices escape.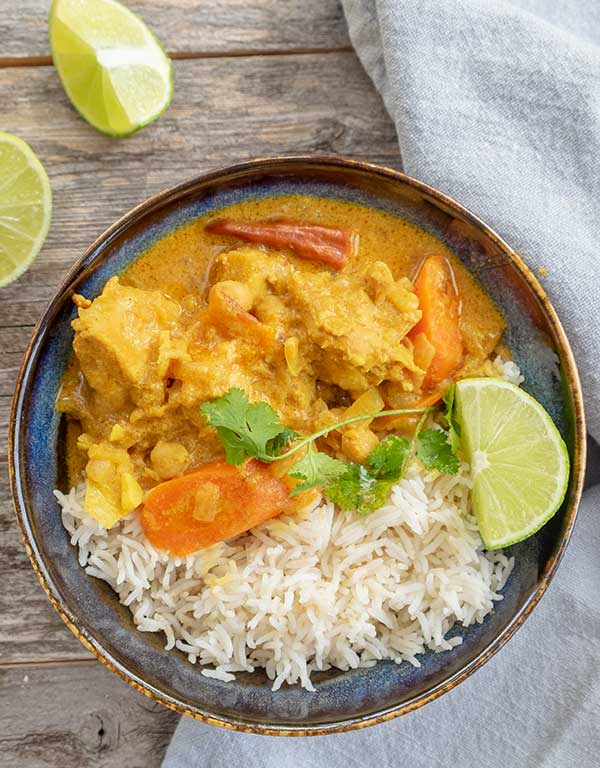 Is food healthier when using an Instant Pot?
But did you know that food cooked in an Instant pot retains more nutrients? One 1995 study dubbed pressure cooking the best out of several other cooking methods because the pressure-cooked foods retained more nutrients than the others. Many findings in later studies followed suit.
The reasons are -> quick cooking times mean less time for nutrients to escape, and lower temperatures mean fewer changes to the nutritional structure of foods.
Lastly, when using an instant pot for cooking, you can walk away once you start the cooking process—no need to worry about burning the food or a dirty stove.
If you like Indian food, you may enjoy these popular gluten-free Indian dishes. The recipes are simply made with flavours we love!
Instant Pot Coconut Chicken Curry
Published on Feb 15, 2019
by
Kristina Stosek
Instructions
1.

Set instant pot to sauté. Heat butter/ghee until melted. Add onion, garlic and bay leaf, sauté until onions are translucent. About 5 minutes. Stir in curry powder, cinnamon and ginger until fragrant, about 1 minute. Add tomato sauce and stir to combine

2.

Add chicken and stir to coat the chicken pieces with the mixture

3.

Add balance of ingredients and give it a gentle stir

4.

Cook on manual mode for 15 minutes. After 15 minutes do a quick release to release the steam. Remove and discard the bay leaf. Enjoy

5.

Serve with desired toppings
Leave a Comment
Kristina
thank you Denise, it is always good to hear.
such an easy recipe and the chicken turned out tender, juicy and full of flavour. Thank you!!!!