Instant Pot Coconut Curry Chicken
Prep Time
10 Minutes
Difficulty
Easy
Cook Time
20 Minutes
Serves
4 - 6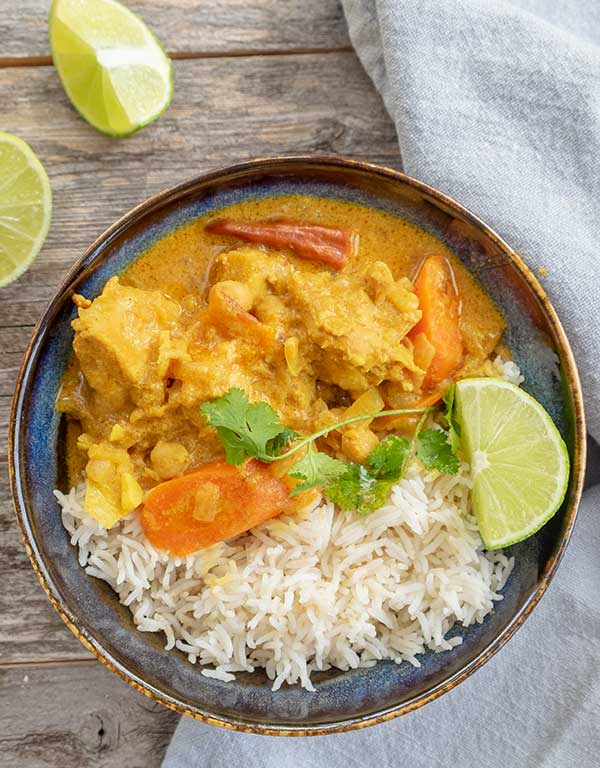 Be the first to rate this recipe.
You asked, and I listened. One of the questions I repeatedly hear is why I don't have gluten-free Instant Pot recipes on my website. Well, it was time for me to invest in an Instant Pot. However, first I had to do my research. Which brand, what size and the various features the instant pot should have, all of these factors are important. So here it is my new instant pot and my new best friend 😉 Now the fun starts, learning how to use it correctly. After experimenting with numerous recipes, I decided to share my favourite one, an easy Instant Pot coconut curry chicken.
For a healthier and heartier meal, I also added some vegetables which compliment this curry dish. The coconut curry chicken is so flavourful, the chicken and vegetables are cooked to perfection, and the sauce is just right wow! I can't believe how delicious the curry turned out. And it was so easy to make. The best thing that I LOVE about this recipe is the cleanup, only one pot and a clean stove. The total cooking time is 20 minutes and if you are quick at prepping, the total time for the entire dinner is less than 30 minutes. So I am converted, there will be a lot more Instant Pot recipes coming your way. I would like to mention, while the curry was cooking, I made easy basmati rice to go with this incredibly delicious coconut curry chicken. 
Ingredients
3 tablespoon butter or ghee or coconut oil
1 large onion, chopped
4 garlic cloves, chopped
1 GF bay leaf
3 Tbsp. GF curry powder
1/4 tsp. GF ground cinnamon
1 Tbsp. Minced ginger
1 cup pure tomato sauce
2 lb. boneless, skinless chicken thighs, cut into large chunks
2 medium Yukon gold potatoes, peeled and cut into wedges
2 carrots, diced
1 yellow or red bell pepper, cut into bite size pieces
2 Tbsp. Fresh lime juice
1 - 2 red chili peppers or to taste, seeds removed (optional)
1 1/2 tsp. Himalayan salt or to taste
Optional toppings; fresh cilantro, yogurt, sour cream, limes
Instructions
Set instant pot to sauté. Heat butter/ghee until melted. Add onion, garlic and bay leaf, sauté until onions are translucent. About 5 minutes. Stir in curry powder, cinnamon and ginger until fragrant, about 1 minute. Add tomato sauce and stir to combine
Add chicken and stir to coat the chicken pieces with the mixture
Add balance of ingredients and give it a stir
Cook on manual mode for 15 minutes with steam release handle in sealing position. After 15 minutes do a quick release to release the steam. Remove and discard the bay leaf
Serve with basmati rice and desired toppings
Similar Recipes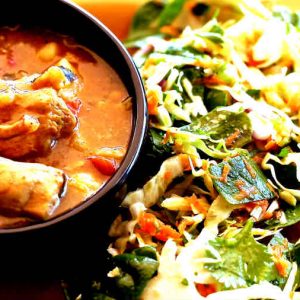 Cauliflower, Sweet Potato And Chicken In A Red Curry Sauce
This simple one-pot curry recipe is packed with healthy nutrients. Flavours of India prevail in this cauliflower, sweet potato and chicken in a tasty red curry sauce dish. This easy to make 30 minute gluten-free dinner recipe makes a nice change to a simple chicken dish. Serve with scented rice with currants or light kale […] Read More
Prep Time
15 Minutes
Difficulty
Easy
Cook Time
25 Minutes
Serves
4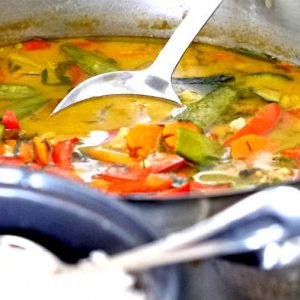 Simple Thai Green Curry Chicken Recipe
Thai food is known for using fresh rather than dried herbs and spices, plenty of red hot chili peppers and instead of salt they use fish sauce. Thai food main ingredient is a good variety of vegetables with small amount of meat and very little fat. In this recipe I used ready made gluten-free green […] Read More
Prep Time
20 Minutes
Difficulty
Beginner
Cook Time
25 Minutes
Serves
4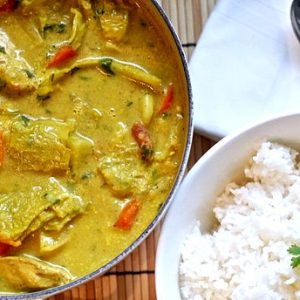 Sweet Potato, Cabbage And Chicken In A Light Curry Sauce
The beauty of this light chicken curry dish is its subtle taste and creamy texture. In this recipe, the chicken is cooked with sweet potato and savoy cabbage in a light curry sauce. If you like a more pronounced spicy flavour just add a pinch of cayenne pepper. Serve with Indian lemon rice with corn […] Read More
Prep Time
15 Minutes
Difficulty
Easy
Cook Time
40 Minutes
Serves
4