Moroccan Chicken Rice Dinner
Published on Jan 19, 2020
by
Kristina Stosek
Prep Time:

15 minutes
Cook Time:

45 minutes
Serves:

4 - 6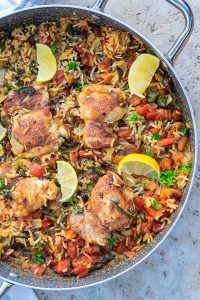 ​This post may contain affiliate links, please see our
privacy policy
for details
Hi, and welcome to my blog! Today I'm sharing a delicious Moroccan chicken rice dinner that I hope you'll enjoy. This is a delicious Gluten-Free Moroccan Chicken Rice Dinner made in one skillet.
chicken rice dinner with 7 spices
This dish uses a blend of seven spices, raisins and dried apricots. And the mix of spices is what gives this chicken rice dinner the authentic Moroccan flavour.
FAQ about Moroccan cuisine
Moroccan cuisine is a unique and popular cuisine that many enjoy. However, there are still some people who are not familiar with this type of cuisine.
If you're one of those people, this blog section is for you! Here, we will answer some of Moroccan cuisine's most frequently asked questions.
1. What is Moroccan cuisine?
Moroccan cuisine is a style of cooking that is influenced by the countries of Morocco, Algeria, Tunisia, and Libya. It typically features a mix of spices, vegetables, and meat.
2. What are some popular Moroccan dishes?
Some popular Moroccan dishes include couscous, tagines, and kebabs. Couscous is pasta made from semolina flour and is not gluten-free. While tagines are stews cooked in a unique pot called a tagine. Kebabs are another popular dish which consists of grilled meats such as lamb or chicken.
3. What kind of spices are used in Moroccan cuisine?
Many spices are used in Moroccan cuisine, including cumin, paprika, turmeric, ginger, and cinnamon. These spices give the food a unique flavor that sets Moroccan cuisine apart from most.
Is Moroccan food healthy?
Moroccan food is generally healthy. It is typically made with fresh ingredients, including vegetables, fruits, and lean meats. There are also many whole grains and low-fat options available.
However, some Moroccan dishes can be high in calories and fat, so choosing wisely when dining out or preparing gluten-free meals at home is important.
let's start with the chicken rice dinner recipe details,
The chicken dinner is made simply in one skillet first by searing the chicken coated in spices, then briefly sautéing the onions with garlic with spices. Once this is done, mix the rice with vegetables, chicken broth and add the seared chicken.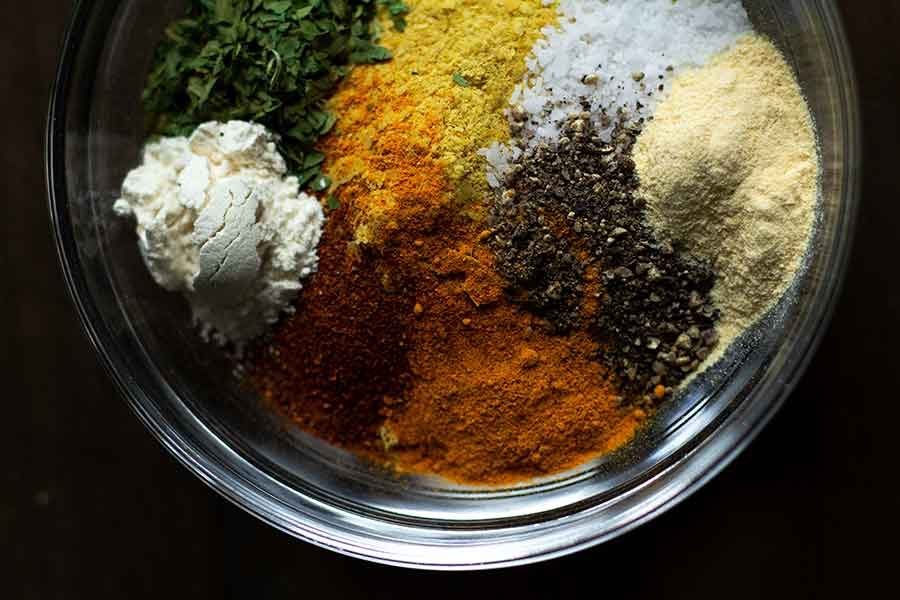 Now the chicken dish is ready for baking. For this chicken rice dinner recipe, I added healthy green collards and tomatoes, making this a most flavourful Moroccan chicken rice dish.
Served with lemon slices and fresh chopped parsley enhances the sweetness of the raisins and apricots. Truly a spectacular Moroccan chicken dish.
The best part, everything in this recipe is naturally gluten-free, making this dish a gluten-free chicken rice dish.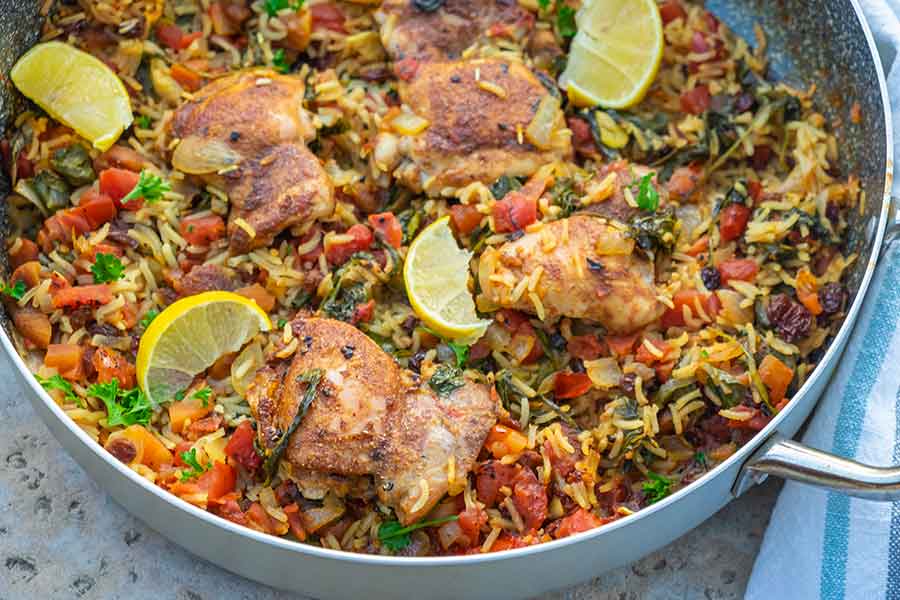 my take on chicken rice dinner recipes…
Chickens have become prevalent throughout cuisine and cultures around the world and are one of the most popular poultry to eat in America. Chicken is high in protein and low in calories.
Also, chicken is rich in essential vitamins, primarily iron, zinc and vitamin B. By removing the chicken skin, it is considered low in fat and cholesterol. The top three countries that consume the most chicken are Australia, United States and Argentina.
For chicken recipes, they can be as simple as boiled chicken often served in Asian cuisine or a little more complicated like chicken parmesan, a well-known dish in Italy.
For busy weeknight dinners, the recipes tend to be simpler.This is why one-skillet chicken dinners became so popular.
There are many delicious one-skillet chicken dinners, but it is always nice to find one that is healthy, a little different and flavourful.
This Moroccan chicken rice dinner is absolutely delicious! The chicken is so tender, and the rice is perfectly cooked. This gluten-free chicken dish is sure to satisfy your hunger. I hope you'll give it a try and let me know what you think!
Let's Connect!
Be sure to FOLLOW US on FACEBOOK and PINTEREST.
Many thanks!
Kristina xx
Moroccan Chicken Rice Dinner
Published on Jan 19, 2020
by
Kristina Stosek
Instructions
1.

Using a large bowl blend the spices (cumin to salt)

2.

Season the chicken with half the spices

3.

Using a large Dutch Oven or tagine, heat olive oil over medium heat. Once the oil is hot, sear the chicken on both sides. About 2 minutes per side. Transfer chicken onto a plate

4.

Add onion and garlic to the pot and saute for about 3 - 5 minutes until the onions soften. Stir in remaining spices until fragrant, then add tomatoes, chicken broth, raisins, and apricots. Bring to a boil, then stir in collards and rice

5.

Return chicken back to the pot and stir. Cover and bake in a preheated oven at 375 F for 30 minutes. Remove the lid and give it a good stir. Bake for 10 more minutes

6.

Note; if you don't have an oven-safe pot with a lid use foil paper to cover the pot