Moroccan-Style Yogurt Cake – Grain Free
Published on Aug 05, 2022
by
Kristina Stosek
Prep Time:

5 minutes
Cook Time:

70 minutes
Serves:

8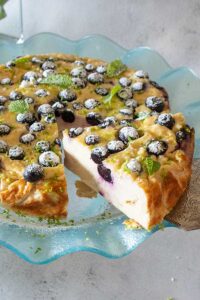 ​This post may contain affiliate links, please see our
privacy policy
for details
This Moroccan-Style Yogurt Cake is based on the classic Meskouta but without grains, dairy and nuts, and the cake is naturally gluten-free. This simple custard-like cake is made using only five ingredients plus fresh Blueberries and Moroccan spices.
What does gluten free Moroccan-Style yogurt cake taste like?
First, I know you will love it! Honestly, this custard-like extra light yogurt cake is mildly flavoured with Moroccan spices such as cardamom, ginger, cinnamon, nutmeg, and vanilla.
The sweetness comes from pure maple syrup and fresh blueberries. So this grain-free cake is made without refined sugar and grains and is naturally gluten-free.
The Greek yogurt is what gives the cake a creamy taste with less saturated fats than if you would use butter.
Are you intrigued by Moroccan cuisine? Why not check out our complete list of gluten-free Moroccan recipes.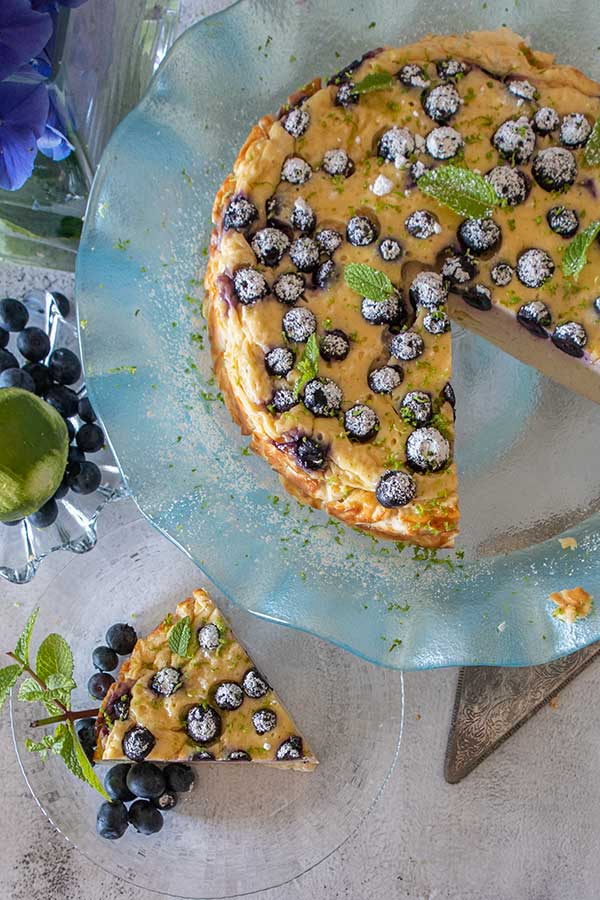 What makes this Moroccan-style cake so light?
The recipe includes eggs and unsweetened yogurt to keep this cake light and creamy. And to give it a smooth custard-like consistency, I added tapioca starch.
serving suggestions for yogurt cake
Have a slice to start your day. Everything in this recipe may be considered breakfast food: yogurt, eggs and healthy blueberries.
However, I often serve this Moroccan-style cake as a dessert with extra berries, coconut vanilla ice cream and a light dusting of powdered sugar. YUM!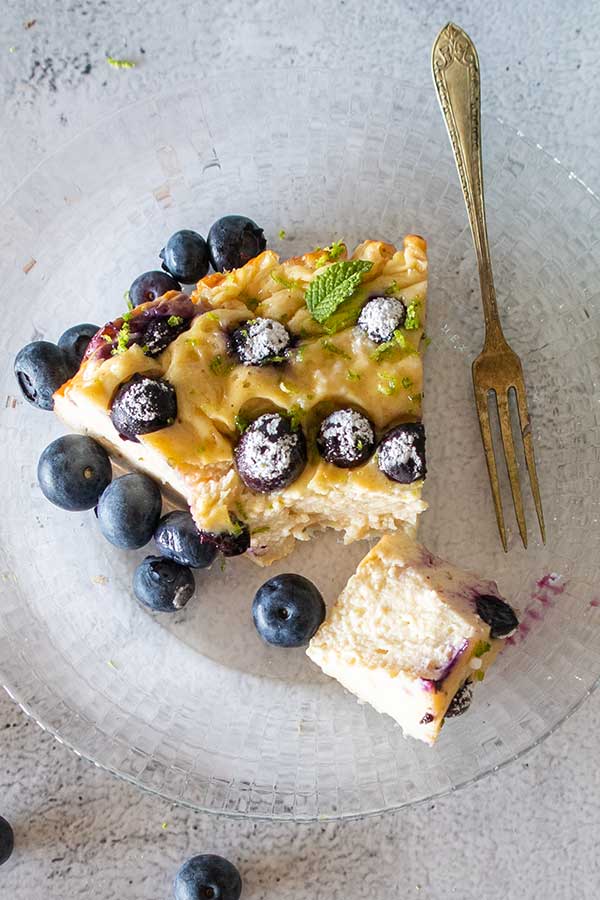 Why is this Moroccan-Style Yogurt Cake healthy?
Absolutely! The recipe includes dairy-free yogurt, eggs, tapioca and fresh blueberries. The spices also play a role in health because each one is rich in phytochemicals, which are healthful plant chemicals.
Coconut vs Greek yogurt vs regular yogurt
All yogurts are fermented products, but Coconut yogurt is made from coconut cream. And, Greek yogurt is strained to make it much thicker and tangier than regular yogurt.
In addition, Greek yogurt contains about half the carbs and sugar of regular yogurt and almost twice the protein.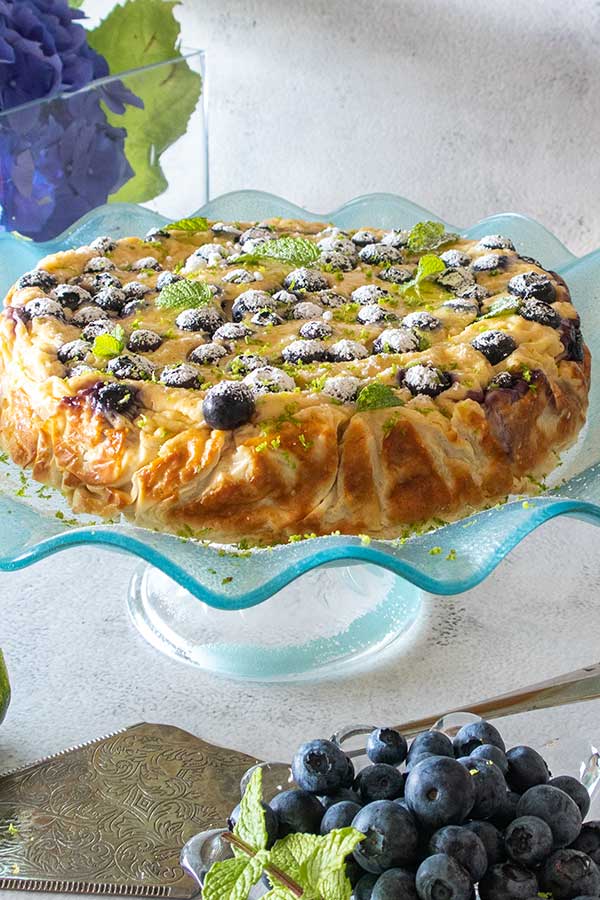 How to make Moroccan yogurt cake?
Easiest cake recipe EVER! You will love this grain-free sweet treat because you only need one bowl! So super easy cleanup.
To start, whisk tapioca with the spices. If you don't do this first, the spices are harder to mix with the eggs and yogurt later.
Then, add the eggs, maple syrup and vanilla and mix to combine. The batter will be thin.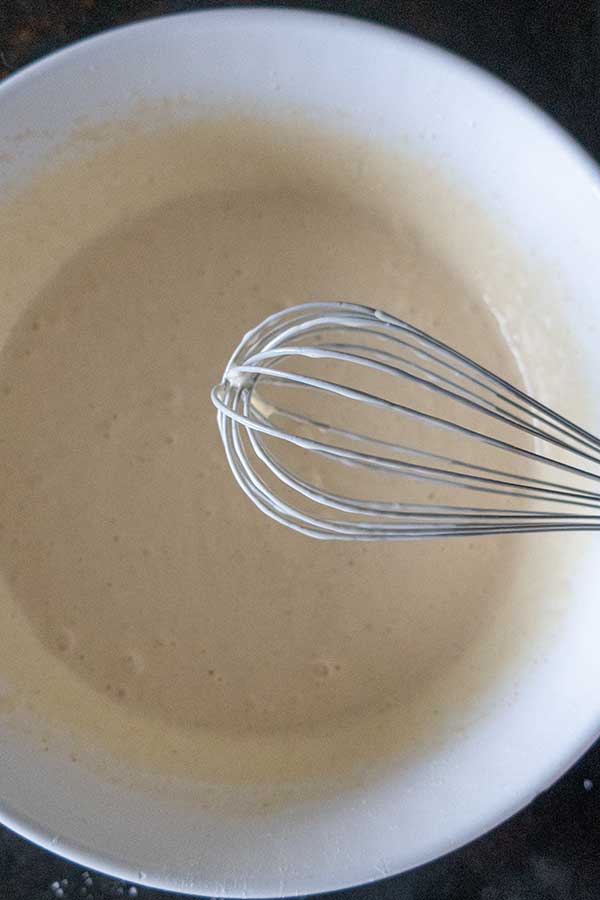 Lastly, add the yogurt and mix until the thin batter is smooth.
Pour the batter into a prepared high-sided cake pan, top with fresh blueberries and bake. You will need a pan with high sides because the cake will rise in height.
Once the cake is baked and cooled, it will deflate and form a perfect round cake shape.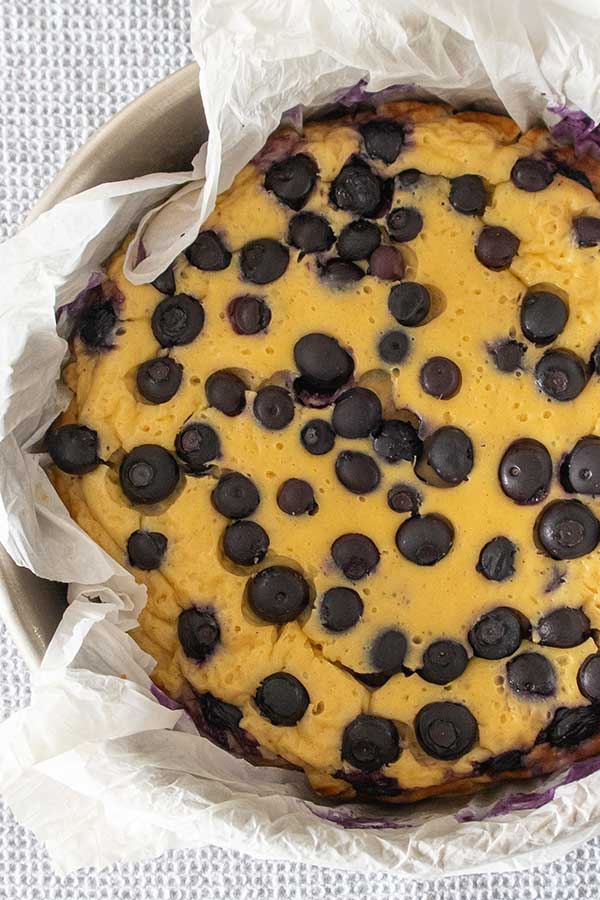 You must chill this cake for a minimum of 4 hours. But I always refrigerate it overnight and have it ready for breakfast. I found it gave the yogurt cake the best texture making it easy to slice.
If I am serving this yogurt cake for breakfast, I don't add any additional toppings. However, if you prefer more sweetness, you can dust it with powdered sugar or a drizzle of maple syrup.
When I serve this Moroccan cake for dessert, I will make it extra special by topping the cake with fresh blueberries, lime zest, vanilla ice cream and a few mint leaves.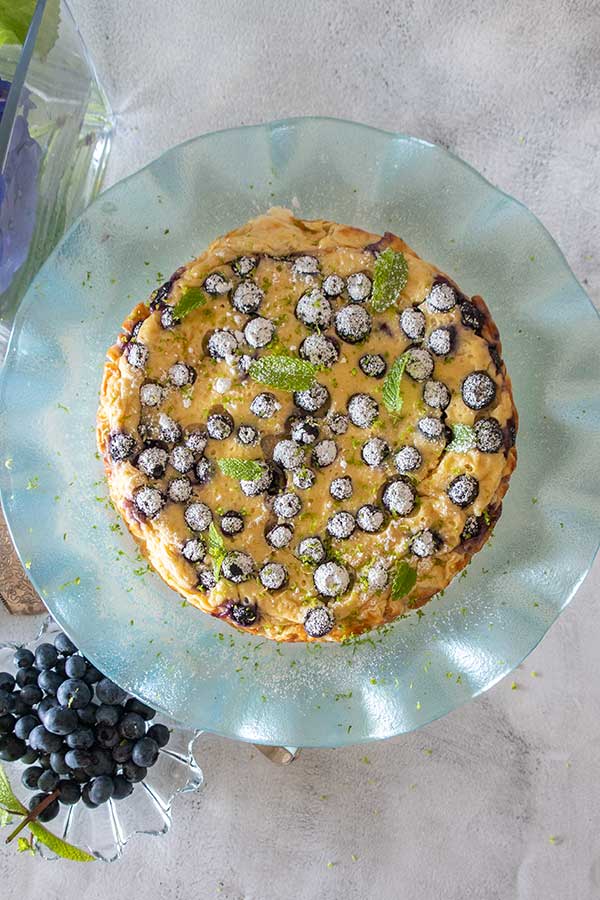 How to line a round pan with parchment paper?
We all know that parchment paper is slippery and won't stay in place, especially in round pans.
There is an easy way to line your pan using parchment paper. First, measure a piece of parchment paper large enough to hang over the pan's sides.
Place the paper under warm running water, scrunch it and gently squeeze out the water. The paper will become soft and wrinkled and easy to use for lining any shape of pan.
Substitutions;
In this yogurt cake recipe, there are only a few ingredients, but you can substitute the following;
Unsweetened full-fat coconut yogurt – plain Greek yogurt. ( if you use sweetened yogurt do not add a sweetener )
Tapioca starch – gluten-free cornstarch, potato starch (not flour and use only 1/4 cup), do not use arrowroot starch. It will not create the same texture.
Pure maple syrup – honey, agave, sugar
Spices – if you don't have all the spices, you can use gluten-free allspice or only cinnamon or nutmeg.
Vanilla – pure maple extract, lemon extract
Blueberries – any berry, grapes, pineapple, peaches, apricots and oranges will work. All the fruit must be fresh and cut to about a blackberry size or smaller.
Need a gluten-free recipe to inspire you? Check out our recipe collections for easy gluten-free breakfast cakes and gluten-free breakfast muffins.
Let's Connect!
Be sure to FOLLOW US on FACEBOOK and PINTEREST.
Many thanks!
Kristina xx
Moroccan-Style Yogurt Cake – Grain Free
Published on Aug 05, 2022
by
Kristina Stosek
Instructions
1.

Preheat the oven to 350 F

2.

3.

In a large bowl, whisk together tapioca and spices

4.

Add eggs, maple syrup and vanilla and whisk until just combined. Add yogurt and whisk until smooth

5.

Pour the mixture into the prepared pan and scatter the blueberries evenly over the top

6.

Bake for 70 minutes. The cake will rise and may crack a little, don't worry. Once it cools, it will deflate and form a perfect cake.

7.

Let it cool completely in the cake pan. Then, cover with plastic wrap and chill for a minimum of 4 hours or overnight before serving!

8.

To serve, carefully lift the cake using the parchment paper and slide it off onto a cake plate

9.

Top with fresh berries, mint leaves, lime zest and powdered sugar if you wish
Leave a Comment
Kristina
Roberta, the 8 inch pan should work
If I use an regular sided 8 inch cake pan (and bake less time as you suggested) do you think the cake will rise high enough to overflow the edges?
Kristina
Monika, use the 8-inch pan, since it is a bigger pan you should probably bake it only for 1 hour, but I can't confirm this since I have not used an 8-inch pan. Also, the cake will be flatter. K
Thanks for replying. I will try half sour cream and half fat-free greek yogurt. I have another question re. the pan. I only have 6-, 8- and 9-inch pans. Would it be best to use the 8-inch pan and bake for longer?
Thanks for replying. I will try half sour cream and half fat-free greek yogurt. I have another question re. the pan. I only have a 6-, 8- and 9-inch pans. Would it be best to use the 8-inch pan and bake for a shorter timeframe?
Kristina
Monika, I would try half yogurt and half sour cream. 0 % fat free yogurt may make the cake too thin
Hello. I only have 0% fat free Greek yogurt. Will that work? OR - could I combine half yogurt and half sour cream? Thank you.