Instant Pot Mediterranean Lentil & Collards Soup {Vegan, Gluten-Free}
Prep Time
10 Minutes
Difficulty
Easy
Cook Time
20 + Minutes
Serves
6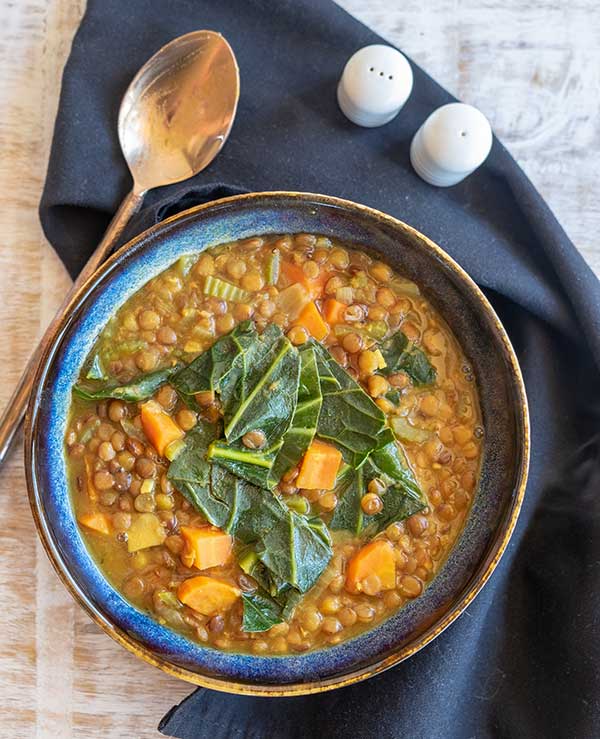 Be the first to rate this recipe.
I can't describe how delicious this instant pot lentil and collards soup is. This flavourful, chunky and colourful lentil soup is made with spices such as cumin, turmeric and bay leaf. For the vegetables, I used carrots, celery, collards, onions and garlic. The earthy lentils are tender and the collards are cooked just right, not overcooked. Next time you are short on time and are looking for a hearty soup recipe, try this healthy, packed with protein and fiber Mediterranean lentil and collards soup. A soup made in 30 minutes that tastes this good, is a win-win all the way! Enjoy 🙂 Have you checked out our online store for the latest in gluten-free products?
Ingredients
2 Tbsp.extra virgin olive oil
1 medium yellow onion, chopped
2 medium celery stalks, diced
3 medium garlic cloves, minced
2 tsp. GF ground cumin
1 tsp. GF ground turmeric
1 1/2 cups dry brown lentils, rinsed in cold water
2 medium carrots, peeled and diced
1 GF bay leaf
1 tsp. Himalayan salt
1/2 tsp. GF ground black pepper
3 collard leaves, cut into 1-inch wide strips
1 Tbsp. Lemon juice or apple cider vinegar
Instructions
Set Instant Pot to sauté. Add olive oil, once heated add onions and celery, sauté stirring often for 5 minutes. Turn the instant pot off
Stir in garlic, cumin and turmeric until combined. Add broth, water, lentils, carrots, bay leaf, salt and pepper. Lock the lid with the valve in closed position. Set to manual, and set the timer to 13 minutes. When the time is up, quick-release the steam.
Once the steam is released, remove the lid and stir in collards and lemon juice or apple cider vinegar. Close the lid and set to manual. Set the timer for 2 more minutes. After 2 minutes quick-release the steam, remove the lid and enjoy!
Similar Recipes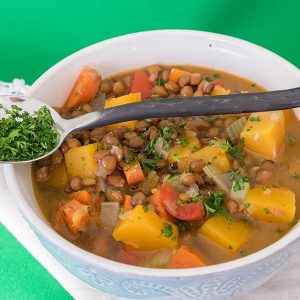 Vegan Lentil Butternut Squash Soup
This is a simple, healthy lentil butternut squash soup with a lot of flavours. The earthy lentils combined with the sweetness of butternut squash make a super tasty hearty soup. Lentils are high in protein and other essential nutrients. Butternut squash is also a vegetable not to be ignored. The tasty squash contains highest levels […] Read More
Prep Time
15 Minutes
Difficulty
Beginner
Cook Time
50 Minutes
Serves
4-6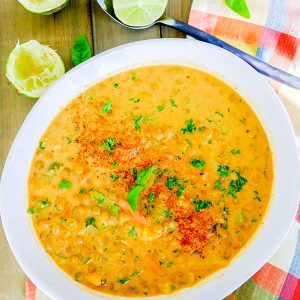 Coconut Curry Lentil Soup (Vegan, Gluten-Free)
This coconut curry lentil soup is a real reviver – soothing, comforting and satisfying. A reminder how a hearty soup can be. The lentil soup is seasoned with Indian spices and finished off with coconut milk, fresh lime juice and fresh basil. Enjoy as a starter or as a full-on gluten-free meal with gluten-free crusty […] Read More
Prep Time
15 Minutes
Difficulty
Easy
Cook Time
35 Minutes
Serves
6
Classic Vegetarian Lentil Soup
Healthy, cozy and warming soup packed with nutrients and earthly flavours. Lentils are rich in folate and fiber so you can have healthy without giving up flavour of a comforting hearty soup. Serve with a slice of gluten-free herb and garlic bread Read More
Prep Time
20 Minutes
Difficulty
Easy
Cook Time
65 Minutes
Serves
4