Moroccan Beef and Lentil Soup
Published on May 05, 2021
by
Kristina Stosek
Prep Time:

10 minutes
Cook Time:

30 minutes
Serves:

6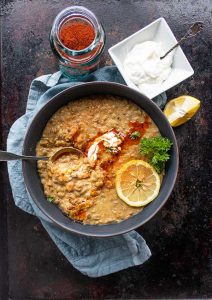 ​This post may contain affiliate links, please see our
privacy policy
for details
Creamy, mildly spiced Moroccan Beef and Lentil Soup full of healthy ingredients. I must say this is one of my top five favourite soups. There is something about Moroccan food, the spiciness, the vibrant colours and the rich flavours.
An unmistakable soup that is filled with tasty ground beef, carrots and healthy lentils. This naturally gluten-free soup is a satisfying meal on its own.
You can add gluten-free naan or a gluten-free bread of your choice for big appetites, but the bread is not needed.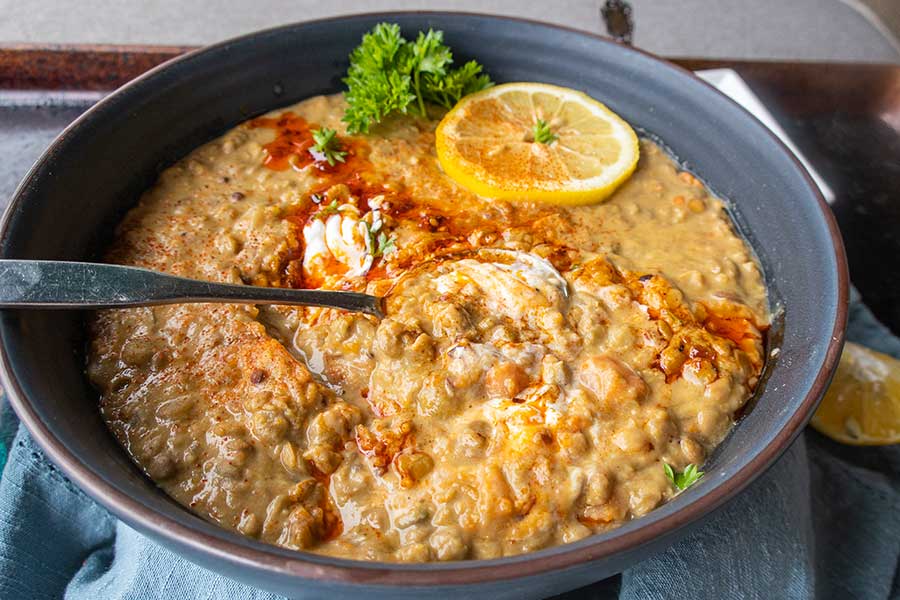 Our Best Gluten-Free Moroccan Recipes
If you have been following my blog, you know how much I love Moroccan food. Over the past few years, my readers choose these three recipes as their favourites:
Moroccan spices commonly used include cumin, coriander, cinnamon, turmeric, ginger, paprika, saffron, cloves, fennel, anise, nutmeg, cayenne pepper, fenugreek and black pepper.
In this Moroccan inspired soup recipe, I used cumin, coriander, cinnamon and cloves. These spices balance the beef flavour with the creamy coconut creating an authentic Moroccan taste.
For extra spiciness, I added gluten-free harissa. Harissa is a North African spicy red sauce. It consists of simple ingredients like red chilies, garlic, vinegar, and spices.
This spicy sauce adds that extra punch that made this Moroccan beef and lentil soup even more delicious.
Moroccan Beef and Lentil Soup Recipe Details
I think you will love this Moroccan soup recipe for two reasons. One, the flavours, the creamy broth and the textures in this soup are just right.
And, the simplicity of this soup recipe is something you don't want to pass. You literally add everything to a pot, simmer for about 25 minutes, and the soup is ready.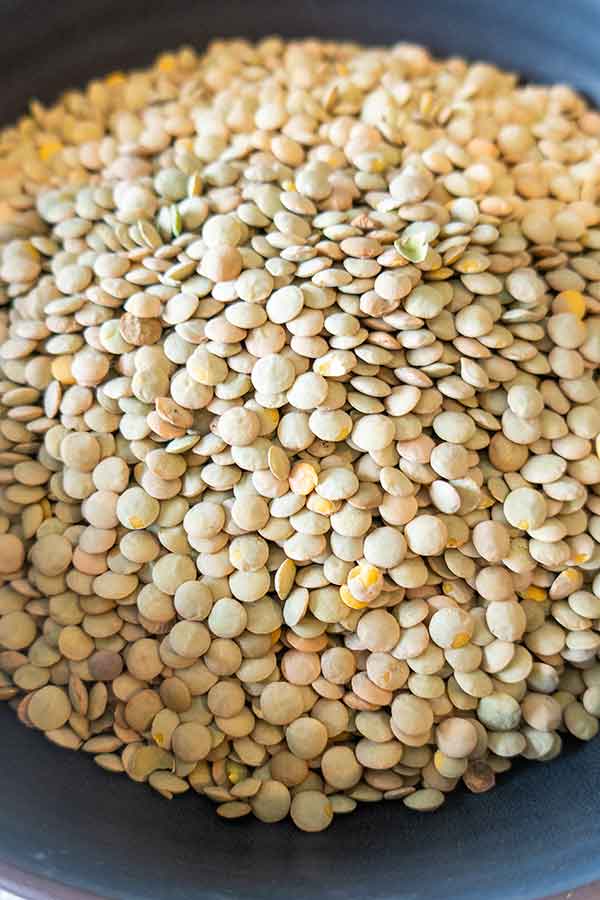 lentils are popular in Moroccan cuisine
This Moroccan soup is about a mildly spiced creamy beef soup with vegetables. I used basic veggies such as onions, carrots and lentils.
You can add other veggies; the ones that come to mind are yellow or red bell peppers, celery and kale. But I wanted this soup to be about beef and lentils, so I kept it simple.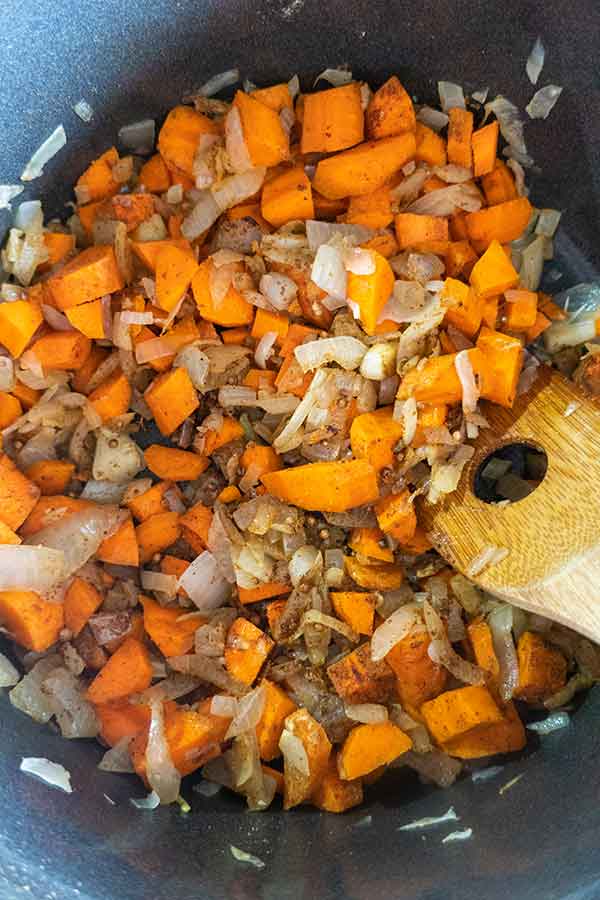 the 4 spices that are a must in Moroccan recipe
As I mentioned earlier, Moroccan cuisine is well known for its array of spices. I used four spices in this healthy soup recipe: cumin, coriander, cinnamon, and cloves.
These spices add an element of earthiness, thus not overpowering the tasty beef flavour. I did add harissa sauce simply because I love spicy food, and Moroccan food is known for its spiciness.
coconut milk makes this beef and lentil soup extra creamy
To make this Moroccan soup extra creamy, I added coconut milk. I find whenever I use coconut milk in my recipes, the soups are creamier and more satisfying.
With coconut milk, I added fresh lemon juice and a splash of maple syrup. Honestly, when I combined all the ingredients, the soup came out exceptionally tasty.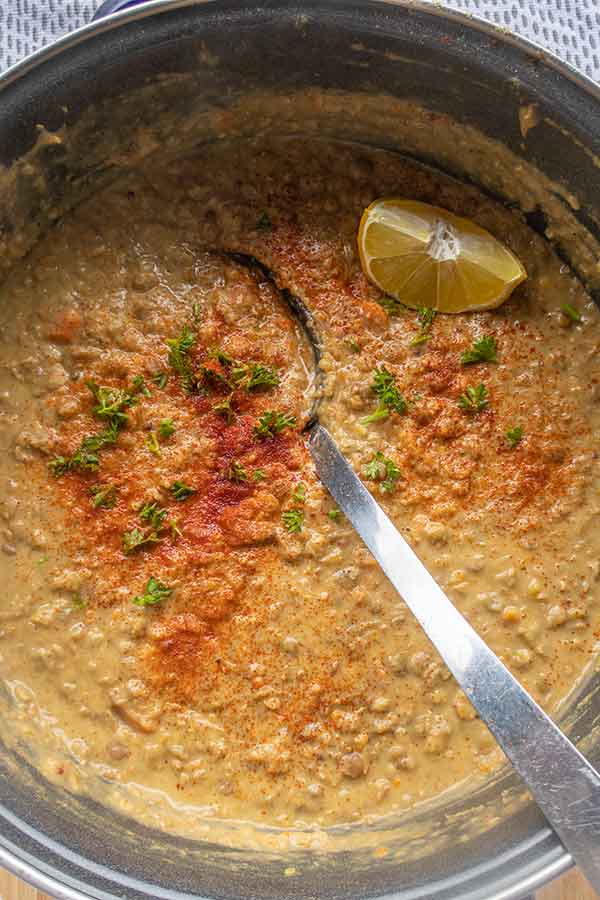 Why is Moroccan beef and lentil soup popular?
Often we look for one-pot meals to keep dinners simpler, especially during busy weeknights. This soup is one of those easy one-pot dinner recipes you can whip up any day of the week.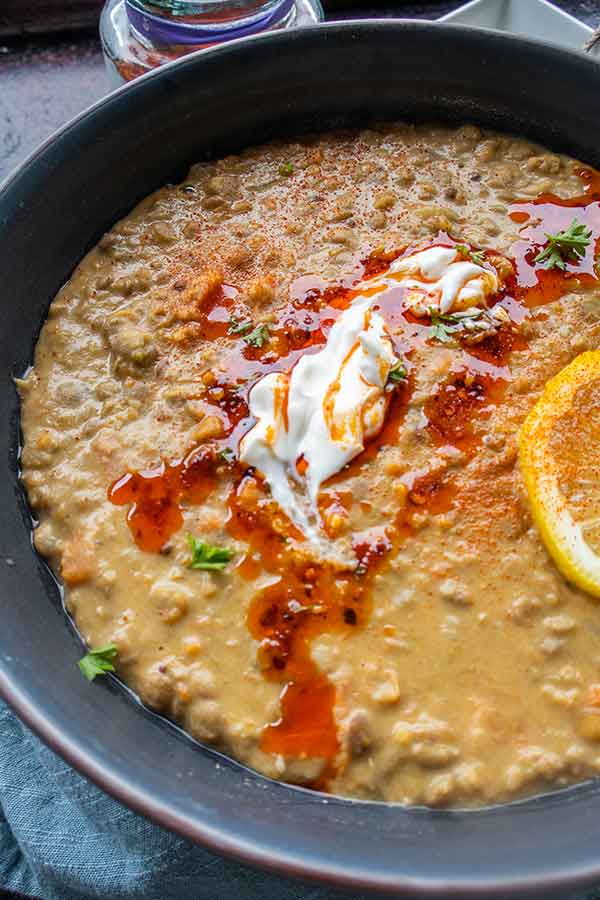 keep it authentic with these toppings
Whenever I make a one-pot soup meal, I like to add plenty of toppings. The toppings add more flavour, various textures and make the meal hearty, delicious and filling.
Some of my favourites are yogurt, sour cream, chili oil, cumin, cilantro, parsley, lemon slices and sesame seeds.
If you are looking for soup recipe inspirations, check out our complete list of gluten-free soup recipes.
Let's Connect!
Be sure to FOLLOW US on FACEBOOK and PINTEREST.
Many thanks!
Kristina xx
Moroccan Beef and Lentil Soup
Published on May 05, 2021
by
Kristina Stosek
Instructions
1.

Heat olive oil in a large soup pot over medium heat. Add onions and saute for 2 -3 minutes until they start to soften. Increase heat to high and add ground beef. Cook until no longer pink breaking up the meat as needed

2.

Stir in garlic, carrots, cumin, coriander, cinnamon and cloves. Cook until fragrant. About one minute

3.

Add lentils, harissa and water. Generously season with salt. Cover and simmer for 20 - 25 minutes until the lentils are tender

4.

Stir in sweetener, lemon juice and coconut milk, bring to a simmer and remove from the heat

5.

To serve, ladle soup into bowls and top with desired toppings

6.

Note: This soup freezes well
Leave a Comment
Kristina
thank you for sharing Karen, a great idea to change it up.
I decided to try this soup, but I was a little skeptical about the coconut milk because it is not a typical Morrocan ingredient. I made it and tried it before and after adding coconut milk. I far preferred it without the coconut milk. Also I added 7 cups of water instead of 8 to make the soup a little thicker.