Southwest Chicken Stuffed Poblano Peppers
Prep Time
15 Minutes
Difficulty
Easy
Cook Time
50 Minutes
Serves
4
Be the first to rate this recipe.
A Southwest Chicken Stuffed Poblano Peppers dish with so much deliciousness! In this southwest recipe, the poblano peppers are stuffed with chicken, tomatoes, rice, black beans, corn, bell peppers and cheese.
The spices such as cumin, chilli powder, oregano, and coriander combined with onions and garlic make these chicken stuffed poblano peppers exceptionally tasty.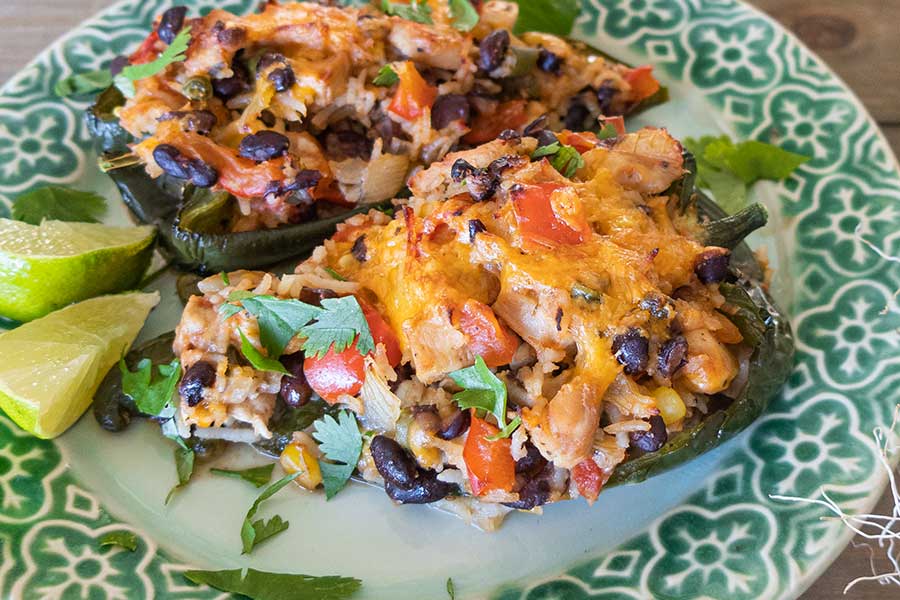 How did this southwest chicken stuffed poblano pepper recipe come about?
I can blame it on chicken! I had leftover two chicken breasts, and I wanted to turn the two chicken pieces into a hearty chicken dinner for four.
It has been a while since I made stuffed peppers, so I decided to turn the chicken into a southwest dish. I needed to have enough filling for eight halved poblano peppers, so I added veggies, a little rice and cheese.
what are poblano peppers?
Poblano peppers are probably one of my favourite peppers for roasting, especially when they are stuffed with flavourful filling. The peppers are mild chilli peppers native to Mexico. They are a dark green colour before they ripen to a dark red or brown colour.
Once the peppers are cooked, they have a slightly smoky, a little sweet and earthy flavour. The poblano peppers are perfect when roasted because they hold shape, have a good texture and are super tasty.
What to serve with stuffed poblano peppers?
When the stuffing is moist and well seasoned, you don't need to add much of anything else. I like to serve the peppers with fresh lime wedges because the lime juice adds extra flavour and freshness.
I also added fresh herbs, such as cilantro. One other thing I may add is sourcream or full-fat plain yogurt. However, the southwest chicken stuffed poblano peppers are so flavourful that you don't need to add anything else.
This naturally gluten-free dish is undoubtedly one of the easiest stuffed peppers recipes I have made. The hands on time is just minutes, and then the peppers are baked, allowing the flavours from the poblano peppers to infuse the filling and melt the cheese.
So, I started with two chicken breasts and made a hearty chicken dinner for four. Everyone in my family loved the stuffed poblano peppers, and there wasn't a crumb left. A good indication of how delicious this gluten-free chicken dinner was!
Do you need more chicken dinner ideas? Check out our complete list of gluten-free chicken dinner recipes. Or, check out these Southwest Chicken Lettuce Wraps
Ingredients
2 Tbsp extra virgin olive oil
1 small onion, diced
2 garlic cloves, chopped
1 red bell pepper, diced
2 chicken breasts cut into small bite-size pieces
1 tsp GF ground cumin
1 tsp. GF Chili powder
1 tsp. GF dried oregano leaves
1/2 tsp. GF ground coriander
GF ground cayenne pepper to taste (optional)
1 tsp Sea salt
14 oz. can black beans, drain and rinsed well
1/2 cup fresh or frozen corn kernels
1 medium tomato, diced
1/4 cup water
1 1/2 cups cooked long-grain rice
4 Poblano peppers, halved lengthwise, seeds removed
1/2 cup yogurt
1 1/2 cups cheese, divided
Optional toppings: fresh chopped cilantro, lime wedges, full fat plain yogurt, or sour cream
*As an Amazon Associate and member of other affiliate programs, I earn from qualifying purchases. Please check out my sponsorship and disclosure policy page for more details
Instructions
Using a large saucepan, cook the onions and garlic in olive oil over medium heat for about 5 minutes until the onions soften. Add chicken pieces, and cook until the chicken is no longer pink about 8 - 10 minutes. Stirring as needed. Add spices, beans, corn, tomatoes and 1/4 cup water. Mix until everything is combined, cover and cook over medium heat for 5 minutes
Remove the saucepan from the heat and add rice, yogurt and 1 cup of cheese. Stir to combine
Fill peppers with the stuffing and place them in a 9 x 13-inch baking dish. Sprinkle with remaining cheese. Bake for 30 minutes. Enjoy!
Similar Recipes
Easy Hungarian Stuffed Peppers Recipe
One of the best Hungarian stuffed peppers I had was my grandmother's. There are many versions of stuffed pepper recipes, but these peppers were utterly the best! My grandmother was originally from Budapest, and her Hungarian recipes were always as authentic as possible. As a small child, I remember helping her stuff the peppers. It […] Read More
Prep Time
15 Minutes
Difficulty
Easy
Cook Time
45 Minutes
Serves
4
Stuffed Breakfast Peppers – Low Carb
These High Protein Stuffed Breakfast Peppers are best for breakfast when you're craving something hearty and satisfying and want to keep things low carb.  Perfect stuffed bell peppers with leftover meat such as chicken, ham, beef or sausages, healthy broccoli, cheese, herbs and eggs, keeping this low-carb breakfast recipe simple and delicious. This is a […] Read More
Prep Time
10 Minutes
Difficulty
Beginner
Cook Time
35 Minutes
Serves
4