Southwest Chicken Lettuce Wraps – Low Carb
Published on Aug 23, 2019
by
Kristina Stosek
Prep Time:

5 minutes
Cook Time:

10 minutes
Serves:

4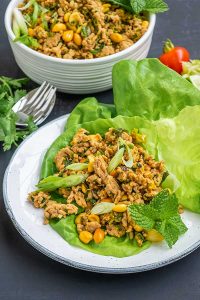 ​This post may contain affiliate links, please see our
privacy policy
for details
Tastiest Southwest Chicken Lettuce Wraps. These wraps are low-carb, healthy, savoury, and delicious lettuce wraps and are made with chicken, plenty of seasoning, and roasted peanuts for added crunch.
Lettuce wraps are a great way to serve food when following a gluten-free or calorie-restricted diet because you don't need tortillas, bread or rice.
protein-packed lettuce wraps,
This high protein, low-carb meal is fast and super easy to prepare because all you need is fifteen minutes from start to finish. Healthy, delicious and quick to make, how does that sound? Who said fast food couldn't be healthy and tasty at the same time?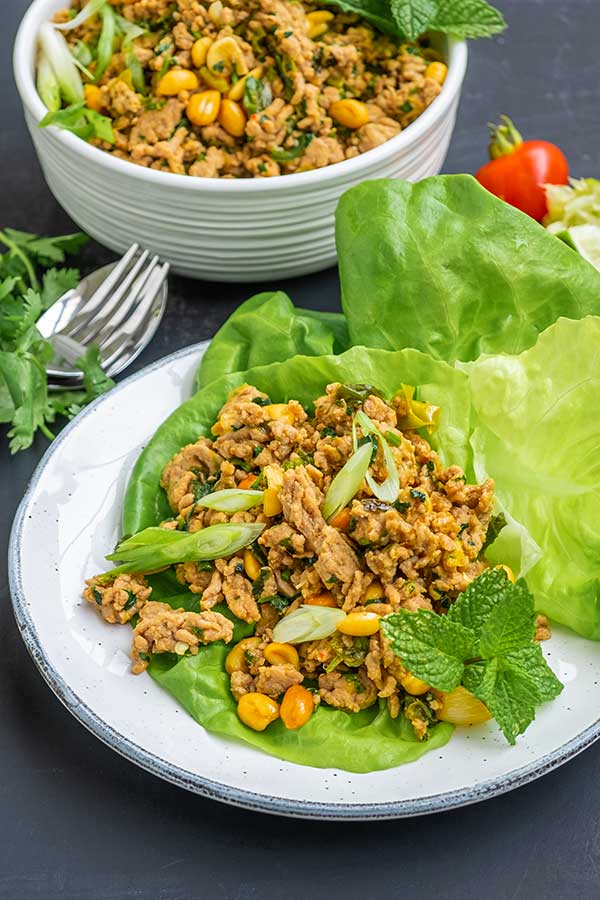 healthy, low-carb and easy lettuce wraps,
What I love about these chicken lettuce wraps is the added peanuts because they add crunch and texture and make this meal satisfying.
They are like tacos, except you use leaves with delicious chicken filling. The difference is that lettuce wraps are much healthier, lower in carbs and gluten-free.
What can I replace the peanuts with?
Peanut is one of the eight major allergens. And an allergy to peanuts is among the most common food allergies found in children in the United States. You can substitute roughly chopped cashews for the peanuts in the chicken filling in this recipe.
Next time you crave take-out food, try this low-carb southwest chicken recipe. I promise you won't be disappointed.
For more dishes that taste like take-out food, check out our popular easy curry pork fried rice, saucy Thai noodles, Louisiana chicken with edamame rice, Chinese chicken egg roll in a bowl or Peking style chicken
Southwest Chicken Lettuce Wraps – Low Carb
Published on Aug 23, 2019
by
Kristina Stosek
Instructions
1.

Heat oil in a large skillet over medium-high heat. Add ground chicken, green onions, garlic and salt. Cook stirring often to crumble up the chicken until the chicken is browned and no longer pink. About 5 minutes

2.

Stir in ginger, cumin, chili powder, chili peppers, sriracha, tamari, Worcestershire and honey. Cook for about 3 more minutes until everything is well coated with the sauce. If the chicken is sticking to the pan add about two tablespoons of water to scrape the bottom of the pan adding flavours to the sauce

3.

Add peanuts, cilantro and lime juice. Cook until the peanuts are warmed. About 1 minute.

4.

Serve warm in a lettuce leaf with extra lime juice.