Chinese Chicken Egg Roll In a Bowl – Gluten-Free
Published on Oct 03, 2018
by
Kristina Stosek
Prep Time:

10 minutes
Cook Time:

15 minutes
Serves:

4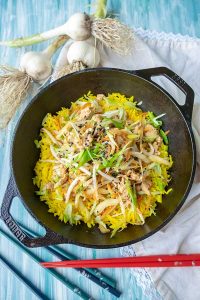 ​This post may contain affiliate links, please see our
privacy policy
for details
I love Chinese food, and I'm pretty sure I'm not the only one on this planet. Satisfy your Chinese egg roll craving with this gluten-free chicken egg roll in a bowl recipe! That's right, no wrapper, only the deliciousness you find inside a chicken egg roll served over rice.
The ingredients are pretty simple and easy to find, plus it's a healthy meal. Chinese take-out is very limited. Most likely, there probably isn't one that guarantees gluten-free take-out food. At least, I have not found one.
However, instead of giving up the comfort of take-out meals, I decided to make a version of egg rolls, like the take-out Chinese chicken egg rolls we love!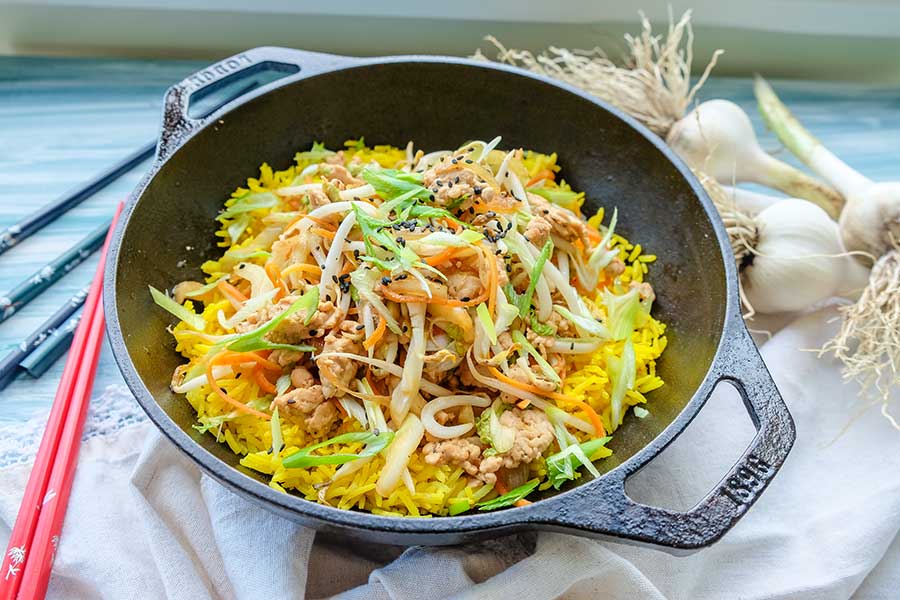 yes, we can still enjoy take-out food at home…
Chinese chicken egg rolls were one of my favourite take-out dishes. I would order it at least once a week, sometimes more. But now, this is no longer possible.
The wrapper's texture combined with the crispiness on the outside and the center's soft deliciousness was perfection. I loved everything about it – the green onions, shredded chicken, and all the awesome sauce. But it wasn't gluten-free.
Going on a gluten-free diet means giving up many things we love to keep ourselves healthy and energized. But who says you cannot enjoy take-out food?
You can enjoy yummy gluten-free Chinese chicken eggrolls from the comfort of your home with this gluten-free recipe I am about to share. Trust me, the chicken egg roll in a bowl tastes so good, if not better, and this Chinese-inspired recipe is healthier. (winks).
a one bowl meal – the chicken egg roll…
I love the flavours of a great Chinese egg roll. Who doesn't? You've got your fresh veggies, tender chicken, savoury sauce, and crunchy wrapper. But what happens when you ditch the wrapper?
Can you still enjoy a meal that reminds you of those take-out egg rolls? The answer is YES!
Moreover, I'm always trying to make my gluten-free Chinese food recipes more effortless and more convenient, not just for me but for everyone.
This means finding ways to include all the flavour and texture in one bowl, like this healthy recipe for gluten-free chicken egg roll in a bowl. I've combined all the ingredients from an egg roll into a new meal in this healthy recipe!
I find it super convenient to make a one-meal bowl instead of making multiple dishes separately. The flavours in this simple meal are enticing and fresh. It's a light and satisfying meal reminiscent of the Chinese egg rolls we loved before going gluten-free.
one unique thing – I ditched the wrapper…
It's not very often that I make Chinese food at home, but when I do, I always make the recipe of my creation, such as this gluten-free Chinese chicken egg roll in a bowl. Unlike your regular Chinese egg rolls, I ditched the wrapper in this recipe and spread the tasty filling over rice!
Who would have thought that this Chinese-inspired dish would become this delicious? I tell you, it has become my new go-to meal whenever the egg roll craving kicks in. Enjoy!
My favourite rice for this Chinese chicken egg roll is simple rice with parsley. If you like Chinese take-out you will love this family favourite chicken egg roll in a bowl with all the delicious flavours you remember.
Have you checked out our bookstore for the latest gluten-free cookbooks?
Chinese Chicken Egg Roll In a Bowl – Gluten-Free
Published on Oct 03, 2018
by
Kristina Stosek
Instructions
1.

Heat a large pan or wok over medium-high heat

2.

Add onions and garlic and stir-fry for 3 minutes

3.

Add ginger, chicken and sweetener and stir-fry until the chicken is no longer pink. About 5 minutes

4.

Reduce the heat to medium-low. Add cabbage, mushrooms, carrots, tamari sauce and vinegar and stir fry for 5 minutes. The vegetables should not be fully cooked, just softened

5.

Stir in sprouts and green onions until heated through

6.

To serve, divide rice into 4 bowls and top with chicken egg roll mixture and sesame seeds