Easy Curry Pork Fried Rice
Prep Time
15 Minutes
Difficulty
Easy
Cook Time
12 Minutes
Serves
4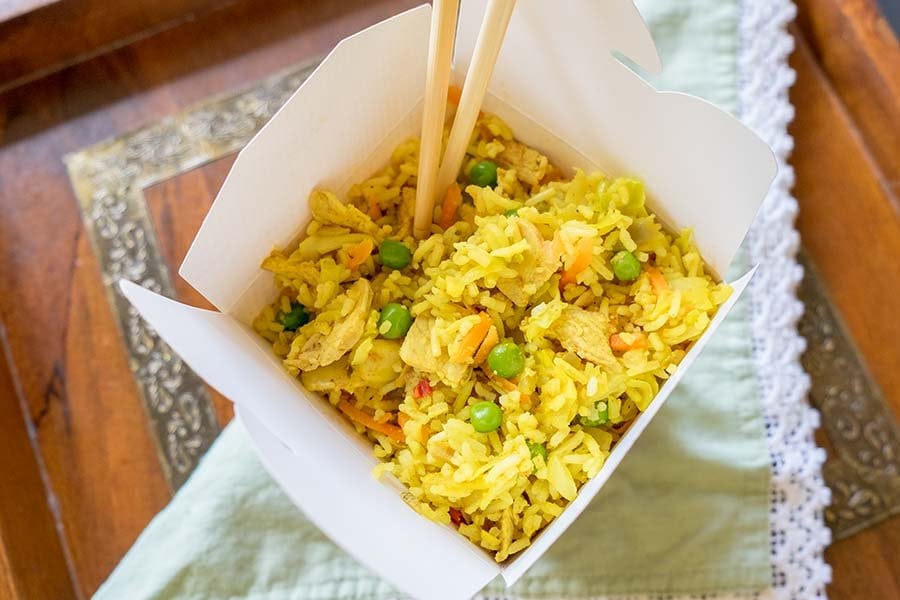 Average Rating: 5 | Rated By: 2 users
A take out style, easy curry pork fried rice recipe. Here is a simple gluten-free weeknight meal that takes minutes to prepare and tastes better than take out. Deliciously flavoured rice, tender pork, cabbage, carrots, peas and a hint of sesame oil.
This flavourful curry pork fried rice dish is a wonderful way to use up leftovers making this a budget-friendly meal that your entire family will love. Also, there are plenty of veggies making this a nutritionally well-balanced meal.
If you love Asian food, check out our gluten-free Asian inspired recipes.
Ingredients
2 Tbsp. Coconut or peanut oil
1 small onion, chopped
4 garlic cloves, chopped
1 Tbsp. Minced ginger
2 Tbsp. GF curry powder
1 lb. cooked pork, thinly sliced (boneless pork chop, leftover pork roast or tenderloin)
1 cup shredded carrot (1 large carrot)
1 cup shredded cabbage (Savoy, Napa or green)
1 cup gluten-free chicken broth
Sea salt and ground black pepper to taste
2 1/2 cups cold cooked rice
1 cup cooked peas
1 Tbsp. Sesame oil
*As an Amazon Associate and member of other affiliate programs, I earn from qualifying purchases. Please check out my sponsorship and disclosure policy page for more details
Instructions
Heat coconut oil in a large nonstick skillet or wok over medium heat
Add onions and garlic and cook until translucent, about 5 minutes
Stir in curry powder, pork, carrots, cabbage, broth, salt and pepper. Stir-fry over medium-high heat until half the broth is evaporated, about 5 - 8 minutes,
Add rice and peas. Stir until all the ingredients are evenly mixed. Drizzle with sesame oil for extra flavour but entirely optional
Similar Recipes
30-Minute One Pot Cheesy Chicken Taco Rice
30-Minute One Pot Cheesy Chicken Taco Rice is a must have recipe – the rich, full bodied flavours and cheesy rice with chicken is a deeply satisfying dish. I used basmati rice for this recipe because it has the best texture, but any long grain rice will work well in this one pot meal. ♥ […] Read More
Prep Time
10 Minutes
Difficulty
Easy
Cook Time
20 Minutes
Serves
4-6
One Pot Thai Coconut Chicken Rice
This One Pot Thai Coconut Chicken Rice recipe is a keeper. A most flavourful Thai rice dish made with leftover cooked chicken, garlic, ginger, bell pepper, basil, tamari sauce and fish sauce. Everything is cooked with coconut milk, adding creaminess to this stunning rice dish. The best rice for this Thai recipe is jasmine rice. […] Read More
Prep Time
10 Minutes
Difficulty
Easy
Cook Time
25 Minutes
Serves
6