Easy Curry Pork Fried Rice
Published on Apr 12, 2018
by
Kristina Stosek
Prep Time:

15 minutes
Cook Time:

12 minutes
Serves:

4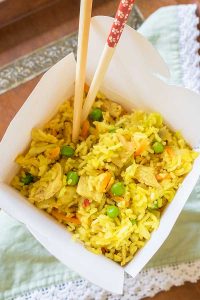 ​This post may contain affiliate links, please see our
privacy policy
for details
If you're looking for an easy, delicious, and budget-friendly meal, the take-out style, nutritious curry pork fried rice is the perfect gluten-free recipe to try!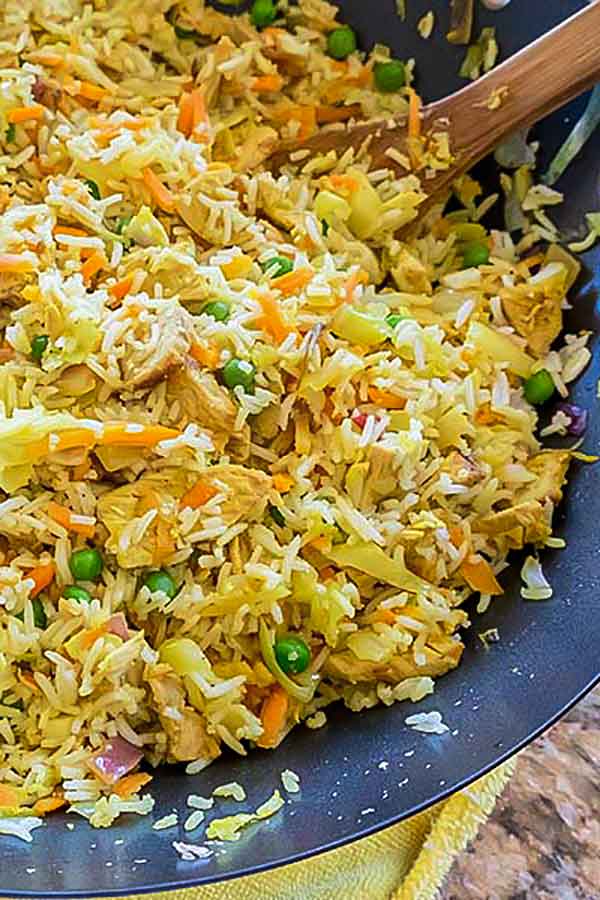 This rice dish is made with just a few simple ingredients and can be on the table in less than 30 minutes!
easy pork fried rice recipe
This easy curry pork fried rice is a great way to use up leftover rice and leftover meats and make a quick, tasty meal. Simply fry up some veggies and pork, add in spices and cooked rice, and you've got a delicious dish ready in no time. Serve with cucumber salad or a veggie side.
budget-friendly dinner made with leftovers
If you love Chinese food but don't want to spend a lot of money on take-out, this budget-friendly curry pork fried rice is the perfect meal for you!
Made with simple ingredients you probably already have in your fridge, it's a great way to use up any leftovers you might have!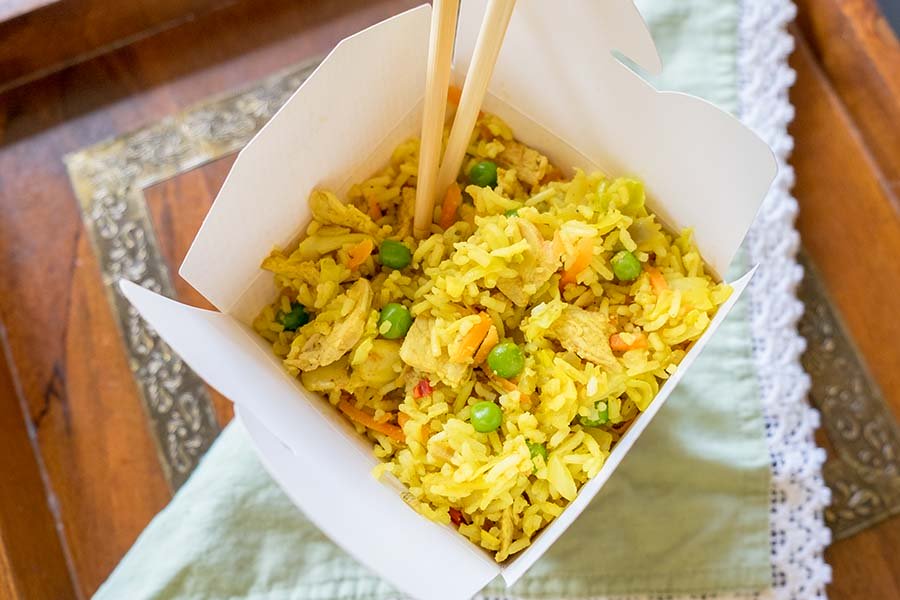 curry flavoured rice
I added curry spice and sesame oil to add extra flavour to this old classic. This rice recipe is the perfect quick and easy meal for busy weeknights that your entire family will enjoy!
rice with nutritious vegetables
When making a quick and easy meal, fried rice is always a good option. And when you add in some curry flavour, it makes it even better!
This Curry Pork Fried Rice is packed with healthy vegetables such as cabbage, carrots, peas, onions and garlic, adding healthiness to a budget-friendly meal.
fried rice just like take-out
When it comes to take-out, few things are more crave-worthy than a satisfying fried rice meal. But while ordering in is always an option, making your delicious fried rice at home is easy — and way cheaper.
Plus, you can customize it however you want and use up leftovers. And the best part is that it all comes together in just one pan. I like to use a wok for all my Asian stir-fries.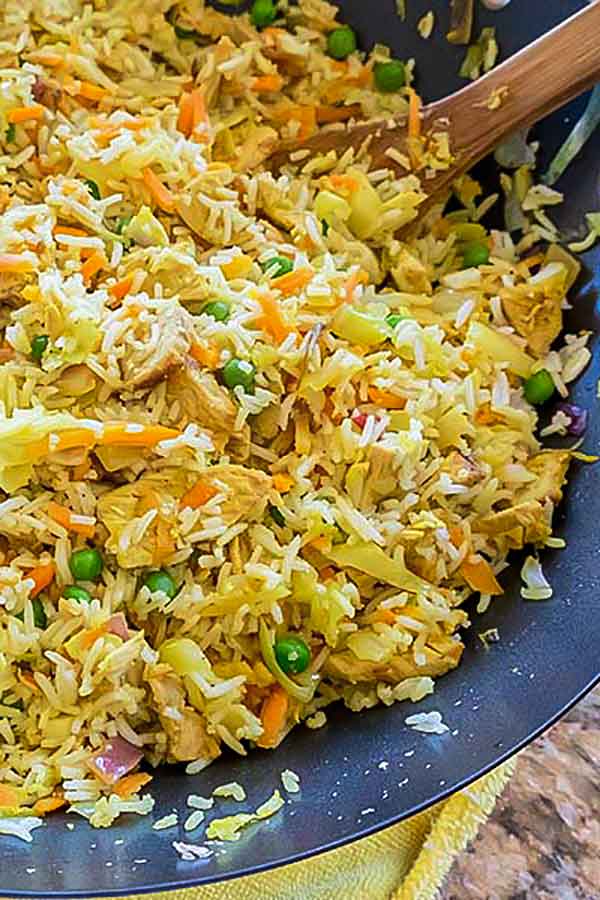 fried rice is comfort food
There's something about a big bowl of rice that screams comfort food, especially when you add delicious tasty flavours like ginger, curry spice and garlic.
So the next time you're looking for a cozy meal, give this curry pork fried rice a try. If you love Asian food, check out selection of gluten-free Asian inspired recipes.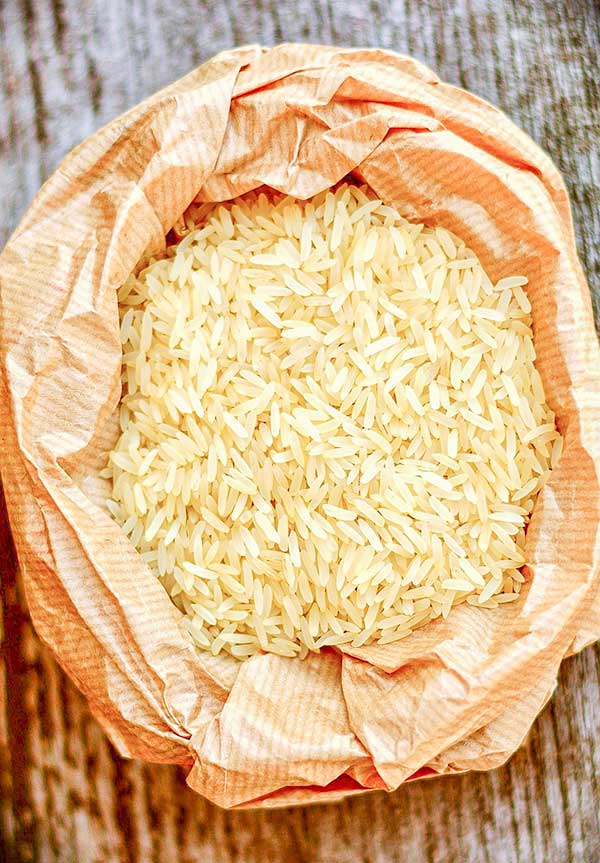 FAQs about rice
These answers will help you make the best fried rice!
How long does rice take to cook?
It depends on the type of rice. White rice usually takes about 15-20 minutes, while brown rice takes a bit longer, about 30-40 minutes. Most basmati and jasmine rice cook the fastest, about 12 – 15 minutes.
What is the best way to cook rice?
There are different ways to cook rice, depending on your preference. For example, some people like to use a rice cooker, while others prefer to cook their rice in a pot on the stovetop.
Whichever method you choose, rinse the rice before cooking it to remove any excess starch, dirt and arsenic.
Should I use hot or cold rice for the fried rice recipe?
It does make a difference between hot or cold rice when making fried rice. The rice should always be cold. Fresh hot rice will not fry well and turn into mushy sticky rice.
Is it necessary to add oil or butter when cooking rice?
It depends. If you use a nonstick pot or pan for cooking your rice, you probably don't need to add any oil. However, if you are using a regular pot or pan, you may want to add a bit of oil or butter to help prevent the rice from sticking. Plus, butter adds flavour.
Does rice have arsenic, and should you be concerned?
When arsenic is in the soil, all plants will absorb some of it. But rice is different. Organically farmed rice may contain fewer pesticides, but all rice soaks up arsenic from the soil. Since arsenic is water soluble, you can wash it off. This is why it is so important to rinse the rice before cooking.
Why do we love fried rice recipes?
We all have our favourite comfort foods. For some of us, it's a big bowl of steaming rice. For others, it's a hearty plate of fried rice. But, no matter what your preference is, there's no denying that fried rice is one of the most popular dishes in the world.
There are endless possibilities when it comes to fried rice recipes. You can add whatever vegetables and proteins you like, making it an excellent dish for meat-lovers and vegetarians alike.
Fried rice is also quick, easy to make, and naturally gluten-free, which is why we love it so much!
I hope you've enjoyed learning about this delicious fried rice dish and can now make it at home easily.
What's your favourite way to eat curry pork fried rice? Let us know in the comments below!
Let's Connect!
Be sure to FOLLOW US on FACEBOOK and PINTEREST. And don't forget to sign up for our newsletter, the form is at the bottom of this page. We always have something new and exciting for you!
Many thanks!
Easy Curry Pork Fried Rice
Published on Apr 12, 2018
by
Kristina Stosek
Instructions
1.

Heat coconut oil over medium heat in a large nonstick skillet or a wok

2.

Add onions and garlic and cook until translucent, about 5 minutes

3.

Stir in curry powder, pork, carrots, cabbage, broth, salt and pepper. Stir-fry over medium-high heat until half the broth is evaporated, about 5 - 8 minutes,

4.

Add rice and peas. Stir until all the ingredients are evenly mixed. Drizzle with sesame oil for extra flavour if you wish. Enjoy
Leave a Comment
very flavourful and easy to make, I sometimes use leftover chicken from the night before.
Kristina
wonderful, thanks for sharing Lynda
Great wee go to lunch. Have made this many times and it never fails to taste great. Thankyou