Saffron Rice With Mint Recipe
Published on Jul 20, 2022
by
Kristina Stosek
Prep Time:

5 minutes
Cook Time:

20 minutes
Serves:

6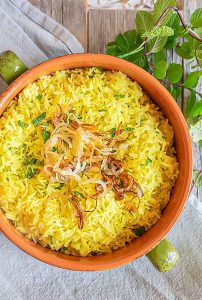 ​This post may contain affiliate links, please see our
privacy policy
for details
Saffron Rice With Mint is a flavourful and easy to make a dish that is perfect for any occasion. Whether you are looking for a simple weeknight meal or something to impress your guests, this side dish will not disappoint.
the key to making the best saffron rice,
Making perfect saffron rice is about good quality saffron, and simmering the rice slowly over low heat. By doing this, the rice will absorb all of the flavours.
I like to add a bit of mint to my saffron rice for a refreshing twist. And, for extra deliciousness, I top the rice with caramelized onions. YUM!
easy rice recipe
Are you looking for an easy recipe to try out saffron rice? This saffron rice with mint is a great option! It's simple to make, requires only a few ingredients, and is packed with flavour.
Plus, if you have any saffron that has been in your pantry forever, it's a great way to use it up.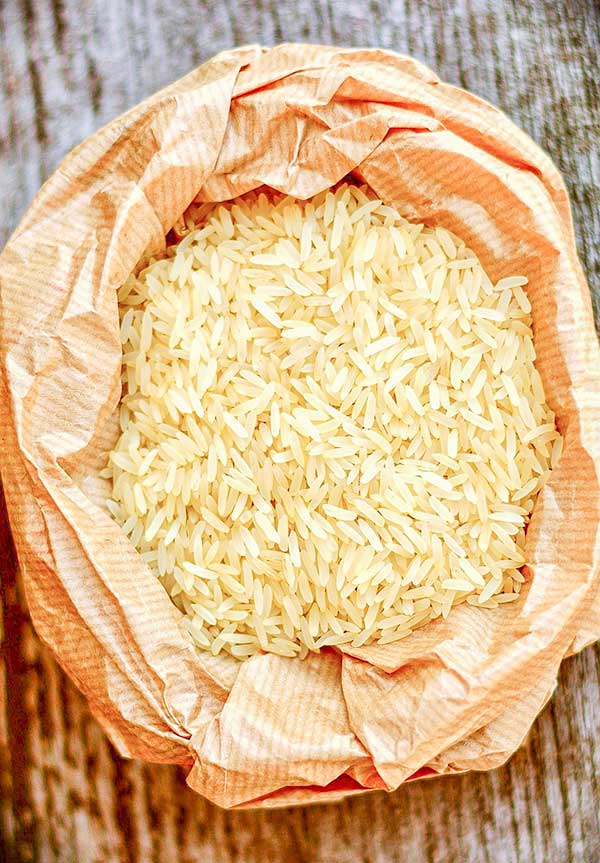 the best way to cook rice
Rice is a staple in many cultures and cuisines, but it can be tricky to cook. If you've ever made rice and had it come out mushy or undercooked and hard, you know how frustrating it can be.
Luckily, we're here to help. In this blog post, we'll share the best way to clean and cook rice so that it turns out perfectly every time.
The first step is to rinse the rice in a fine mesh strainer. This helps remove any dirt or debris and extra starch on the surface of the grains.
Next, you'll need to measure the rice and water. For every cup of rice, you'll need anywhere from one and a half cups to two cups of water. Again, it depends on the type of rice you are cooking.
Bring the water to a boil in a pot on the stove, then add the rice and stir—just note on the amount of water you will need. The rice package typically states one and a half cups of water for every cup of rice.
I found that you will need an extra quarter cup of water to what it says on the package.
Once the water is boiling with the rice, reduce the heat to low and cover the pot. Let the rice simmer on the lowest temperature between 10 – 18 minutes, or until it is cooked and all the liquid is absorbed. It depends on the type of rice.
Follow directions on the package for the length of cooking time. Once it's done cooking, allow the rice to steam in the pot for 10 minutes, then fluff with a fork. Ultimately use a rice cooker.
That's all there is to it! With this method, you'll never have to worry about undercooked or mushy rice again.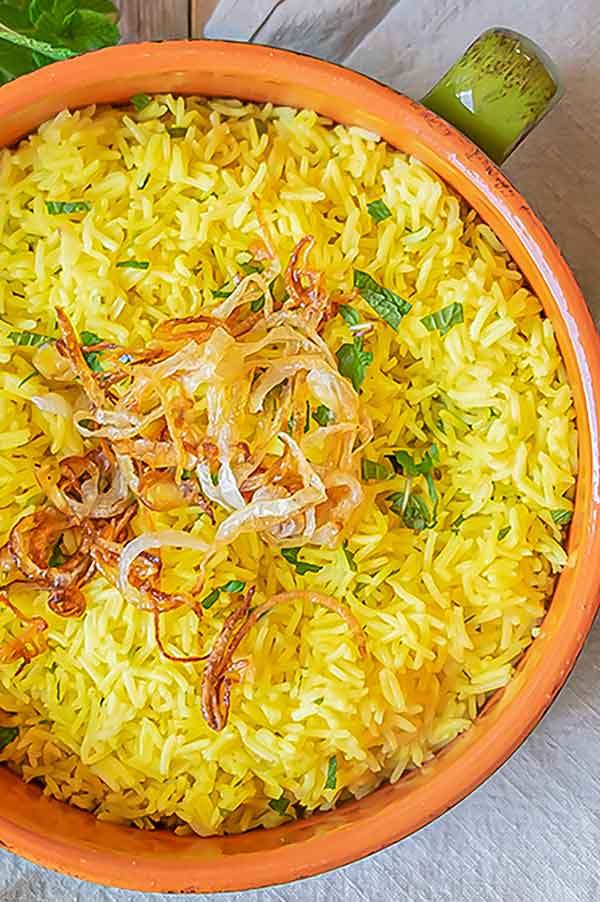 best sides to rice
When it comes to side dishes, rice is a classic. Whether you're serving it alongside a protein-packed main dish such as this Caribbean Fish Curry, or using it as the base for a vegetarian feast such as this Hearty Cabbage with Collard Greens dish, rice is a versatile ingredient that you can dress up or down to suit any occasion.
Saffron rice is perfect for pairing with flavourful dishes like curries as this amazing Thai Red Curry With Chickpeas and Butternut Squash or stews. If you're looking for something different to make for dinner tonight, try this flavourful rice side!
And while there are endless ways to prepare rice, you will find that this saffron and mint rice with caramelized onions will be a huge hit every time!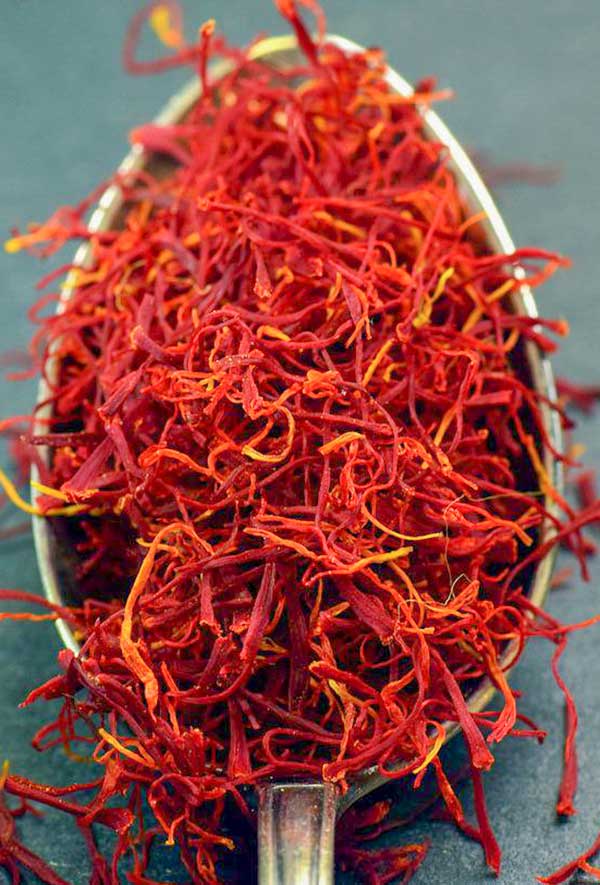 What is saffron?
Saffron is a spice that comes from the flowers of crocus sativus Linné. The crocus grows in the Middle East and parts of Europe. It's most commonly cultivated in Greece, Morocco, India, and Iran.
This spice imparts a beautiful yellow colour and subtle flavour and is the most expensive spice by weight in the world.
Is mint healthy?
Yes, mint is healthy! In fact, it's one of the most nutritious herbs you can eat. As per organic facts, mint is an excellent source of antioxidants and has been shown to have numerous health benefits, including aiding digestion, reducing inflammation, and even helping to improve brain function.
why is this rice side so flavourful
There are a few key reasons why saffron rice with mint is such a flavourful dish. First, the saffron provides a subtle yet distinct flavour that really elevates the dish.
Second, the mint helps to freshen up the dish and add a touch of brightness. And the caramelized onions bring this rice dish to another level of deliciousness.
Lastly, the rice is cooked perfectly so that it is nice and fluffy – this allows all the flavours to come through.
Is rice healthy?
There is no denying that rice is a staple food in many cultures worldwide. It's cheap, it's filling, and it's relatively easy to cook. But is rice healthy?
On the plus side, rice is a good source of complex carbohydrates, an essential part of a healthy diet. Complex carbs are slowly broken down by the body and provide lasting energy.
Rice is also naturally gluten-free and contains vitamins and minerals that the body needs to function properly.
However, some types of rice can be high in sugar and calories, contributing to weight gain. White rice, for example, has a higher glycemic index than brown rice.
This means that it causes a sharper rise in blood sugar levels after eating, which can lead to cravings and overeating later on.
So, if you're looking to maintain a healthy weight or improve your overall health, you may want to limit your intake of rice or choose more nutritious varieties like brown rice or wild rice.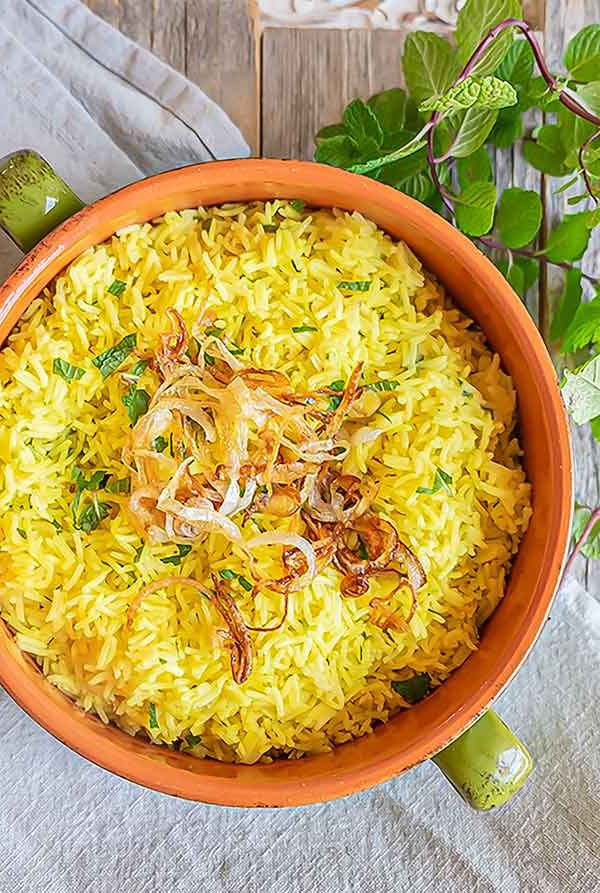 rice varieties
There are many different types of rice, each with its unique flavour and texture. The most popular variety is long grain rice such as basmati or jasmin rice because they have excellent cooking quality.
If you're looking for a new way to enjoy rice, I highly recommend giving this saffron and mint version a try. It has a slightly nutty flavour and a beautiful yellow colour. And, everyone should try saffron rice at least once.
Saffron Rice With Mint Recipe
Published on Jul 20, 2022
by
Kristina Stosek
Instructions
1.

In a small bowl, combine saffron and boiling water and steep for 5 minutes

2.

For the rice, in a medium saucepan heat coconut oil over medium heat. Add rice and stir until the rice is coated with the coconut oil. Add saffron water, 2 3/4 cups of water, bay leaf and salt. Bring to a boil, reduce heat to low and cook covered for 10 - 12 minutes or until all the liquid is absorbed.

3.

While the rice is cooking, saute onions with a pinch of salt in olive oil and cook until golden. About 10 minutes. Set aside

4.

Once the rice has absorbed all the liquid remove it from the heat, keeping the rice covered for 10 more minutes.

5.

To finish the rice, remove bay leaf, stir in mint and fluff with a fork. To serve, top with the caramelized onions