Thai Red Curry With Chickpeas and Butternut Squash
Published on May 23, 2018
by
Kristina Stosek
Prep Time:

10 minutes
Cook Time:

20 minutes
Serves:

4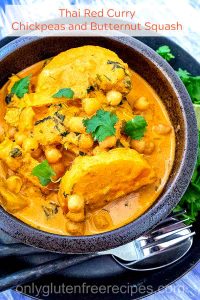 ​This post may contain affiliate links, please see our
privacy policy
for details
I am super excited about this vegan Thai Red Curry With Chickpeas and Butternut Squash recipe. This creamy curry dish is made with chickpeas, butternut squash, Thai spices, coconut milk, vegetable broth, fresh lime juice and plenty of cilantro.
There is so much flavour in such a simple and healthy creamy vegan curry dish. You will love it!
Now that we are officially moving into cooler weather coming home to a hearty, warming meal is so comforting. This creamy Thai Red Curry with Chickpeas and Butternut Squash is super satisfying and will please even big appetites.
And if you are short on time, no problem. The entire dish takes only about thirty minutes from start to the table.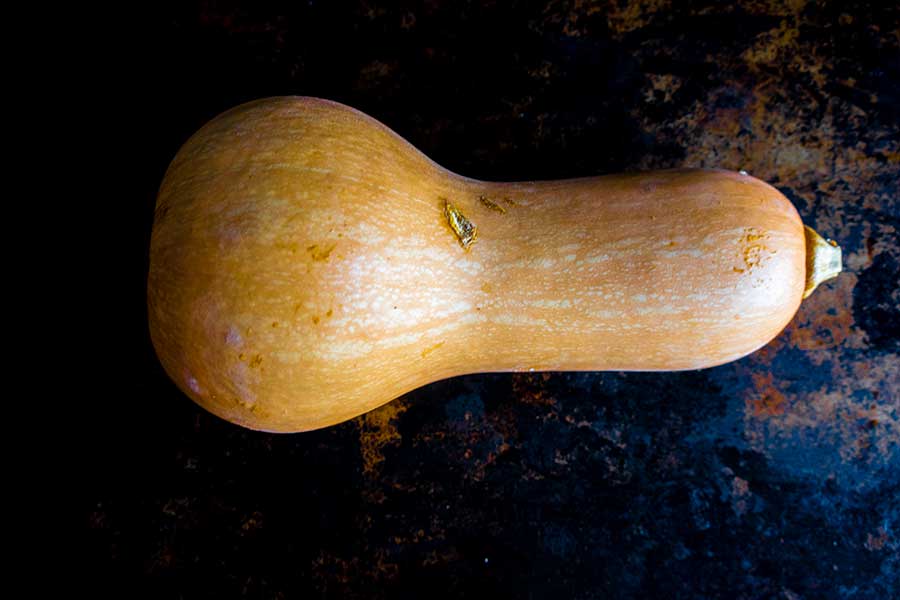 how to peel and cut butternut squash?
Butternut squash is one of those vegetables that is a little difficult to peel and cut. The squash is hard with thick skin, and it is round, making it hard to handle.
For easier peeling, you want to soften the skin a bit. To do this, using a sharp knife, poke a few holes in the skin of the squash, then place it in the microwave for two minutes.
Then, to peel butternut squash, it is best to use a good quality swivel vegetable peeler. First, cut the ends off, then using the peeler, peel the squash. If it is easier for you, stand the squash cut side down on a flat surface and peel it that way.
Once the squash is peeled, cut it in half, then use an ice cream scoop or a spoon, and scoop out the seeds. Now the squash is ready to be cut into wedges or cubes.
what to serve with Thai Red Curry With Chickpeas and Butternut Squash,
When serving this curry dish, I love to add gluten-free naan bread. The bread is excellent for soaking up the creamy, delicious sauce. Honestly, nothing beats that. Or you can serve the curry with our simple basmati rice with parsley. Whatever you decide to serve this comforting a little spicy Thai Red Curry dish with, you will enjoy the flavours and textures variation.
Do you love curry dishes? Check out our complete list of gluten-free curry dinner recipes.
For the latest recipes and tips, like us on Facebook or follow us on Instagram.
Thai Red Curry With Chickpeas and Butternut Squash
Published on May 23, 2018
by
Kristina Stosek
Instructions
1.

Peel the squash, cut in half and remove the seeds. Cut into about 3/4-inch wedges

2.

In a large pot, heat coconut oil over medium heat. Add curry paste and cayenne pepper and blend with the coconut oil

3.

Add the squash and coat with the curry mixture. Add chickpeas, coconut milk, vegetable broth and season with salt. Cover and simmer for 10 - 15 minutes until the squash is fork tender

4.

Stir in cilantro and lime juice and remove from the heat. Enjoy!