Caribbean Fish Curry Recipe
Published on Sep 29, 2021
by
Kristina Stosek
Prep Time:

15 minutes
Cook Time:

25 minutes
Serves:

4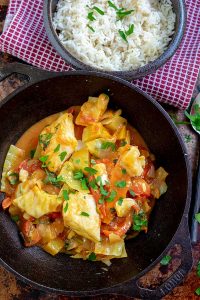 ​This post may contain affiliate links, please see our
privacy policy
for details
Caribbean Fish Curry is a flavorful curry dish made with white fish, tomatoes, bell peppers, carrots, cabbage, potatoes, and onions simmered in a light coconut curry sauce.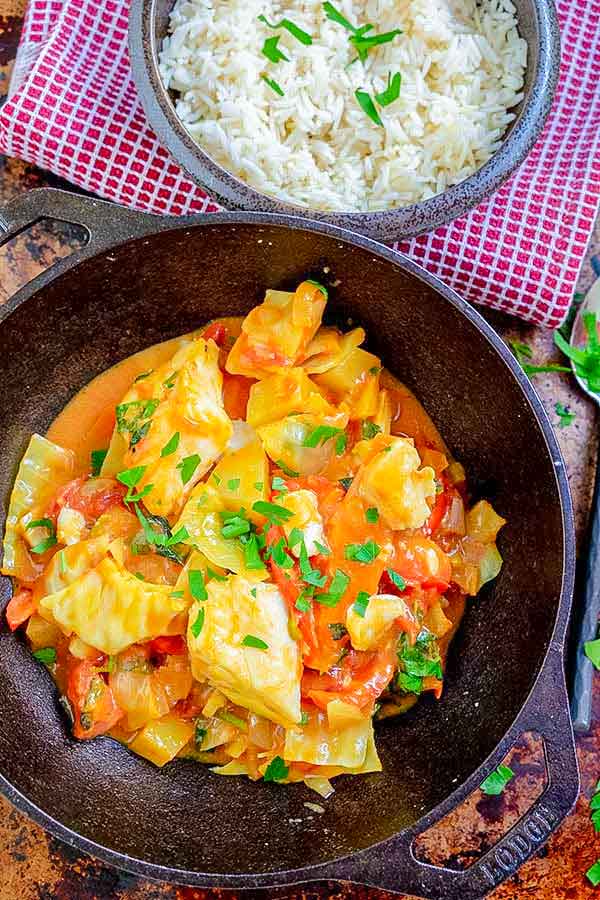 spices for fish curry
The spices that bring out the deliciousness of the fresh fish and vegetables are cumin, curry powder and garlic. To add a spark of freshness to this fish dish, a good splash of fresh lime juice. The lime juice adds a zesty flavour balancing the creamy coconut curry flavor.
This Caribbean-inspired fish curry dish is light, healthy and packed with flavor.
best fish to use in curries
The best fish is a firm-textured fish with moist, white flesh, delicate and mild in flavour. This is why I chose healthy cod or snapper, also a healthy white fish option. Both are ideal for curry dishes because the fish will not fall apart.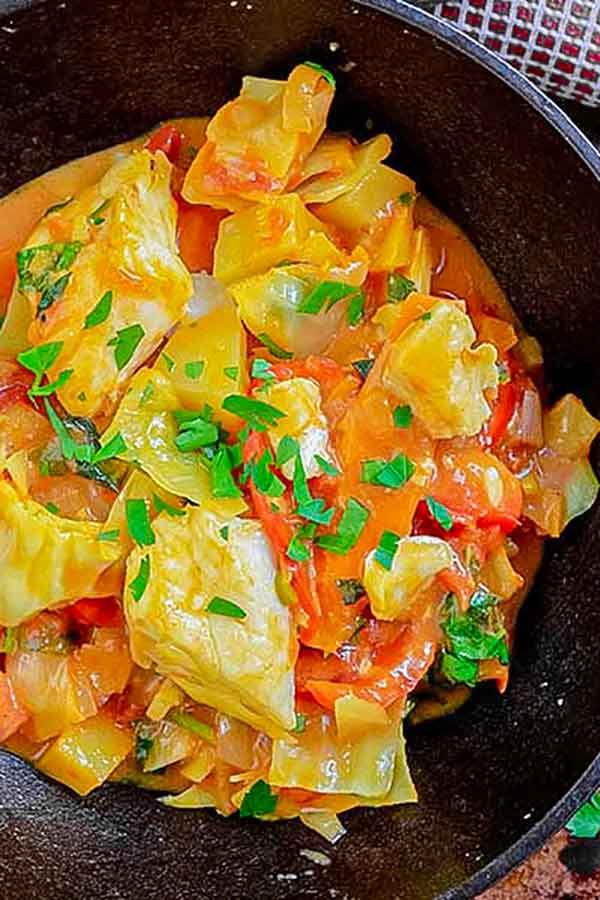 Caribbean Fish Curry — Recipe Overview
To start, sauté onions with garlic in coconut oil. Then stir in the spices until they become aromatic. This takes just a few seconds, be careful not to burn the spices.
Follow with adding the diced tomatoes and coconut milk. Bring the coconut sauce to a gentle simmer. You don't want to boil the sauce.
Once the sauce starts to simmer, add the prepared veggies…bell peppers, potatoes, carrots and cabbage and season with salt. The veggies are cooked covered in the sauce and over low heat.
Once the veggies are cooked but firm to bite, add the fish pieces and fresh lime juice. Continue cooking until the fish is fork-tender. Whitefish does not take very long to cook. Depending on the size of your fish pieces, the fish should take only about 5 minutes to cook.
When I serve this Caribbean-style fish curry dish, in the end, I like to add plenty of fresh herbs. The herbs bring extra freshness to this healthy fish dinner dish.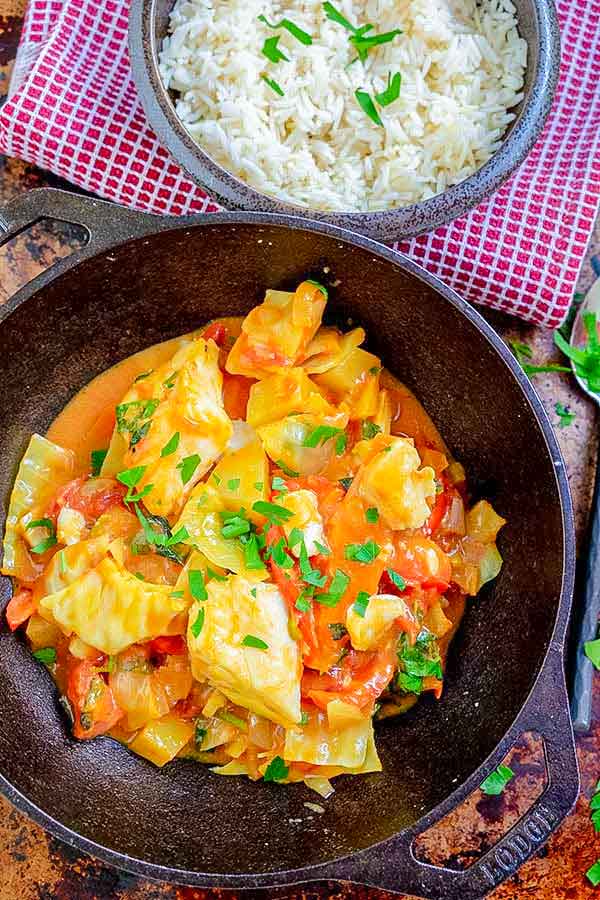 What to serve with fish curry?
My favourite way to serve this insanely delicious fish curry stew is with simple white basmati rice. Because the two are meant to be together. But I have served it over short cut pasta and converted the Caribbean recipe to an Italian dish. Either way, it is so good!
Sometimes if I bake fresh bread that day like the Gluten-Free Italian Bread or the Gluten-Free French Bread, I dip the bread into the sauce soaking up the curry flavoured goodness.
Keeping the fish curry dinner low-carb.
If you follow a low-carb diet, I recommend adding a high fiber salad like the cabbage and fennel citrus salad; the more fiber, the less net carbs because fiber negates carbs. I would also use only a small potato in the curry and add extra cabbage.
If you are looking for a new fish recipe, you will enjoy this Caribbean-inspired dish. This simple to prepare healthy fish dinner takes about 30 minutes from start to the table, making it an easy healthy weeknight meal for your family. Enjoy!
Let's Connect!
Be sure to FOLLOW US on FACEBOOK and PINTEREST.
Many thanks!
Kristina xx
Caribbean Fish Curry Recipe
Published on Sep 29, 2021
by
Kristina Stosek
Instructions
1.

In a large saucepan sauté onions and garlic in coconut oil until translucent. About 5 minutes

2.

Stir in curry powder, cumin and pepper flakes

3.

Add tomatoes and coconut milk and bring to a gentle simmer, not boil

4.

Add bell pepper, carrots, cabbage, potatoes and salt. Cook over low heat until vegetables are tender. About 15 minutes

5.

Add fish and lime juice and cook for about 5 more minutes, until fish is cooked through
Leave a Comment
Kristina
that's great, thank you for sharing KJ
My second time making this recipe in two weeks, haha I super love it!! I shared it with my family and use it as meal prep too
Kristina
I am so happy that you enjoyed the fish curry Leslie, thank you.
This is so delicious and tastes great the next day too.
Kristina
thank you for this simple fish curry dish, my family loved it!
Kristina
thank you for letting us know!
this was so good, thank you!