Instant Pot Warm White Bean Salad
Published on Dec 11, 2019
by
Kristina Stosek
Prep Time:

15 minutes
Cook Time:

40+ minutes
Serves:

6 - 8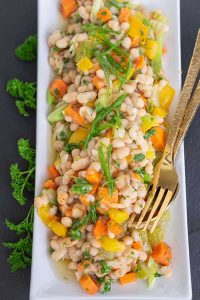 ​This post may contain affiliate links, please see our
privacy policy
for details
Instant Pot Warm White Bean Salad, a simple warm salad to cozy up to during cold winter months. The tender white beans are accented with veggies and a freshly made light vinaigrette.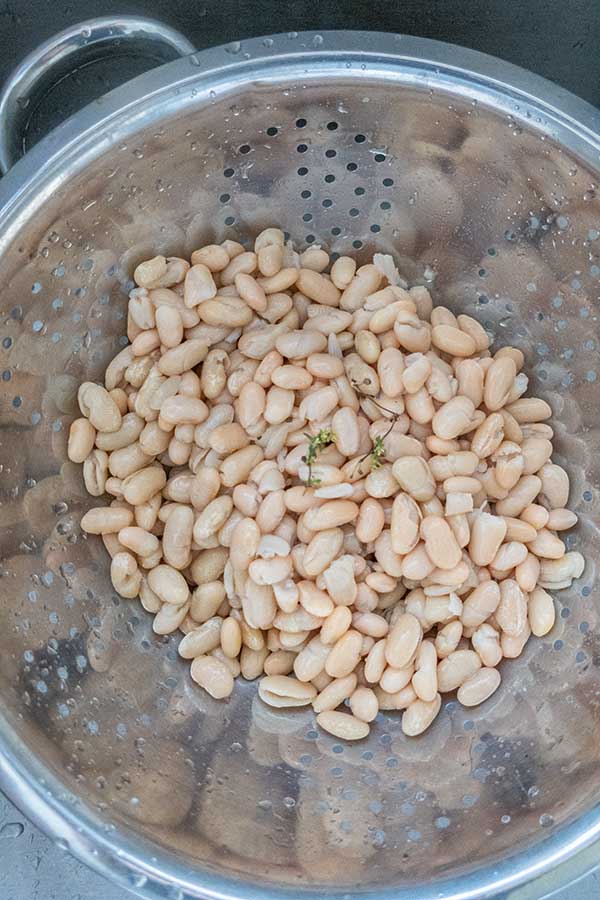 In this recipe, I used the instant pot because I wanted to use dried beans. When it comes to a bean salad, starting from scratch like dried beans, makes all the difference in flavour and texture, like in this warming bean salad.
The veggies, carrots, bell peppers and celery are added at the very end to the instant pot keeping the firm to the bite.
the vinaigrette…
The light vinaigrette in this white bean salad is a mix of thinly sliced green onions, apple cider vinegar, oregano, paprika and a hint of garlic. For additional colour and flavour, I added fresh parsley.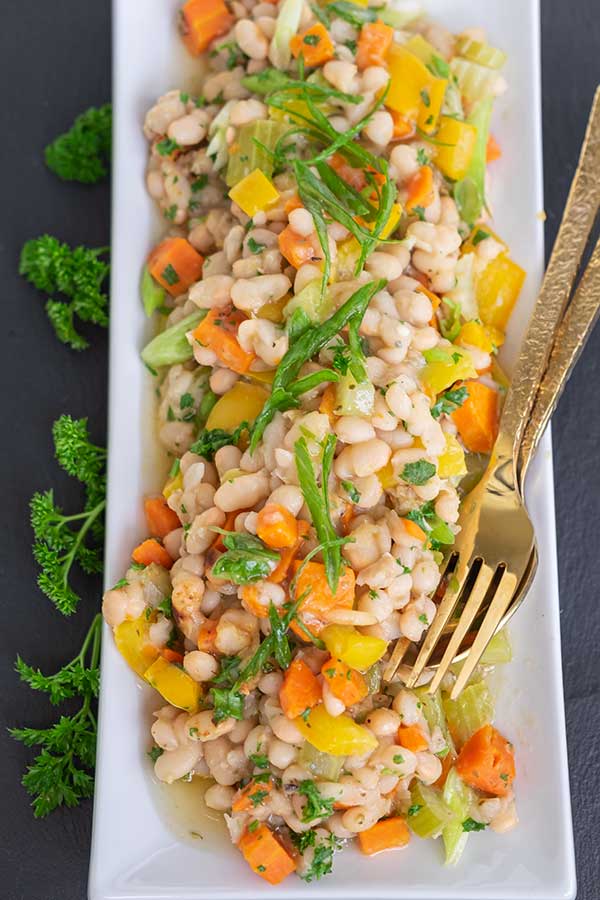 This warm white bean salad goes exceptionally well with ham or a pork rib roast. Are you thinking of serving this salad when entertaining? This warm salad can be made in advance and can also be served at room temperature.
Benefits of cooking with Instant Pot
Save time and energy
Preserve colour and flavour
Retain nutrients
Eliminate harmful microorganisms
Economical
What I love about using an Instant Pot is, once you've added your ingredients into an Instant pot and sealed it, you set the timer, and you can walk away. Leaving you time to do other things without worrying about a pot of beans, soup or stew simmering on the stove. With a busy schedule like I have, using an Instant Pot leaves me time to do more important things….like golf 🙂
Besides, when it comes to buying canned legumes, they can be costly. So, replacing canned with dried beans is also economical since you can buy dried beans at a fraction of the price than you would pay for canned beans. The best part! It is the flavour and texture, and there is simply no comparison between canned and freshly cooked beans. No more soggy, salted beans.
By using a pressure cooking method, they will have a perfect texture and freshly cooked flavour. For more Instant Pot Gluten-Free recipes, please check out our popular instant pot recipe section. For last minute gift ideas check out our famous shopping page
Instant Pot Warm White Bean Salad
Published on Dec 11, 2019
by
Kristina Stosek
Instructions
1.

Place beans in a bowl and cover with boiling water. Soak for 10 minutes, then drain and rinse

2.

Place beans, salt, bay leaves and 8 cups of water in a pressure cooker. Cover and cook on high pressure for 30 minutes

3.

Once done cooking, use the quick release function and release the steam Discard bay leaves and add carrots, celery, bell pepper and 1 tablespoon of apple cider vinegar. Cover and cook on high pressure for 1 minute

4.

After 1 minute immediately use the quick release function and release the steam

5.

Transfer beans, veggies and liquid into a large serving bowl. Cool for 10 minutes. After 10 minutes, remove some of the liquid if needed, but leave enough so that the beans are moist. There shouldn't be too much liquid, because while the beans are cooling, they should absorb most of it

6.

For the vinaigrette; using a small bowl mix everything together

7.

Once the beans have cooled for 10 minutes, add the vinaigrette and gently stir to combine. Cover with foil and keep warm until ready to serve.