Authentic Hungarian Goulash (Gluten-Free)
Published on Apr 06, 2016
by
Kristina Stosek
Prep Time:

15 minutes
Cook Time:

120 minutes
Serves:

6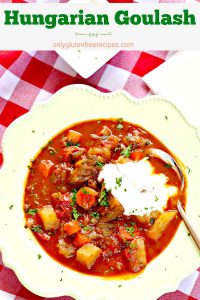 ​This post may contain affiliate links, please see our
privacy policy
for details
This is truly an Authentic Hungarian Goulash dish…slowly simmered beef with vegetables, lightly flavoured delicious tomato broth and a little spiciness. This is comfort food at it's best!
grandma's Hungarian goulash recipe
Growing up in eastern Europe, in our home, Hungarian goulash was a weekly meal. Whether this hearty dish was served as a soup or a thick stew, it was comforting and satisfying.
Hungarian goulash is often served with pasta or rye bread. Since our home has been converted to an exclusively gluten-free kitchen, I often serve the warm and cozy goulash with my homemade gluten-free cassava bread because it reminds me of rye bread.
What are the best cuts of beef for Hungarian Goulash?
A thick stew such as goulash is made with tender beef chunks and veggies slowly simmered in a rich broth. I prefer not using pre-cut stewing beef because it tends to be dry.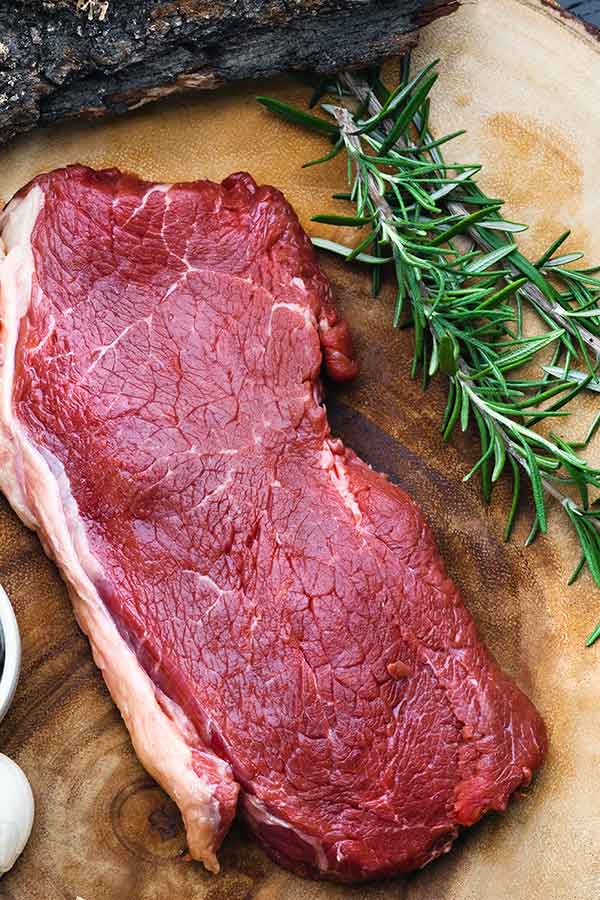 Instead, I find that chuck steak or brisket are the best cuts for goulash. The chuck and brisket are affordable, with good flavour and texture, making the beef cut an excellent choice for stews.
My grandmother was Hungarian, and she loved the stew with pasta. This Hungarian recipe goes way back in my family. My grandma, I called her "oma," made the best Hungarian goulash by far. She learned the recipe from her grandma, thus naming this stew "Authentic Hungarian Goulash."
When there wasn't enough meat to go around during the war, she often told me that the thick meaty goulash stew was served as a soup. This is where the sour cream comes in.
When the meat was scarce, the sour cream was added to make the soup creamier and heartier. And, there was always freshly baked delicious bread to make the goulash a satisfying meal.
what makes the Hungarian stew so delicious?
There are a few ingredients that make this beef stew outshine the others. First, there are the pungent Hungarian spices such as; Hungarian paprika, caraway seeds, marjoram and bay leaves. Then, the light tomato broth, vegetables and when available red wine.
The stew is slowly simmered allowing the beef to infuse the broth with robust beef flavour. This beef dish is not complicated, but it is exceptionally flavourful.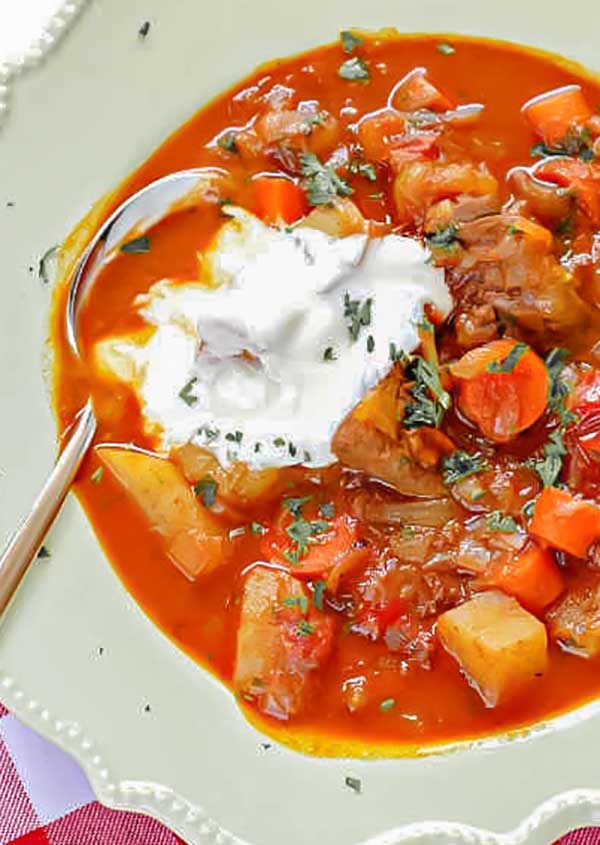 If you decide to make this amazing Hungarian goulash as soup serve it up with gluten-free artisan bread or our popular gluten-free pull-apart rosemary soft rolls. For more recipes like this goulash, check out our gluten-free recipes from Eastern Europe.
Have you visited our online STORE? You will find gluten-free ingredients that I use in my recipes, kitchen gadgets, cookbooks, and gluten-free health products and gifts. Come and visit!
Let's Connect!
Be sure to FOLLOW US on FACEBOOK and PINTEREST.
Many thanks!
Kristina xx
Authentic Hungarian Goulash (Gluten-Free)
Published on Apr 06, 2016
by
Kristina Stosek
Instructions
1.

In a large pot, heat up the oil to medium heat, add onions and sauté for 5 minutes or until they start to turn a golden colour

2.

Stir in paprika, marjoram, caraway and cayenne and cook until just fragrant about 30 seconds

3.

Increase the heat to medium-high. Add the beef and cook until all the sides are no longer pink about 5 minutes. Stirring as needed

4.

Add wine, tomatoes, tomato paste, bay leaves, salt and water. Bring to boil, cover and reduce the heat to low. Cook for 1 hour or until the beef is tender. This depends on the cut of meat

5.

Add the potatoes, carrots and bell pepper and cook until the potatoes are fork-tender, about 15 minutes. At this point, you may need to add more water, depending on how thick you like the goulash. Remove the bay leaves before serving

6.

To serve, top with a dollop of sour cream and fresh parsley
Leave a Comment
Kristina
Osmund, maybe the brand of tomatoes you used. Some brands are very sour, sorry
Just made it with all the ingredients and it was very sour!!
Kristina
Thank you Natalia, sometimes I skip the potatoes and serve the goulash over rice
This goulash is excellent! I added extra veggies and served it with noodles, my family (Polish) loved it.