Irish Lamb Stew Recipe {Gluten-Free}
Prep Time
15 Minutes
Difficulty
Easy
Cook Time
120 Minutes
Serves
4 - 6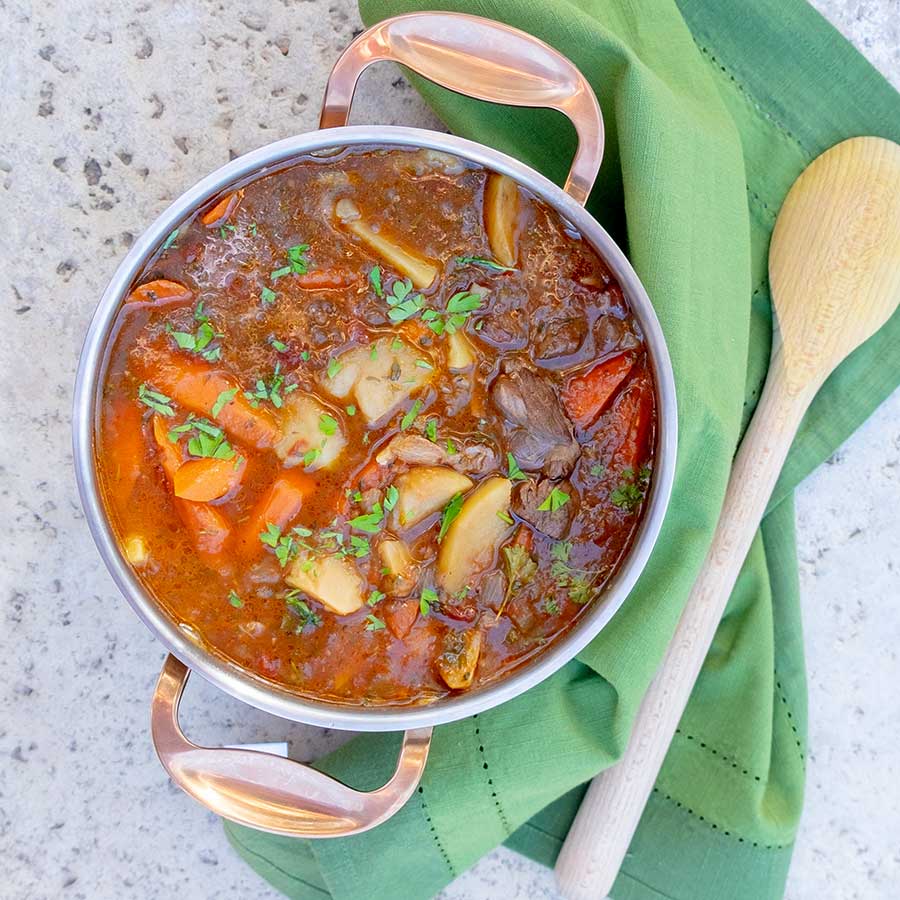 Be the first to rate this recipe.
There is nothing more satisfying after a long cold day than coming home to a delicious Irish lamb stew. This has been a very cold winter so far, especially on the East coast, so comfort food becomes a priority in many homes. When it comes to a winning gluten-free Irish lamb stew, there are few things to know. First, you can't use Guinness stout because it contains gluten. Then, it takes time, you can't rush a good stew. The stew is simmered slowly and in stages. First, the meat is cooked in a delicious meaty sauce, then you add the veggies and cook the stew just long enough for the veggies to be tender but still firm. I don't know about you, but when it comes to a stew, you want the meat to be tender enough, so it starts to pull apart and the veggies to be cooked but still keeping their shape. In order to get that delicious meaty flavour the meat has to be browned correctly, please see the instructions. Then an essential part of making an amazing Irish lamb stew is, chill the stew overnight. By doing this, the flavour of the stew intensifies, and the sauce thickens. This Irish lamb stew won a 10 out of 10 in our test kitchen. This stew goes exceptionally well with gluten-free chia soda bread. Enjoy! 
Ingredients
1 1/2 lb. lamb stew meat, cut into 1 1/2-inch cubes (preferably local lamb)
2 Tbsp. Extra virgin olive oil, divided
1 Tbsp. Butter
2 medium yellow onions, chopped
4 large garlic cloves, smashed
1 Tbsp. GF dried thyme
1 cup red wine
1 can (398 ml.) pure diced tomatoes, pureed
1 Tbsp. GF Worcestershire sauce
2 GF bay leaves
2 lb. Yukon gold potatoes, peeled, cut into wedges
4 carrots, diced on a slant, about 1-inch long pieces
1 Tbsp. Apple cider vinegar
Water
Himalayan salt and coarsely ground GF black pepper
1/2 cup chopped fresh parsley
*As an Amazon Associate and member of other affiliate programs, I earn from qualifying purchases. Please check out my sponsorship and disclosure policy page for more details
Instructions
Pat dry the lamb with a paper towel and generously season with salt and pepper
Heat 1 tablespoon of olive oil and butter in an 8-quart heavy bottom pot over medium-high heat. Add lamb without crowding to the pot and sear on both sides. Do not stir the meat. Using tongs or two forks flip the meat over and brown the other side. You will need to do this in 2 or 3 batches. Transfer the meat onto a warm plate
Add remaining tablespoon of olive oil and the onions. Reduce the heat to medium and cook the onions until translucent, stirring frequently. About 7 minutes. Stir in garlic and thyme until combined
Return meat back to the pot, add wine, pureed tomatoes, bay leaves and 1 1/2 cups of water. Bring to boil, reduce heat to low and cover. Cook for 1 1/2 - 2 hours until the meat starts to get tender
Add potatoes, carrots and apple cider vinegar, and enough water so that everything is immersed in the liquid. Probably about 2 glasses of water. Season well with salt, about 2 teaspoons. Bring to boil and reduce the heat to medium so that the stew is gently bubbling. Do not cover. Cook until the vegetables are tender. About 30 - 40 minutes, adding liquid if needed
Remove from the heat and stir in fresh parsley. Cool and refrigerate overnight. This intensifies the flavours and thickens the stew.
Similar Recipes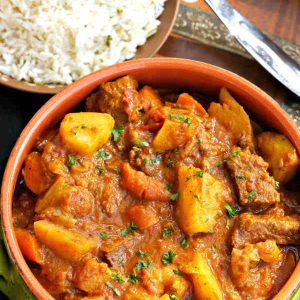 African Beef Stew Recipe
When you are craving comfort food, this slow cooked African Beef Stew is just the perfect hearty, cozy dinner to make. Using healthy ingredients such as garlic, ginger, tomatoes, cabbage, carrots and the two basics stew beef and potatoes makes this African beef stew most satisfying. For the flavour, African spices such as curry powder, […] Read More
Prep Time
15 Minutes
Difficulty
Easy
Cook Time
140 Minutes
Serves
4 - 6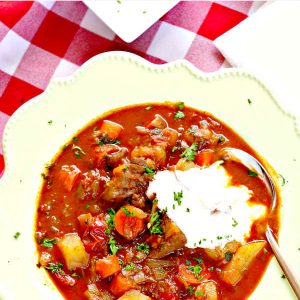 Authentic Hungarian Goulash (Gluten-Free)
This is truly an Authentic Hungarian Goulash dish → slowly simmered beef with vegetables, lightly flavoured delicious tomato broth and a little spiciness. This is comfort food at it's best! ♥ Where did I get the best authentic Hungarian Goulash recipe? Growing up in eastern Europe, in our home Hungarian goulash was a weekly meal. Whether […] Read More
Prep Time
15 Minutes
Difficulty
Easy
Cook Time
120 Minutes
Serves
6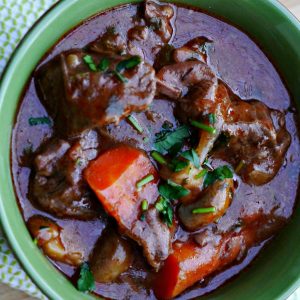 Beef Bourguignonne ~ Naturally Gluten Free
Beef bourguignonne is a hearty French beef stew cooked in rich red wine sauce. This French stew is slowly cooked for a few hours which is what makes the sauce incredibly tasty. Serve this delicious beef dish with boiled potatoes or over gluten free pasta. Read More
Prep Time
15 Minutes
Difficulty
Easy
Cook Time
240 Minutes
Serves
6