Gluten-Free Chia Soda Bread
Published on Apr 03, 2018
by
Kristina Stosek
Prep Time:

15 minutes
Cook Time:

50 minutes
Serves:

1 loaf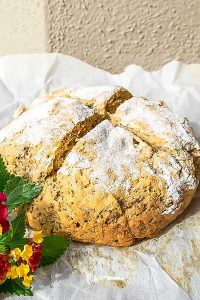 ​This post may contain affiliate links, please see our
privacy policy
for details
Gluten-Free Chia Soda Bread is a low allergen bread. This gluten-free bread is yeast-free, dairy-free and super easy to whip up. There is no kneading or waiting for the bread to rise. This means you can have freshly baked bread to enjoy in under an hour.
What is soda bread?
Soda bread is a quick bread using baking soda to replace the traditional yeast used in most bread recipes. Another ingredient that is often used is buttermilk. The buttermilk and the baking soda work exceptionally well together as a leavening agent.
To keep this bread dairy-free, I combined coconut milk with apple cider vinegar. This is probably one of the easiest gluten-free bread recipes. Another healthy bread recipe you may enjoy is the Healthy Gluten-Free Flax Bread.
To keep this gluten-free bread on the healthier side, I added chia seeds, a well known superfood. Chia seeds are a good source of omega-3 fatty acids, and they are rich in dietary fiber, antioxidants, iron and calcium. Chia seeds are also a good protein source—about 5.6 grams per one ounce of chia seeds.
As with most gluten-free baked goods, this gluten-free soda bread is best when eaten fresh. However, this bread can be toasted the next day or makes tasty garlic bread.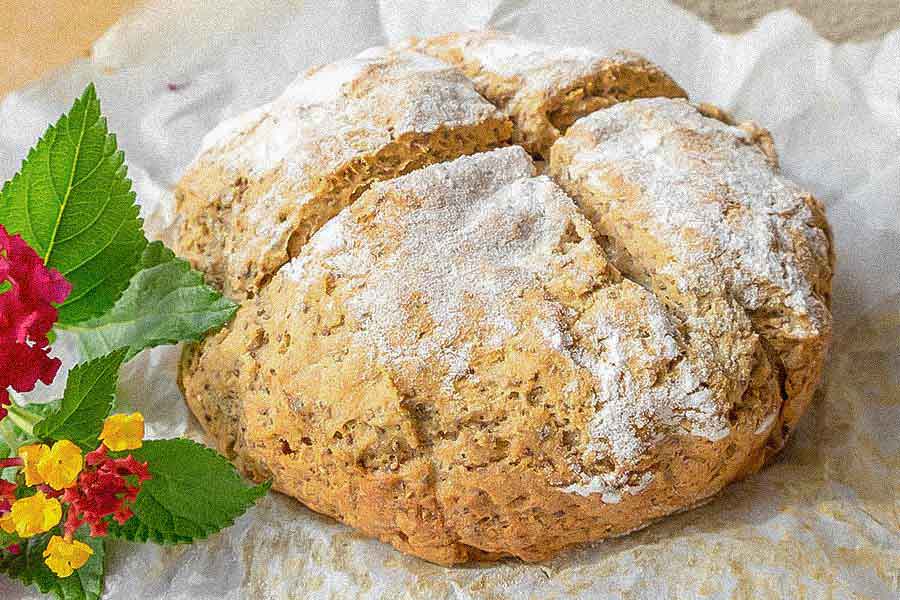 gluten-free garlic soda bread recipe,
To make the garlic bread, combine 1/4 cup of softened salted butter with 1 tablespoon of extra virgin olive oil, 2 minced garlic cloves, 1 tablespoon of chopped fresh parsley and a pinch of salt. Spread the garlic butter over sliced soda bread and bake at 400 F until crispy. This gluten-free garlic bread goes especially well with this most delicious African Beef Stew.
Which is healthier, chia seed or flax seed?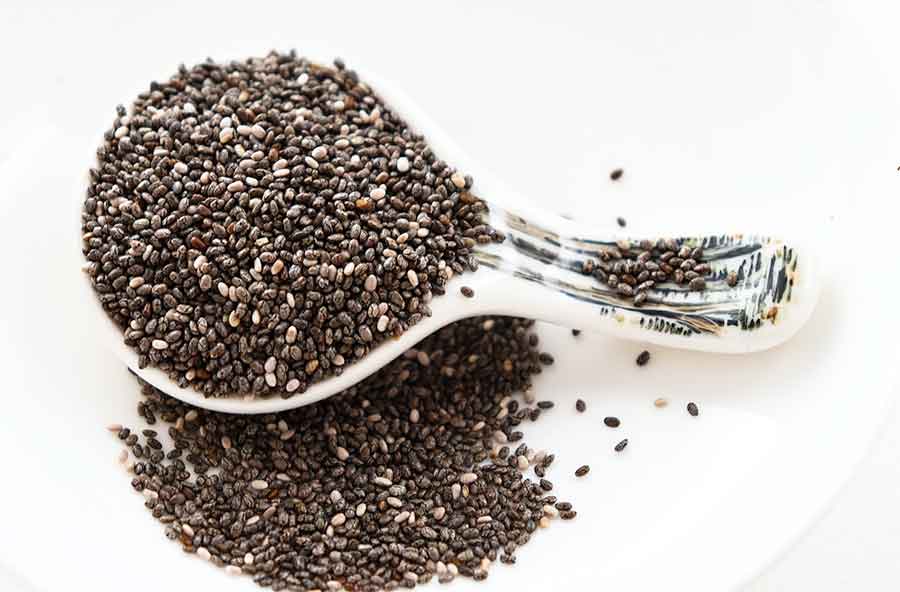 Chia seeds are the edible seeds of the Salvia hispanica plant in the mint family (Lamiaceae) native to central and southern Mexico. Most chia seeds produced today are a brown/black colour.
Chia seeds contain fewer calories and more fiber. These tiny seeds also contain bone-strengthening minerals, calcium and phosphorus, and more iron than flax seeds. As a result, chia seeds are one of the best sources of dietary fiber, 34 grams per 100 grams in weight.
Flax seeds contain more manganese, copper, potassium, omega-3s and anti-oxidants. And 29 grams of dietary fiber per 100 grams in weight. Check out our healthy Gluten-Free High Fiber Bread made with flax seeds.
Both of these seeds have numerous health benefits, and both increase your body's efficiency in losing weight. In addition, chia seeds are considered the world's best sources of fiber.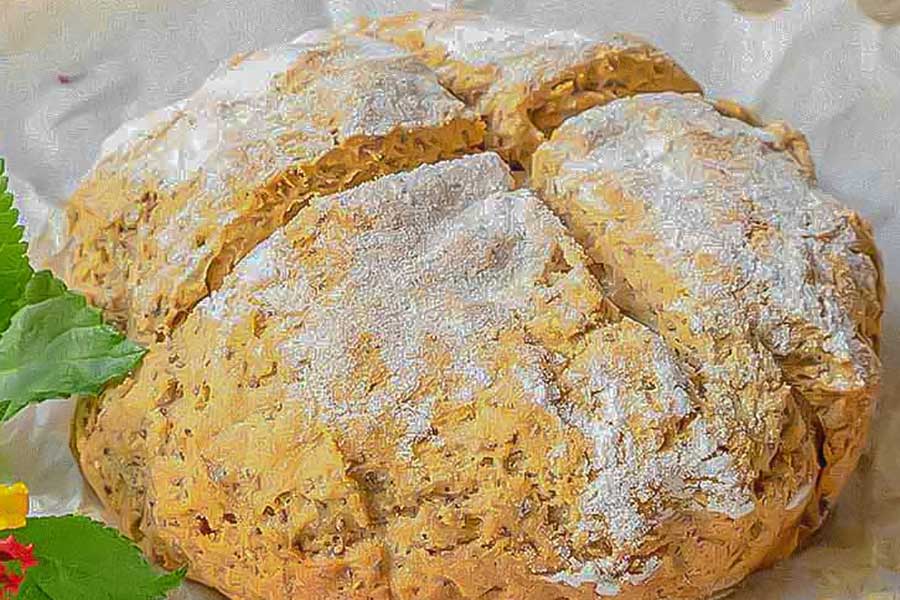 To summarize, this gluten-free chia soda bread is simple to make with numerous health benefits. The best part, the bread is satisfying and delicious!
Gluten-Free Chia Soda Bread
Published on Apr 03, 2018
by
Kristina Stosek
Instructions
1.

Preheat oven to 375 F and line a 6-inch round cake pan with parchment paper

2.

In a medium bowl combine chia seeds and warm (not hot) coconut milk and set aside for 15 minutes

3.

Meanwhile, in a large bowl whisk together, flour, starch, baking powder, xanthan gum, baking soda and salt

4.

Add eggs, olive oil, maple syrup/honey, and apple cider vinegar to chia seed mixture and whisk to combine

5.

Slowly pour wet mixture into dry ingredients mixing as you go until you form a dough

6.

Transfer dough into prepared cake pan. Lightly moisten your hands with water and shape the dough into a rounded loaf. Lightly sprinkle with rice flour.

7.

Slice a criss-cross into the dough about 1/2-inch deep and bake for 50 minutes. The loaf should be golden brown

8.

Using the parchment paper, remove the bread from the pan after 10 minutes and place on a wire rack to cool completely