Gluten-Free Chia Soda Bread
Prep Time
15 Minutes
Difficulty
Easy
Cook Time
50 Minutes
Serves
1 loaf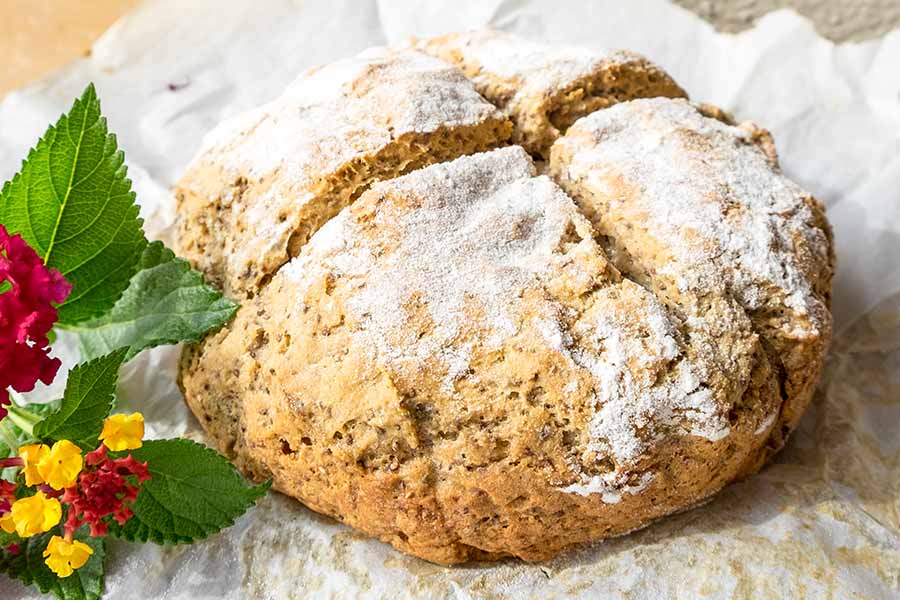 Average Rating: 4.5 | Rated By: 3 users
I love making this gluten-free chia soda bread because it is simple to prepare, healthy, dairy-free and there is no yeast or kneading. I have added chia seeds because they are a good source of omega-3 fatty acids, fiber, antioxidants, iron, and calcium, and 1-ounce, serving of chia seeds also contains 5.6 grams of protein. Soda bread is best when eaten fresh, but toasting a slice or making garlic bread the next day makes this bread a winner!
Ingredients
1/4 cup black chia seeds
1 1/4 cup coconut milk (not canned)
1 cup sorghum flour
1/2 cup white rice flour
1/2 cup arrowroot starch/flour
2 tsp. GF aluminum-free baking powder
2 tsp. xanthan gum
1 tsp. Baking soda
1 1/4 tsp. Pure sea salt
2 large eggs
1/4 cup extra-virgin olive oil
1 Tbsp. Pure maple syrup or honey
1 Tbsp. Apple cider vinegar
*As an Amazon Associate and member of other affiliate programs, I earn from qualifying purchases. Please check out my sponsorship and disclosure policy page for more details
Instructions
Preheat oven to 375 F and line a 6-inch round cake pan with parchment paper
In a medium bowl combine chia seeds and coconut milk and set aside for 15 minutes
In a large bowl whisk together, flour, starch, baking powder, xanthan gum, baking soda and salt
Add eggs, olive oil, maple syrup/honey, and apple cider vinegar to chia seed mixture and whisk together
Slowly pour wet mixture into dry ingredients mixing as you go until you form a dough
Transfer dough into prepared cake pan. Lightly moisten your hands with water and shape the dough into a rounded loaf. Lightly sprinkle with rice flour.
Slice a criss-cross into the dough about 1/2-inch deep and bake for 50 minutes. The loaf should be golden brown
Remove the bread after 10 minutes with the parchment paper and place on a wire rack to cool completely
Similar Recipes
Best Gluten-Free Rustic Bread Recipe
Bread has always been the staple in our home. This Gluten-Free Rustic Bread reminds me of the delicious German rye bread I grew up with. Crispy crust, soft and chewy with the tasty rye flavour. This gluten-free rustic bread recipe is made with chia seeds, buckwheat flour and a gluten-free flour blend. The bread recipe […] Read More
Prep Time
15 Minutes
Difficulty
Easy
Cook Time
45 Minutes
Serves
1 loaf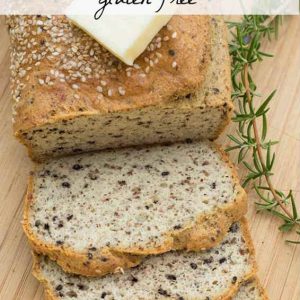 Gluten-Free Keto Multi-Seed Bread
This Gluten-Free Keto Multi-Seed Bread is absolutely divine. This protein-packed, low-carb seeded quick bread is loaded with vitamins, minerals and fiber. For those who cannot tolerate yeasted bread, this gluten-free keto multi-seed bread is a great replacement. If you hadn't baked it yourself, you would never believe it was gluten-free and low-carb. The keto bread […] Read More
Prep Time
10 Minutes
Difficulty
Beginner
Cook Time
50 Minutes
Serves
14 slices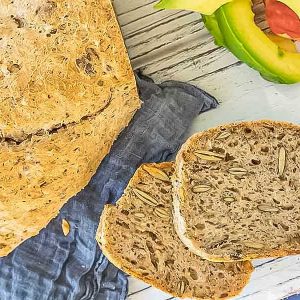 Best Gluten-Free Artisan Bread
Finding a gluten-free artisan bread recipe that is simple to make and tastes this good is not easy. Before I decided to make the bread, I tried various combinations of flours and seeds until finally, I got that perfect gluten-free artisan bread. This is a rustic bread packed with seeds and grains. The bread has […] Read More
Prep Time
10 Minutes
Difficulty
Easy
Cook Time
40 Minutes
Serves
1 loaf