Gluten-Free Keto Multi-Seed Bread
Prep Time
10 Minutes
Difficulty
Beginner
Cook Time
50 Minutes
Serves
14 slices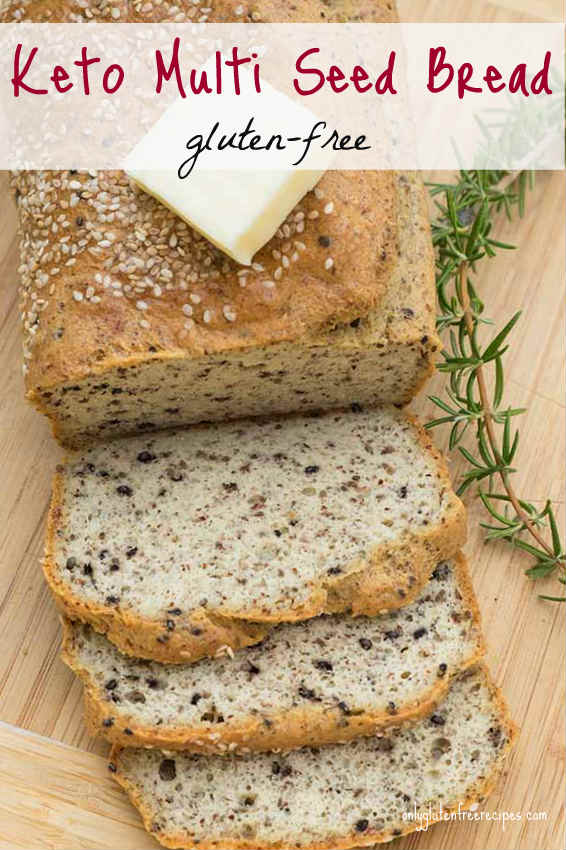 Average Rating: 5 | Rated By: 12 users
This Gluten-Free Keto Multi-Seed Bread is absolutely divine. This protein-packed, low-carb seeded quick bread is loaded with vitamins, minerals and fiber. For those who cannot tolerate yeasted bread, this gluten-free keto multi-seed bread is a great replacement. If you hadn't baked it yourself, you would never believe it was gluten-free and low-carb.
The keto bread is light and airy, making it a good bread for sandwiches. The best part, this gluten-free bread has only about 2.5 net grams of carbs per slice. In this keto bread, I added chia and sesame seeds, both of which are excellent sources of omega-3 fatty acids, and rich in antioxidants. Also, the seeds provide fiber, iron, and calcium, to name a few.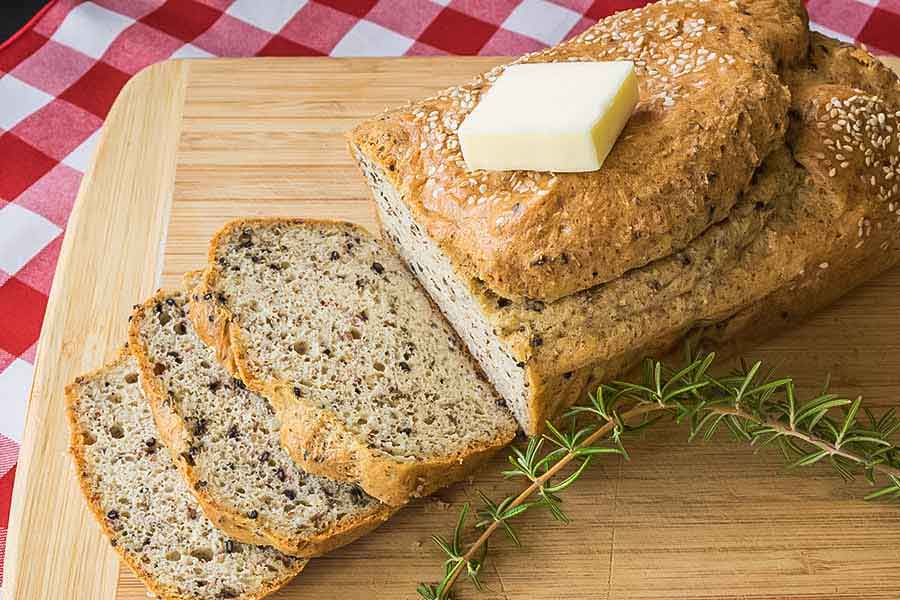 keto multi-seed bread…the details,
To make this amazing healthy gluten-free keto multi-seed bread is so easy. First, you mix the dry ingredients. Then, you beat the eggs and add the coconut oil with butter. Once the wet mixture is well mixed, slowly add the dry ingredients until blended. Once the batter is done, pour it into a loaf pan and bake. So there is no kneading or waiting for the dough to rise. Don't you love it, this recipe is so simple, and yet the bread has a lovely texture with healthy seeds throughout.
I love using this keto bread for making sandwiches. It is so perfect. You can also toast the bread and serve it for breakfast with a poached egg over the top or few avocado and tomato slices.
I know some people will not venture to make home-baked bread because the recipes are often too complicated or take a long time to prepare. This keto bread recipe is probably one of the easiest bread recipes you will find. Give it a try, and let me know how it turned out. In my home, I always have keto bread on hand, it keeps my carbs down, and the bread has no grains.
the best part!
I didn't tell you about the best part yet! This may surprise you, but this gluten-free, keto bread recipe has only eight ingredients plus salt. Don't you love it! Hope you give this bread recipe a try, I know you will not be disappointed. The best way to store the bread after the first day is in the fridge. Enjoy!
If you are following a low-carb diet please check out our selection of keto recipes. You will find desserts, soups, muffins, bread and much more!
Ingredients
3 cups almond flour
1 Tbsp + 1 tsp. sesame seeds, (black or white)
1 Tbsp. chia seeds
1 tsp. GF aluminum free baking powder
½ tsp. sea salt
½ tsp. xanthan gum
7 organic eggs
½ cup grass-fed butter, melted
2 Tbsp. coconut oil
*As an Amazon Associate and member of other affiliate programs, I earn from qualifying purchases. Please check out my sponsorship and disclosure policy page for more details
Instructions
Preheat oven to 355 F and line an 8 x 4-inch loaf pan with parchment paper
In a small bowl mix together almond flour, 1 tablespoon sesame seeds, chia seeds, baking powder, salt and xanthan gum
In a separate bowl beat the eggs with an electric mixer for 2 minutes
Combine butter with coconut oil, and while beating the eggs slowly add to eggs
Add dry ingredients and mix until blended
Pour mixture into prepared loaf pan and sprinkle with remaining sesame seeds
Bake for 50 minutes. Cool in the loaf pan for 15 minutes, then transfer onto a cooling rack to cool completely. I loaf makes about 14 slices
Similar Recipes
Mediterranean Keto Pizza Recipe – Gluten Free
Keto Mediterranean Pizza you will love! We love pizza, but often we want to stay away from the extra carbs, especially when following the keto diet. In this low-carb Mediterranean pizza recipe, the crust is made with cauliflower.  Yes…I know who wants to eat cauliflower instead of a delicious full of carbs, crispy pizza crust […] Read More
Prep Time
15 Minutes
Difficulty
Easy
Cook Time
45 Minutes
Serves
1 large pizza (14-inch)