Gluten-Free Keto Multi-Seed Bread
Published on Nov 09, 2017
by
Kristina Stosek
Prep Time:

10 minutes
Cook Time:

50 minutes
Serves:

14 slices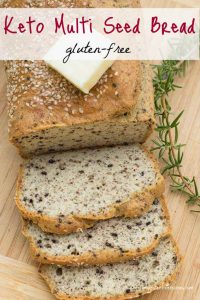 ​This post may contain affiliate links, please see our
privacy policy
for details
This Gluten-Free Keto Multi-Seed Bread is absolutely divine. This protein-packed, low-carb seeded quick bread is loaded with vitamins, minerals and fiber. For those who cannot tolerate yeasted bread, this gluten-free keto multi-seed bread is a great replacement. If you hadn't baked it yourself, you would never believe it was gluten-free and low-carb.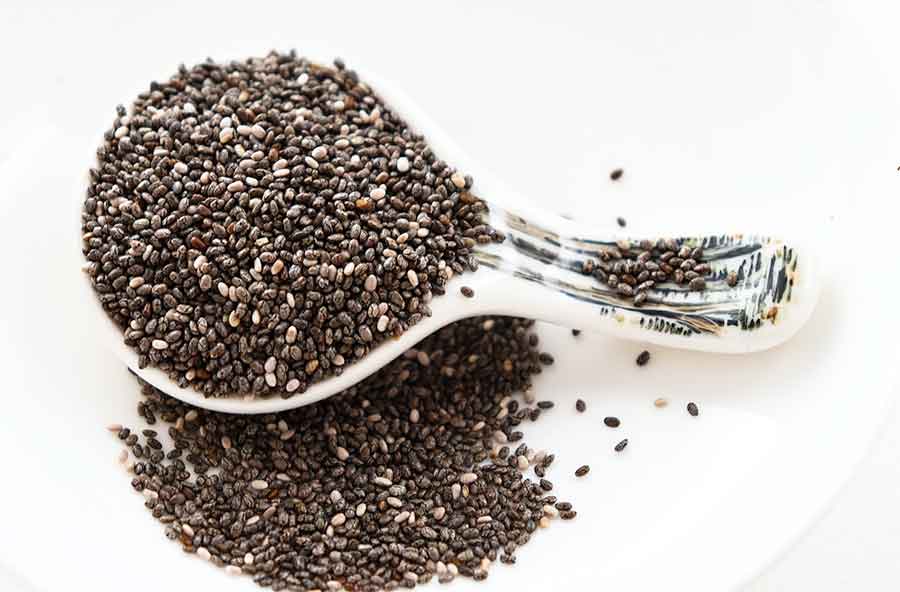 The keto bread is light and airy, making it a good bread for sandwiches. The best part, this gluten-free bread has only about 2.5 net grams of carbs per slice. In this keto bread, I added chia and sesame seeds, both of which are excellent sources of omega-3 fatty acids, and rich in antioxidants. Also, the seeds provide fiber, iron, and calcium, to name a few.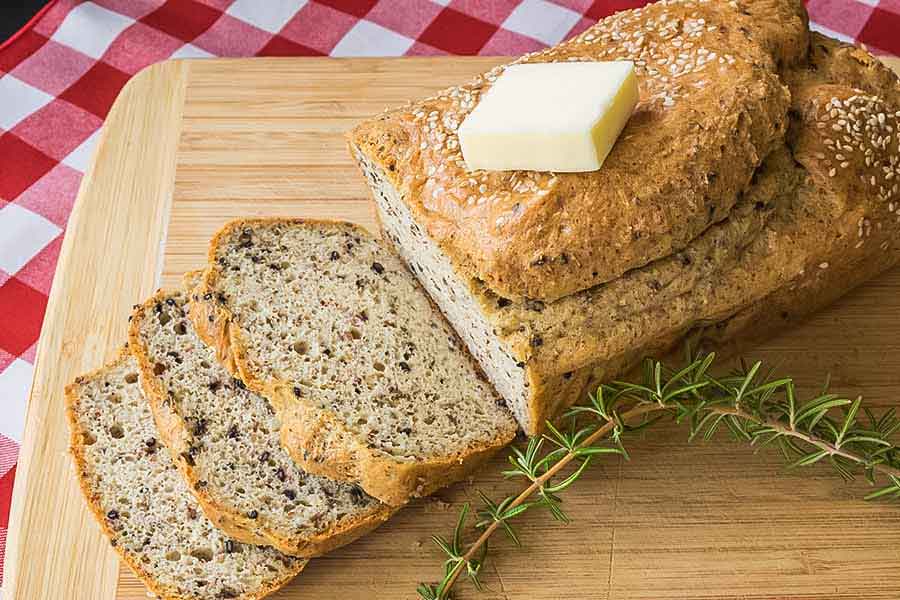 keto multi-seed bread…the details,
To make this amazing healthy gluten-free keto multi-seed bread is so easy. First, you mix the dry ingredients. Then, you beat the eggs and add the coconut oil with butter. Once the wet mixture is well mixed, slowly add the dry ingredients until blended. Once the batter is done, pour it into a loaf pan and bake. So there is no kneading or waiting for the dough to rise. Don't you love it, this recipe is so simple, and yet the bread has a lovely texture with healthy seeds throughout.
I love using this keto bread for making sandwiches. It is so perfect. You can also toast the bread and serve it for breakfast with a poached egg over the top or few avocado and tomato slices.
I know some people will not venture to make home-baked bread because the recipes are often too complicated or take a long time to prepare. This keto bread recipe is probably one of the easiest bread recipes you will find. Give it a try, and let me know how it turned out. In my home, I always have keto bread on hand, it keeps my carbs down, and the bread has no grains.
the best part!
I didn't tell you about the best part yet! This may surprise you, but this gluten-free, keto bread recipe has only eight ingredients plus salt. Don't you love it! Hope you give this bread recipe a try, I know you will not be disappointed. The best way to store the bread after the first day is in the fridge. Enjoy!
If you are following a low-carb diet please check out our selection of keto recipes. You will find desserts, soups, muffins, bread and much more!
Gluten-Free Keto Multi-Seed Bread
Published on Nov 09, 2017
by
Kristina Stosek
Instructions
1.

Preheat oven to 355 F and line an 8 x 4-inch loaf pan with parchment paper

2.

In a small bowl mix together almond flour, 1 tablespoon sesame seeds, chia seeds, baking powder, salt and xanthan gum

3.

In a separate bowl beat the eggs with an electric mixer for 2 minutes

4.

Combine butter with coconut oil, and while beating the eggs slowly add to eggs

5.

Add dry ingredients and mix until blended

6.

Pour mixture into prepared loaf pan and sprinkle with remaining sesame seeds

7.

Bake for 50 minutes. Cool in the loaf pan for 15 minutes, then transfer onto a cooling rack to cool completely. I loaf makes about 14 slices
Leave a Comment
Kristina
I am so happy to heart that, and thank you for sharing!
This is probably one of the best keto breads I have made. The recipe worked perfectly but I will confess, I only used 6 eggs since that's all I had and I probably will stick to 6 since it didn't taste "eggy" as someone put it. Other than that, I wouldn't deviate from the recipe.
Kristina
OOOPS!! Just reread and found there are 2.5 carbs..' Sorry, my bad. Namaste Stay safe, stay healthy
This is EGGcellent keto bread. Lol 7 eggs But YUMMY Only thing is. How many carbs for each slice? Thank you for this recipe. I am looking forward to making more.
Kristina
thank you for your question. When measuring flour it is important to lightly fill the measuring cup with a spoon, then level the flour off with a knife. I found that by scooping the flour out with the measuring cup increases the flour amount and this could be what happened to you. I can't think of any other reason. My family loves this bread, so I bake it often and it always turns out moist and delicious.
i tried this today and it came ot very dry and the outside edges crumbly. it also was done in 20 min. i check the ingred amts again and i did exact amts of each ingredient. Can you tell me what i did wrong?????
Kristina
that sounds wonderful, thank you for your input
This is lovely bread, I made this with 6 eggs the first time, and although i liked it, i found it a bit eggy (i am weird about eggs) and also a bit underdone, so i baked the slice i was eating each time which worked fine, but it was quite bubbly and needed cooling a lot before eating. I made it again last night, and substituted 4 of the eggs for almond milk, and also added pumpkin and linseed's to the other seeds, and a tsp of bicarbonate of soda and 3 tsp of lemon juice. I cooked it for the recipe time plus 10 min, then turned it out of the tin and baked it bottom up for 10 min. It is amazing for my palette at least, though slightly delicate once cut. I have read so many recipes and find this one easy, so thank you for giving me a lovely recipe to play about with and learn to bake keto!