Gluten-Free Bacon and Cheese Bread
Published on Jul 15, 2020
by
Kristina Stosek
Prep Time:

15 minutes
Cook Time:

60 minutes
Serves:

1 loaf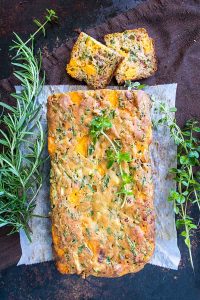 ​This post may contain affiliate links, please see our
privacy policy
for details
With this Gluten-Free Bacon and Cheese Bread, you will not need anything else for breakfast. The incredibly delicious savoury bread is made with bacon, cheese, sun-dried tomatoes, chives or green onions, plus some basic pantry ingredients.
hearty gluten-free savoury breakfast bread
This rustic gluten-free bacon and cheese bread is super simple to make. Once you cook the bacon, all you have to do is mix the dry ingredients, add the wet ingredients and bake.
First, the bread was lightly covered with foil and partially baked to keep the bread soft and moist. Then, towards the end of the baking sprinkle the top with some more cheese and bake it a few more minutes, until the bread has a tasty cheesy crust.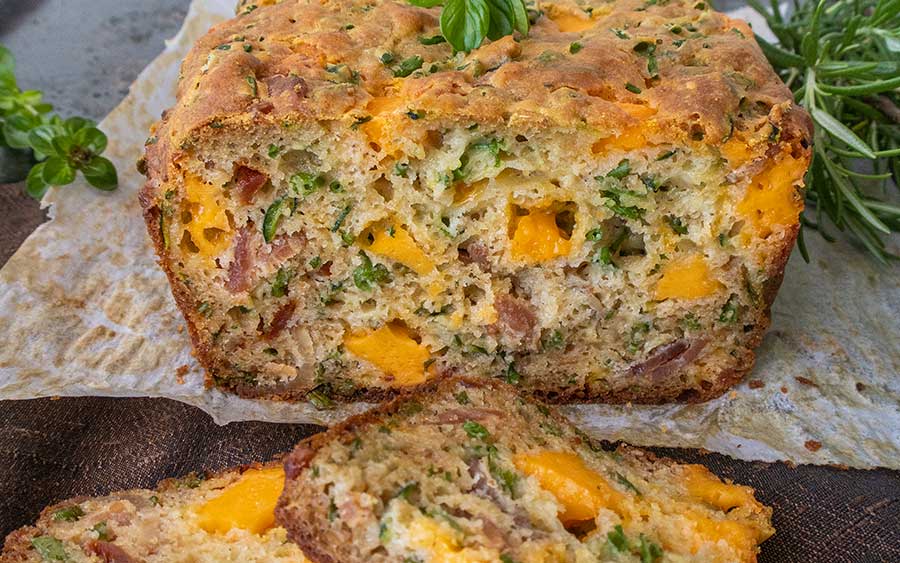 I love to start my day with something savoury. After all, who doesn't love bacon and cheese? When you combine the two ingredients in a bread recipe, you will get a cheesy bread with crispy bacon bits and a perfect cheesy crust.
For extra flavour, I have added chives, or you can use sliced green onions. All the flavours combined are magical in this gluten-free bread.
Yeast-Free Gluten-Free Bacon and Cheese Bread
This gluten-free bread is for those who cannot tolerate yeasted bread. For fiber, I added flaxseed, and for fats, I used heart-healthy olive oil. I have also added sundried tomatoes, the tomatoes are intensely flavoured and are a good source of nutrients.
Sundried tomatoes provide vitamins C, K, iron and, most importantly, lycopene. Lycopene is an antioxidant documented to lower the risk of certain cancers. In this gluten-free bread recipe, I used sundried tomatoes that are packed in oil. They are much softer and are excellent to use in baking.
The cheddar cheese that I added to this savoury bread gives it a delicious cheesy flavour, and the bacon adds a bit of smokiness. I especially love the crispy bits of bacon throughout the soft cheesy bread.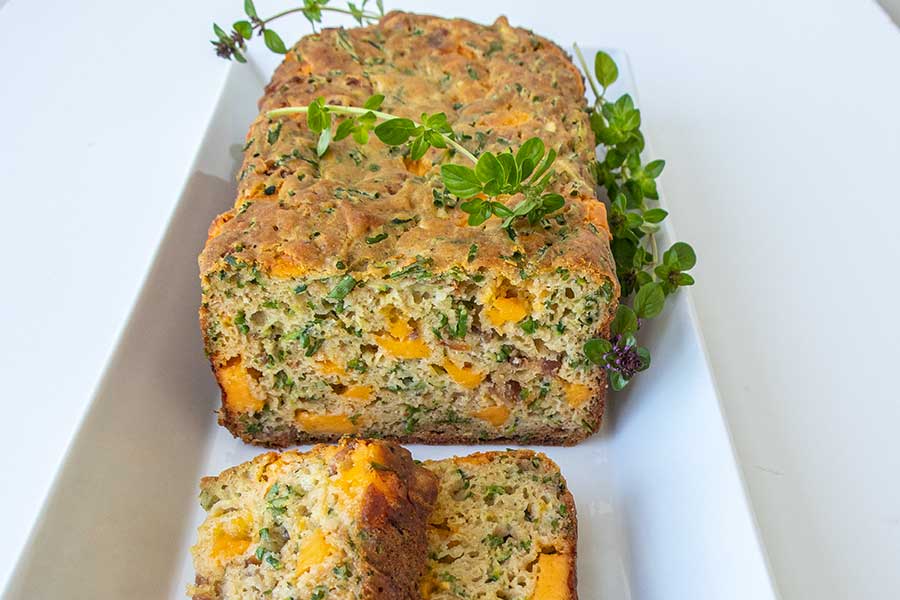 When to serve gluten-free bacon and cheese bread?
You will love this! Not only this bread is an excellent way to start your day. The savoury gluten-free bread will keep you full for hours. However, on occasion I have used it as an appetizer with a smear of hummus or fresh avocado.
To do this, I slice the bread in portion sizes and place it in a hot oven, about 450 F. Bake it for about 3 – 4 minutes and then let it cool. Then I top the bread with any variety of spreads. YUM!
Another tasty way to serve this gluten-free, yeast-free bread on hot summer days is with a salad. Or if you are thinking cool evenings, spread the bread with garlic butter and serve it with soups or hearty stews. There are so many ways to serve this gluten-free bacon and cheese bread 🙂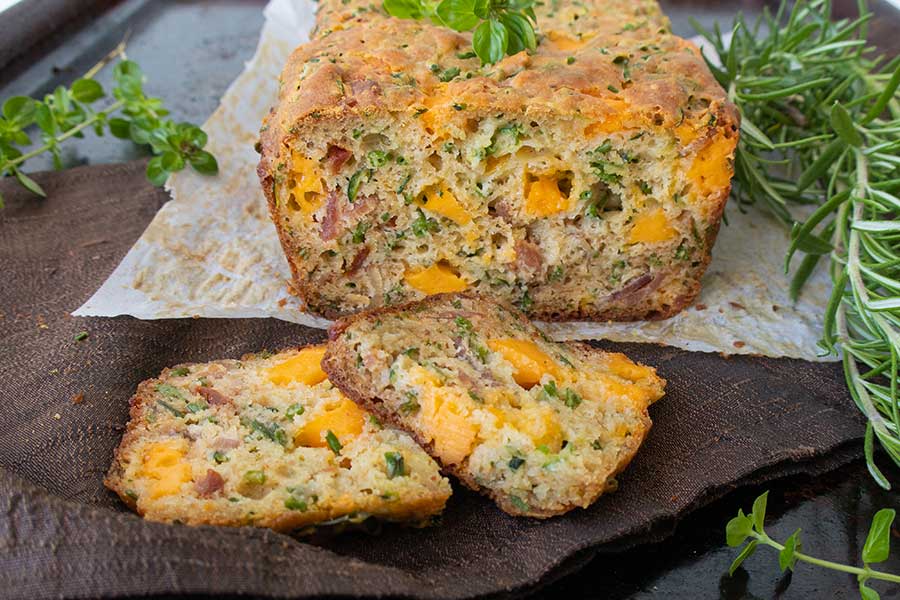 summary
This bread is gluten-free, yeast-free, nutritionally packed, chock full of protein, and you can serve it just about any time of the day. The best part, it is super easy to make. Enjoy!
Let's Connect!
Be sure to FOLLOW US on FACEBOOK and PINTEREST.
Many thanks!
Kristina xx
Gluten-Free Bacon and Cheese Bread
Published on Jul 15, 2020
by
Kristina Stosek
Instructions
1.

Preheat oven to 350 F and coat 8 1/2 by 4 1/2-inch loaf pan with cooking oil

2.

In a large bowl, combine flour, flaxseed, baking powder, baking soda and salt. Stir in bacon and 1 1/4 cups of cheddar.

3.

In a separate bowl, whisk together eggs, milk, olive oil, honey and apple cider vinegar. Stir in sundried tomatoes and chives/green onions.

4.

Add wet mixture to dry ingredients and stir until just combined

5.

Transfer batter into the prepared loaf pan and using a spatula smooth out the top. Cover loosely with foil paper and bake for 35 minutes. Remove the foil and top with the remaining 1/4 cup of cheddar. Bake 25 minutes longer

6.

Cool in the pan for 10 minutes, then transfer to a cooling rack to cool completely before cutting
Leave a Comment
Kristina
thank you Jessie, the sun-dried tomatoes add so much flavour. You could use sliced olives, or chopped dates
Hi Kristina. I'm planning to bake this later today. What can I substitute the sun dried tomatoes with? Thank you, I just love all your recipes!
Kristina
Is that a 1/4 CUP sun dried tomatoes? It sounds good, I'll try it.