Gluten-Free Garden Flatbread
Published on Apr 29, 2020
by
Kristina Stosek
Prep Time:

15 minutes
Cook Time:

25 minutes
Serves:

6 - 8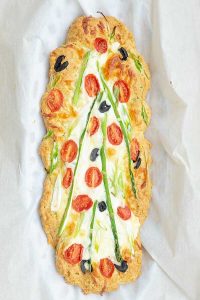 ​This post may contain affiliate links, please see our
privacy policy
for details
Gluten-Free Garden Flatbread – a veggie forward recipe with ooey gooey cheese and fresh veggies bursting with flavours baked in a gluten-free soft flatbread. This is a remarkably tasty fool proof flatbread recipe perfect for beginners and experienced bakers alike.
♥ What is flatbread?
We all love pizzas, so how is flatbread different? The simple answer flatbread is a flat bread 🙂 Flatbread is typically made without yeast, and the three basic ingredients are flour, salt and water—the flatbread thickness varies from super thin to thick.
The thicker the flatbread, the softer the bread should be. However, this is a gluten-free flatbread, so mixing just flour, salt and water would make the bread flavourless.
To make the gluten-free flatbread light and extra pillowy, I added yogurt, olive oil and eggs. To add some flavour, fresh parsley and garlic.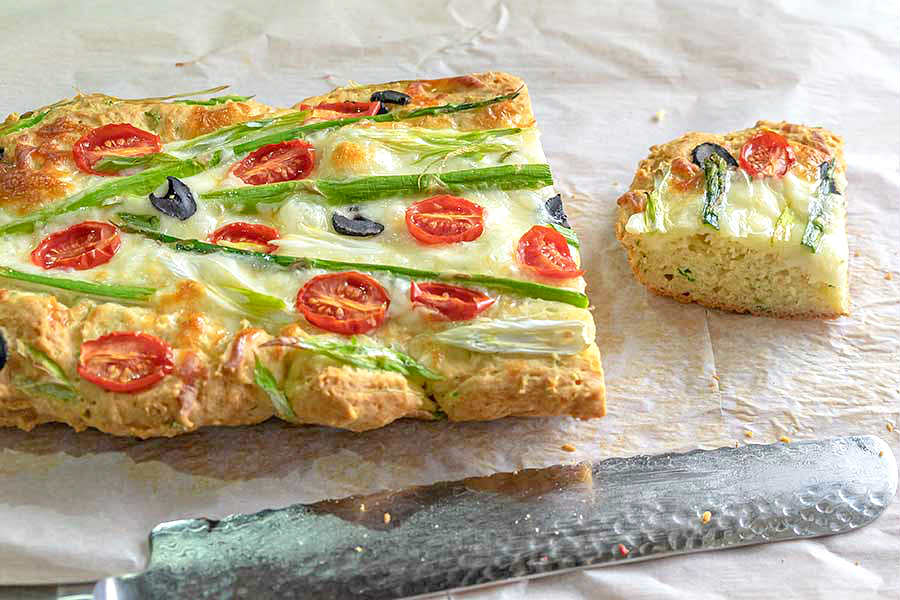 ♥ Toppings for garden flatbread.
I wanted this gluten-free flatbread to boast an array of flavours. The bread is ideal for toppings, and the more, the better. To start, I wanted a flavourful cheese, so I used smoked gouda cheese. I love the smokiness of this cheese, it adds so much flavour.
However, you can use any good melting cheese that you like or have on hand.
Then comes the fun part – the veggies. Since I used a smokey cheese, I choose vegetables that have milder flavour such as asparagus, cherry tomatoes, green onions and for saltiness I added olives. But you can use just about any veggie you like just let your imagination run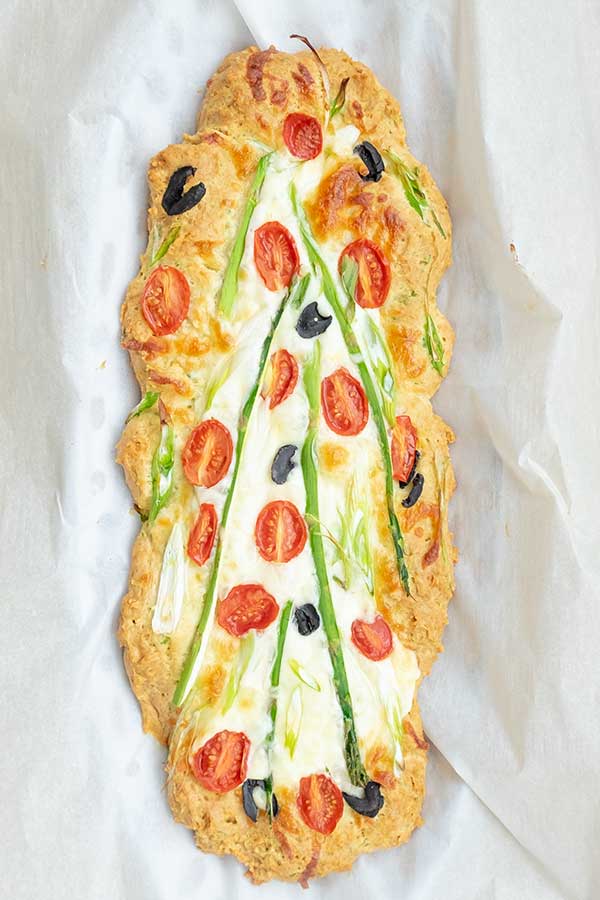 ♥ When to serve garden flatbread?
Garden flatbreads are a hot new baking trend. They are beautifully made with a rainbow of coloured veggies and are easy to do.
What I love about the flatbread you can serve it as a snack, an appetizer, replace a pizza, replace a sandwich and you can pile as many of your favourite veggies on top as you like.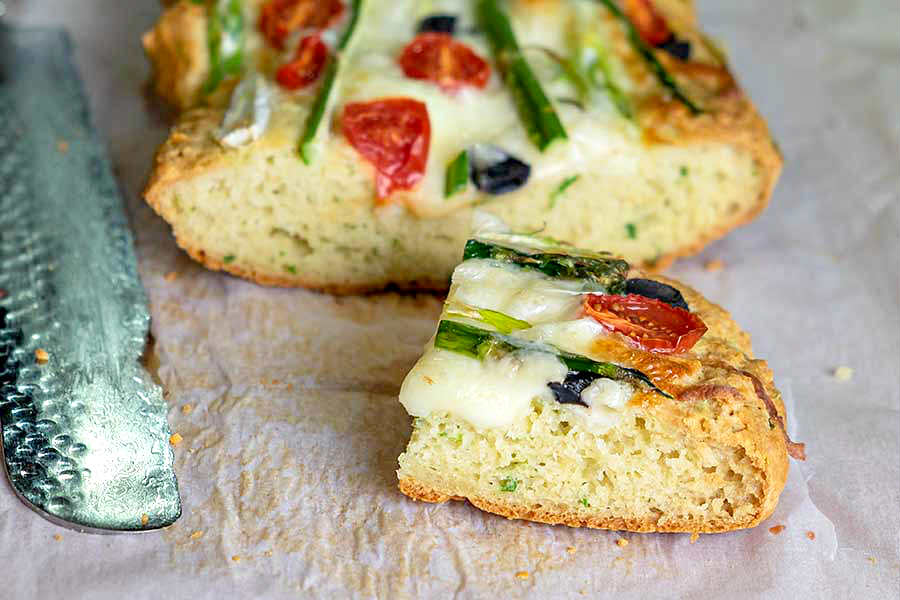 For leftovers, pop them in a hot oven for five minutes, just long enough to heat the cheese. YUM!
How about a pizza tonight? If you are in the mood to bake something more then a flatbread, check out these gluten-free pizza recipes.
Gluten-Free Garden Flatbread
Published on Apr 29, 2020
by
Kristina Stosek
Instructions
1.

Preheat oven to 350 F and line a baking tray with parchment paper

2.

Whisk the yogurt, olive oil, eggs, parsley and garlic

3.

Mix the flour, baking soda and salt and add to wet mixture. Mix to combine until smooth

4.

Using a spatula dipped in oil spread the dough on the baking tray to about 3/4 inch thickness. Leave the edges slightly raised. The dough can be any shape, round, oblong. I did a baguette shape

5.

Fill the dough evenly with the cheese up to the raised edge. Arrange veggies of choice in a desired pattern

6.

Baked for 22 - 25 minutes, until the edges start to brown. Cool for 10 minutes before serving