Instant Pot Italian Pesto Chickpea Soup
Published on Sep 03, 2019
by
Kristina Stosek
Prep Time:

10 minutes
Cook Time:

60 minutes
Serves:

6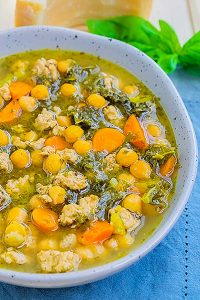 ​This post may contain affiliate links, please see our
privacy policy
for details
This Instant pot Italian pesto chickpea soup brings back the nostalgic feeling. This healthy soup is made from scratch using dry chickpeas (garbanzo beans), ground pork, herbs, peppers, carrots and kale, simmered in a basil pesto broth and finished with Parmesan cheese. This healthy chickpea soup is also naturally gluten-free.
This healthy Italian pesto chickpea soup has the warmth, coziness and satisfying feeling you would expect in a hearty soup. The dry chickpeas in this soup recipe add extra flavour to the broth, but also, they are budget-friendly, and you control the salt.
did you know that by using Instant Pot, you retain more nutrients?
By using an instant pot, the soup cooks in fraction of the time and also retains more nutrients. A study done in 1995 showed that pressure cooking was one of the best cooking methods to retain nutrients? I know… I was surprised too.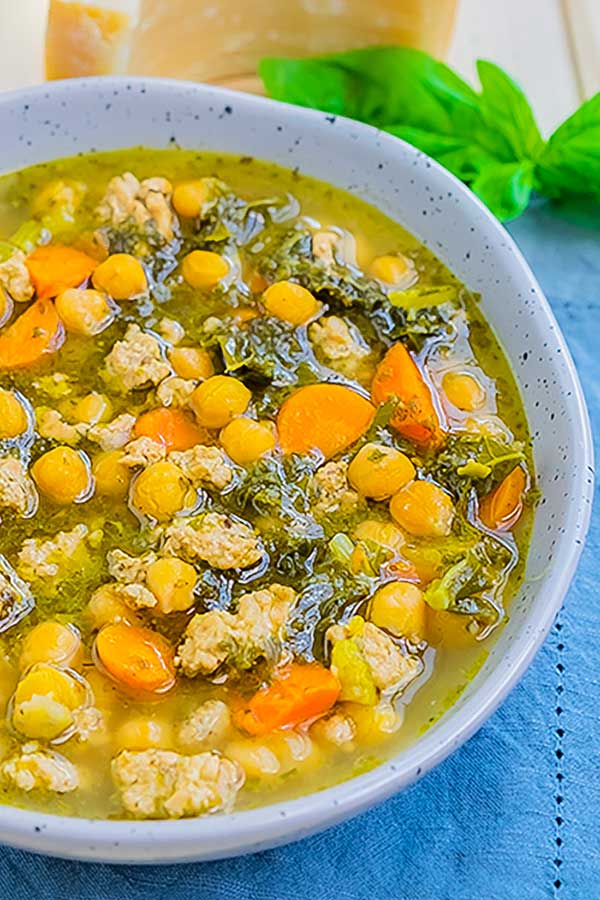 how to make chickpea soup in an instant pot…
To start, I like to soak the chickpeas in hot water for a few minutes. This cleans the chickpeas from any dirt and debris, speeds up the cooking process, and gives the chickpeas a good texture.
Begin with sauteing the onions and garlic, then add the pork and cook until no longer pink. Then stir in the spices, pesto, chickpeas, bell peppers and water. Cook on high pressure for about 50 minutes.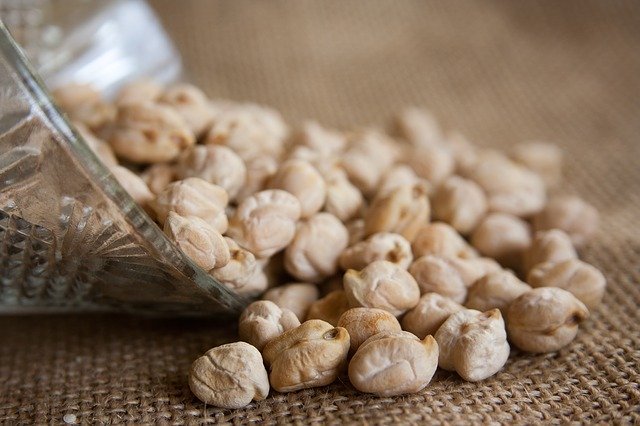 next…
Add the carrots and kale and cook for five more minutes. The carrots and kale are added at the very end so that they retain a good texture. Once everything is cooked, stir in parmesan cheese. The cheese adds flavour and creaminess to this most delicious Italian dish.
This chickpea soup recipe is not complicated. The broth's flavour is super tasty, and by using an Instant pot, the chickpeas are cooked to perfection. What I love about this soup recipe, the chickpea soup freezes well for future use.
The best part about this recipe, this Italian pesto chickpea soup is even better on the second or third day. The flavours develop with each day, making the soup more delicious day after day. I like to serve this chickpea soup with a slice of gluten-free hearty bread. I promise you will be impressed!
Do you love chickpeas? We have plenty of recipes to share with you. Check out these gluten-free chickpea recipes here!
Instant Pot Italian Pesto Chickpea Soup
Published on Sep 03, 2019
by
Kristina Stosek
Instructions
1.

Place chickpeas in a large bowl and cover with boiling water. Soak for 10 minutes

2.

While the chickpeas are soaking set Instant Pot to sauté. Add olive oil, once heated add onions and garlic. Sauté for 3 minutes. Add pork and stirring often cook until no longer pink

3.

Stir in thyme, marjoram, cayenne pepper, bell pepper, pesto, water, parmesan rind, soaked chickpeas, and salt. Cover, select the manual setting and cook on high pressure for 50 minutes

4.

Once done cooking, use the quick release function and release the steam. Add carrots and kale, cover and cook on high pressure for 5 more minutes

5.

Allow the steam to release naturally for 10 minutes, then use the quick release function and release the steam. Stir in the parmesan cheese