Best Gluten-Free Artisan Bread
Prep Time
10 Minutes
Difficulty
Easy
Cook Time
40 Minutes
Serves
1 loaf
Average Rating: 5 | Rated By: 14 users
Finding a gluten-free artisan bread recipe that is simple to make and tastes this good is not easy. Before I decided to make the bread, I tried various combinations of flours and seeds until finally, I got that perfect gluten-free artisan bread. This is a rustic bread packed with seeds and grains. The bread has an earthy flavour which comes from using buckwheat flour, the crust is crispy, and the texture is just right.
♥
Quick and easy gluten-free artisan bread recipe!
The recipe is super simple. First, you mix the dry ingredients, then wet and mix everything. Finally, you add the pumpkin seeds and allow the bread to rise in a warm place. Then bake and cool, done! When it comes to gluten-free baking, it is crucial to use the right combination of flours to get the best results. In this amazing bread recipe, I used rice flour, tapioca flour, buckwheat flour, sesame seeds, flax seeds, and pumpkin seeds. All of the ingredients are nutritionally packed, making this bread healthier than most. I recommend serving this bread with a soup or stew because it is hearty and filling. This artisan bread is so delicious you can't tell it is gluten-free. Enjoy!
.
Ingredients
1 cup rice flour
¾ cup tapioca flour
1 Tbsp. sesame seeds
1 Tbsp. flax seeds
2 tsp. xanthan gum
½ tsp. Himalayan fine salt
1 cup warm water (110 F)
2 Tbsp. agave nectar or desired sweetener
2 Tbsp. extra virgin olive oil
1 Tbsp. apple cider vinegar
½ cup raw pumpkin seeds
*As an Amazon Associate and member of other affiliate programs, I earn from qualifying purchases. Please check out my sponsorship and disclosure policy page for more details
Instructions
In a large bowl, mix flour, sesame seeds, flax seeds, xanthan gum, dry yeast, and salt
In a small glass bowl, combine warm water, agave, olive oil and apple cider vinegar
Add wet ingredients to dry and using a spatula mix together until dough forms. Add pumpkin seeds and mix
Shape the dough into a 9-inch log and place on a baking pan lined with parchment paper. (I used the parchment paper to shape the log) Cover loosely with plastic wrap and then with a dishcloth. Allow to rise in a warm place for about 2 hours or until the dough almost doubles in size
Preheat oven to 400 F and bake for 35 – 40 minutes, until the bread is golden brown. Transfer to a cooling rack to cool completely before serving
Similar Recipes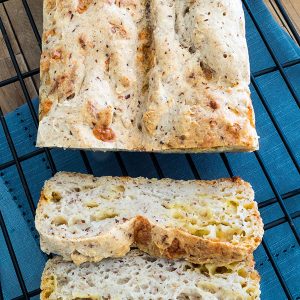 Gluten Free Olive Oil Cheese Bread
You would never know that this Olive Oil Cheese Bread is gluten free. The bread texture is soft on the inside, not crumbling and has a perfectly crispy crust. Nothing beats a homemade freshly baked bread, especially when it tastes this good! the ingredients in this Olive Oil Cheese Bread, This gluten free bread is […] Read More
Prep Time
15 + Minutes
Difficulty
Easy
Cook Time
60 Minutes
Serves
2 small loaves
Gluten-Free Mediterranean Olive Bread
This Gluten-Free Mediterranean Olive Bread features salty olives and a crispy crust. The finishing touches are, dipping this wholesome bread in a good quality olive oil with balsamic vinegar. It is sooo good and very addictive.       When gluten in your diet is no longer an option, finding a bread recipe that you love […] Read More
Prep Time
15 + 3 hours resting Minutes
Difficulty
Easy
Cook Time
50 Minutes
Serves
1 loaf