Louisiana Style Crispy Parmesan Chicken Pasta – Gluten Free
Published on Aug 07, 2021
by
Kristina Stosek
Prep Time:

15 minutes
Cook Time:

20 minutes
Serves:

4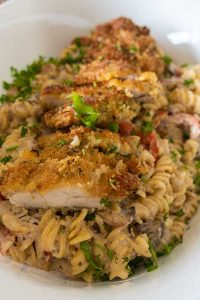 ​This post may contain affiliate links, please see our
privacy policy
for details
This Louisiana Style Crispy Parmesan Chicken Pasta is one of the best pasta meals any night of the week. The chicken is lightly coated with parmesan bread crumbs and pan-fried until crispy. The pasta is super creamy, flavoured with cajun spices and garlic. Every bite is filled with veggies, creamiest cajun pasta and topped with golden crispy parmesan chicken.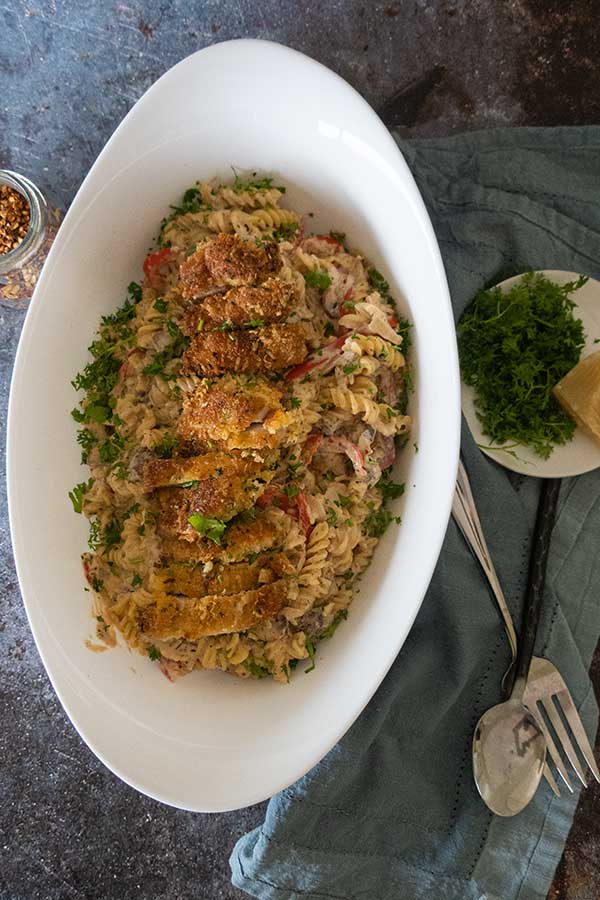 Louisiana Style Crispy Parmesan Chicken Pasta Dinner
This gluten-free Louisiana Style Crispy Parmesan Chicken Pasta is easy enough for weeknights and special enough for easy weekend cooking. And the best part…this gluten-free pasta dish is so so good, the entire family will love it!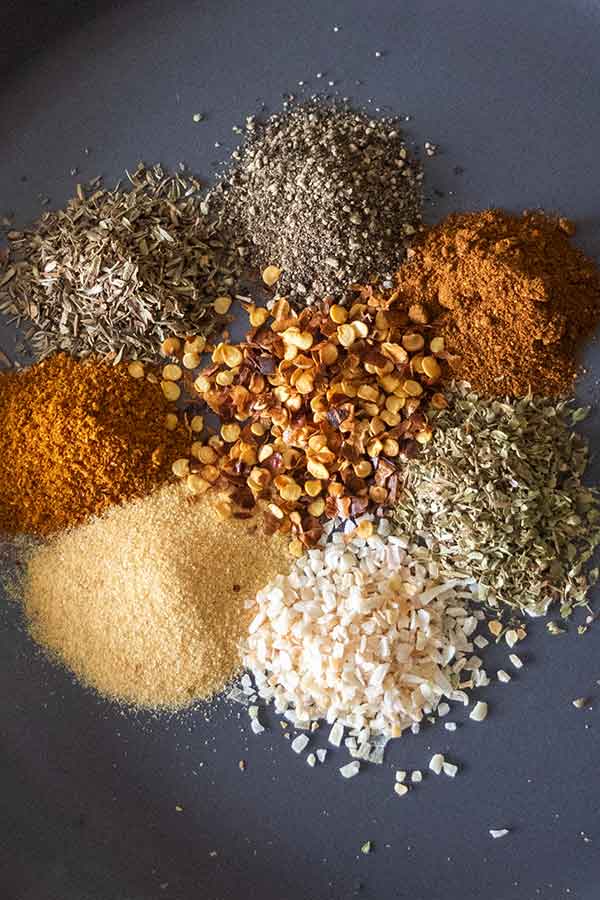 cajun spices
Classic cajun spices such as paprika, oregano, thyme, chilli powder, black pepper, red pepper flakes, garlic and onion flakes.
the veggies
The sauce is made with onions, bell peppers and mushrooms. These three combined with cajun spices cooked in a super creamy sauce add flavour and textures to the pasta.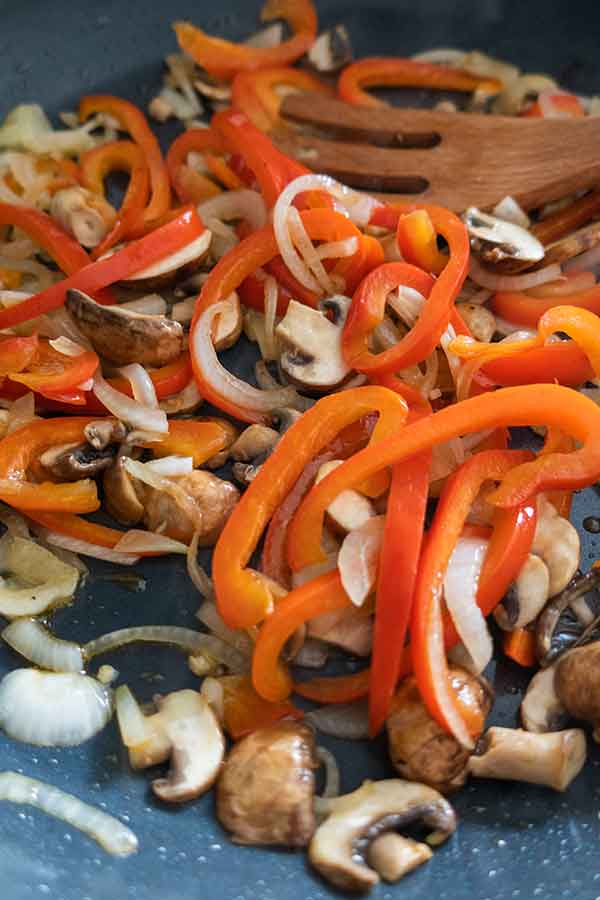 creamy Louisiana-style sauce
This pasta sauce is a little different from most creamy sauces. The sauce is made with cream, chicken broth, parmesan cheese, cream cheese and cajun spices. The cream cheese adds extra creaminess making the sauce rich and delicious.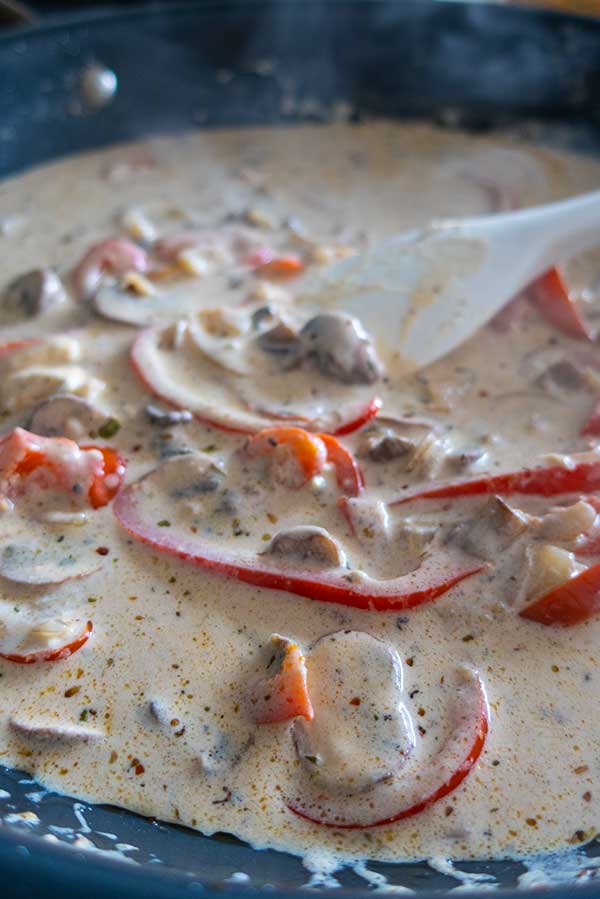 gluten-free breaded parmesan-crusted chicken
Nothing fancy to do here. Dip the chicken pieces in an egg, then coat with a mix of gluten-free panko bread crumbs, rice flour, parsley and black pepper. Crispy and tasty, isn't that what we love?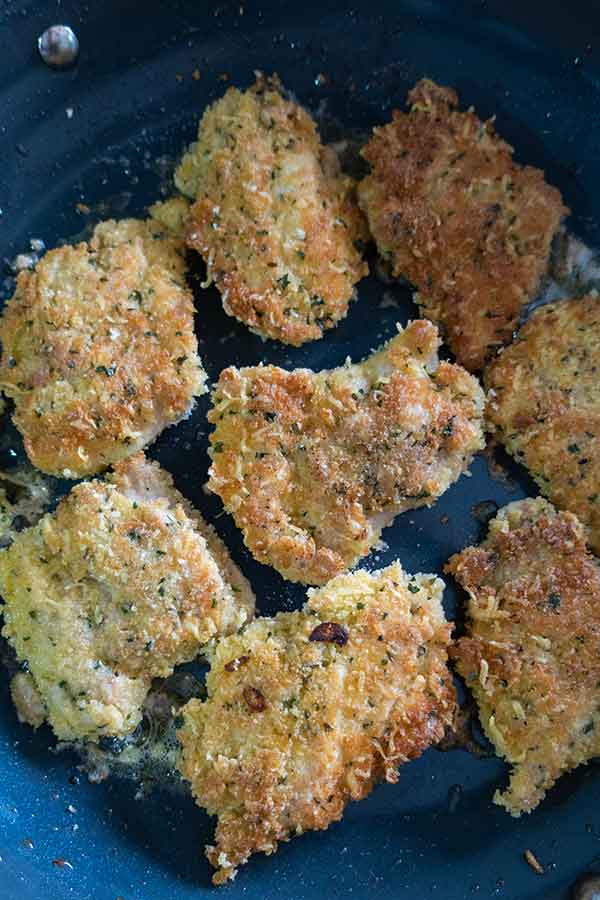 A gluten-free pasta meal that requires minimal effort with exceptional results.
this parmesan chicken pasta is easier to make than it looks
here are the simple steps:
Gather your ingredients
Boil the pasta
Cook the veggies
Bread and cook the chicken
Cook the sauce and toss with pasta
Once you cook the pasta, the entire crispy parmesan chicken pasta dish is made using only one skillet. This Louisiana-style pasta dinner is super easy to make and shockingly delicious!
recipe details
Bring a large pot of well-salted water to a boil. Cook the pasta al dente or even slightly undercook the pasta. You will cook the pasta for additional three minutes in the sauce. There is nothing worst than overcooked gluten-free pasta…mushy, soft, sticky and unappetizing.
While the pasta is cooking, get a large skillet. I prefer to use a good quality non-stick skillet. It makes everything much easier, and you use less oil or butter.
Briefly cook the veggies; this takes only about three minutes. You want the veggies just to barely starting to soften because you will cook them in the sauce. Set the veggies aside.
Using the same skillet…no need to clean it first. You want the flavours from the veggies to remain in the skillet. Add a splash of olive oil and cook the chicken. The chicken is coated with an egg and a gluten-free parmesan-parsley bread crumb mixture. Again the chicken takes just minutes to cook.
Now that the chicken is cooked, set it aside on a cutting board, or keep it warm in the oven.
next step
Again, using the same skillet without cleaning it first. Return the veggies to the skillet with the sauce ingredients and cook until the sauce starts to thicken.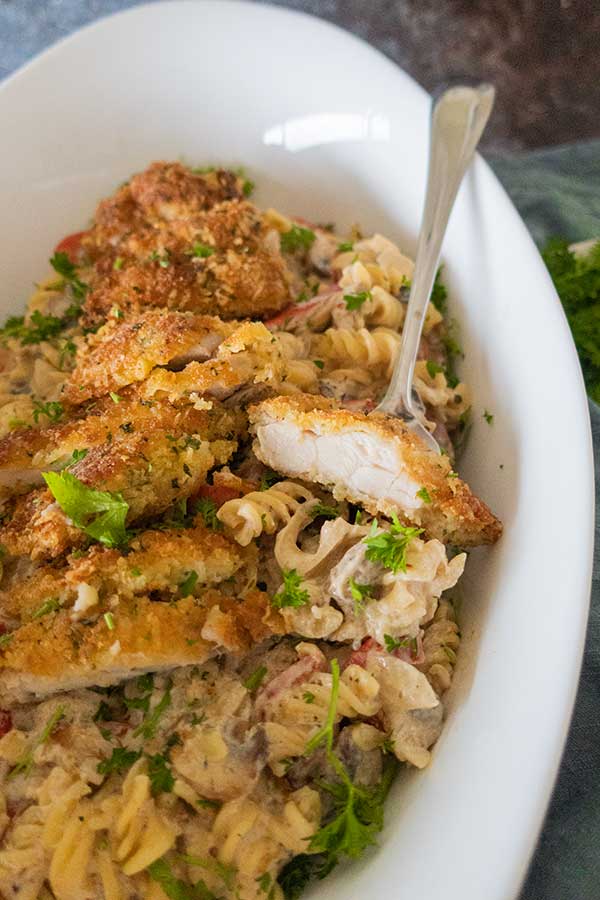 final step
Toss in the pasta and coat well with the sauce. Serve in bowls, topped with crispy coated parmesan chicken. I like to slice the chicken into strips and add extra parmesan cheese, fresh parsley and red pepper flakes.
What's amazing about this gluten-free pasta dish is just how quickly and easily it comes together.
So why not switch things up tonight with this gluten-free Louisiana Style Crispy Parmesan Chicken Pasta. What can be better than breaded parmesan-crusted chicken served over creamiest pasta with veggies in a spicy Louisiana-style sauce? It's beyond good!
Are you looking for easy gluten free weeknight dinner recipes? Here are some of our favorites:
Louisiana Style Crispy Parmesan Chicken Pasta – Gluten Free
Published on Aug 07, 2021
by
Kristina Stosek
Instructions
1.

Bring a large pot of salted water to a boil. Cook the pasta according to package directions until al dente. Drain, do not rinse

2.

Using a large skillet, heat 2 tablespoons of olive oil/butter over medium-high heat. Add onions, bell peppers and mushrooms and cook until just starting to soften. Not more than three minutes. Remove the vegetables from the skillet

3.

4.

In a medium bowl, mix panko crumbs, rice flour, parmesan, parsley and black pepper

5.

Season chicken with salt. Dip each piece in the egg, then into the panko mixture. Press the panko firmly to adhere to the chicken

6.

To the same skillet, heat 3 - 4 tablespoons of olive oil over medium heat. Add the chicken pieces and cook about 3 - 4 minutes per side, until golden brown and cooked through. Transfer to a cutting board and slice just before serving. Or keep warm in the oven until ready to serve

7.

8.

Return vegetables to the skillet, add the sauce ingredients except for the parsley and mix to combine. Cook over medium-high heat until the sauce starts to thicken. Toss in the pasta and cook for about 3 minutes. Stir in parsley

9.

Divide pasta between bowls and top with sliced chicken, extra parsley, parmesan and red pepper flakes