Spicy Indian Stuffed Peppers
Published on Dec 17, 2020
by
Kristina Stosek
Prep Time:

20 minutes
Cook Time:

65 minutes
Serves:

4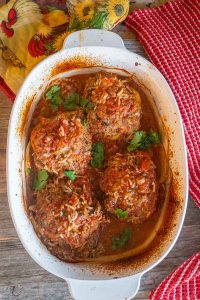 ​This post may contain affiliate links, please see our
privacy policy
for details
Spicy Indian Stuffed Peppers…the perfect Indian inspired dish filled with comfort food. The stuffed peppers are filled with tender meat and warming Indian spices such as cumin, curry, cinnamon, and fresh cilantro.
The meat mixture is mixed with rice and for added healthiness, grated carrots. For extra spiciness, some cayenne pepper. This healthy stuffed pepper recipe is gluten-free and egg-free.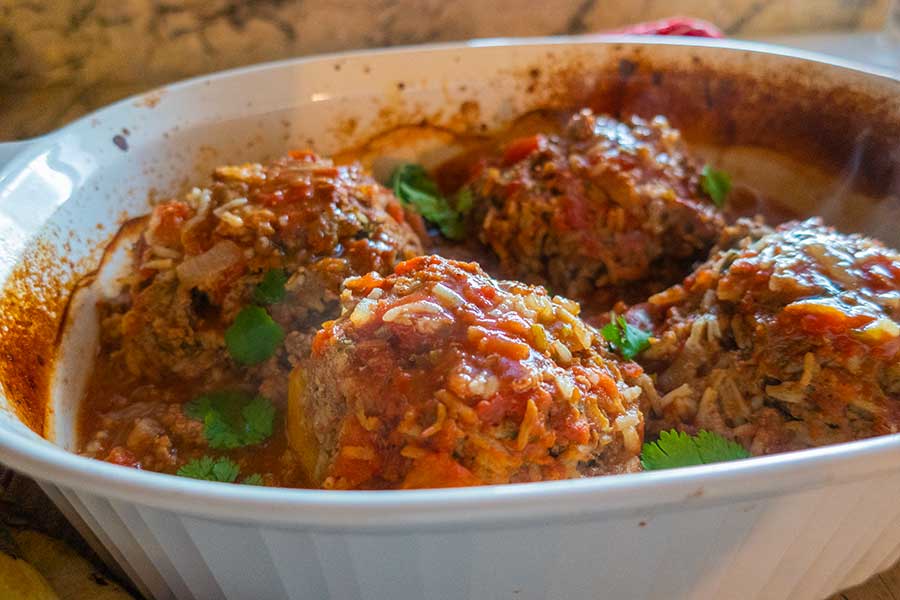 These Stuffed Peppers can be enjoyed during the cold winter months and served any night of the week. This gluten-free dinner recipe is super simple to make, and you can have the peppers in the oven in under twenty minutes.
Spicy Indian Stuffed Peppers…the details,
You will love this stuffed pepper recipe because it is simple, quick to put together and easy. Start with sauteing the onions. You want to add the onions when they are cooked and a little caramelized. They make the peppers taste so much better.
Then you mix the meat with all the ingredients and stuff the peppers. If you have any leftover cooked rice, this is a great way to use it up. The peppers should be overflowing with the meat mixture.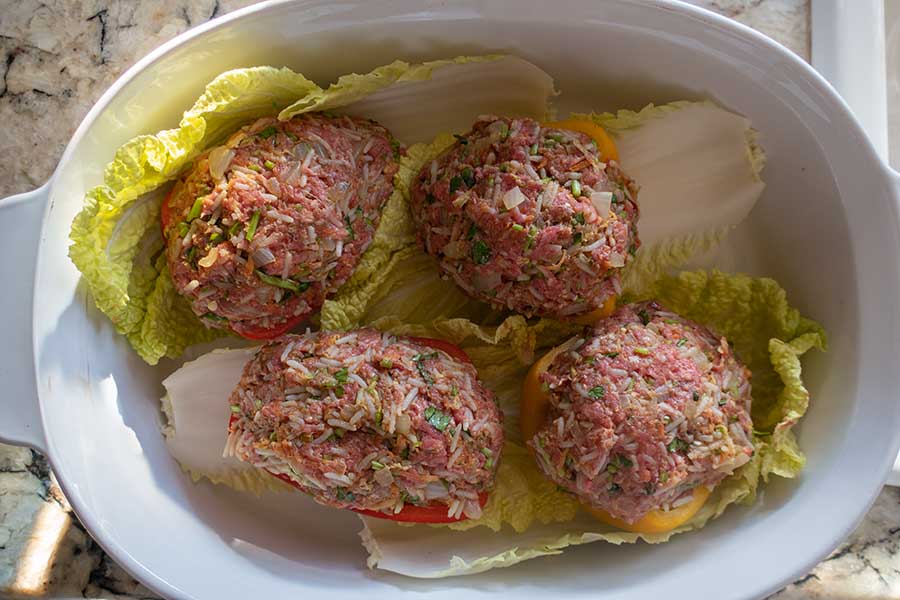 You will have some meat mixture leftover, which is used to intensify the flavour in the sauce. The leftover meat mixture is mixed with crushed tomatoes, water and a couple of teaspoons of tapioca or arrowroot starch.
The starch will keep the sauce nice and thick, and the meat mixture will add robust flavour to the sauce.
All in all, everything turns out utterly delicious. I have layered the baking dish with savoy cabbage leaves. The cabbage not only adds flavour but also stops the peppers from sticking without adding extra fats.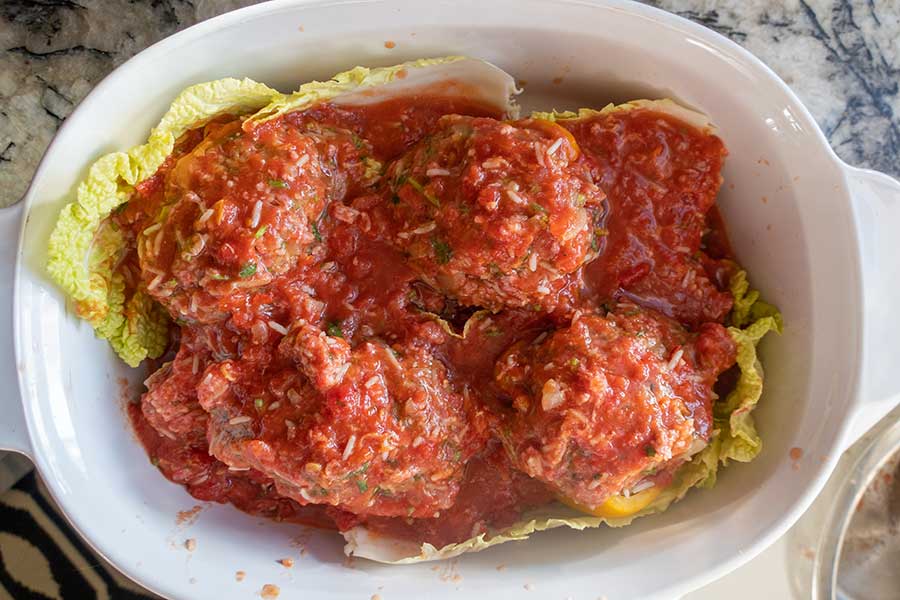 Once the peppers are baked, serve them up with gluten-free naan bread or extra rice if you wish. And smother everything with the rich and flavourful sauce. I also like to add fresh cilantro leaves when I serve this gluten-free Indian inspired Stuffed Peppers dinner for extra flavour and beautiful colour.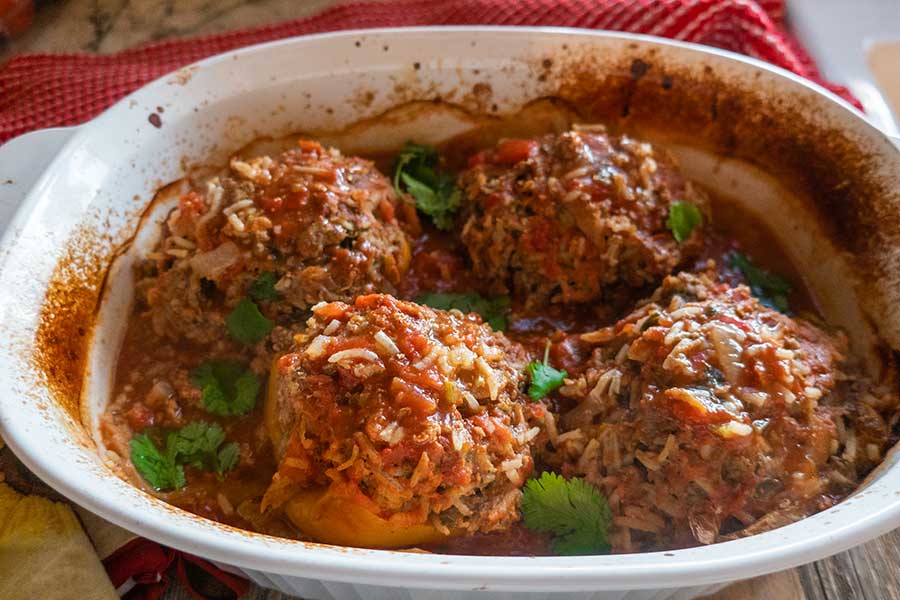 When the temperatures are falling and the days are super busy, there is nothing better than a flavourful, a little spicy warming dish to feel cozy with. Need more Indian inspired dinners? Here are our favourites.
Spicy Indian Stuffed Peppers
Published on Dec 17, 2020
by
Kristina Stosek
Instructions
1.

2.

Saute onions in olive oil until softened

3.

In a large bowl, combine onion mixture, meat, carrots, garlic, ginger, spices, cilantro, rice and season with salt to taste

4.

5.

Fill the bell pepper halves fully with the meat mixture and place on the savoy cabbage

6.

You will have some meat mixture leftover

7.

Mix the remaining meat mixture with crushed tomatoes, water, tapioca/arrowroot and season with salt. Pour the sauce over the stuffed peppers

8.

Cover the baking dish with a lid or foil paper and bake for 1 hour