Pahadi Chicken – Gluten Free
Published on Jun 29, 2015
by
Kristina Stosek
Prep Time:

15 minutes
Cook Time:

20 minutes
Serves:

4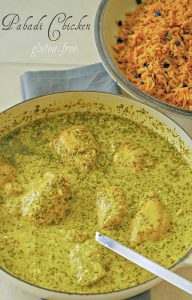 ​This post may contain affiliate links, please see our
privacy policy
for details
This Pahadi Chicken dish is an aromatic Indian dish. This gluten-free chicken recipe is a modern version, sometimes called Pahari chicken, simplified but still keeping the exquisite flavours.
The term Pahadi originates from pahad, meaning mountain. Food in India is made with many spices and varies depending on the region. Therefore, this chicken recipe is truly unique – not your typical curry recipe.
Why does Pahadi chicken have so much flavour?
This gluten-free Indian recipe is all about marinade. The chicken is marinated in a thick spiced yogurt paste, and then it is cooked in the marinade itself.
ingredients in Pahadi marinade
This chicken marinade is made primarily with yogurt, fresh mint and fresh cilantro. Then there are the Indian spices; cardamom, garam masala, turmeric, nutmeg, black pepper and cumin seeds. And as with most Indian curry recipes, there are also onions and ginger.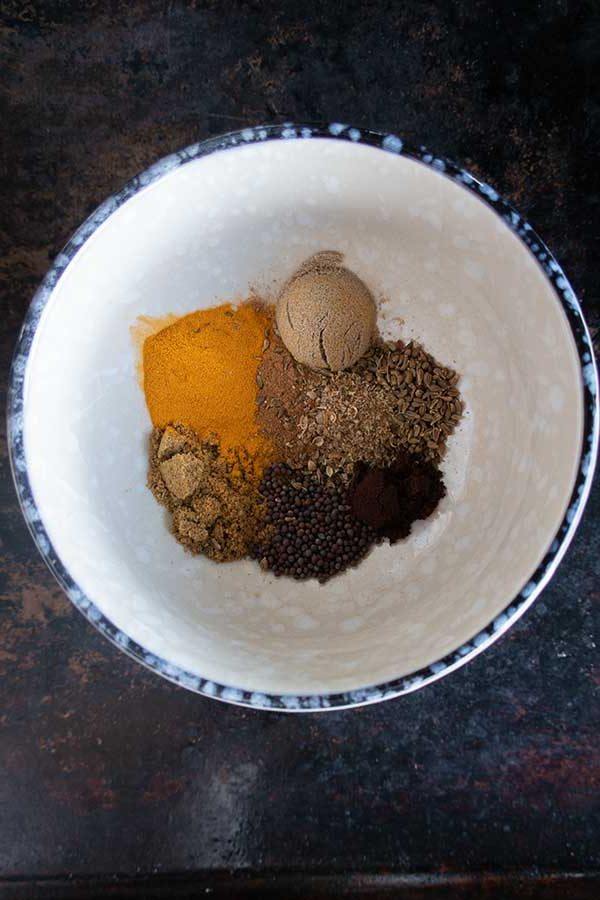 I have added fresh green chilli peppers for a bit of spiciness, added some zesty flavour with fresh lime juice, and mildly sweetened them with honey.
I know it sounds like many ingredients, and you are right. However, most of them are in the marinade, and everything is processed in a food processor. So the steps are straightforward and quick.
marinate the chicken overnight
To give the chicken the most intense flavour, you should marinate the chicken overnight. But, if you are short on time, you can marinate the chicken for two hours before cooking.
Since the marinade is so flavourful, the chicken is then cooked in the same sauce it was marinated in. I can't tell you how delicious and aromatic the Pahadi sauce is — it's sooo good!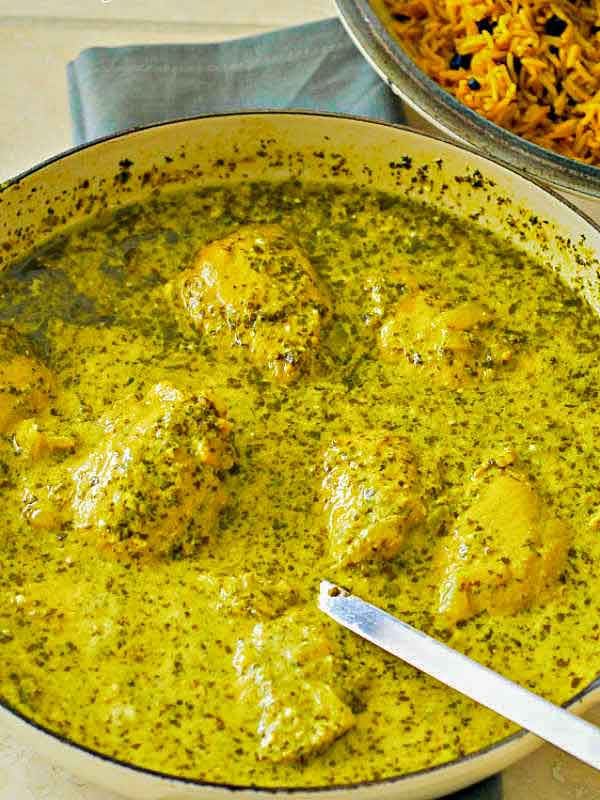 Don't let the list of ingredients scare you from making this low-carb Pahadi chicken recipe. It is primarily spices and herbs. The recipe itself is super easy with exceptional results.
If you like Indian spices, you will love this chicken dinner. I want to serve this warming Pahadi Indian chicken dish with simple Indian lemon rice or plain white rice. Enjoy!
Pahadi Chicken – Gluten Free
Published on Jun 29, 2015
by
Kristina Stosek
Instructions
1.

Place first thirteen ingredients (cilantro to black pepper) and one cup of yogurt into a food processor or blender and blend until you create a thick paste

2.

Using a fork prick the chicken and then rub in the paste. Cover and refrigerate for two hours or for best results overnight

3.

Using a large saucepan saute onions in coconut oil until soft, then stir in cumin seeds.

4.

Add the chicken shaking of some of the yogurt paste and sear on both sides

5.

Whisk ½ cup of water with the remaining paste and pour over the chicken

6.

Cover and cook over low heat for 15 – 20 minutes or until chicken is fully cooked

7.

Remove from the heat and stir in 1 cup of yogurt. Enjoy!
Leave a Comment
Made the Pahadi chicken today. A savory dish with roti. I added three serrano pepper with seeds to get the sting. Recommend this chicken curry strongly for everyone who likes a spicy chicken dish.