Gluten-Free Pasta Al Forno
Published on Dec 11, 2020
by
Kristina Stosek
Prep Time:

15 minutes
Cook Time:

90 minutes
Serves:

6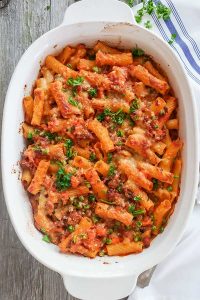 ​This post may contain affiliate links, please see our
privacy policy
for details
Gluten-Free Pasta Al Forno, is an Italian dish that has it all. Veggies, meat, cheese and pasta. This robust gluten-free pasta meal is not your typical all in one-pot pasta dinner. In this pasta recipe, the meaty sauce with veggies called ragu is simmered until the sauce is rich and flavourful.
Then, partially cooked pasta and peas are mixed with the sauce and layered with cheese. Finishing with a sprinkle of Parmesan cheese. The pasta is now baked, meaning Al Forno, until the topping is crisp.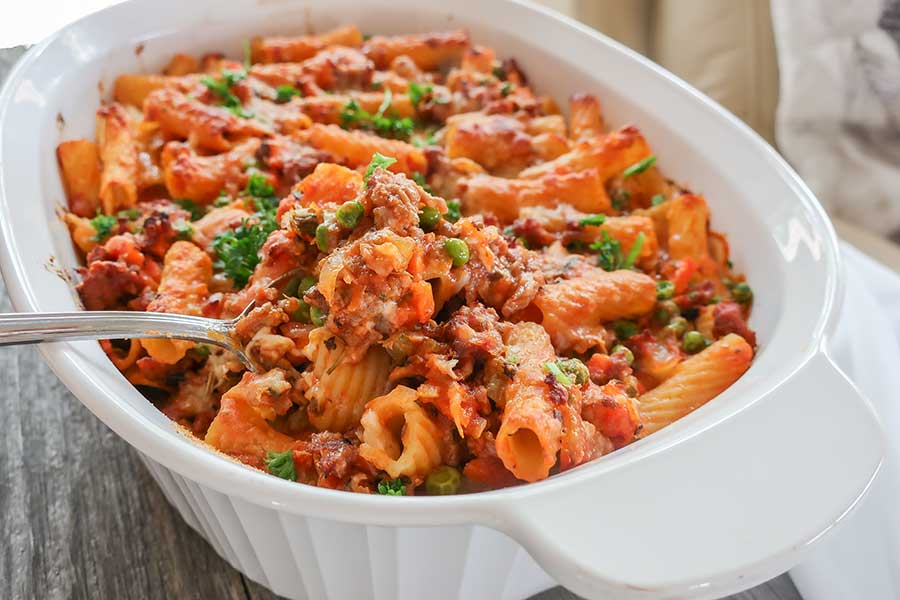 This Gluten-Free Pasta Al Forno dish will be your new go to meal!
Besides, who doesn't love a delicious baked pasta filled with meaty sauce with veggies and cheese? This gluten-free Italian pasta dish is a satisfying meal any night of the weak, especially for big appetites craving hearty comfort food.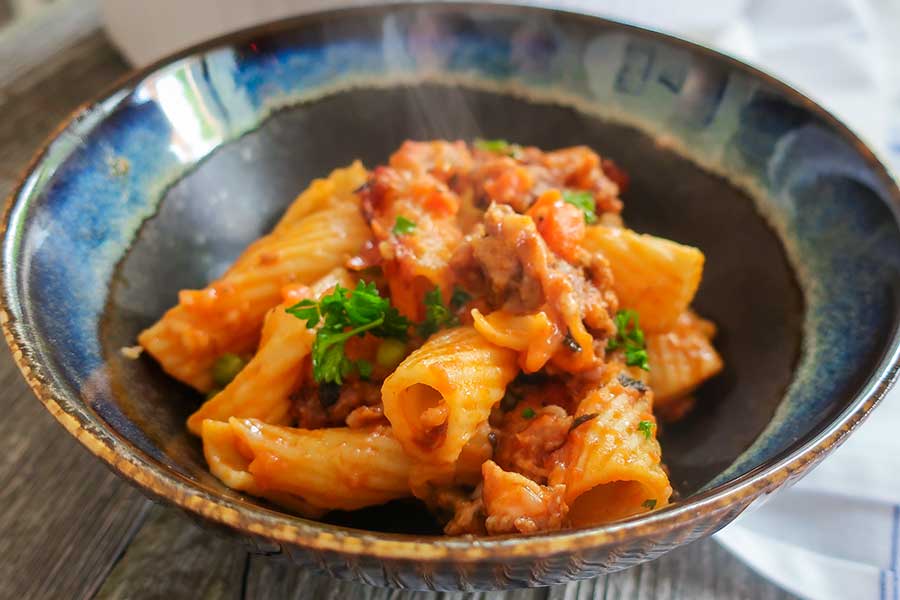 the key to best Pasta Al Forno,
We all love one-pot pasta dinners because they are so easy. However, if you want something extra special, this Gluten-Free Pasta Al Forno is the dish for you.
The ragu is thick and rich, adding so much flavour to the pasta. The secret to this gluten-free Italian dish is partially pre-cooking the pasta before adding it to the sauce.
This is the key to keeping the ragu extra flavourful because the pasta doesn't absorb all of the sauce.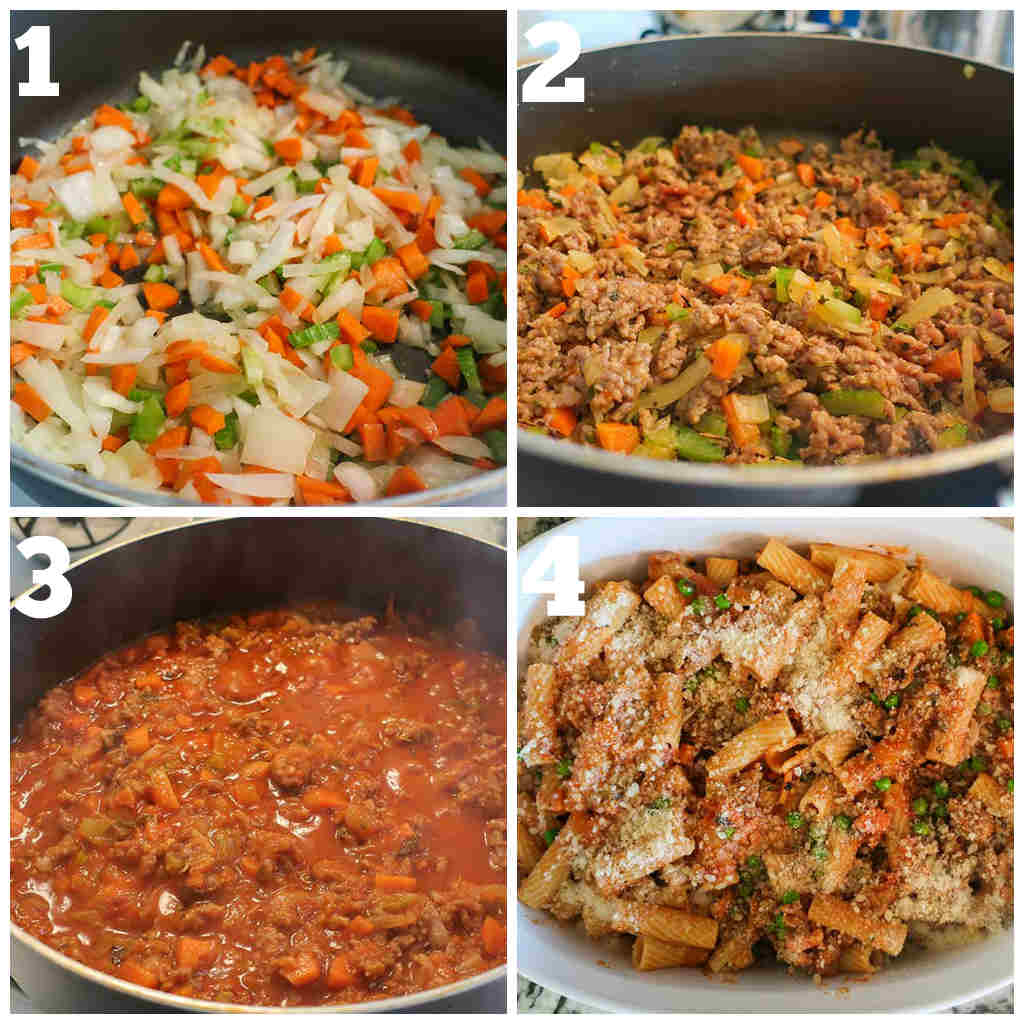 This gluten-free pasta meal is made simply, but it takes a little extra time to cook than your typical one-pot pasta bake. This dish is made in three steps.
First, the rich meat and vegetable sauce called ragu is slowly simmered for extra flavour. Then, the pasta is partially pre-cooked before it is mixed with the sauce.
And lastly, everything is layered with cheese and baked. The Pasta Al Forno is not complicated, but it takes extra time to cook – trust me on this, well worth the wait!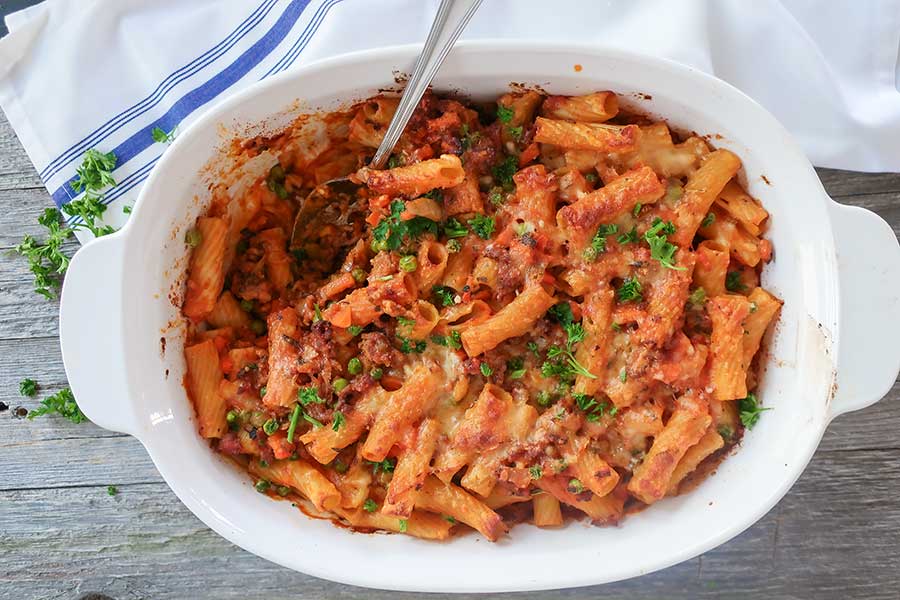 Whenever my family craves Italian food, I make this gluten-free baked pasta dish. I love the idea that it has more than just meat and cheese. The veggies add healthiness, good textures and flavour.
The topping of Parmesan cheese adds tasty crispness to the pasta, making this gluten-free meal extra yummy!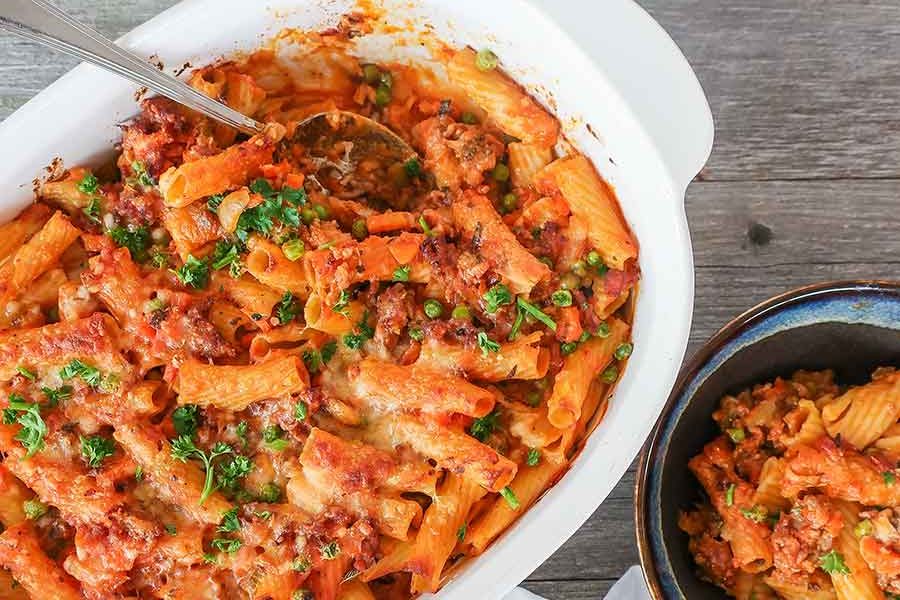 Are you looking for easy Gluten-Free Italian Pasta Meals? These are my three favourites!
→ Gluten-Free Ground Beef and Mushroom Casserole
→ Gluten-Free Ratatouille with Rigatoni Casserole
For the latest recipes and tips, please like us on Facebook or follow us on Pinterest and Instagram.
Gluten-Free Pasta Al Forno
Published on Dec 11, 2020
by
Kristina Stosek
Instructions
1.

Saute onions, carrots and celery in olive oil until they start to soften. About 5 minutes

2.

Add the meat and garlic and cook until the meat starts to brown

3.

Stir in oregano, basil and cayenne pepper if using. Add crushed tomatoes and tomato paste, cover and cook over medium-low heat for 45 minutes. If the sauce is too thick, add a little water

4.

5.

Cook the pasta until it starts to soften but is not fully cooked, about 3 - 5 minutes less than directed on the package. The pasta will continue cooking in the oven. Drain and save 1 cup of pasta water

6.

Once the sauce is cooked, remove it from the heat and stir in peas, partially cooked pasta and 1 cup of reserved pasta water

7.

Layer the dish with half the pasta and 2/3 of mozzarella. Repeat the pasta layer and remaining mozzarella and top with parmesan cheese

8.

Bake for 30 - 35 minutes, until the top, starts to brown and crisp.
Leave a Comment
This looks soooo good! Wanna make it.