Gluten-Free Ratatouille with Rigatoni Casserole
Published on Jun 29, 2018
by
Kristina Stosek
Prep Time:

15 minutes
Cook Time:

40 minutes
Serves:

4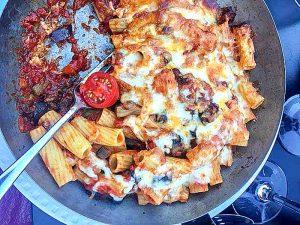 ​This post may contain affiliate links, please see our
privacy policy
for details
Gluten-Free Ratatouille with Rigatoni Casserole – vegetables simmered with fresh tomatoes and herbs. For extra heartiness, I added gluten-free rigatoni and mozzarella cheese.
What is ratatouille?
The name ratatouille comes fro the French word for 'mix' and was previously used as a familiar term for a stew. This recipe follows the traditional version, with the vegetables being fried first before the final simmering.
France meets Italy casserole
I wanted this dish to be more than just a vegetable stew. To do this, I added gluten-free pasta, and for creaminess, I added mozzarella cheese. So the recipe started as French ratatouille but ended up as French-Italian pasta casserole. The casserole turned out so good, and it is hearty and incredibly delicious!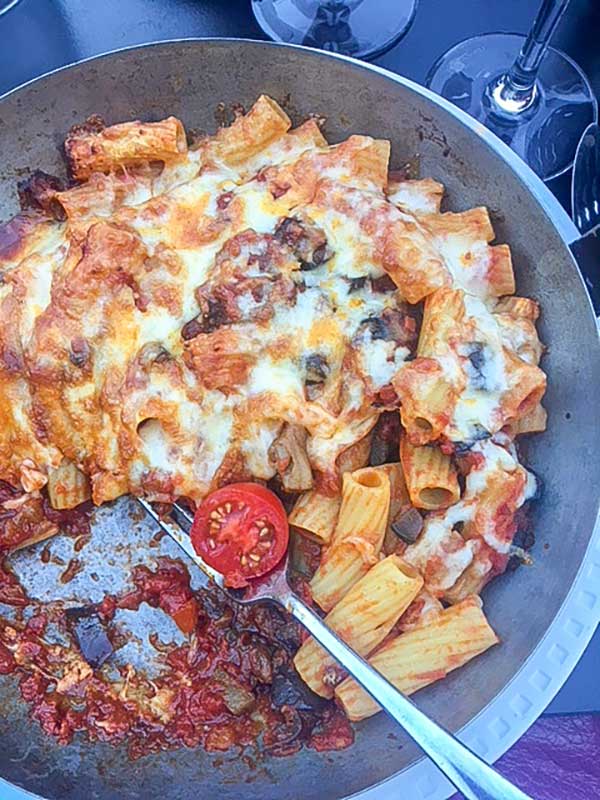 Best vegetables for ratatouille recipe.
For the traditional French version, you would use fresh tomatoes, onions, red and yellow bell pepper, eggplant, and zucchini. I wanted to change a couple of things that would go well with the pasta.
For the onions, I used red onion, and I also added balsamic vinegar, my personal touch, of course 🙂 To flavour the stunning sauce, I used fresh thyme, fresh basil and bay leaf.
You could say that these herbs are also used in Italian cuisine. However, to convert the French dish to have the Italian flair, I baked the ratatouille with gluten-free pasta and mozzarella. The combination is outstanding… so good!
The simplicity of this dish of vegetables and pasta means you need to use good quality of fresh vegetables. If you are following a plant-based diet, you can substitute vegan mozzarella for the cheese.
This hearty ratatouille pasta dish makes for a delicious meatless casual dinner for any night of the week. What I love about this casserole is, you can make it all year round because it is not too heavy for evening summer meals, and it is hearty enough for chilly winter nights. Enjoy!
Do you french food? Then check out our selection of gluten-free French recipes. Our collection includes delicious French desserts, duck a'Lorange, and our easy to make gluten-free crusty French baguette recipe.
Gluten-Free Ratatouille with Rigatoni Casserole
Published on Jun 29, 2018
by
Kristina Stosek
Instructions
1.

Heat 1/2 the olive oil in a large casserole pan or Dutch oven over medium heat. Add eggplant, zucchini and peppers and season with salt and pepper. Stir-fry for 5 minutes until lightly golden. Transfer vegetables into a bowl

2.

Add remaining olive oil to the pan with onions, garlic and bay leaf. Cook until onions are softened about 5 minutes

3.

Add tomatoes, thyme, balsamic vinegar and vegetables. Season with salt and pepper. Cook over low heat for 15 minutes, stirring and breaking up the tomatoes as needed

4.

5.

Remove casserole pan from the heat and gently stir in rigatoni and fresh basil. Sprinkle with mozzarella cheese and bake for 15 minutes or until the cheese is bubbling. Enjoy!