Gluten-Free Ratatouille with Rigatoni Casserole
Prep Time
15 Minutes
Difficulty
Easy
Cook Time
40 Minutes
Serves
4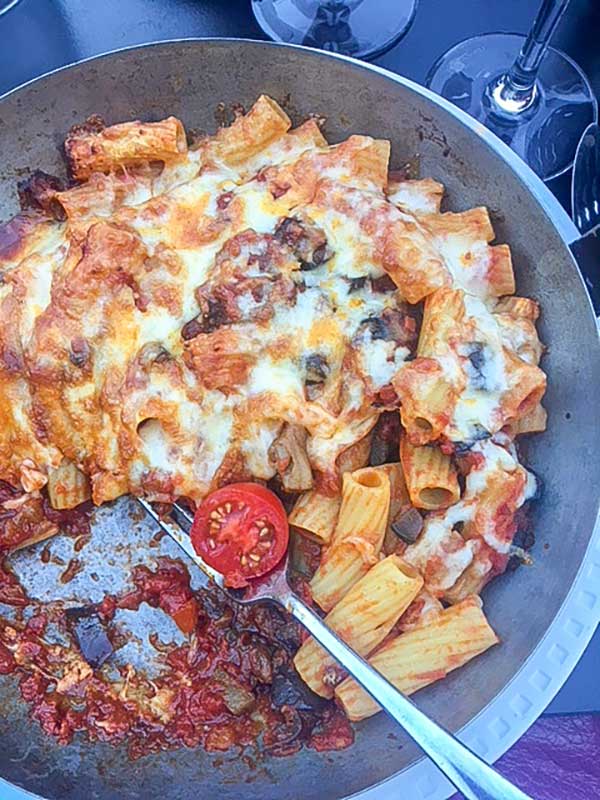 Average Rating: 4 | Rated By: 2 users
Ratatouille is a classic French dish made with vegetables simmered in a fresh tomato sauce and flavoured with herbs. In this recipe, I have added rigatoni and mozzarella cheese and made this dish into a French-Italian casserole. This gluten-free pasta dish makes for a delicious meatless dinner night. Enjoy!
Note: for vegan option use vegan mozzarella cheese
Ingredients
1/4 cup extra-virgin olive oil, divided
1 eggplant, cut into small cubes (about 3/4-inch)
3 medium size zucchinis, diced
2 red or yellow peppers, halved, deseeded and sliced
1 red onion, halved and diced
4 garlic cloves, crushed
1 GF bay leaf
4 large ripe tomatoes, roughly chopped
2 sprigs of fresh thyme or 1/2 tsp. GF dried thyme leaves
1 Tbsp. GF balsamic vinegar
Pure sea salt and GF ground black pepper to taste
4 cups cooked GF rigatoni
1 bunch (1/2-cup) basil leaves and stems, thinly sliced
1 cup shredded mozzarella cheese (for vegan option use vegan cheese)
Instructions
Heat 1/2 the olive oil in a large casserole pan or Dutch oven over medium heat. Add eggplant, zucchini and peppers and season with salt and pepper. Stir-fry for 5 minutes until lightly golden. Transfer vegetables into a bowl
Add remaining olive oil to the pan with onions, garlic and bay leaf. Cook until onions are softened about 5 minutes
Add tomatoes, thyme, balsamic vinegar and vegetables. Season with salt and pepper. Cook over low heat for 15 minutes, stirring and breaking up the tomatoes
Preheat oven to 375 F
Remove casserole pan from the heat and gently stir in rigatoni and fresh basil. Sprinkle with mozzarella cheese and bake for 15 minutes or until the cheese is bubbling. Enjoy!
Similar Recipes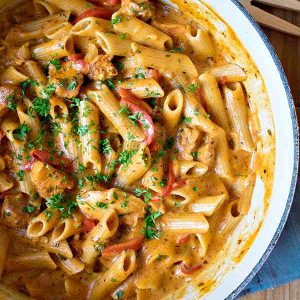 Gluten Free One Pot Chicken Paprikash Penne
Chicken paprikash is a classic Hungarian dish. Traditionally the chicken is cooked in a delicious sauce with a harmony of spices. Then the dish is finished with sour cream adding a rich, creamy flavour. Ordinarily, chicken paprikash is served over pasta or rice. In this recipe, I cooked the pasta in the sauce allowing the […] Read More
Prep Time
15 Minutes
Difficulty
Beginner
Cook Time
25 Minutes
Serves
4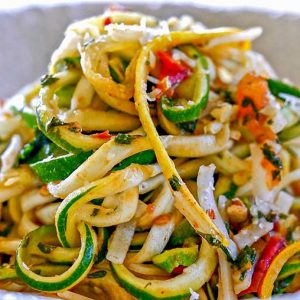 Gluten Free Zucchini and Rice Noodles Pasta
Three words that describe this delicious gluten-free pasta dish! Healthy, simple and delicious! Using only fresh ingredients, this vegetarian pasta dish takes only 15 minutes to prepare. The vegetables are done to perfection and spiced just right Read More
Prep Time
10 Minutes
Difficulty
Easy
Cook Time
5 Minutes
Serves
4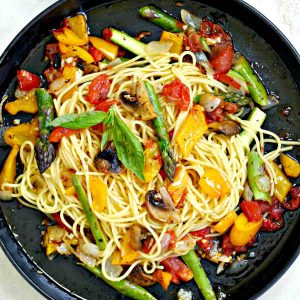 Gluten Free Roasted Veggie Pasta
In this tasty gluten-free vegetarian pasta recipe, the vegetables are roasted al dente in their flavourful juices and then tossed with your favourite pasta. This simple pasta recipe takes just minutes to prepare, making this a favourite anytime vegetarian meal Read More
Prep Time
5 Minutes
Difficulty
Beginner
Cook Time
20 Minutes
Serves
4