Gluten-Free One Pot Lasagna Recipe
Published on Sep 20, 2019
by
Kristina Stosek
Prep Time:

15 minutes
Cook Time:

45 minutes
Serves:

6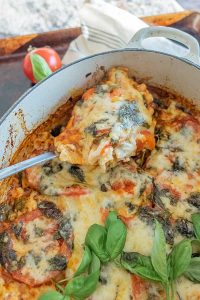 ​This post may contain affiliate links, please see our
privacy policy
for details
This gluten-free one pot lasagna is a quick and easy recipe. Using fresh veggies such as tomatoes, spinach and zucchini and plenty of fresh basil is what makes this one pot dinner outstanding. My family loves lasagna, so I wanted to create this Italian dish without all the work and mess you get when making traditional lasagna. Yes, this is an easy, cheesy, beef lasagna recipe made in one hour using only one pot. What I love about this recipe, there is minimal cleanup, and it takes minutes to put together.
The one thing you will need is a large pot that has a lid, I used Le Creuset oval casserole. Every kitchen should have one. This pot is like a little oven, cooks everything faster and is perfect for this recipe. If you love lasagna but don't have the extra time to make the traditional lasagna, try this gluten-free one pot recipe. I promise you will love it. It is packed with flavour, fresh veggies, meat, plenty of cheese and just a few noodles. If you try this recipe, please let me know what you think. I always love to hear from you. Enjoy!
From pasta to dessert you will find more gluten-free Italian recipes here ->
Gluten-Free One Pot Lasagna Recipe
Published on Sep 20, 2019
by
Kristina Stosek
Instructions
1.

2.

Heat olive oil over medium-high heat in a large oven-safe pot. I used the Le Creuset pot. Add beef, onions and garlic and cook until the beef is browned. About 5 minutes. Stir in oregano, bay leaves and if using cayenne pepper. Add tomato sauce and 1 1/2 cups of water and generously season with salt and pepper. Cover and simmer for 10 minutes. Remove from the heat

3.

Layer zucchini over the sauce, add 3 lasagna noodles, breaking them as needed to fit the pot. Press the noodles in the sauce. Spread the cottage cheese over the noodles, sprinkle with nutmeg, layer of spinach and 1 cup of mozzarella cheese. Add the remaining noodles, breaking them as needed to fit the pot. Press the noodles down into the cheese. Top with tomato slices, basil, remaining 1/2 cup mozzarella cheese and parmesan cheese

4.

Transfer to the oven and cover. Bake for 20 minutes, then remove the lid and bake until the cheese is golden. About 8 - 10 more minutes. Rest the lasagna for 15 minutes before serving. Top with fresh basil
Leave a Comment
Kristina
Thank you Chris, I am thrilled that you enjoyed it!
This was so easy and delicious!! I will be making this again and again. Thanks for sharing!