Gluten Free One Pot Pasta Bake

Published on Aug 25, 2023
by
Kristina Stosek
Prep Time:

10 minutes
Cook Time:

20 minutes
Serves:

6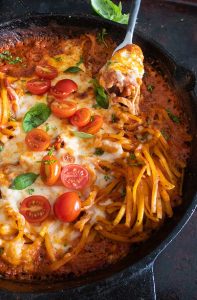 ​This post may contain affiliate links, please see our
privacy policy
for details
This creamy, cheesy Gluten Free One Pot Pasta Bake dish has a tomato-based creamy sauce seasoned with garlic, oregano, and basil, plenty of cheese, and sun-dried tomatoes for an extra layer of flavor. This Italian recipe can be made with or without spicy chorizo sausage.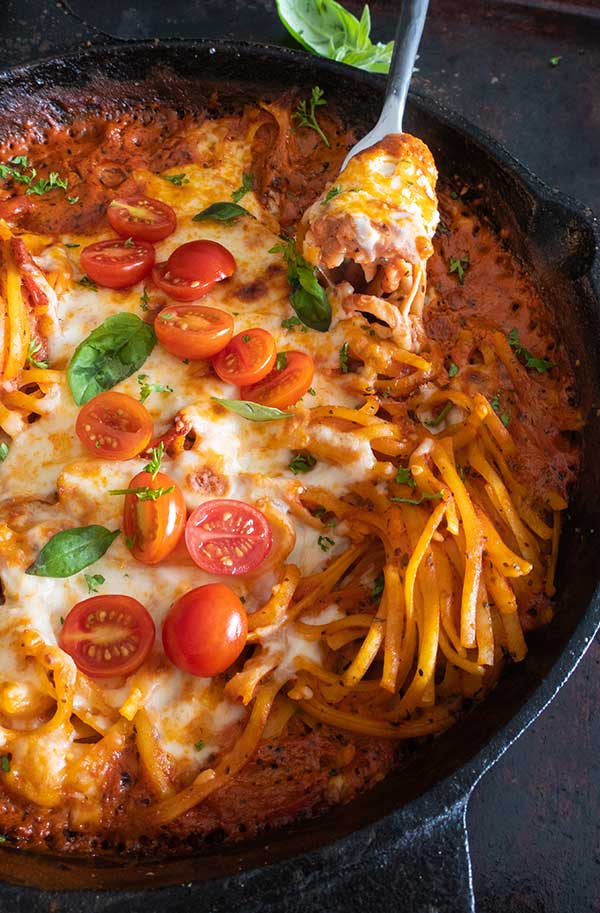 Whether you're looking for a quick and easy weeknight dinner or a crowd-pleasing dish for a gathering, you can have this Italian dish ready in under 30 minutes.
Gluten-Free One Pot Pasta Bake – The Recipe
Gruyere and cream cheese are what made the sauce extra creamy. The pasta is tossed with the sauce and then topped with mozzarella cheese, which gives this Italian meal that cheesy goey topping we love so much!
The result → baked pasta in the most flavourful creamy, cheesy tomato sauce and melted mozzarella topping. For extra heartiness and flavor, the chorizo sausage. However, the chorizo is optional.
You will love the simplicity of this gluten free one pot creamy tomato pasta bake. The best part is that you only need about 10 minutes of hands-on for this recipe.
The flavor is outstanding, and you only need one pot, such as a large oven-proof skillet. This means easy cleanup! If you don't have oven-proof skillet, it's not a problem – use a baking pan. So easy.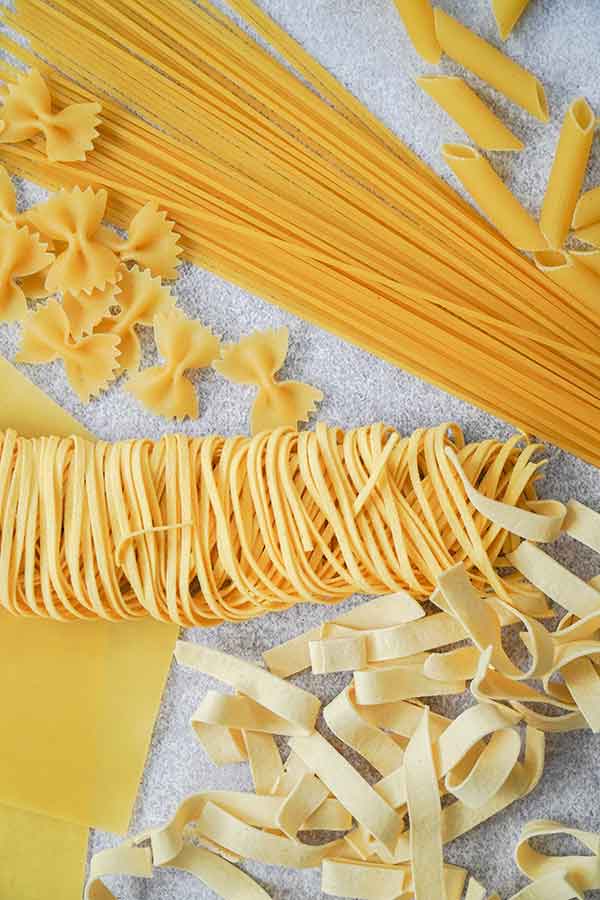 gluten-free pasta options
Brown Rice Pasta: Made from brown rice flour, this pasta has a similar texture to traditional wheat pasta.
Corn Pasta: Pasta made from corn flour can have a slightly different flavor and texture compared to wheat pasta.
Quinoa Pasta: Quinoa pasta is often a blend of quinoa flour and other gluten-free flour. It's known for its higher protein content.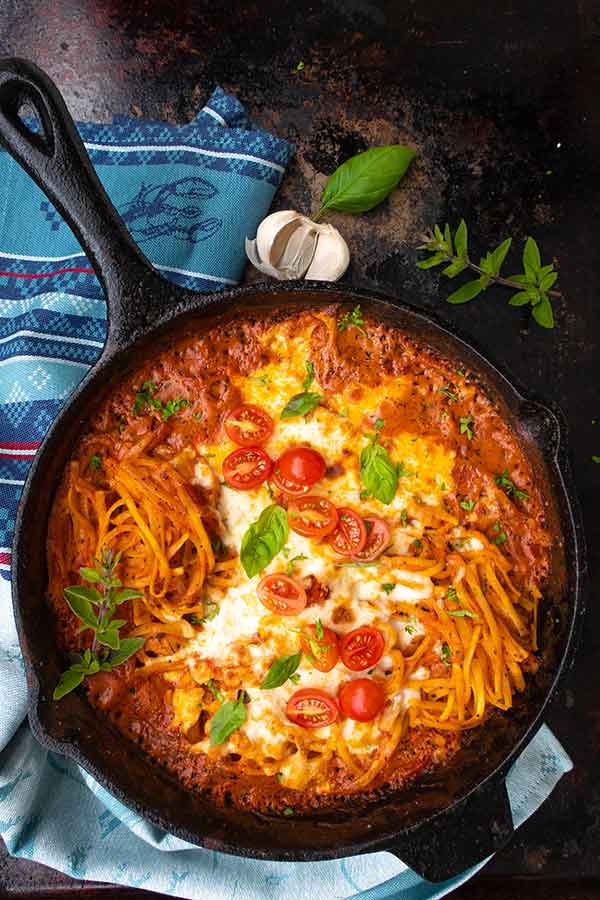 Ingredients and Substitutions for Gluten Free One Pot Pasta Bake
All ingredients must be gluten free. Keep in mind that some dried herbs and spices, tomato sauce, sausage, and some cheese are not gluten free.
– Gluten free pasta of choice; fettuccini, spaghetti, short-cut pasta
– Italian herbs, such as basil, oregano, parsley
– Pure tomato sauce
– Sun-dried tomatoes. (check the label for ingredients)
– Garlic
– Extra virgin olive oil
– Cream
– Cheese; cream cheese, mozzarella, Gruyere. Or good melting cheese of choice such as, fontina cheese, gouda, cheddar or Camembert all will work beautifully in this recipe.
Optional add-ins; chorizo sausage, cherry tomatoes, fresh herbs. Or, you can make this pasta bake vegetarian by replacing the chorizo with mushrooms, zucchini or bell peppers.
Sides to Gluten-Free One Pot Pasta Bake
This pasta dish is hearty and satisfying. A green salad or a side of garlic bread such Gluten Free Garlic Cheese Monkey Bread, or rolls like the Gluten-Free Parker House Rolls will complete this Italian meal.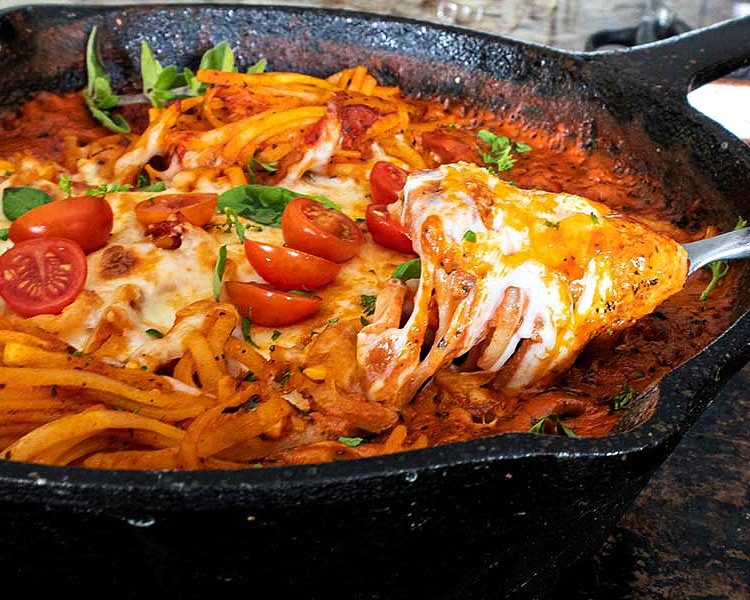 Serving and storage for pasta
This gluten free Italian pasta dish is best when served fresh from the oven. However, you can reheat the pasta leftovers in the oven or microwave.
Place leftovers in an airtight container and refrigerate for up to three days. This pasta bake will also keep up to 3 months in the freezer. To reheat, place the pasta in the fridge overnight, then reheat in the oven or microwave.
In conclusion, a gluten-free lifestyle doesn't mean sacrificing the comfort and convenience of our favorite dishes like pasta bakes. With the gluten-free pasta options available today, making a delicious and satisfying one-pot pasta bake has never been easier.
Let's Connect!
Be sure to FOLLOW US on FACEBOOK and PINTEREST. And don't forget to sign up for our newsletter, the form is at the bottom of this page. We always have something new and exciting for you!
Many thanks!
Kristina xx
Gluten Free One Pot Pasta Bake

Published on Aug 25, 2023
by
Kristina Stosek
Instructions
1.

2.

Bring a large oven-proof skillet of salted water to a boil. Cook the pasta according to package directions until al dente. Drain the pasta.

3.

While the pasta is draining, to the same skillet, add olive oil, garlic, basil, oregano, cayenne pepper and chorizo sausage, if using. Continually stirring cook over medium-low heat for one minute. Add tomato sauce, sundried tomatoes, cream, cream cheese and Gruyere cheese. Cook over medium-high heat until it starts to boil. About 3 - 5 minutes. Remove from the stove. Taste and season with sea salt if needed.

4.

Gently stir in cooked pasta and scatter mozzarella cheese over top, bake for 10 minutes. Then turn the broiler on and bake until the cheese is golden and bubbly. About 2 - 3 minutes.

5.

Remove the skillet from the oven and rest for 10 minutes before serving. Top with cherry tomatoes and fresh herbs if you wish

6.

Note: I did not add any salt to the sauce. The reason for this is, the cheese and the tomato sauce are already salted. If need to, season to taste