Creamy Smoked Salmon and Asparagus Pasta – Gluten Free
Published on Apr 27, 2022
by
Kristina Stosek
Prep Time:

10 minutes
Cook Time:

15 minutes
Serves:

4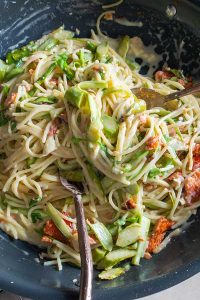 ​This post may contain affiliate links, please see our
privacy policy
for details
It's a joy to make this simple gluten-free Creamy Smoked Salmon and Asparagus Pasta. Every bite is layered with fresh flavours of asparagus, green onions, smoky salmon and creamy pasta.
This dish is gluten-free spaghetti pasta, camembert cheese, shaved asparagus, fresh julienned green onions, and salmon's smokiness combined into one simple dish. All combined to create the creamiest smoked salmon and asparagus pasta made in under 30 minutes.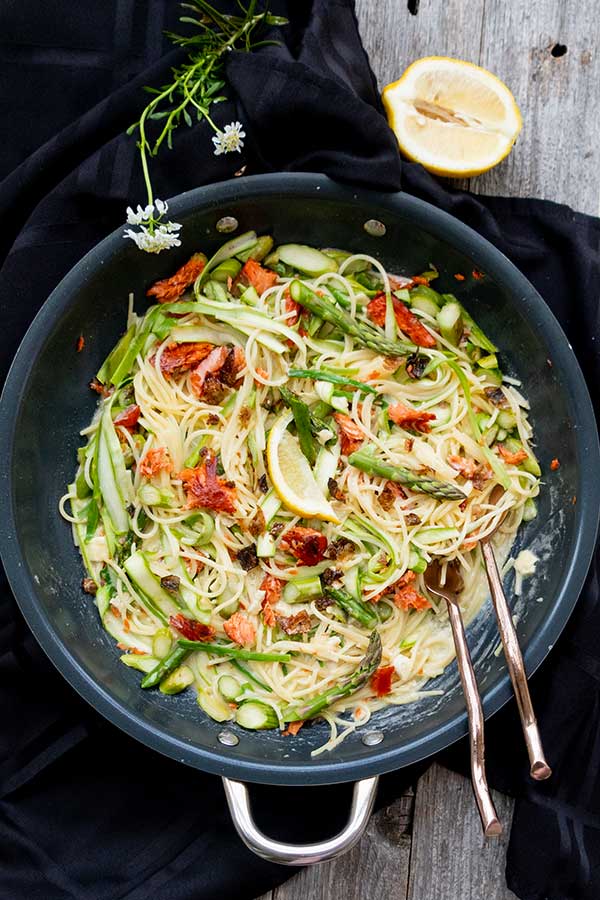 This quick-cooking gluten-free pasta is excellent for special celebrations, spring and summer nights, or intimate dinners. Everyone will enjoy this vibrant, light and flavourful pasta dish.
What is a traditionally smoked salmon?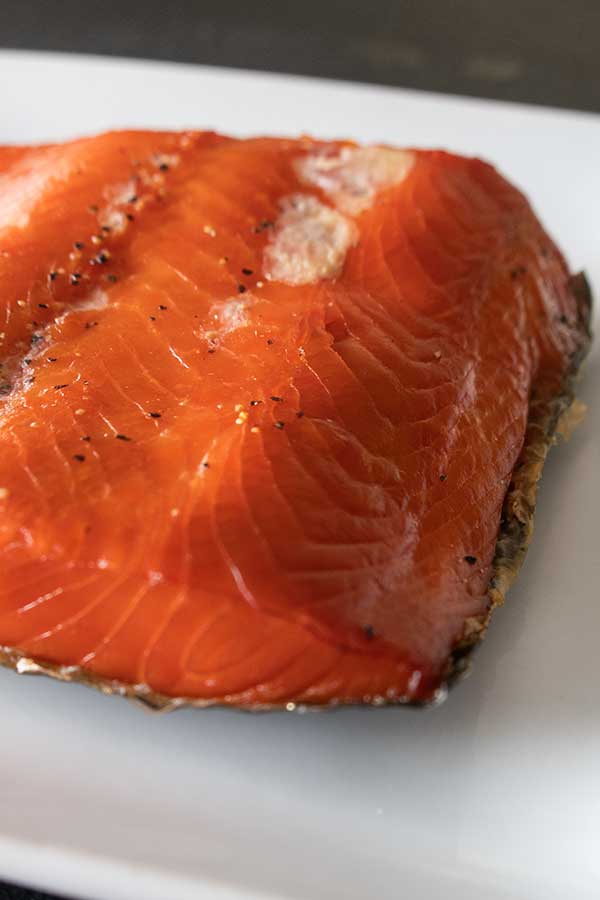 Traditionally smoked salmon is a preparation of salmon, typically a fillet that has been cured and hot or cold smoked. Not to be confused with lox. Traditionally smoked salmon is much lower in salt than lox. Therefore, smoked salmon is a healthier choice.
Salmon offers a high concentration of omega-3s and other essential fatty acids, explicitly known for their anti-inflammatory effects.
6 most asked questions about asparagus!
How to buy asparagus?
Look for straight and plump asparagus. The ends should not be dry or have woody stems, this is a sign of older asparagus.
Thick or thin asparagus, which is better?
This depends on your recipe. The thicker stems have a meatier texture and more robust asparagus flavour and are delicious in stir-fries or shaved when used in pasta or rice dishes. The thin asparagus is sweeter and more tender and are delicious in salads.
Does asparagus have to be washed?
Yes, you can find grit in asparagus tips. The best way to wash asparagus is to soak it in a bowl of cold water for a few minutes, then rinse off.
How to prepare asparagus for recipes?
The best way to trim the asparagus is to place a bunch of asparagus on a cutting board and slice off the white to green bottom, the tough parts. The asparagus is now ready to be used. In the past, we have been taught to snap off the tough part. By doing this, you discard more asparagus than needed.
Does asparagus detox your body?
Some food may contain heavy metals. Asparagus contains glutathione, an antioxidant that promotes detoxification. Asparagus is also loaded with sulphur and chlorophyll, which helps to detox heavy metals like mercury and lead. Leafy greens and cruciferous vegetables will also help with detoxification.
How to store asparagus?
Trim the asparagus and stand them up in a jar with 1 inch of water. Cover the tops with plastic wrap and refrigerate. The asparagus will last up to five days. If the water gets murky, replace it with fresh cold water.
What is camembert?
Camembert is a soft cheese from France made from cow's milk. The cheese is buttery, with a more intense earthy flavour than brie. You can use both in this recipe.
Good melting cheese for sauces.
If prepared properly, other good melting cheeses for sauces are Monterey Jack, Asiago, Brie, Cheddar, Colby, Fontina, Gouda, Gruyère, Havarti Muenster, Cream Cheese and Blue cheeses.
What can I replace the smoked salmon with?
With the summer barbecues just around the corner, salmon is often one of our favourite fish to barbecue. If you have any leftovers, this gluten-free pasta dish is an excellent way to use them.
The Smoked Salmon and Asparagus Pasta Recipe Details
Start with cooking the pasta in well-salted water. The salt in the water adds flavour to the pasta.
Prepare the asparagus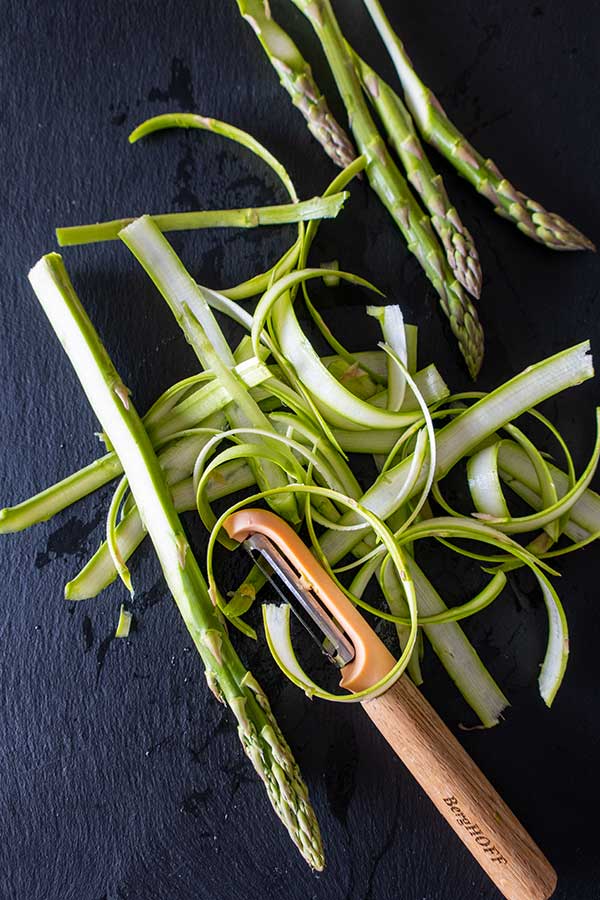 Preheat a non-stick skillet and place the salmon skin-side down in the skillet. If you are not using a non-stick skillet, drizzle a little olive oil or add butter to the skillet.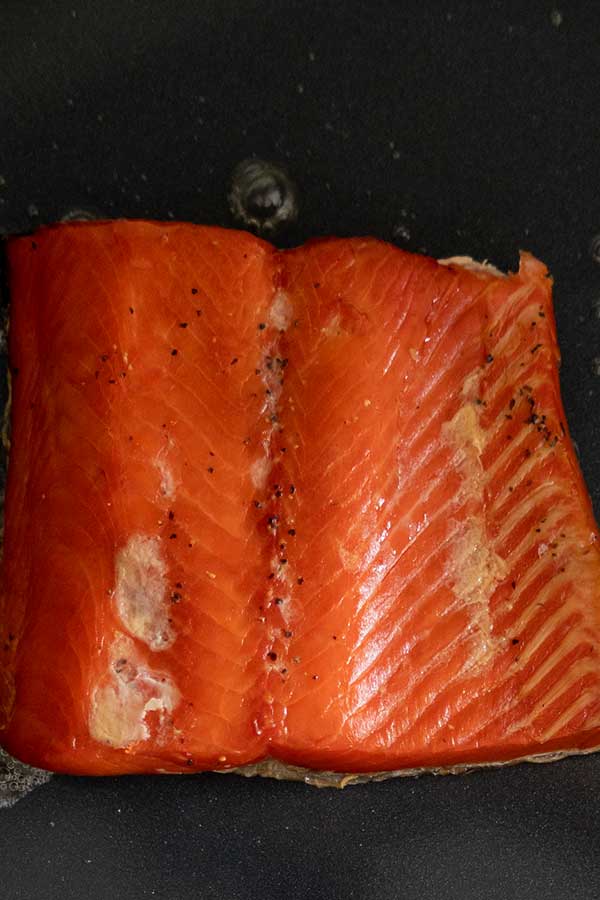 Cook the salmon for about two minutes, then flip it over and carefully remove the skin. Place the skin with the uncooked side down into the skillet and cook for about two more minutes until crispy. Set the skin aside on a plate.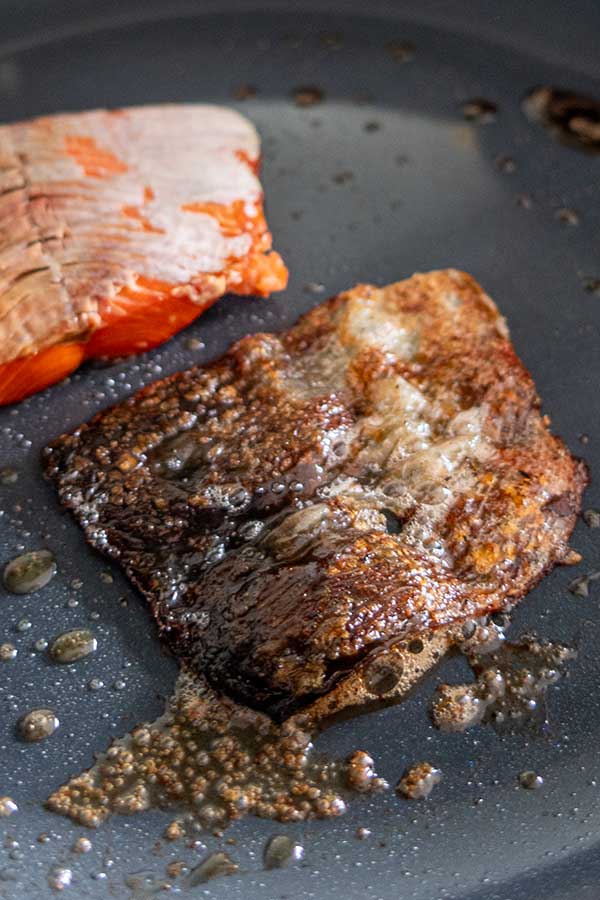 To the same skillet, add the chopped asparagus (not the shaved) and break up the salmon into small pieces. Season with salt and pepper and cook for 2 minutes, stirring the asparagus to cook on all sides.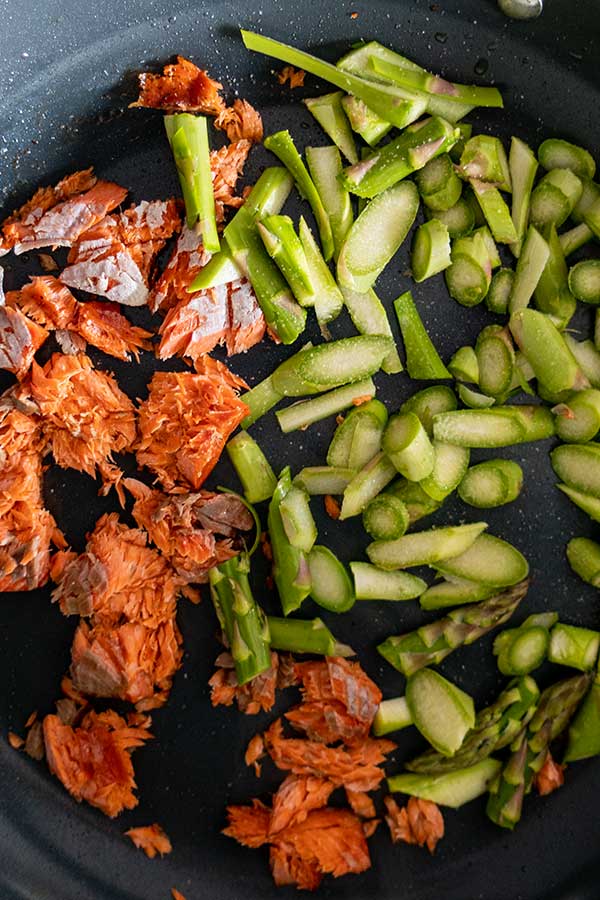 Meanwhile, melt the cheese over low heat with cream, stirring until the cheese has mostly melted and is creamy. I like to leave small chunks of cheese in the sauce. Add the green onions and set aside.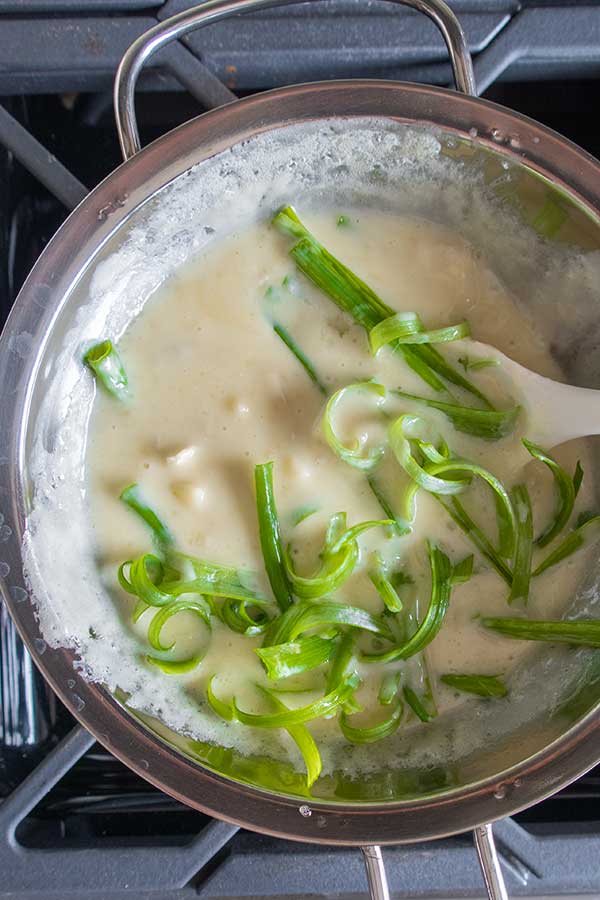 to assemble
Drain the pasta saving 1/4 cup of pasta water. Add the hot pasta to the skillet and the asparagus shavings, and mix to combine.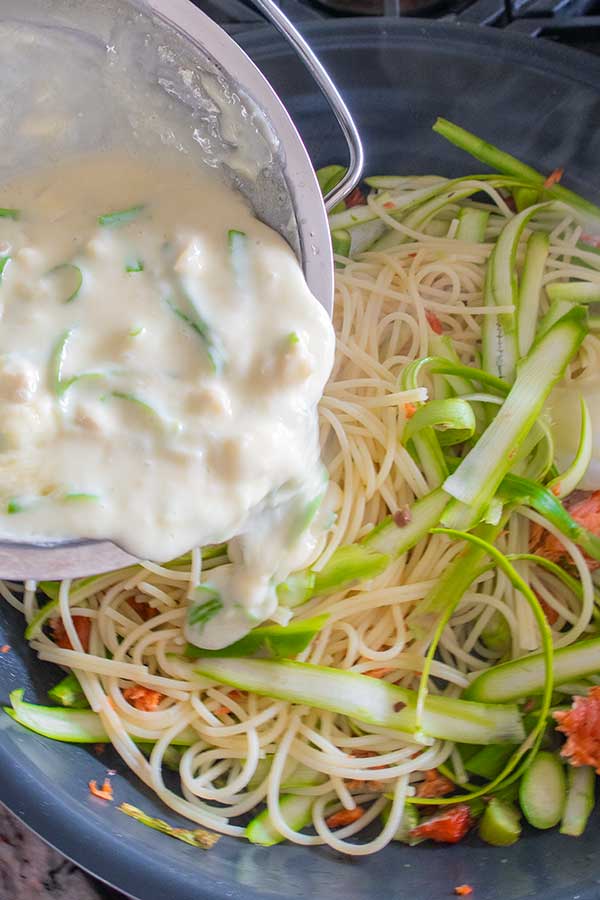 Add the sauce with onions, lemon juice, lemon zest, and stir to coat the pasta. Add pasta water and stir to combine. Top with chopped crispy salmon skin.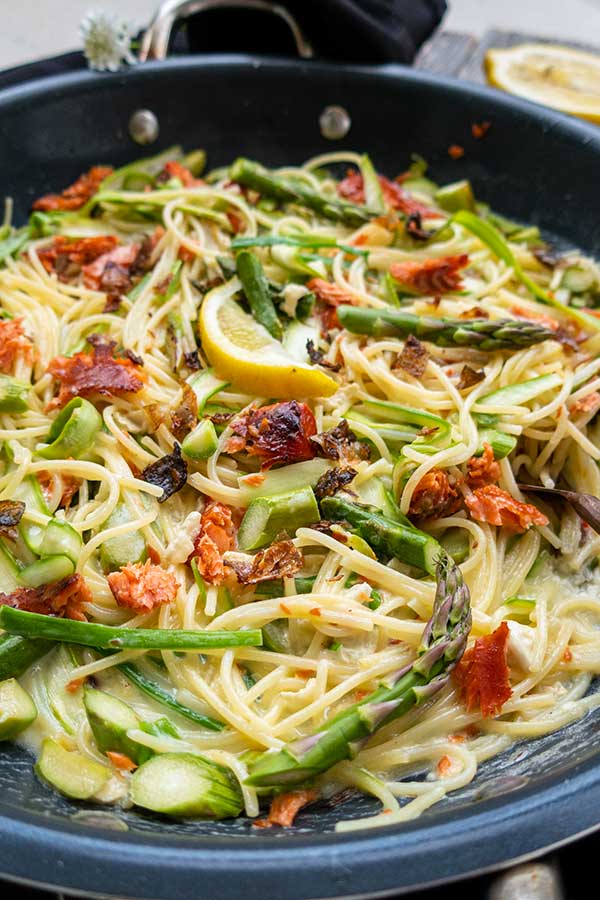 Some of our favourite asparagus recipes.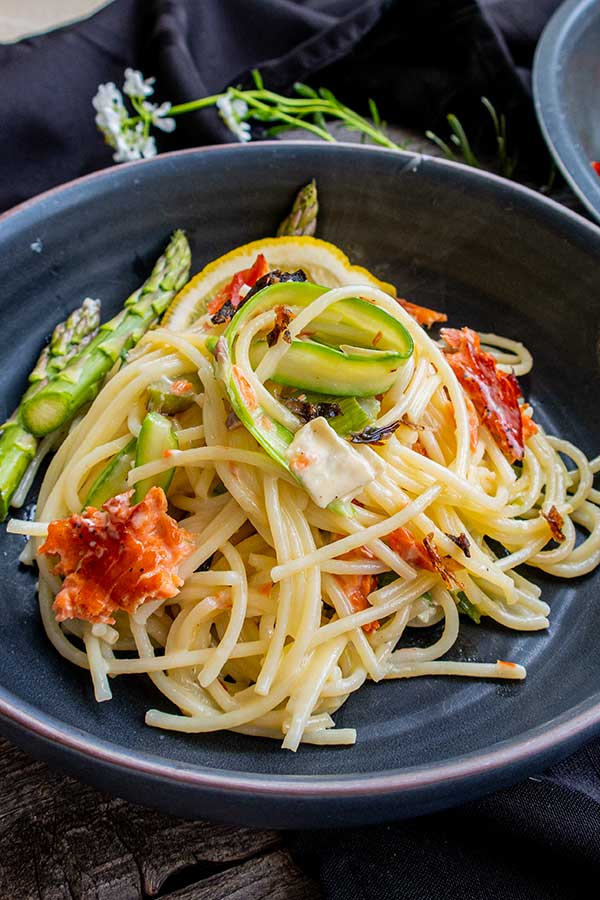 I hope you enjoy this flavourful creamy smoked salmon and asparagus pasta dish. This recipe is on my healthier list of gluten-free recipes because of the enormous health benefits of asparagus and salmon. Enjoy!
Let's Connect!
Be sure to FOLLOW US on FACEBOOK and PINTEREST.
Many thanks!
Kristina xx
Creamy Smoked Salmon and Asparagus Pasta – Gluten Free
Published on Apr 27, 2022
by
Kristina Stosek
Instructions
1.

Boil pasta in salted water until al-dente (cooked but firm to bite)

2.

While the pasta is cooking, prepare the asparagus. Slice off the tough bottom parts of the stalks just where the colour turns from white to green. Using a vegetable peeler, shave off as much of the asparagus stalk. Then, roughly chop the remainder of the asparagus and set it aside in a separate bowl

3.

Place salmon skin side down into a non-stick skillet and cook over medium heat until the skin becomes crispy about 2 minutes. Turn the salmon over, carefully remove the skin and place it back in the pan to crisp up the other side. Remove the skin from the skillet, chop and set aside for the topping

4.

Break up the salmon into pieces, add asparagus pieces (not the shavings) to the skillet, and season with salt and pepper. Cook for about 2 minutes, stirring as needed. If the asparagus is too dry, add a splash of olive oil or butter

5.

Using a small saucepan, add the cheese and cream and cook over low heat until the cheese has melted, stirring as needed until creamy. I like to leave small pieces of cheese in the sauce. Add the green onions to the sauce. Remove from the heat. 

6.

7.

Drain the pasta, saving 1/4 cup of pasta water. Add the hot pasta to the pan with the asparagus shavings, and stir to combine. Add the cheese sauce, lemon juice, lemon zest and toss to coat the pasta. Add the pasta water and stir

8.

Serve topped with chopped crispy salmon skin and lemon wedges.