Parmesan Crusted Halibut – Easy Recipe
Published on Mar 01, 2014
by
Kristina Stosek
Prep Time:

10 minutes
Cook Time:

15 minutes
Serves:

4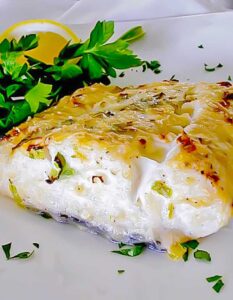 ​This post may contain affiliate links, please see our
privacy policy
for details
Are you looking for a delicious and easy recipe for Parmesan crusted halibut? Then, you've come to the right place! This gluten-free six ingredient fish recipe is simple to follow, and the fish is perfectly cooked and flaky every time. The Parmesan with green onions coating adds a tasty, crispy layer and flavour to the fish without overtaking the fresh fish flavour.
What type of fish is halibut
Halibut is a type of flatfish that is found in both the Atlantic and Pacific Oceans. It is one of the largest flatfish, with some adults reaching up to 2.5 metres in length.
Halibut have a dark brown or grey upper body with a paler underside and are covered in small scales. Their large size and delicious taste make them a popular choice for seafood lovers worldwide.
Is halibut high in mercury?
This is a question that many people have when they are looking for a fish to eat. Halibut is a type of fish that is often recommended as being low in mercury. However, there is some debate as to whether or not this is truly the case.
When it comes to halibut and other fish, the thing to consider when trying to answer this question is where it was caught.
Fish caught in areas in polluted waters are likely to have higher levels of mercury.
So, what does this all mean for halibut? Overall, halibut is considered to be a fairly low-mercury fish. However, there is still some risk associated with eating it.
If you are concerned about mercury levels, you may want to limit your intake of halibut or choose another type of fish altogether.
Is fish healthy?
Yes, fish is healthy! It's often considered one of the healthier options for protein sources. Fish is a good source of omega-3 fatty acids, which are beneficial for heart health. It's also low in saturated fat and high in other nutrients like vitamin D.
So, if you're looking for a healthy option for your next meal, consider trying this Parmesan crusted halibut recipe!
easy healthy fish dinner
Cooking fresh fish doesn't get any easier than this. This dish is simple to make and only requires a few ingredients, making it perfect for a weeknight meal.
best sides with parmesan crusted halibut
When finding the perfect side dish to accompany your baked parmesan crusted halibut, you can't go wrong with anything light and fresh. Serve with cabbage salad or one of our delicious rice dishes. Or, my favourite side is the Garlic Mashed Fauxtatoes, keeping the dinner low carb and keto friendly.
But, no matter what you choose, we guarantee that your Parmesan Crusted Halibut will be the star of the show!
When is halibut in season?
Halibut is in season from April to November, making it an excellent choice for summertime cooking. This easy recipe for Parmesan crusted halibut makes a delicious and healthy meal that the whole family will enjoy.
How often should we eat fish?
Eating fish has many health benefits, including heart health, brain function, and improved joint mobility. The American Heart Association recommends eating fish at least twice a week.
However, some people may be unable to eat that much fish due to mercury concerns. In particular, pregnant women and young children should limit their fish intake due to the risk of mercury exposure.
When choosing fish to eat, opt for low-mercury options like halibut, salmon, and shrimp. This delicious Parmesan Crusted Halibut recipe is a great way to add fish to your diet.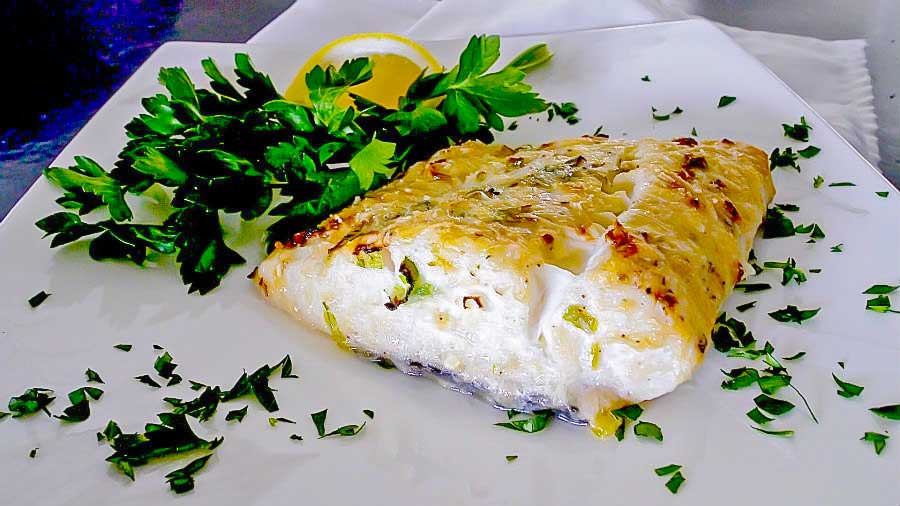 What should be the internal temperature of cooked fish?
The best way to tell if your fish is done is by testing it with a fork at an angle, at the thickest point, and twist gently. The fish will flake easily when it's done and lose its translucent or raw appearance.
The best way to gauge whether your fish is cooked to your liking is to use a meat thermometer. Insert the thermometer into the thickest part of the fish and cook until it reaches 140 -145 Fahrenheit.
How long does fish keep in the fridge?
It's important to know this because, as we all know, seafood can go bad quickly.
Generally speaking, you can store cooked fish in the fridge for up to four days. Raw fish, on the other hand, should only be kept for two days. So, if you catch or buy fresh fish, you'll want to cook it within 48 hours.
Parmesan crusted halibut is a delicious, easy-to-make recipe perfect for a quick weeknight meal. This fish dish is also healthy, as it is baked instead of fried.
So why not try this gluten-free baked halibut recipe the next time you're in the mood for seafood! It won't disappoint.
Let's Connect!
Be sure to FOLLOW US on FACEBOOK and PINTEREST.
Many thanks!
Kristina xx
Parmesan Crusted Halibut – Easy Recipe
Published on Mar 01, 2014
by
Kristina Stosek
Instructions
1.

2.

Brush entire halibut with olive oil and season with salt and pepper

3.

Mix Parmesan cheese and green onions

4.

Coat the halibut with Parmesan mix and place skin-side down on a baking sheet lined with parchment paper

5.

Bake for 12 - 15 minutes or until internal temperature reads 145 F