Cream of Asparagus & Leek Soup (Gluten-Free, Keto)
Prep Time
10 Minutes
Difficulty
Easy
Cook Time
20 Minutes
Serves
6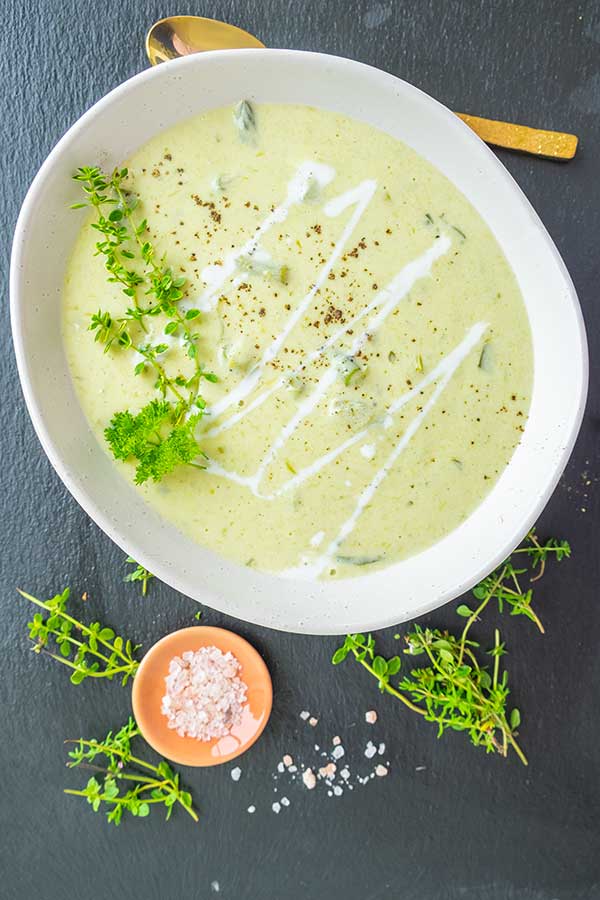 Be the first to rate this recipe.
Creamiest most delicious bowl of Cream Of Asparagus And Leek Soup. This soup is not your typical creamy soup, I added cream cheese, plenty of asparagus and tasty leeks, so much flavour! Honestly, you should try this recipe, it will become your new favourite. I am so excited about this healthy cream of asparagus and leek soup, it is quick and easy, and under thirty minutes.
So if you are looking for a hearty meatless soup, this recipe is for you. Serve as a snack, brunch, or dinner, a perfect soup for any occasion. Add my award-winning keto nut-free pumpkin seed bread, or keto multi-seed bread and your gluten-free meal is complete. 
Ingredients
2 Tbsp. Extra virgin olive oil or butter
1 medium leek, diced, white and light green part only
1 garlic clove, chopped
1 1/2 lb. Asparagus spears, trim the asparagus by removing the tough bottom inch, or any section that is white and hard to break off. Then cut 1 inch off the tips and set aside. Roughly chop balance of asparagus
2 sprigs fresh thyme or 1 teaspoon dried thyme
250 g (1 cup) cream cheese
1 cup half and half cream
1/4 cup arrowroot flour/starch
Himalayan salt and GF ground black pepper to taste
Optional toppings; cream, fresh parsley or thyme
*As an Amazon Associate and member of other affiliate programs, I earn from qualifying purchases. Please check out my sponsorship and disclosure policy page for more details
Instructions
In a large soup pot heat olive oil over medium heat. Add the leeks, and garlic and cook, occasionally stirring until soft. About 5 minutes. Stir in asparagus and thyme and cook for 1 more minute
Add stock, cover and bring to boil. Reduce heat to low and cook for 10 minutes
Transfer 3/4 of the soup into a high-speed blender or food processor with cream cheese. Puree until smooth and return back to the pot
Whisk together cream and arrowroot flour and add to the soup with the asparagus tips. Bring to a gentle boil, while stirring, cook until the soup thickens. About 2 minutes
Season with salt and pepper to taste
Ladle the soup into bowls and drizzle with cream and garnish with fresh thyme or parsley
Similar Recipes
Keto Cream Of Cauliflower Soup with Sage
Deliciously creamy Keto Cream of Cauliflower Soup with Sage is a thick and wholesome cauliflower soup not to be ignored. It's the creamiest, most delicious bowl of healthy cauliflower soup, low in carbs and takes less than 30 minutes to make To flavour this keto soup, I added fresh sage. This herb adds a subtle […] Read More
Prep Time
10 Minutes
Difficulty
Easy
Cook Time
20 Minutes
Serves
6
Creamy Creole Black Bean Soup
Don't be fooled by the simplicity of this Creamy Creole Black Bean Soup. Slightly spicy and creamy, this soup will wake up almost any palate. Be sure to make more than you need, for this soup tends to disappear quite quickly. Read More
Prep Time
15 Minutes
Difficulty
Easy
Cook Time
20 Minutes
Serves
4 - 6