Keto Nut-Free Pumpkin Seed Bread {Gluten-Free, Grain-Free}
Prep Time
10 Minutes
Difficulty
Easy
Cook Time
60 Minutes
Serves
10 slices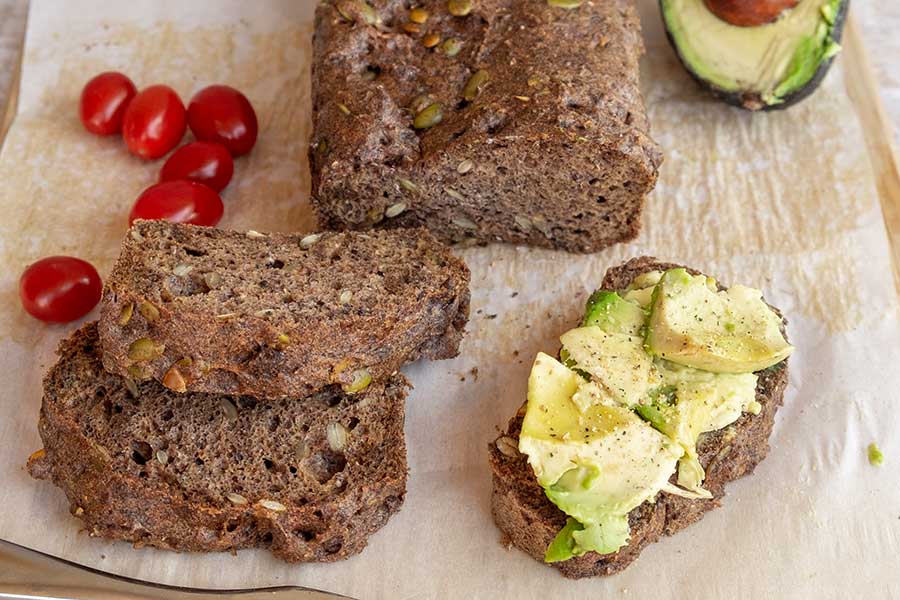 Average Rating: 1 | Rated By: 1 users
I am super excited about this keto nut-free pumpkin seed bread. First, let me tell you about the bread. The bread is light, not heavy, the texture is perfect and it tastes just like a multi-seed bread, it is sooo good! This winner of a bread recipe has ONLY about 1 net carb per slice, yes you heard me right only 1. The best part is, the bread is high in protein and is packed with fiber so it will satisfy your bread craving. The pumpkin seeds are high in antioxidants and magnesium and add a lovely texture and flavour to this amazing bread. I must admit I am not a bread lover, but this keto nut-free pumpkin seed bread will be a staple in my home from now on. Who knew you can eat bread that tastes this good and still stay on a low carb diet? You will love the bread, I promise, this recipe will not disappoint. Enjoy!
Ingredients
1 tsp. GF baking soda
1 tsp. Himalayan salt
4 large eggs, separated
2 large eggs, whites only
2 tsp. lemon juice
3 Tbsp. Extra virgin olive oil
1 Tbsp. Sesame oil
1/2 cup Luke warm water (about 105 C)
Instructions
In a large bowl combine psyllium husks powder, flax seed, chia seeds, baking soda and salt
In a small bowl whisk together 4 egg yolks, olive oil and sesame oil. Add warm water and whisk to combine
In a separate bowl using electric mixer beat the 6 egg whites with lemon juice until soft peaks form
Add egg yolk mixture to dry ingredients and using a spatula mix to combine. The mixture starts to thicken immediately, so add half the egg whites and mix. Add the remaining egg whites and mix to combine
Immediately fold in the pumpkin seeds and transfer the batter into prepared loaf pan. Bake for 1 hour. When the bread is finished baking, immediately lift the bread by using the parchment paper and place onto a cooling rack to cool completely. Enjoy!
Similar Recipes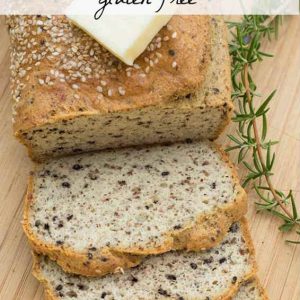 Gluten-Free Keto Multi Seed Bread
Here is an easy gluten-free keto multi seed bread recipe. This keto bread is packed with protein and fiber and has only about 2.5 net grams of carbs per slice. I added chia and sesame seeds both of which are excellent source of omega-3 fatty acids, rich in antioxidants, and they provide fiber, iron, and […] Read More
Prep Time
10 Minutes
Difficulty
Beginner
Cook Time
50 Minutes
Serves
14 slices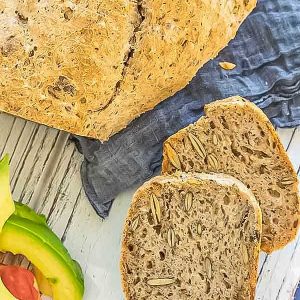 Best Gluten-Free Artisan Bread
Finding a gluten-free artisan bread recipe that is simple to make and tastes this good is not easy. Before I decided to make the bread, I tried various combinations of flours and seeds until finally, I got that perfect gluten-free artisan bread. This is a rustic bread packed with seeds and grains. The bread has […] Read More
Prep Time
10 Minutes
Difficulty
Easy
Cook Time
40 Minutes
Serves
1 loaf
Best Gluten-Free Rustic Bread Recipe
You will love this gluten-free rustic bread recipe for its taste and simplicity. This rustic bread is made with chia seeds and buckwheat flour which give this delicious bread crispy crust and rustic German rye flavour. Read More
Prep Time
15 Minutes
Difficulty
Easy
Cook Time
45 Minutes
Serves
1 loaf