Zucchini Baked Ziti (Keto, Gluten-Free, Grain-Free)
Prep Time
15 Minutes
Cook Time
35 Minutes
Serves
4 - 6
Average Rating: 4.5 | Rated By: 12 users
This Zucchini Baked Ziti is for nights when you are craving Italian, but want something low-carb and healthy. Zucchini ziti baked in a basil tomato sauce, three different kinds of cheese and Italian chicken sausage. This is a flavourful low-carb Italian dish for any night of the week.
Besides, who doesn't love a cheesy baked dish? Traditionally ziti is made with short cut pasta, but I wanted to keep this meal keto, grain-free and light on carbs, so I used tender young zucchini to replace the pasta.
What I love about using zucchini, it is low in carbs and calories, but more importantly, it is rich in minerals. To make this baked ziti extra special, I used three kinds of cheese.
Gouda a buttery and creamy cheese, fresh ricotta, adding a lot of creaminess, and asiago slightly sweet and nutty flavour – perfection!
This time of the year starts to get very busy, so I like to keep things simple, hearty and delicious. At my house, you can never go wrong with Italian food especially when it is Keto friendly 🙂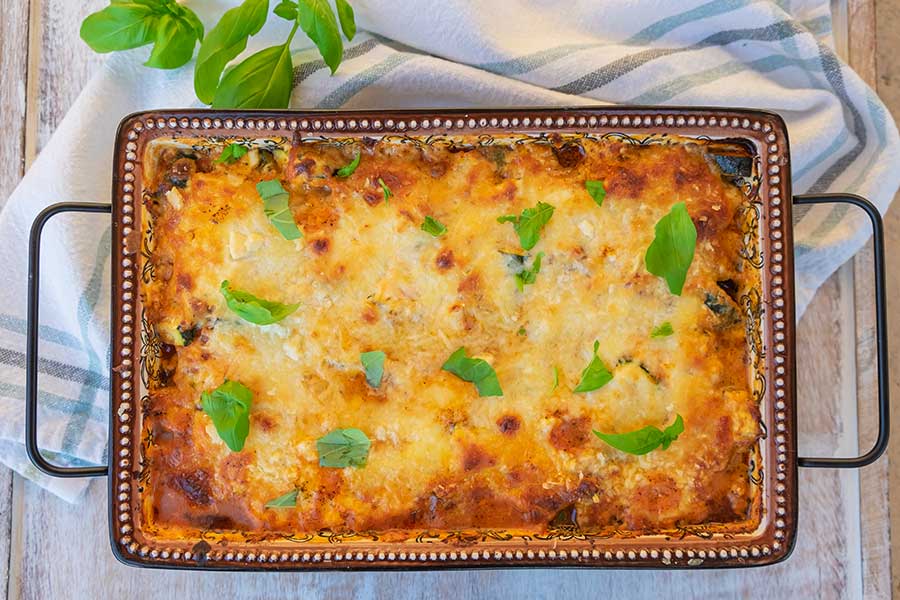 What is ziti?
First, not to confuse you, ziti a small tube shaped pasta, a little smaller than rigatoni. So, why did I call this recipe ziti since there is no pasta in this recipe?
Good question, the entire dish is made just like the classic pasta dish that is served at Italian weddings, but I replaced the pasta with young zucchini. Giving this Italian meal a fresh new look and adding health benefits
Making it..

.
First, you make the sauce. It is made with a splash of olive oil, ground chicken sausage, tomatoes, basil and bay leaves. The sauce is super flavourful with a hint of basil.
Once the sauce is done cooking a total time of fifteen minutes, you are pretty much done with the hard work. For the fresh ricotta cheese, I whisked in fresh garlic, a pinch of nutmeg and an egg.
Now, all you do is layer everything in a pretty baking dish, and about thirty minutes later, you will have the most delicious gluten-free, healthy-ish Italian meal.
Oh, I almost forgot the zucchini has a perfect texture, tender on the inside with a little crisp on the outside, so done to perfection. I call this gluten-free dish "comfort food at its best," not only it is soooo good, but it is quick and easy to make. Enjoy!
Ingredients
2 Tbsp. Extra virgin olive oil
1 lb. ground Italian chicken sausage
1 cup pure tomato sauce
1 Tbsp. GF dried basil
2 GF bay leaves
3 medium zucchini, skin on, cut into bite-size pieces (about 3/4-inch thick) should make 6 cups
2 cups whole milk ricotta cheese
1 large egg
2 garlic cloves, grated or minced
1/4 tsp. GF ground nutmeg
2 cups shredded gouda cheese, divided
1 cup grated Asiago cheese, divided
*As an Amazon Associate and member of other affiliate programs, I earn from qualifying purchases. Please check out my sponsorship and disclosure policy page for more details
Instructions
Using a large saucepan, heat the olive oil. Add the sausage and brown all over. Drain the fat
Add crushed tomatoes, tomato sauce, basil and bay leaves. Cover and simmer for 15 minutes. Discard bay leaves.
Remove from the heat and stir in zucchini.
Using a small bowl whisk together ricotta cheese, egg, garlic and nutmeg
Using a 9 x 13-inch baking dish, place half the zucchini mixture in an even layer. Dollop with half the ricotta cheese, half the gouda cheese and half the Asiago cheese. Repeat the layers finishing with Asiago cheese
Bake in a preheated oven at 375 F for 35 - 40 minutes until the cheese is melted and lightly browned on the top
Similar Recipes
15 Minute Gluten-Free Pasta With Garlic Ricotta & Tomatoes
This Gluten-Free Pasta With Garlic, Ricotta Cheese And Fresh Tomatoes is a perfect meal on busy nights.  The simple gluten-free pasta dish takes less than 15 minutes to make, how wonderful is that? All you need is six simple ingredients that you probably already have in your pantry, plus ricotta cheese to make this delicious […] Read More
Prep Time
5 Minutes
Difficulty
Easy
Cook Time
10 Minutes
Serves
4
Cauliflower Quinoa Dumplings in Creamy Marinara Sauce
Cauliflower Quinoa Dumplings in Creamy Marinara Sauce are the best! If you love Italian food, this healthy, delicious gluten-free, vegetarian dish is for you! the quinoa dumplings The vegetarian dumplings are made with cauliflower rice, quinoa, parsley, garlic, oregano and eggs. They are light and flavourful and super easy to make. To make the dumplings, […] Read More
Prep Time
15 Minutes
Difficulty
Easy
Cook Time
45 Minutes
Serves
4
Chorizo With Basil Cream Sauce Penne – Gluten-Free
This Chorizo With Basil Cream Sauce Penne is an easy gluten-free pasta dish made in 30 minutes. The flavourful chorizo balls add spice and warmth, and the bell peppers and fresh tomatoes add freshness. But, it is the basil cream sauce that ties everything together.  the basil cream sauce, The sauce is made with chicken […] Read More
Prep Time
10 Minutes
Difficulty
Easy
Cook Time
20 Minutes
Serves
4